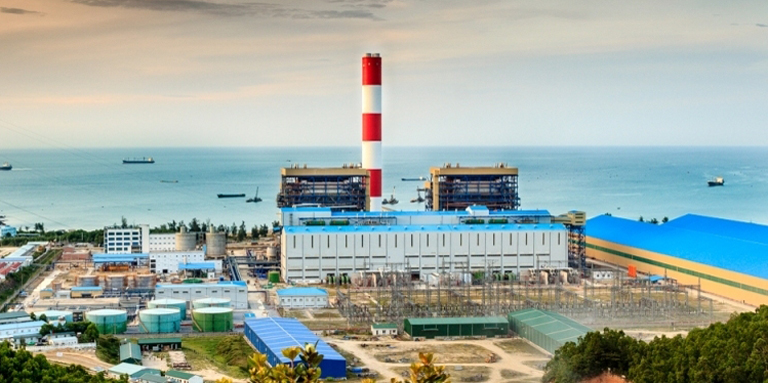 https://hkmb.hktdc.com/en/1X0AC875
Generating Belt and Road Investments
China, Japan and Hong Kong funding are behind Vietnam's US$2.2 billion Vung Ang 2 power plant.
To head off looming power supply problems in the north of the country, the Vietnamese government has given the go-ahead for work to begin on the Vung Ang 2 coal-fired electricity generation plant. Designated as a priority under the terms of the Belt and Road Initiative, the project, based in the north central coastal province of Ha Tinh, has already attracted substantial backing from both Chinese mainland and Hong Kong companies.

While the project was first mooted in 2007, it wasn't until January this year that the 1,200-megawatt plant was formally commissioned. Scheduled to begin construction next year, the project is a joint venture between CLP Power Hong Kong and Japan's Mitsubishi Corporation. Three other contractors – the China Energy Engineering Group, Guangdong Power Engineering, and the Vietnam Vung Ang II Power Company – have also signed up to the project.

Assuming the development of the site keeps to the official timetable, the first of its two 600-megawatt generators will start operating in 2021, with the second scheduled to come online in 2022. Once fully operational, Vung Ang 2 will deliver an average annual power output of 7.2 billion kWh.
Power Shortage
The commissioning of the US$2.2 billion facility was controversial, with many critics seeing it as compromising the country's commitment to developing sustainable energy sources. Indeed, it was only after the scrapping of plans to develop nuclear power facilities in the southeastern province of Ninh Thuan, that Vung Ang 2 got the green light.

While there may be disagreements about the new plant, which will rely heavily on imported coal, there is broad acceptance that the country desperately needs to expand its energy-production facilities. Overall, electricity shortages are seen as one of the biggest obstacles to continued growth of Vietnam's economy, which, according to the World Bank, expanded by 5.7 per cent in the first six months of 2017. The problem is only set get worse, with the country's total economic growth for 2017 tipped to be about 6.3 per cent, with buoyant domestic demand, rebounding agricultural production and strong export-oriented manufacturing all playing their part.

According to the Vietnam Power Development Plan 2011-2020 – originally published in 2011 but subsequently revised in 2012 – the government anticipates an annual power requirement of 235-245 billion kWh of electricity in 2020, rising to 352-379 billion kWh by 2025, and 506-559 billion kWh by 2030. The plan also commits the Vietnamese government to generating seven per cent of the country's electricity via renewable energy sources by 2020, rising to 10 per cent by 2030.

It did, however, accept that coal would remain the country's primary energy source for the foreseeable future. In line with this, it anticipated that 42.7 per cent of all electricity generated in 2020 would be coal-derived, with that proportion rising to 49.3 per cent in 2025, before dropping back to 42.6 per cent by 2030.

In the end, the debate over commissioning Vung Ang 2 continued for more than eight years before being finally approved in 2009, with the facility original scheduled to come online in 2013. Following a series of delays, however, the completion date was initially rescheduled to 2018 before subsequently being revised to 2021. Once operational, it will be the second coal-fired electricity generating plant in the Vung Ang Special Economic Zone, located adjacent to Vung Ang I, which began power production in May 2015.
Strategic Gateway
Situated along Vietnam's East-West Economic Corridor, the Vung Ang SEZ is seen as having a key role to play in the country's economic regeneration. Established in 2006, the site initially capitalised on its proximity to the Thach Khe iron and titanium mines to attract businesses focused on the metallurgical and natural resources sectors, as well as commercial investors. It has since expanded its range of shipping and port services, as well as its export-oriented manufacturing activities. The government is now looking to expand its role as a strategic oceanic gateway for northern and central Vietnam.

For more market opportunities, please visit: http://research.hktdc.com/.
Related Link
Belt and Road