https://hkmb.hktdc.com/en/1X0ABKC0
Evolving Role of "Made in China"
Shift of Global Supply Chain and Guangdong-Hong Kong Industrial Development (5)
The Asian supply chain is continually growing. Many up-and-coming developing countries are also following in China's footsteps by progressively establishing modern manufacturing bases to facilitate economic growth and raise the income levels of their people. There are quite a few newly developed regions in Asia with relatively low production costs, and some of them have abundant land and labour supply. These regions are therefore being considered by Asian and global manufacturing enterprises and related investors as suitable destinations for the relocation of production activities or as new sources for purchasing raw materials and industrial goods. This development has not only attracted the attention of enterprises from Europe, the US, Japan, South Korea, but also of Chinese enterprises on the mainland.
Transformation and Upgrading Needs
The reason for this is that, in China, after 30 years of rapid economic development, the investment climate is slowly changing and mainland enterprises need to upgrade their business value while using external resources to bolster their competitiveness. Although China's export performance is enviable, the majority of processing enterprises are earning only meagre profits or processing fees. In 2015, the revenue of China's industrial enterprises was a hefty RMB111 trillion, yet the majority of them were engaging in low value-added activities such as OEM with an average gross profit margin of a mere 6%. Even if they were engaging in producing more high-tech products, their involvement was mostly concentrated in lower value-added work procedures such as processing and assembling. At the lower end of industrial chains, their business was rather limited in value-added. In 2015, even the gross profit margin of high-tech enterprises was only 6.4%. Thus their value-added was far lower than that of technology R&D and design upstream in the industrial chain or that of marketing and distribution activities downstream.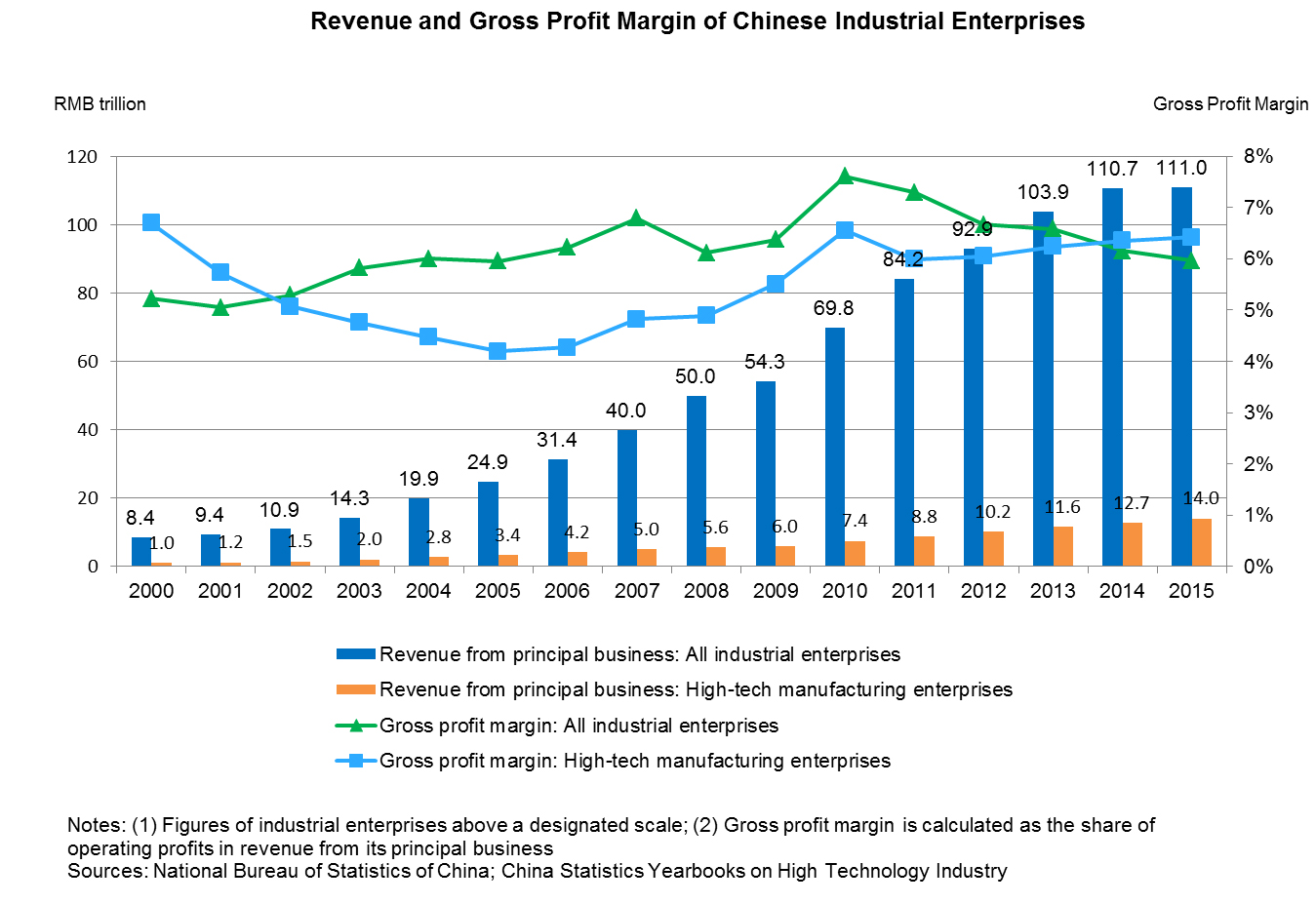 Moreover, many Chinese processing enterprises are using low prices to compete in global export markets, a strategy which is causing disquiet in Europe, the US and elsewhere. The response from those regions is to implement numerous trade measures against Chinese mainland goods, directly affecting the ability of Chinese enterprises to expand into overseas markets. For example, as of 30 June 2017, the US had taken anti-dumping measures against 114 products originating in the mainland and countervailing measures against 46 others. The EU has put in place anti-dumping measures against 56 mainland products and countervailing measures against a further six. Mainland products affected include metallic, chemical and industrial supplies as well as some consumer goods. These additional duties can amount to anything between several percentage points in customs duties to several tens of percentage points. In some cases the additional duties even exceeded 100%, making it almost impossible for the mainland goods affected to enter the markets concerned.
US and EU Anti-dumping Measures against Mainland Goods
| | US | EU |
| --- | --- | --- |
| Anti-dumping cases in force / confirmed | 114 cases | 56 cases |
| Anti-dumping investigations currently underway | 6 cases | 3 cases |
| Countervailing cases in force / confirmed | 46 cases | 6 cases |
| Countervailing investigations launched | 5 cases | -- |
Note: Figures as at 30 June 2017
Source: Trade and Industry Department, the HKSAR Government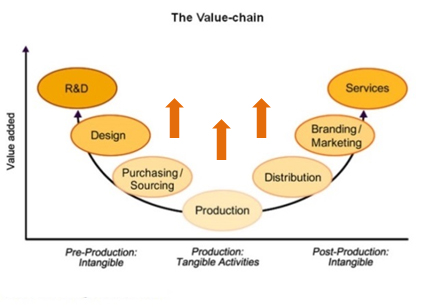 In recent years, rising production costs across the mainland, as well as labour and land shortages in some places, have prompted some enterprises with factories in coastal regions to seriously consider relocating production to nearby lower-cost inland regions. Some are even choosing to relocate more labour-intensive work procedures and lower value-added business overseas, in a bid to lower production costs while avoiding the trade barriers and restrictions foreign countries are imposing on China.
Yet, in a highly competitive environment caused by market slowdown both globally and at home and also by a dearth of orders, enterprises cannot ensure the long-term sustainable development of their business simply by cost reduction. In fact, the average gross margin of mainland industrial enterprises has been falling relentlessly since 2010, and only those engaging in high-tech manufacturing have seen even a slight rise in gross margin as the market slows down.
Hence, mainland enterprises have adopted transformation and upgrading as their main development strategy. The main intention is to move from production on the value curve and proceed gradually towards higher value-added business such as R&D, design and marketing. An alternative strategy is to push the whole value curve upwards by employing automated production technology or improving product quality, thereby raising the competitiveness and value-added of their business. If there are still some low value-added or labour-intensive production processes remaining, they opt to relocate them to lower-cost regions or utilise external resources to optimise business mix by arranging to have mainland or overseas partners carry out sourcing.
The Chinese government had already started optimising and upgrading industry structure during the 11th Five-Year Plan (FYP) period (2006-2010). In dealing specifically with the low value-added problem, it had pushed the industrial sector to develop high-technology and build up innovation capability. To guide the transformation and upgrading of the processing trade, it also adjusted processing trade policies a number of times, including expanding the list of prohibited and restricted goods, and eliminating or lowering export tax rebates for goods of low processing levels as well as high energy consumption, high pollution and resource-type goods.
Now that it has entered the 13th FYP period (2016-2020), China has made plain that it will implement in depth a "Made in China 2025" industrial development initiative. The objective is to become a manufacturing powerhouse, creating a favourable environment for the growth of new strategic industries and optimising modern industrial systems. China is encouraging enterprises to develop brand business on the one hand and promoting technology R&D activities on the other. It hopes this will boost the product-design capability of enterprises and increase the technology content of their business. Also, enterprises are being actively encouraged to import a wide range of advanced technologies to help upgrading and the development of emerging industries.[1]
Striding towards Developing a High-tech Sector
Prompted by market pressure and government policies, mainland enterprises are actively transforming and upgrading by optimising the utilisation of mainland and overseas resources. This is reflected in a continuous increase in high-tech manufacturing activities, as its share of all industrial value-added grew from 9.6% in 2012 to 12.4% by 2016 (to around RMB25 trillion) – an average annual increase of 12% during the period.[2] This development is also changing the structure of China's external trade. In 2015, the export delivery value of the high-tech sector exceeded RMB5 trillion and accounted for 43.9% of the export delivery value of all industries. In comparison, its share in 2000 was only 23.3%. More than 90% of these exports were electronics and communications equipment, computers and office equipment; a small minority were other high-tech products such as chemicals and medical instruments.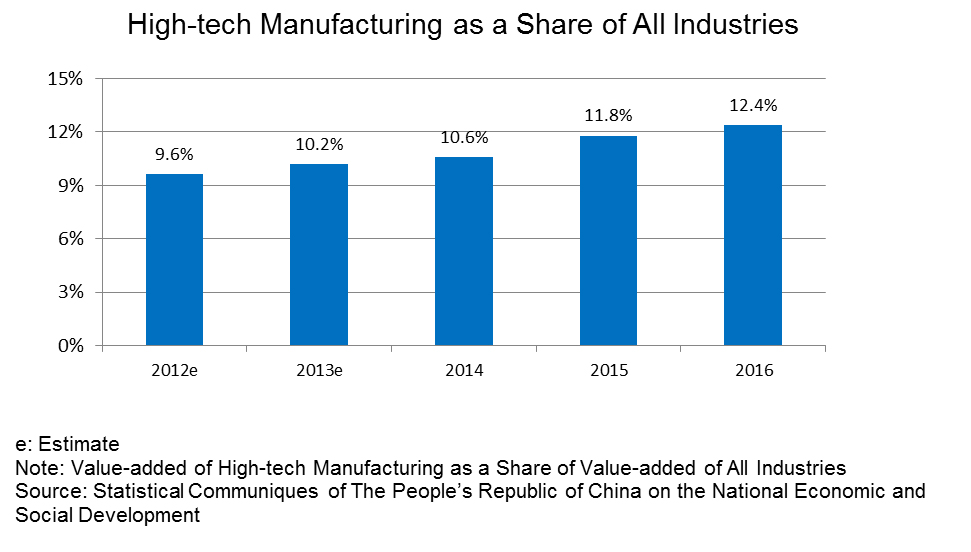 This structural change in China's exports reflects a major shift in the production of electronic goods. In the past decade, global electronics manufacturing activities have been shifting to China en masse. Indeed, China has already become the world's largest electronics producer and the leading country for the production of various consumer electronics end-products, including audio-visual equipment, computers and mobile phones. It is not only foreign electronics giants that have been engaging in sourcing and production in China, including the design/production/packaging of different electronic chips as well as the production of various parts and components and the assembly of semi-finished products and end-products. There are also a large number of major local enterprises emerging as electronics giants, such as Huawei, Lenovo, Haier, ZTE, TCL, Changhong and Hisense, all of which rank among China's top 100 electronic information enterprises.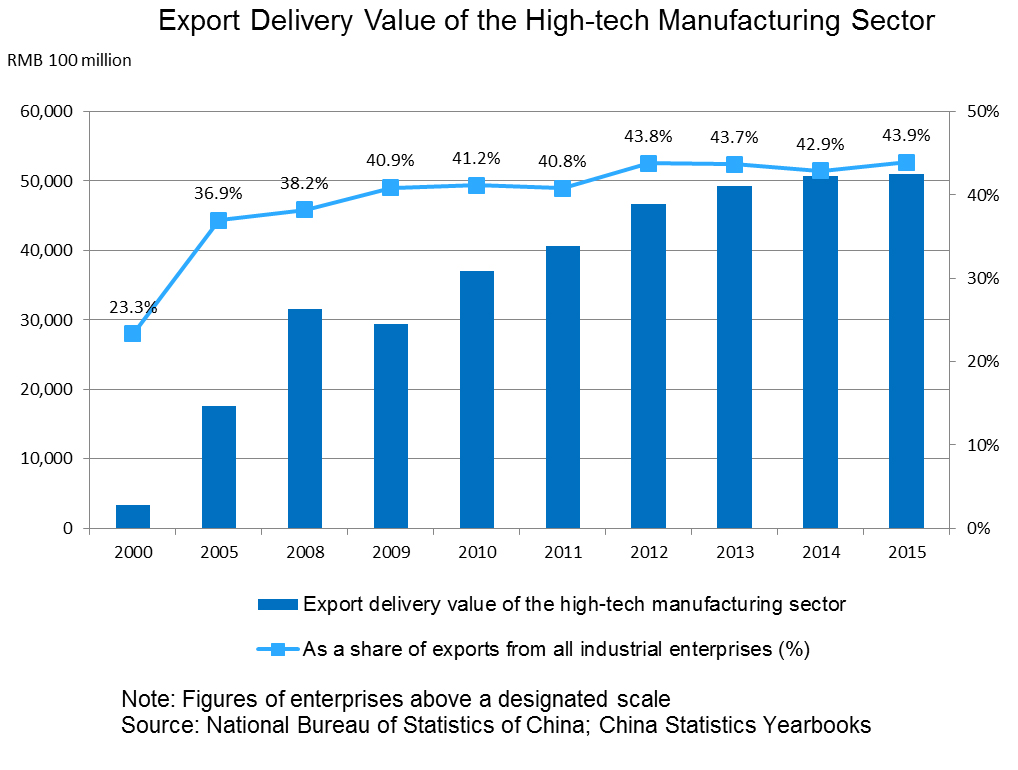 While China is the world's largest producer of electronic consumer end-products, it still has to rely on the importation of various types of key parts and components, such as chipsets and semiconductor products, and various types of high-precision manufacturing equipment. What's more, as the supply chain of Asia's electronics sector becomes increasingly sophisticated because of cost and regional specialisation reasons, Chinese electronic enterprises and foreign firms based in China are relocating some of their lower value-added production and sourcing activities to lower-cost regions in Asia. They also import a wide range of active and passive parts from Asia (and elsewhere) to support the production and export of end-products/semi-finished products. Thus, the processes of transformation and upgrading are not only propelling these companies towards high-tech manufacturing but also changing their external trade pattern, making them co-operate more with upstream and downstream foreign enterprises along the supply chain.
Guangdong at the Forefront of Transformation and Upgrading
Guangdong has always been one of the main provinces in China in the field of industrial transformation and upgrading. It is China's leading region for high-tech manufacturing – in 2015, related revenue was in excess of RMB3.3 trillion, accounting for 23.8% of the country's total revenue in this sector. It is also the leading province in the export of high-tech products, contributing 33.1% of China's export delivery value for this type of product. Guangdong's revenue from the manufacturing of electronics and communications equipment and from the manufacturing of computers and office equipment accounted for 34.3% and 20.7% respectively of China's total revenues in 2015, topping all other provinces.
Indeed, if China can be called the "world factory", then for many years Guangdong has been its "production line". It is also the mainland's leading export region. Its overall exports in 2016 reached RMB3.9 trillion, accounting for 28.5% of the exports of the whole country.[3] The great majority of Guangdong's exports originate in the PRD region. In the past, blessed with the advantages of an abundant supply of local and out-of-province labour and cheap land costs, the PRD has attracted a lot of investment from foreign and Hong Kong enterprises, making it the number one region for the production of a wide array of consumer goods. It has claimed a sizeable share of the world market for the production of garments, toys, home appliances and different types of consumer electronic goods.
Yet it cannot be disputed that, in recent years, production costs in the PRD have been rising relentlessly and the investment climate has changed. This has been affecting production and sourcing activities in the area. To deal with this problem, PRD enterprises have already started adopting different strategies to mitigate the pressure brought about by changes in the external environment on the one hand, and to enhance competitiveness as a way to maximise profit on the other. Today, some enterprises have already relocated part of their product lines to lower-cost regions both within and outside of Guangdong. Others have even turned their attention to foreign countries, while those which could not adapt to the changes and lacked competitiveness have already been forced to cease operation.
Nevertheless, the majority of enterprises opted to keep and develop their principal business in the PRD or adjacent regions through transformation and upgrading. Some of them have even switched to developing brand-name business and venture further into domestic and international markets.
Consequently, as a whole, the PRD and Guangdong manufacturing sector has not shown any sign of decline resulting from the changes in the investment climate, or from the relocation and closure of some enterprises. Instead, it has continued to maintain considerable growth in recent years. In 2016, Guangdong's industrial value-added was up 6.7% from the year before, which can only really be regarded as a significant slowdown compared to the unprecedented 16.8% growth recorded in 2010. For several years, a number of enterprises in the province have begun increasing investment in technology R&D and product design activities in a bid to wean themselves off their dependence on labour-intensive and low value-added production. Currently, high-tech manufacturing comprises one-fifth of Guangdong's industry, while relatively capital-intensive advanced manufacturing (such as equipment manufacturing for cars, ship, aircraft, and environmental pollution control) accounted for 49.3% of the industrial value-added of the province in 2016.[4]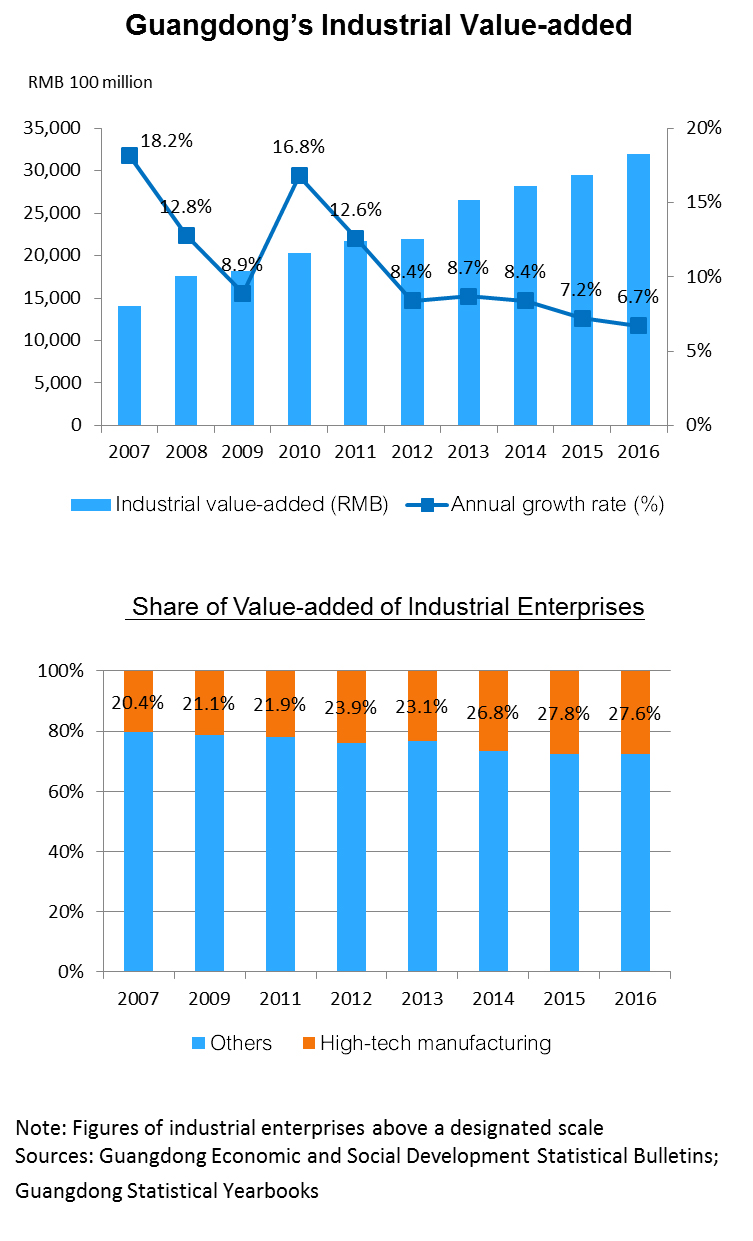 If we take a close look at different industries, it is clear that the high-tech and capital-intensive sectors are outperforming others. For example, more than 80% of Guangdong's high-tech manufacturing is in the production of communications and electronics equipment. In recent years, thanks to the booming electronics market, the sector's share of Guangdong's industrial value-added increased from 17.9% in 2007 to more than 20% in 2015. Some industries which appear to be labour-intensive, such as garment/footwear/headwear manufacturing and furniture manufacturing, have recorded slight increases in share. But industries such as textiles and paper products, which have faced fierce competition, have experienced a marked decline in their shares of industrial value-added. It should be noted, though, that the value-added of these industries in absolute terms has actually continued to rise during the period 2007-2015.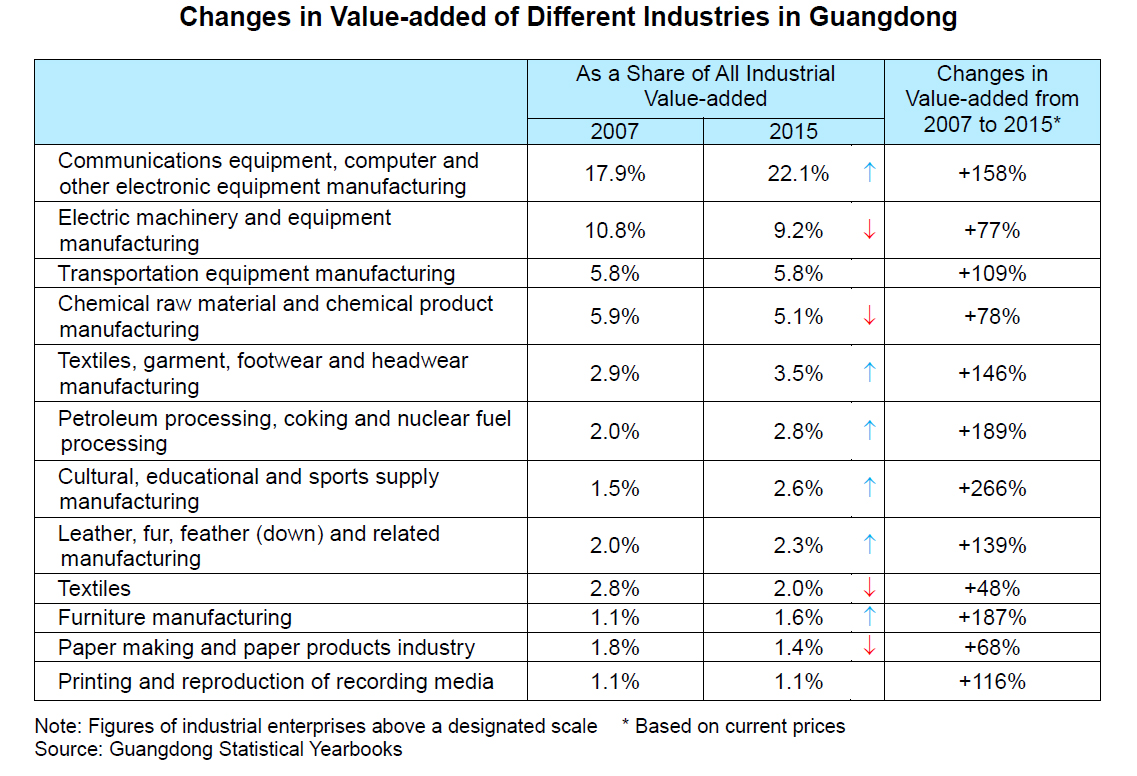 PRD enterprises are also very concerned with increasing competitiveness in production. In particular, more and more enterprises are willing to invest in automated production lines and in buying sophisticated, precision production equipment. This is not only aimed at alleviating the problem of labour shortages, but also because customer requirements for consumer and industrial products are getting increasingly complicated. By increasing investment in different types of production equipment, enterprises hope to offer higher quality products to compete in the market. In addition, enterprises are continuously strengthening quality management and using present-day material management systems and efficient logistics distribution services to enhance production and sales efficiency and reduce overall operating costs.
The result of these efforts is that, within just a decade and a half, the asset profitability (ratio of asset to industrial output value) of PRD enterprises has jumped from 8.7 in 2001 to 13.6 in 2015. During the same period, labour productivity as measured by industrial value-added has increased twofold. This strategy of raising productivity through investment in production equipment to achieve transformation and upgrading occurs not just in industries of relatively high technology; it is also very common in traditionally more labour-intensive industries such as garment and furniture manufacturing.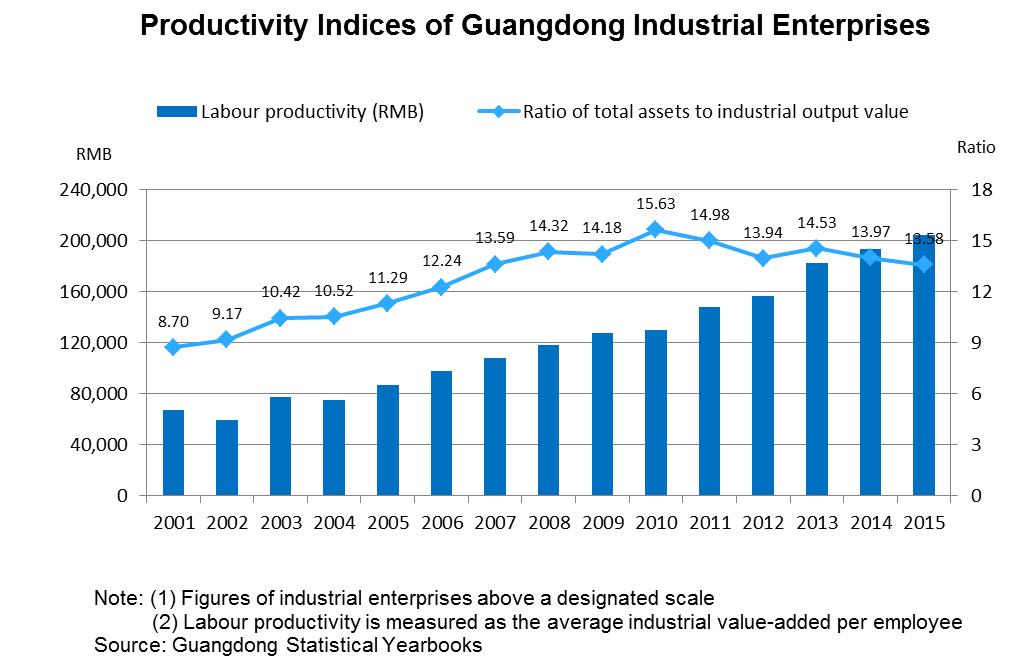 South China Enterprises Capitalising on Belt and Road to Transform and Upgrade
From the above, it is clear that transformation and upgrading has become the main development strategy for many mainland enterprises, Guangdong ones included. As the Asian supply chain gets increasingly mature, some enterprises are hoping to relocate part of their production lines and sourcing activities to lower-cost locations overseas. However, a considerable number of manufacturers, especially the larger ones, are retaining their PRD capacity to develop high value-added business. At the same time, they are setting up bases in other places, including other parts of Guangdong outside the PRD, or in other provinces, or in overseas regions such as Southeast Asia. This way, they can take advantage of local labour and land to build satellite factories, in parallel with existing ones in the PRD, in order to expand production capacity.
Some enterprises are even considering outsourcing some lower value-added activities, by sourcing related products from their mainland peers or from other partners in Southeast Asia. Such a strategy is not confined to labour-intensive industries. It is also being pursued by sectors of higher technology contents, such as those producing various hardware accessories, electronic end-products, parts and components. While carrying out outsourcing, they will concentrate their internal resources on developing high value-added business exclusively.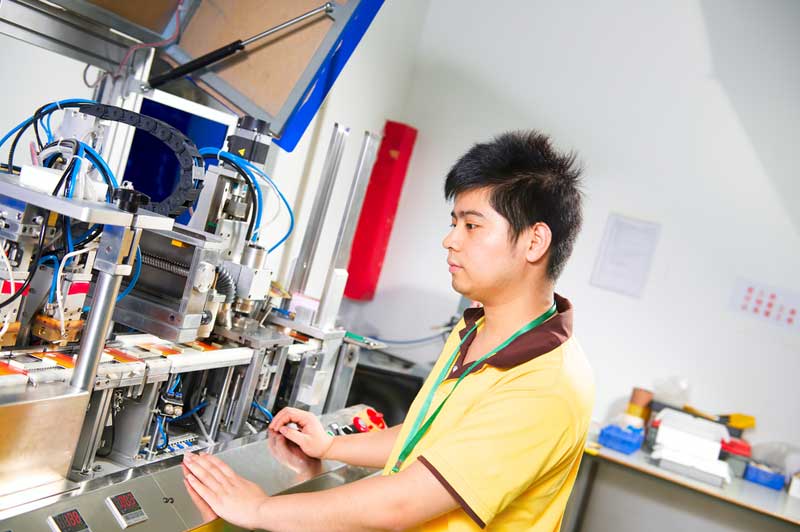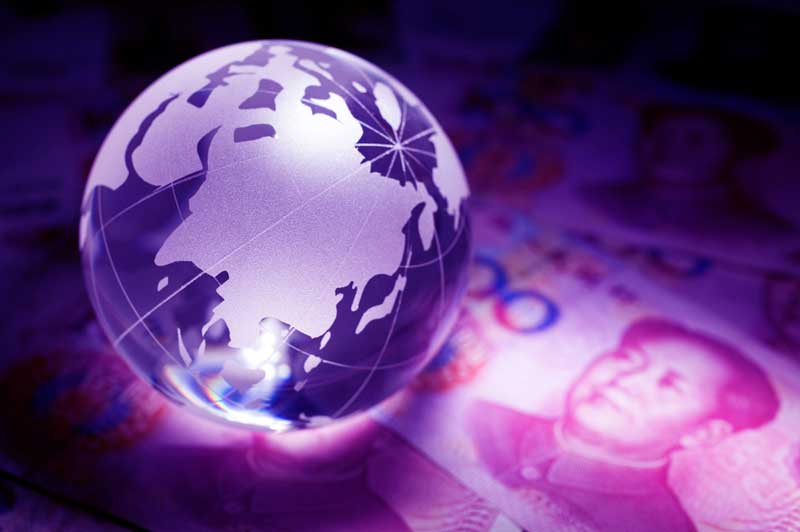 To gain an understanding of the situation, the HKTDC carried out a questionnaire survey of related enterprises in 2016 with the help of the Department of Commerce of Guangdong Province, the Bureau of Commerce of Dongguan City, the World Dongguan Entrepreneurs Federation, the Bureau of Commerce of Huizhou City, the Huizhou Association of Enterprises with Foreign Investment and the Bureau of Commerce of Jiangmen City. In addition, in September 2016, at the 13th China-ASEAN Expo held in Nanning, Guangxi, the HKTDC also conducted the same questionnaire survey with attending mainland enterprises. A total of 241 valid questionnaires filled out by mainland enterprise managers were collected.[5]
90.5% of the respondents said that their business operations were facing a variety of challenges. Most of the enterprises indicated that their foremost concern was rising labour, land and/or other production costs (42%). Others were affected by the weak mainland market and inadequate orders (39%), weak overseas markets and inadequate orders (27%), or difficulties in financing (22%).
Facing all sorts of challenges, more than 90% of the enterprises said that, in the next one to three years, they would consider adjusting their business and operating strategies, or had already begun to do so and had made relevant investments. The majority of the enterprises said they would first redouble efforts in developing markets (46% said they would like to develop the domestic market further, while 52% said that they would intensify efforts in developing overseas markets). The enterprises said they would also transform and upgrade themselves by strengthening their R&D and product design capability (37%), by building their brands (34%), or by raising their production technology (28%). And 9.2% of them said they would consider relocating some of their production/sourcing activities overseas.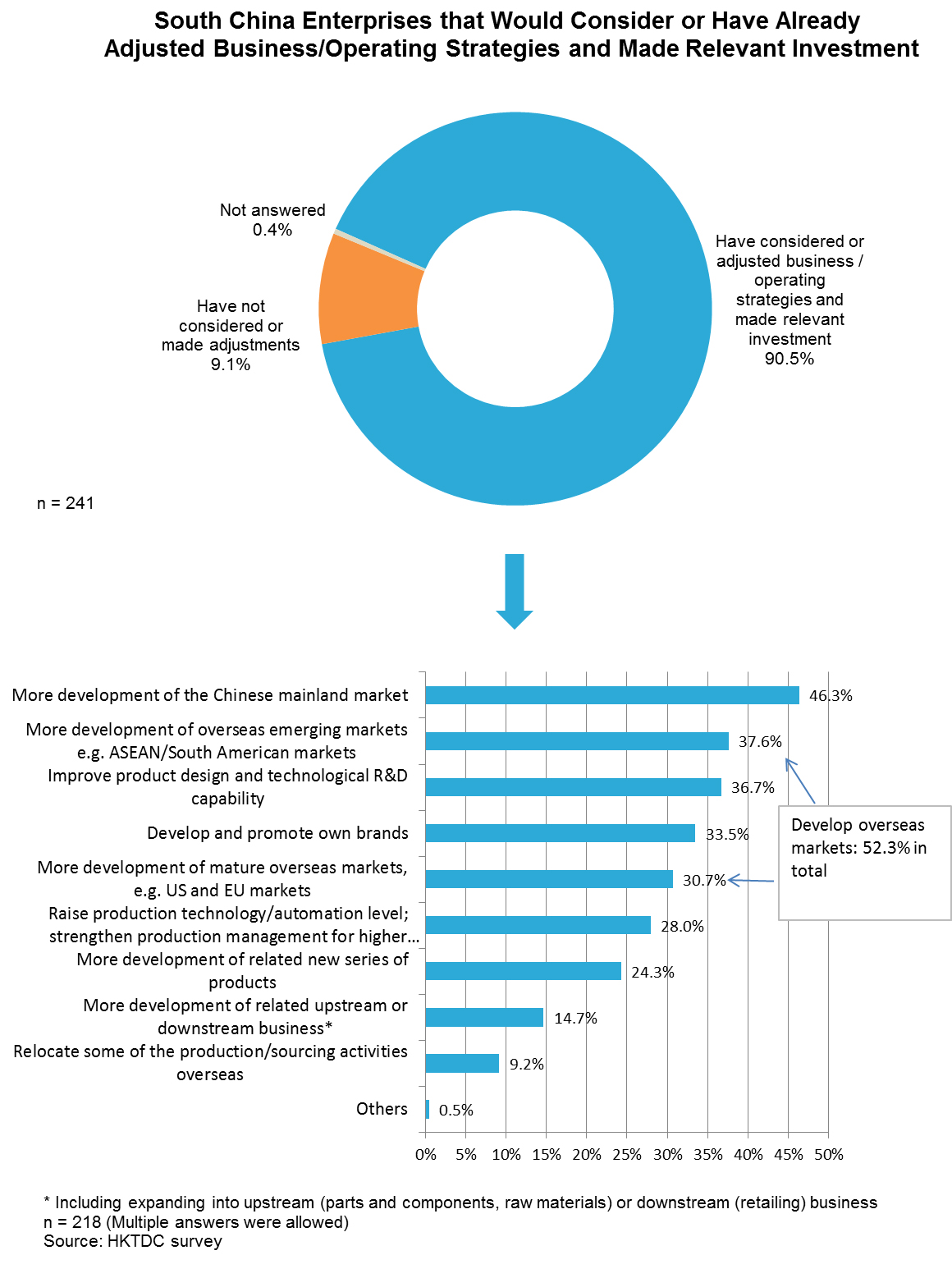 With China currently promoting the Belt and Road development strategy, 80% of the enterprises said they would consider tapping business opportunities in the Belt and Road countries within the next one to three years.
Likewise, most enterprises (88%) said they wanted to sell more products to Belt and Road markets, while 36% said they would consider investing and setting up factories in Belt and Road countries, and 35% said they would consider sourcing various products from there for the mainland market. The Belt and Road market of most interest to these enterprises is Southeast Asia, accounting for 83% of those that would consider tapping Belt and Road opportunities.

Hong Kong Enterprises Tapping Supply Chain Opportunities
In order to understand the business development of Hong Kong manufacturers and traders, the HKTDC also conducted a separate questionnaire survey in Hong Kong in 2016. The results of the 2,562 valid responses indicate that, currently, the majority (79%) of manufacturers still use the PRD as their main production location, while 10% have a production base in ASEAN.
To cater to future business development needs, 9.7% of the manufacturers surveyed said they had plans to set up new factories, while 13.7% said they had plans to relocate their existing factories. Among those intending to relocate, the shares of those opting for the PRD and ASEAN regions (particularly Vietnam) were 59% and 23% respectively, with a minority considering other regions.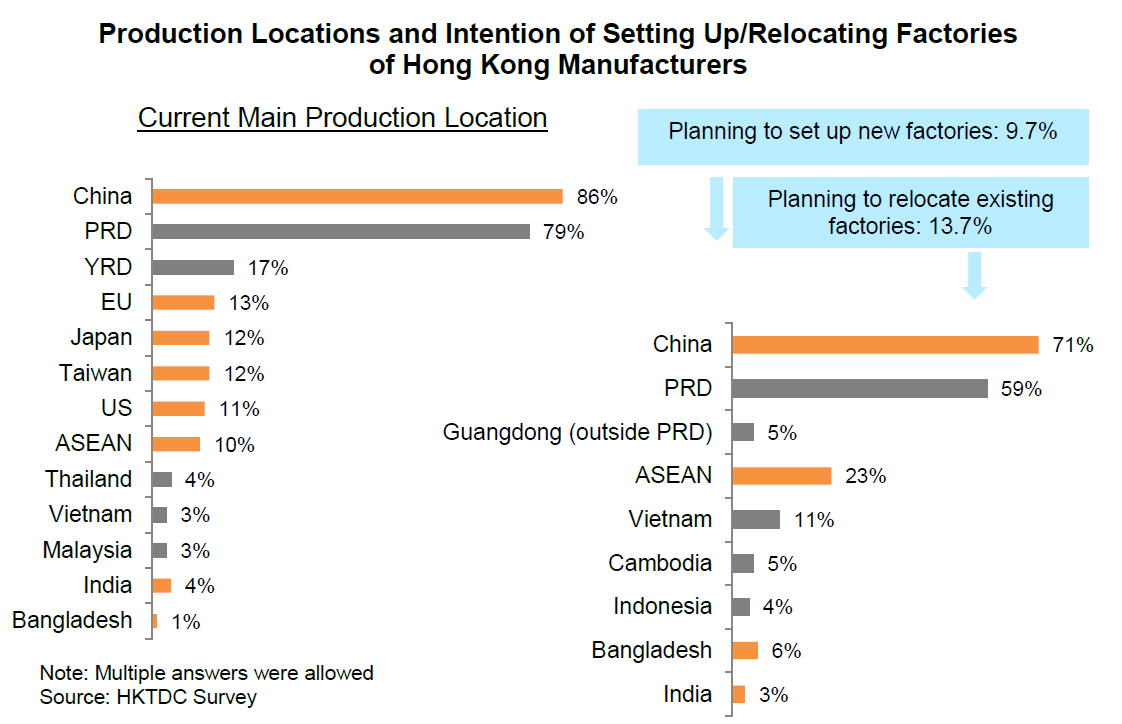 When comparison is made with a similar questionnaire survey carried out by the HKTDC in 2013[6], it can be shown that the share of Hong Kong enterprises with factories in other parts of Asia has more than doubled in the last three years. Countries that have proved particularly attractive are Thailand, Vietnam, Malaysia and India. Moreover, 18% of Hong Kong companies are now sourcing various finished goods in Asia, while 14% are sourcing raw materials from there – an indication that some Hong Kong enterprises are following in the footsteps of multinationals in trying to establish business relationships with upstream and downstream enterprises along the Asian supply chain.
Though Hong Kong companies' willingness to relocate has increased, like mainland enterprises, they are more concerned with transformation and upgrading as well as raising competitiveness. The 2016 survey indicates that, during the past five years, 75% of Hong Kong manufacturers have invested in raising their production capacity, including using machines and systems of higher production capacity (57%), carrying out fully automated/semi-automated production (52%) and using more energy-saving production systems (36%). Some 60% of the enterprises surveyed said that, over the next five years, the investment amount for improving production capability would remain the same or increase. In fact, the majority of Hong Kong companies indicated that the return on investment in machines is direct and evident, whereas in offshoring, they face a host of uncertainties and challenges.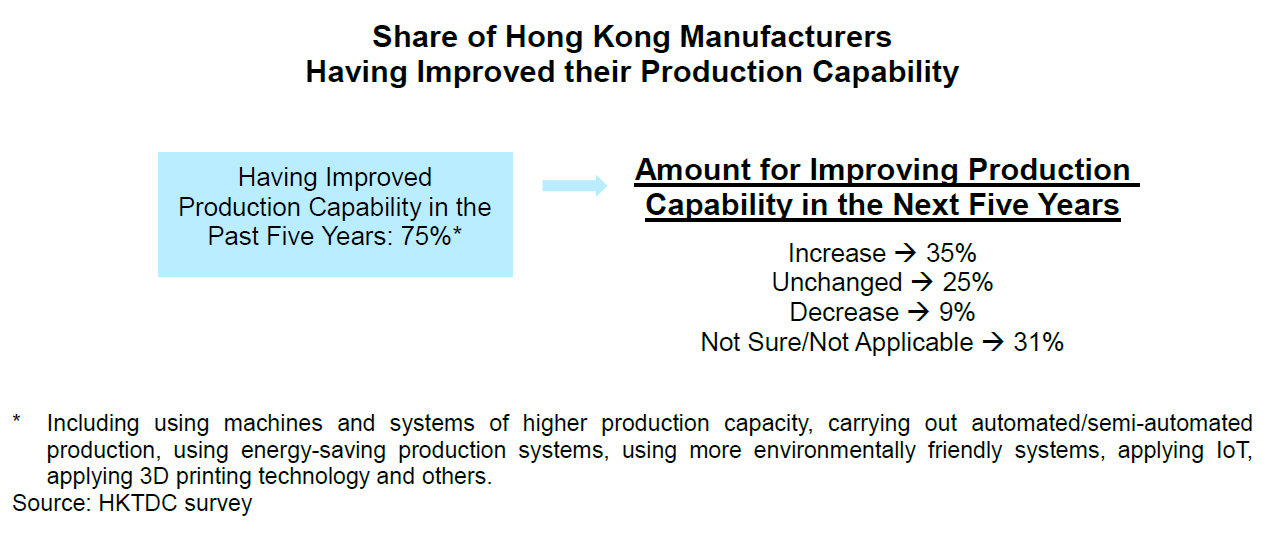 In addition to raising production capability, 53% of the respondents[7] said they were engaging in the designs of their products, while 39%[8] said they were engaged in developing their own brands. It is apparent that, though they are facing changes in the investment environment, the majority of Hong Kong manufacturers have been using different methods to address the problems of rising production costs and shortage of labour. They are also actively engaging in raising their productivity or other value-added activities by transforming and upgrading themselves to increase their competitiveness.
The majority of Hong Kong manufacturers still prefer to have their production base in the mainland, particularly the PRD. One main reason for this is that a mature supply chain is already in place on the mainland, which can effectively support their manufacturing business. Among Hong Kong manufacturers which carry out production in the mainland, the overwhelming majority source raw materials and various industrial materials locally, with the median share of respondents opting for local sourcing reaching 80%. Also, 90% of the respondents said that the share of their local sourcing would remain unchanged or increase over the next five years.

(For details about this survey, please refer to the HKTDC Research article: Value-chain Development Among Hong Kong Exporters: The HKTDC Trade Survey.)
It is clear that Guangdong and Hong Kong enterprises resort to transformation and upgrading to increase their competitiveness, while formulating new business strategies for production and sourcing in a bid to keep abreast of supply chain development on the Chinese mainland and around the globe. For further information about the formulation of enterprise business strategies as well as other details, please refer to:
Shift of Global Supply Chain and Guangdong-Hong Kong Industrial Development (Executive Summary)
Changing Global Production Landscape and Asia's Flourishing Supply Chain
Changes in Asia's Textiles and Garments Supply Chain
Rapid Development of Asia's Electronics Supply Chain
Guangdong and Hong Kong to Adjust Regional Business Strategies
Shift of Global Supply Chain and Guangdong-Hong Kong Industrial Development (Conclusions and Recommendations)
---
[1] For more details of the "Made in China 2025" initiative, please refer to the HKTDC Research article China's 13th Five-Year Plan: The Challenges and Opportunities of Made in China 2025.
[2] Source: Statistical Communiques of The People's Republic of China on the National Economic and Social Development
[3] Source: Statistical Communique of The People's Republic of China on the National Economic and Social Development 2016; Guangdong Economic and Social Development Statistical Bulletin 2016
[4] Source: Guangdong Economic and Social Development Statistical Bulletin 2016
[5] For more details, please refer to the HKTDC Research report: Chinese Enterprises Capturing Belt and Road Opportunities via Hong Kong: Findings of Surveys in South China
[6] For the results of the 2013 survey, please refer to the HKTDC Research article Snapshot: the production, sourcing and trading patterns of Hong Kong manufacturers
[7] Including only those manufacturers and traders engaged in finished goods
[8] Including only those manufacturers and traders engaged in finished goods
Mainland China
Hong Kong
Mainland China
Hong Kong