https://hkmb.hktdc.com/en/1X0ABJSN
Rapid Development of Asia's Electronics Supply Chain
Shift of Global Supply Chain and Guangdong-Hong Kong Industrial Development (4)
Electronics is the biggest single product category in Asian trade. From 2001 to 2016, the value of electronics exports from Asia jumped from US$537.3 billion to US$1,758 billion[1], the figure growing 8.2% each year on average. Accounting for about one-third (32% in 2016) of the total exports of Asia, electronics exports include a huge selection of electronic parts and components and semi-finished goods, as well as a wide range of finished products such as mobile phones, computers, audio-visual entertainment products and other consumer electronics.
Advanced Asian economies including Japan, Korea, Taiwan and Singapore are regarded as important global sources of high-end semiconductors and other key parts and components. Other countries and territories in Asia also attach great importance to the development of the electronics sector that involves higher technology and value-added content. Over the years, they have been bringing in electronics assembly processes transferred from advanced countries, while gradually moving upstream to engage in the production and processing of certain parts and components and semi-finished goods, some of which involve sophisticated processes that require intensive inputs of technology and capital.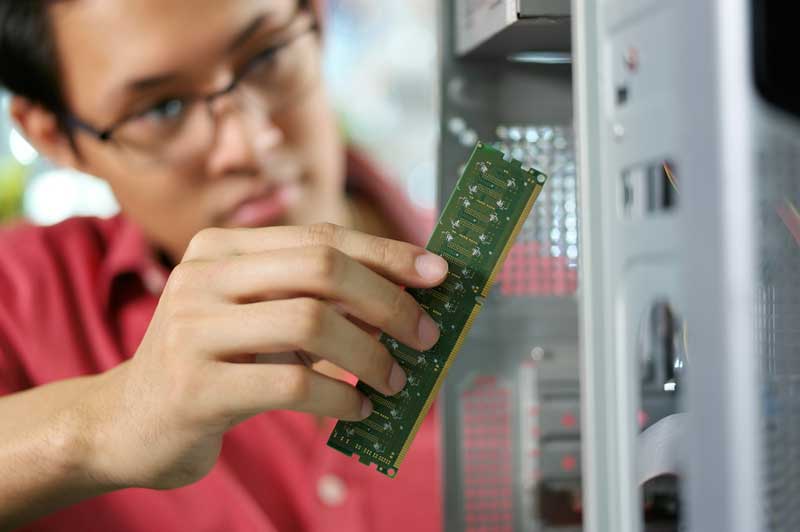 Meanwhile, the WTO's Information Technology Agreement, which waives import tariffs on IT products and many electronic parts and components in a large number of participating member states, has also helped to promote the relocation of the related industries and further the development of the electronics trade in Asia.
As a result, Asia has built up the largest electronics industry cluster in the world. In particular, China as the world factory has become the world's largest electronics producer, the value of its electronics output topping US$700 billion in 2015 and accounting for some 38% share of global electronics output. That far outstrips the world's second largest electronics producer, the US, whose electronic output value was a mere US$240 billion[2]. On the Chinese mainland, foreign-funded and domestic enterprises not only engage in the production of a wide range of consumer electronics, computers and communications equipment as well as various kinds of semiconductors, semi-finished goods and parts and components, but over the years, they have also been striving to transform and upgrade from low-technology production and value-added content to higher-end operations.
China is the largest electronics export source in Asia, contributing 40.3% of the total electronics exports of Asia in 2016. The second largest is ASEAN on 20.7%, one-third of which came from Singapore, followed by Vietnam which has drawn in a great deal of foreign investment in recent years. Electronics is also the largest export industry of Hong Kong, which is Asia's major trading centre of technology items. It plays an important role in the electronics trade of the region, particularly in terms of re-export trade. In 2016, Hong Kong's electronics exports constituted 17% of the Asia's total.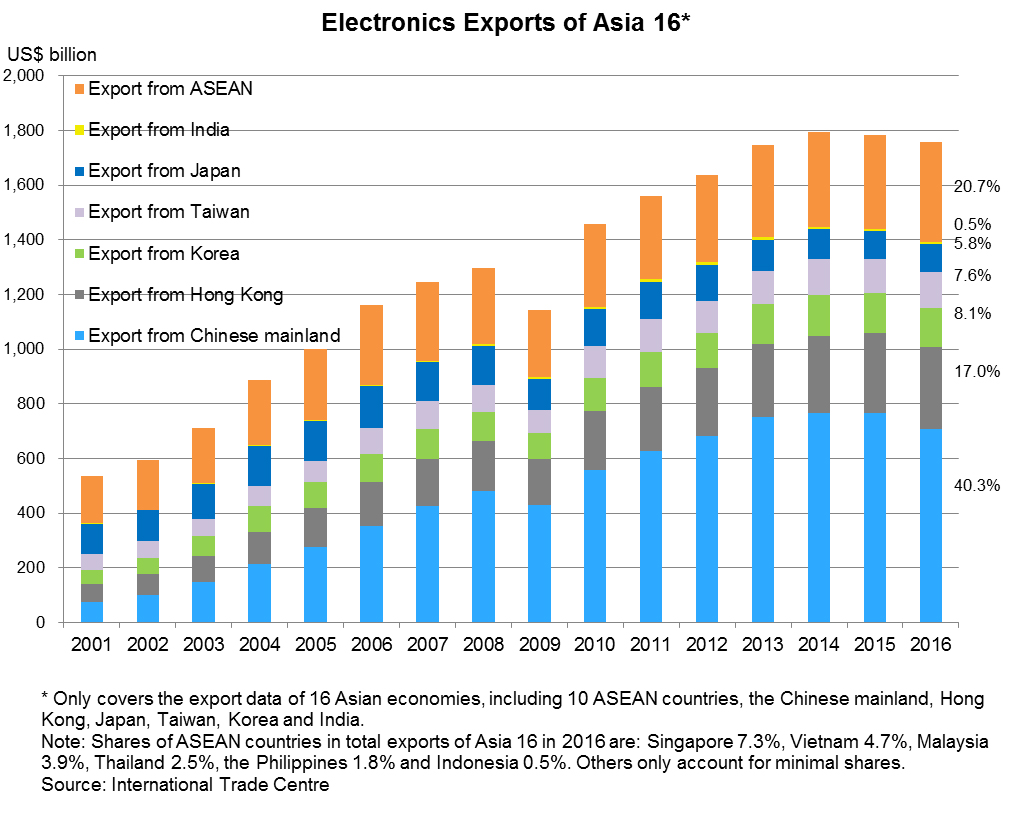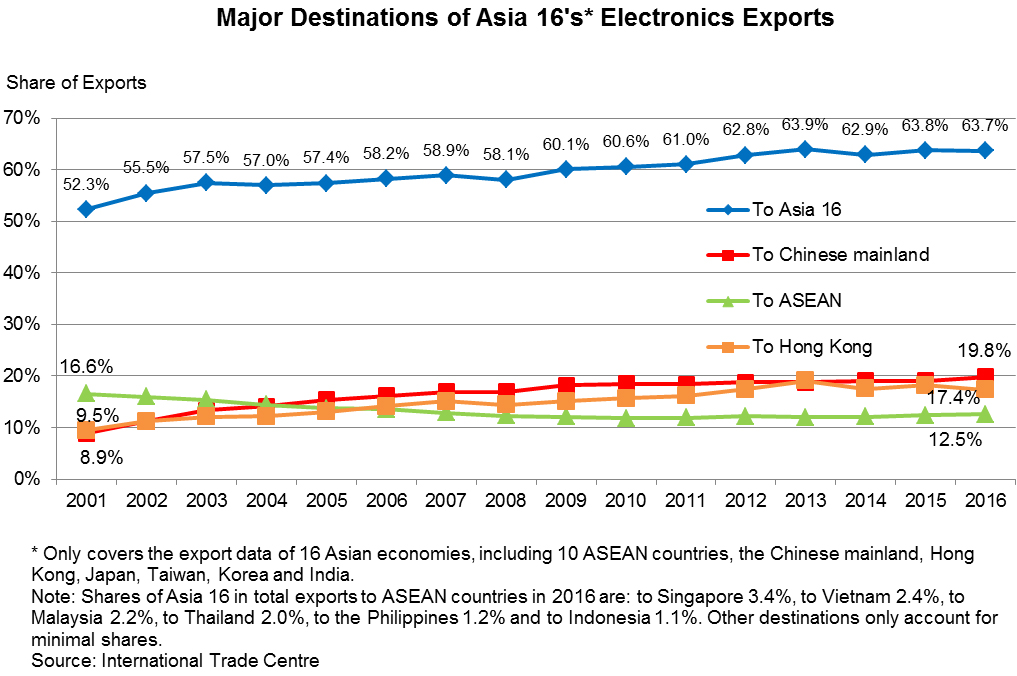 More than half of the region's electronics trade is classified as intra-Asia trade, and this proportion keeps rising. Among Asia's electronics exports, the share of products from individual economies going to other Asia economies has steadily increased from 52.3% in 2001 to 63.7% in 2016. The largest export sources are the Chinese mainland, ASEAN and the entrepot Hong Kong, and they are also the biggest Asian markets for electronics exports, comprising mostly parts and components as well as semi-finished goods.
This shows that the electronics industries of Asian economies are increasingly inter-dependent, gradually forming a closely-knit and sophisticated supply chain. Upstream and downstream manufacturers in different economies have to import key semiconductors and parts and components from countries in Europe and the US. At the same time, there is well-defined division of labour and co-operation within Asia through trading activities, including the production of diversified parts and components and electronic parts, the assembly and testing of the end-products, and ultimately the export of most of the end-products to markets outside Asia.
Leveraging Resources in South China to Support Production in Vietnam *
A Hong Kong-invested company specialised in plastic injection moulding, metal stamping and die-casting in Hai Phong told HKTDC Research that it established a manufacturing operation in Vietnam in order to follow in the footsteps of one of its downstream clients. Maintaining the Hai Phong factory saves the company money when it comes to logistics costs, while shortening the delivery lead time to its downstream clients. As another plus point, the company also enjoys the tax benefits of being based in Vietnam.
While acknowledging a number of clear advantages of being based in Vietnam, maintaining an operation in Hai Phong has not been without its challenges. One particular problem is related to the relatively low skill levels of many local workers, and consequently their somewhat lower productivity than that of their counterparts in south China. While Vietnamese labour costs are lower, in productivity terms the labour cost differential between Vietnam and China is far from substantial. In order to enhance its production efficiency, the company is now planning to further automate its operations, a development that will see it requiring lower staff levels. Labour costs, therefore, will ultimately become relatively insignificant when it comes to considering further investments at the site.
The fact that Vietnam lacks a number of the key supporting industries, such as precision tool-making and engineering support, has huge significance for the future industrial development of the country. This lack of technicians and engineers, for instance, has already deterred the company from establishing an in-house manufacturing moulds and tooling facility in Vietnam. In order to tackle these problems, the company has to purchase various services and supplies from the Chinese mainland. For one thing, the company needs to orchestrate their in-house engineering talents and facilities such as computer numeric control machines to make the moulds and tooling in south China, which would then be shipped to Vietnam for use in processing production. As the plastics and metal raw materials are mainly sourced from China, as well as certain other Asian countries, the company is obliged to utilise efficient logistic services for the delivery of such materials to Vietnam. The company is using support from China in order to facilitate its bid to follow its client's downstream investments in Vietnam.
* Excerpts from Vietnam Connects its Cost Advantages with China: The Scenario of an Industrial Park in Hai Phong, HKTDC Research, April 2017.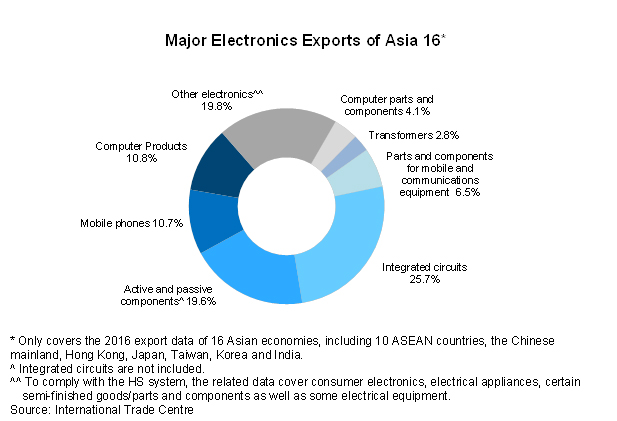 A closer look at the electronics exports of Asia shows that more than 60% of the products involved are parts and components, among which integrated circuits form the largest export category, accounting for 25.7% of the total in 2016. However, it should be noted that the export value of these integrated circuits include that of some chips originating in Europe, the US and some other places, which are shipped to Asia for packaging and testing, and subsequently re-exported to other electronics production bases in the region. More than 90% of these integrated circuits are shipped to destinations within Asia, – 36.2% to China, 24.6% to Hong Kong (for re-export to the Chinese mainland and other production bases), 15.7% to ASEAN countries and 6.3% to Taiwan, where they are used for the production of various types of electronic products and assemblies.
Other essential active and passive components for the production of electronics include a large number of discrete semiconductor parts and a wide range of passive components such as resistors, capacitors and inductors. They constituted 19.6% of Asia's total electronics exports in 2016, and of that share, 69.2% were regarded as intra-Asia trade. While both China and ASEAN are engaged in the production and export of a wide range of active and passive components, their domestic industries also import related products from other economies to support their operation in assembling and producing semi-finished and finished electronic products. Hong Kong, on the other hand, capitalises on its port facilities to re-export a large quantity of related parts to and from the Chinese mainland and other Asian markets.
The export of parts and components for mobile and communications equipment show a similar pattern. More than 80% in 2016 comprised intra-Asia trade, where the Chinese mainland remains the major export source and destination, with some products re-exported through Hong Kong. The ASEAN bloc also exhibits a similar trading pattern. In the case of Korea, while it continues to produce high-end mobile phones and other mobile communications equipment, it has arranged to have its assembly and production processes undertaken in other Asian locations. For example, Korea's Samsung has relocated some of its assembly facilities to Vietnam and other places. Whether as an export source or destination of the related parts and components trade, Korea is regarded as a notable player in the export arena of Asia.
Computer parts and components constituted 65.4% of related exports of Asia in 2016. However, as a proportion of intra-Asia trade, this sector is less significant because these parts and components are not only targeted at other Asian economies, but also at non-Asian countries where assembly of computer products is still in operation. A small proportion of these parts and components are also sold directly to consumers, especially those in the EU and US.
As for finished electronic products, Asia is currently the major global production base of mobile phones, with China and ASEAN accounting for 81.9% of the related products exported from Asia in 2016. As for Korea, since it has relocated most of its production lines to China and Vietnam, its related export share has declined drastically from 28.5% in 2007 to 4.3% in 2016. The same applies to the export of computer end-products. In 2016, China and ASEAN countries were responsible for 84.5% of the computer products exported from Asia.
Unlike their parts and components, finished electronic products are mainly exported to the EU and US markets which together accounted for 40% to 50% of these exports, whereas intra-Asia trade only accounted for some 40%. As a major market/entrepot for these finished goods, Hong Kong was the destination for 17% of Asia's exported mobile phones and computer end-products in 2016.
However, hit by the slackening global market in recent years, enterprises in Asia are facing intensified competition. Enterprises in China, plagued by labour shortages and rising production costs, have also been prompted by this development to proactively enhance their competitiveness, expanding their international business to broaden their market, while setting their sights on Asia and other regions. By adjusting their regional business strategies, including relocating part of their production and sourcing activities, many Chinese enterprises hope to forge closer links with Asia's supply chain and take advantage of their resources in the mainland and overseas to pursue transformation and upgrading, in order to meet the changing demands of the international market.
For further details, please refer to:
Shift of Global Supply Chain and Guangdong-Hong Kong Industrial Development (Executive Summary)
Changing Global Production Landscape and Asia's Flourishing Supply Chain
Changes in Asia's Textiles and Garments Supply Chain
Evolving Role of "Made in China"
Guangdong and Hong Kong to Adjust Regional Business Strategies
Shift of Global Supply Chain and Guangdong-Hong Kong Industrial Development (Conclusions and Recommendations)
Appendix: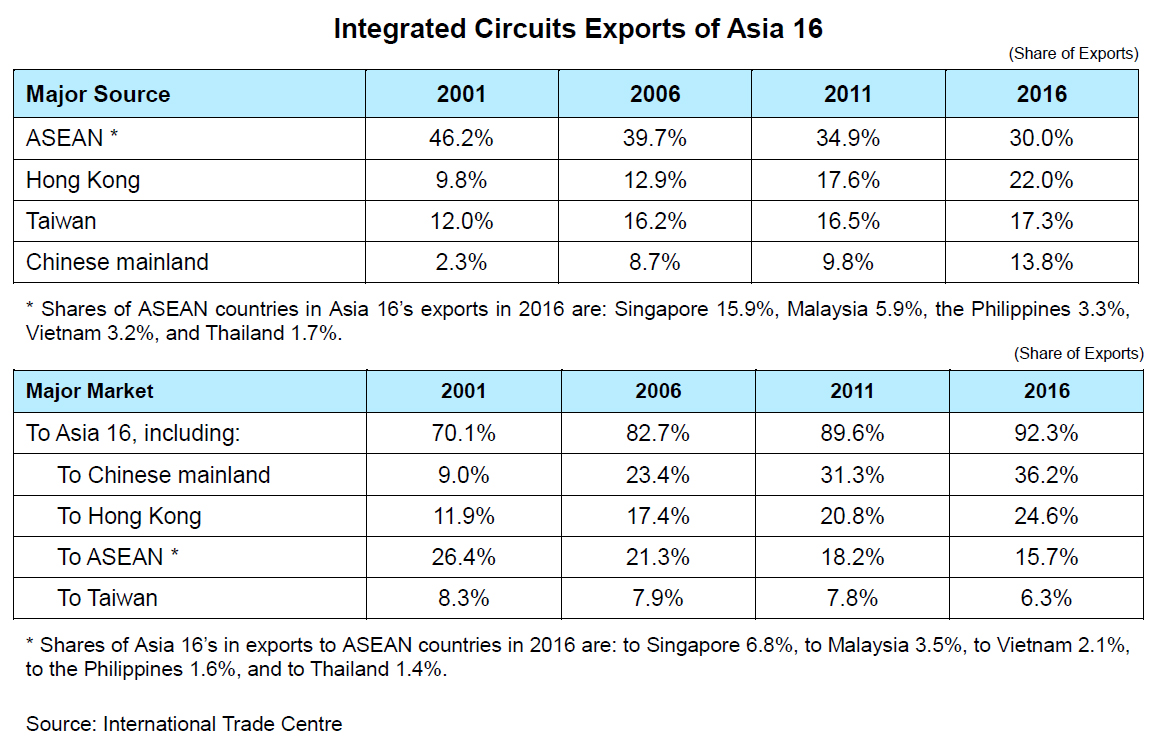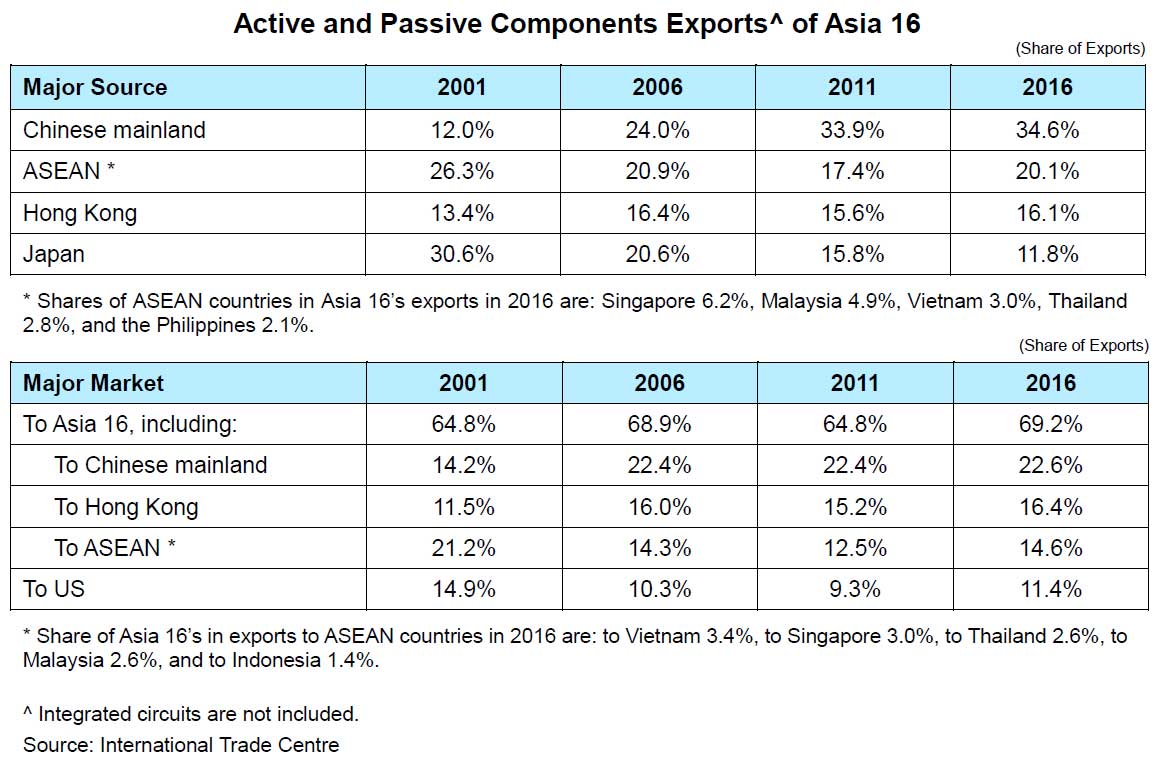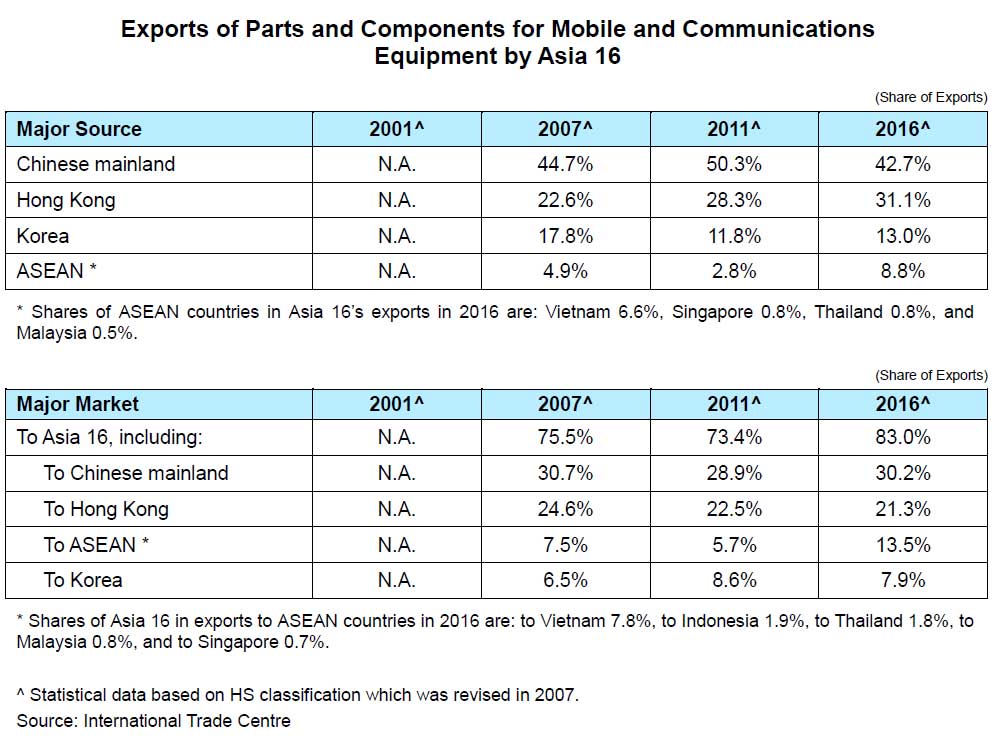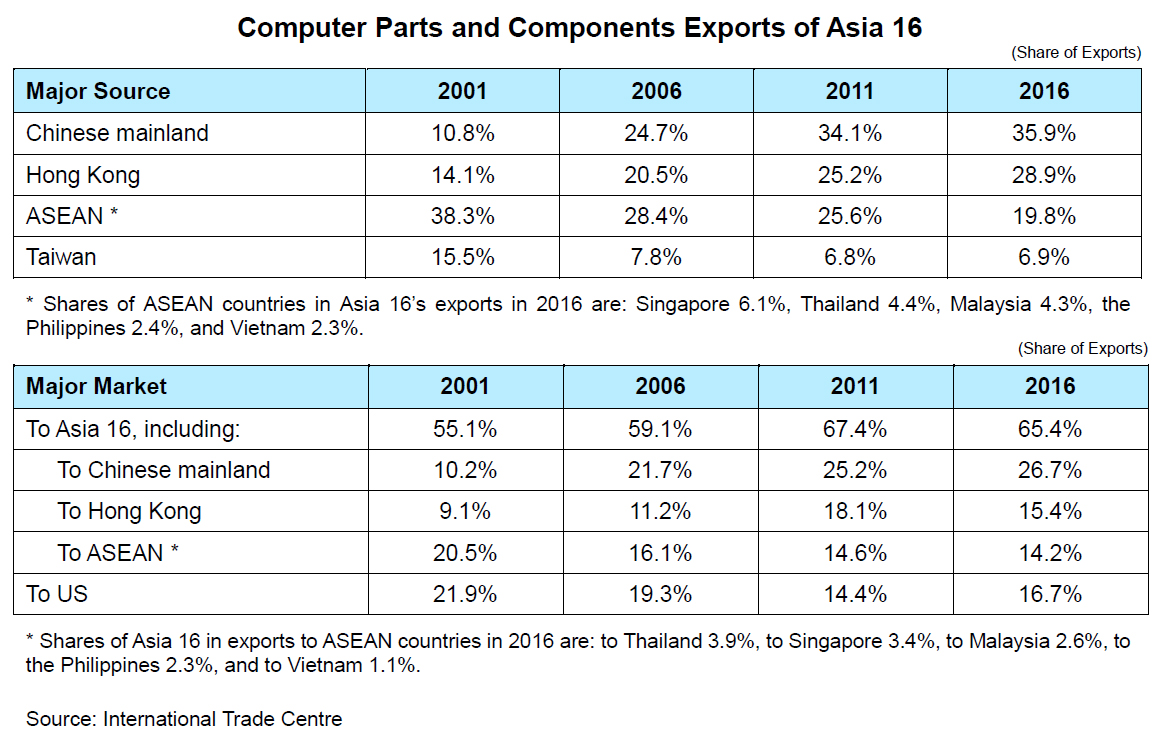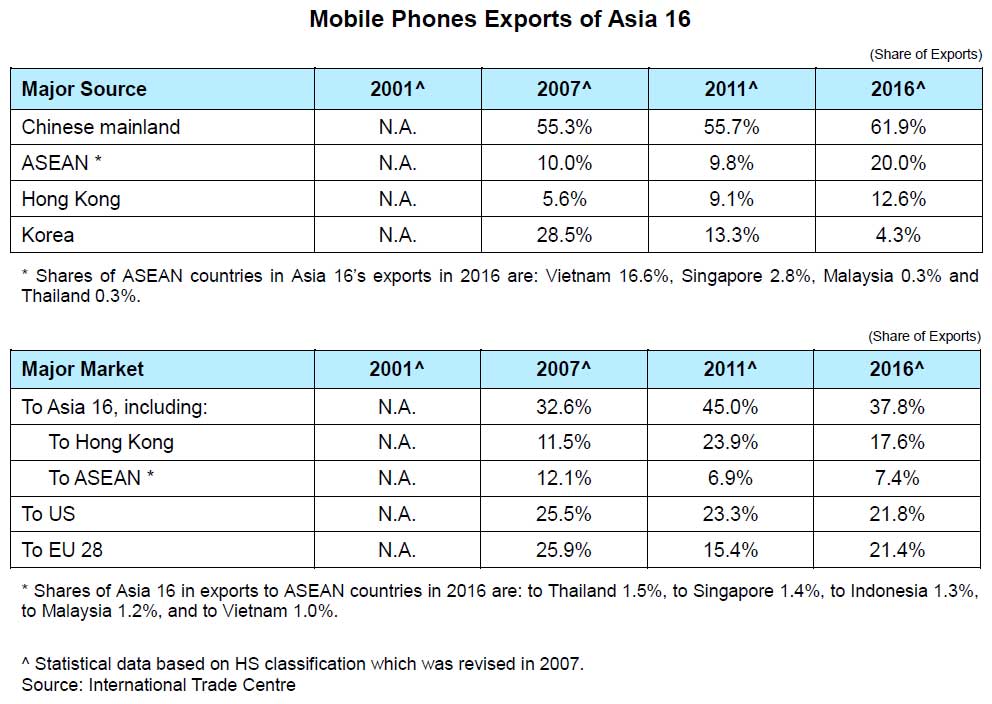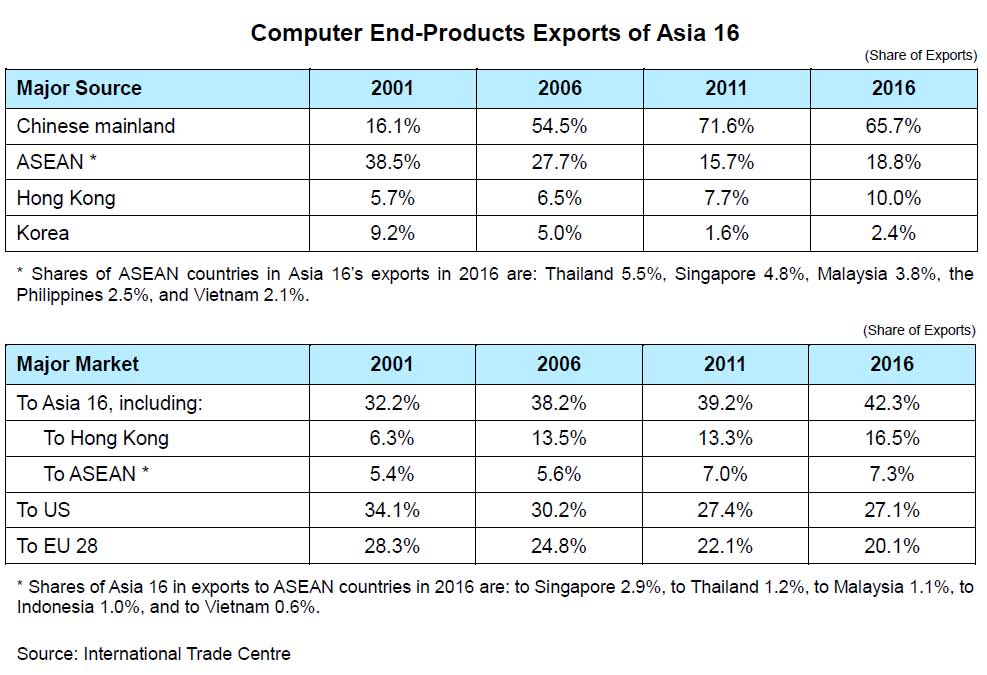 ---
[1] Unless otherwise specified, all electronics trade figures quoted in this Report are compiled based on the HS coding and classification system.
[2] Source: Yearbook of China Information Industry
Electronics & Electrical Appliances
Mainland China
Viet Nam
Mainland China
Hong Kong
Southeast Asia