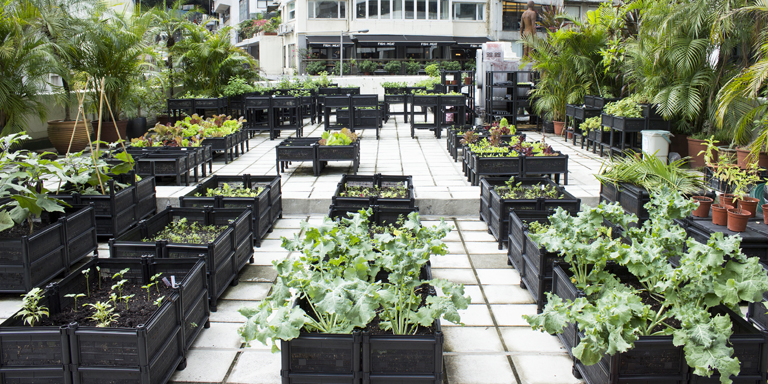 https://hkmb.hktdc.com/en/1X0AB7YH
Farm Gardens in the Sky
Concern about food provenance and the broader global issue of food security, three gardening enthusiasts in Hong Kong turned a hobby into a thriving social enterprise.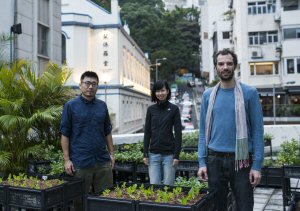 Rooftop Republic was established in 2015 by three friends who met in Hong Kong: Michelle Hong from Singapore, Pol Fàbrega from Barcelona, and Andrew Tsui from Hong Kong. "We'd all grown up in an urban environment and knowing that less and less food was being grown in our own cities was a huge problem for us," Ms Hong said.

"If our only access to food is at the supermarkets, where the food has already been harvested and packed, people can be disconnected from where food is grown, and the farmers who grow it."

Yet locally grown is also important for health, Ms Hong continued. "When food travels long distances, it faces nutrition loss. Produce may also be chemically treated post-harvest in order to last these journeys."

The irony, as the trio sees it, is that most people living in cities can afford to buy the freshest, most nutritious produce, "but they're not getting access to it."
Urban Rooftops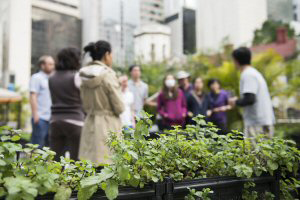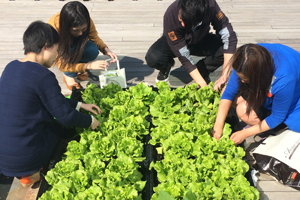 While successfully growing edible plants in their own homes, the three partners saw a business opportunity – turning what they term as "idling" spaces, including unused rooftops and terraces, into productive urban farms, where conditions allow.

"We work with the client to identify spaces that can potentially grow food, and then help them to design and set up the garden," Ms Hong explained.

It is "very much an interactive process," said Ms Hong, who noted that "Rooftop" reflects the spatial concept of the enterprise, while "Republic" is "all about the people."

"We set up the farm and get them started, then give ownership to the ones who will be caring for it," Ms Hong said. Rooftop Republic also offers farm management services to clients who want them to still be involved, and clients may also choose from a range of related services, including planting workshops, harvesting guidance and food-to-table cooking demonstrations.

To date, the partners have set up about 30 urban projects; an average of one per month. Clients include corporates, such as JLL, Cathay Pacific Airways and PricewaterhouseCoopers, developers Swire Properties and Nan Fung Group, and F&B operators, such as East Hotel in Tai Koo Shing and Something Wild–The Farm at K11 Art Mall in Tsim Sha Tsui.
Natural Benefits
Companies that employ a large workforce use their farm as a team-building opportunity, often among colleagues who work in different departments and might not even know each other. Property developers gain "green" credentials for their projects, and an extra selling point for their buyers and tenants. At participating restaurants, chefs pluck produce straight from their urban garden to incorporate into their dishes.

Rooftop Republic also counts a number of schools as clients, aligned with the educational sector's growing focus on sustainability.

Real estate services firm JLL sees its contribution to an urban farm it operates on the rooftop of the Bank of America Tower, in conjunction with Rooftop Republic, as its contribution to a more sustainable city.

"It's an opportunity to give back to the local community, since the produce is donated [to charity]," said William Lai, JLL's Head of Property Management Hong Kong. "We also want to demonstrate that even in very dense areas of the city, it is possible to grow vegetables; to educate about how food is grown to encourage being mindful of food waste."

Since the farm's inception in November 2013, about 400 kilogrammes of fresh produce has been donated to local food banks.

JLL head office staff members can volunteer on the farm. "It's a great staff engagement activity where colleagues from different departments can get to know each other, be outdoors with a great view, do something meaningful, and learn about urban farming while taking a break from the office for a few hours," Mr Lai said. "We would have had maybe close to 80 colleagues take part in farming activities."
Farm to Table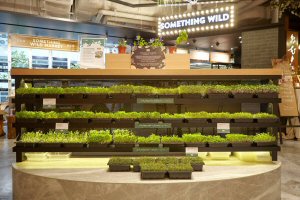 At Something Wild-The Farm, the micro-rack growing edible greens out the front is a talking point for the restaurant's customers. "They are surprised to see vegetables growing indoors, and to learn that you can just pick, wash and eat them. It's one of the hallmarks of our restaurant," said Gladys Chin, Director.

The produce goes into pasta, risotto and salad dishes as part of the venue's farm-to-table concept. Promoting "buying local" as well as sustainability, the owners also source from Hong Kong farmers wherever possible.
Cathay Pacific Airways started a Farm in the Sky on the rooftop of Cathay Pacific City, adjacent to Hong Kong Chek Lap Kok International Airport, expanding it to 3,000 square feet in November 2016. Staff sign up for a three to four-month farming programme, tending seasonal vegetables and herbs day-to-day with coaching and guidance from the Rooftop Republic team. They then harvest and share the produce. Related activities, such as a harvest party and visits to local organic farms in the New Territories, have also been organised.

Cathay Pacific's management sees the farm – an initiative of the staff social club, Cathay Club – as a good fit for the airline's longstanding commitment to the environment, local communities and staff. It's also a platform to bring staff and their families together while promoting a healthy, more sustainable lifestyle.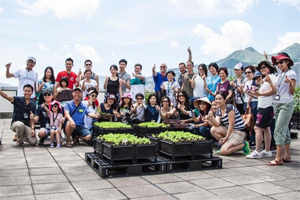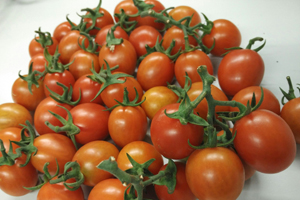 Planting Awareness
Rooftop Republic's partners say they are also pleased to be part of a movement that is changing the collective mindset. "Whatever urban gardeners face in terms of challenges – Hong Kong's hot, humid summer, the risk of typhoons and bug infestations – we know that this is multiplied a thousand times or more for our local organic farmers in the New Territories," Ms Hong said. "Our survey results conducted among clients show that people are more appreciative of the farmers' efforts, and value produce more."

After sprouting its roots in Hong Kong, Rooftop Republic is eyeing Greater China and regional markets. The company has already carried out an urban farm consultancy and build project in Guangzhou, and is currently creating an edible garden for a new luxury residential project in Changsha, Hunan.

Last year, it partnered with local NGO Silence on a pilot programme to equip the hearing-impaired community they serve with farming knowledge and skills. Rooftop Republic aims to employ the "graduates" of the programme at their urban farming projects around the city, allowing them to apply their strengths and passion for farming through work in urban farms, and setting the stage for social inclusion.

"Hong Kong is an ideal starting point to test out this model," Ms Hong said. "We thought: if this approach works in Hong Kong, it will also be a viable solution to many other cities that are rapidly urbanising in Asia and beyond."
Related Link
Rooftop Republic
Singapore
Spain
Hong Kong
Southeast Asia
Western Europe