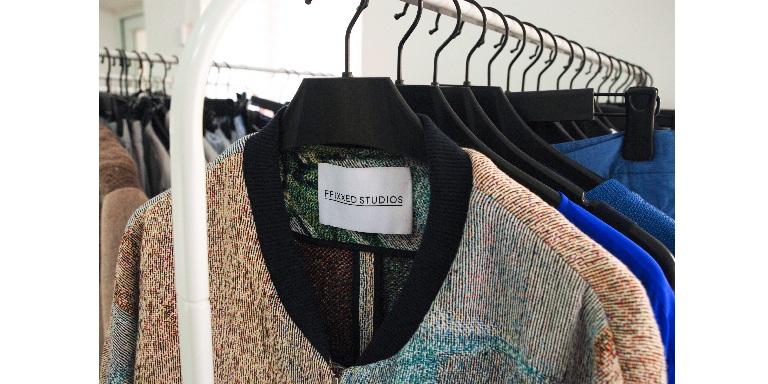 https://hkmb.hktdc.com/en/1X0AASWS
Reinterpreting Fashion through Art
Hong Kong label FFIXXED STUDIOS is winning an international following with its unique take on the everyday.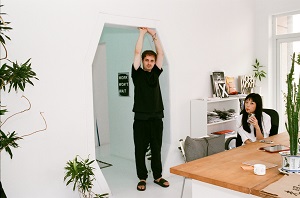 FFIXXED STUDIOS is fashion inspired by art. The Hong Kong label was set up in 2010 by Australians Fiona Lau and Kain Picken. "We came to fashion, I wouldn't say as outsiders, but we're coming from a different perspective in that it's a continuation of another project," said Mr Picken, who studied fine arts.

FFIXXED denotes no fixed meaning, location or fixed idea of things. "We're often inspired by the idea of the everyday, like readily available things you see, like recontextualising or changing the meaning or interpretation," said Mr Picken. "No matter what format, it's always about reinterpreting our immediate environment," he added.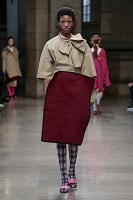 For her part, Ms Lau's interest in design began in Japan, where she went to learn the language. Instead, she fell in love with the fashion in Japan, and returned to Australia for training.

While living in Berlin, the Melbourne natives merged their professions through a project for an Art Rotterdam exhibition. "We made this sculptural wall-hanging where they were sewn together and had zips made out of fabric. So it was using all these techniques around fashion," said Ms Lau.

It soon became apparent that Hong Kong, where Ms Lau's family was originally from, was the best place to develop the business. "We decided that Hong Kong was really the perfect base," said Ms Lau. "There's a real great energy here, a lot of good resources. Hong Kong is very supportive of designers."
Best of Both Worlds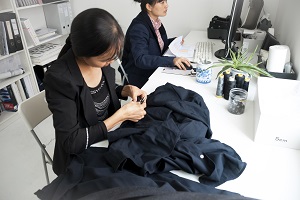 The couple works from a studio in Hong Kong and another in the neighbouring Chinese mainland city of Shenzhen. Their workshop, in the bucolic Wutong Village, allows the designers to manage the entire production process, employing about two dozen people from the village.

"The benefit of Hong Kong and Shenzhen is that you have the best of both worlds," said Mr Kane. "Doing business internationally, especially as a foreigner, is incredibly easy in Hong Kong."
FFIXXED STUDIOS sell in key markets, including Tokyo where the label has the biggest following especially among the younger set. More recently, the label began working with Hong Kong's upscale Lane Crawford department store. "Working with Lane Crawford allowed us to reach a wider audience and opened our label to a broader age bracket," said Mr Kane.

Hong Kong and the Chinese mainland are the label's strongest market to date, but FFIXXED also has dedicated markets in the United States, Europe and the United Arab Emirates. "We've always had a very international mindset. That's something we thought about a lot; we consciously didn't want to be so specific to a region."
Sustainability Kudos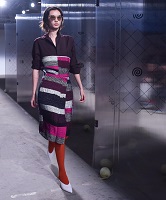 Such is the label's global appeal that it caught the eye of judges who awarded the designers with the prestigious International Woolmark Prize – Women's Asia in 2013. While in 2015, they notched up another honour, the inaugural Yoox Esthetica Sustainability Award, for their holistic approach to sustainable design.

"We've never billed ourselves as a sustainable brand," said Mr Kane. "We've just employed techniques that were always part of our core philosophy," he said. Sustainable practice is deeply woven into the label's innovative designs. "We may have five to 10 yards of excess fabric like luxury wool, silk or cotton, which is not enough to make another style, so we started shredding the fabric and re-weaving it like an Ikea rug," explained Ms Lau. "By giving it another context, it's a nice way to be sustainable."
Spark Joy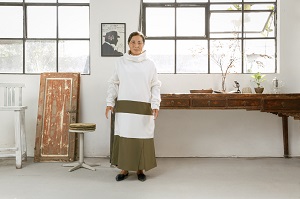 Since 2016, FFIXXED collections have shown at Paris and Shanghai fashion weeks. The label will launch its first Hong Kong show at CENTRESTAGE Elites in September with its Spring/Summer 2018 collection. "It's a very laid-back, casual collection," said Mr Kane, who added that it takes inspiration from the bestselling Japanese author Marie Kondo and her book on the art of decluttering.

"She has this term 'spark joy,'" says Mr Kane. "If this object sparks joy, you keep it. So we started thinking about details that can spark a little joy and came up with T-shirts that come with built-in scarves, or a blazer that has a shirt combined in a natural way, so it's like two coats in one."

While the latest thematic collection is a continuation of a dialogue on reinterpreting the everyday, the label's "design philosophy is inspired by traditional garments and responding to what's around us," said Mr Kane. "We want to communicate that fashion is connected to your everyday life, rather than an escape. For anyone who sees our show, the main thing we want them to feel is that they're seeing something they want to engage with. That would be the best kind of response."
Related Links
FFIXXED STUDIOS
CENTRESTAGE
Garments, Textiles & Accessories
Hong Kong
Australia
Hong Kong
Australasia