https://hkmb.hktdc.com/en/1X0AARDE
Hong Kong Start-up Trends: The Healthcare Sector
Aging population is a pervasive and relentless trend across the globe. According to United Nations, the population aged 60 or above amounted to more than 900 million in 2015. They are growing in both number and proportion, which is set to reshape the consumer landscape and lead to strong medical and healthcare demand in the next decades. The trend has encouraged the use of biotechnology applications for better human health and living.
Indeed, biotechnology has revolutionised medicine and transformed healthcare in profound ways. Its implications have penetrated every nook and cranny of healthcare provision – new drugs, disease prevention, diagnostic methods, drug delivery systems, and medical treatments that are less costly, invasive, and painful. For example, implanted sensors can help patients monitor their diseases more effectively, and technological innovations that connect the many islands of information in the health care system can both vastly improve quality and lower costs.
Although Hong Kong is lagging behind the world's development of biotechnology, some promising biotech companies have begun to emerge in the city in recent years, due to the successful commercialisation of research results in the wake of implementation of Technology Start-up Support Scheme for Universities (TSSSU) [1] and other conducive government policies. Such biotech start-ups offer hope of better prediction, diagnosis and treatment of various kinds of diseases.
Despite this, biotech start-ups in Hong Kong face many obstacles that may hinder their ability to grow, among which are access to funding and talent, as Hong Kong is not traditionally a global biotech research centre.
Early Detection of Stroke in Minutes (Interview with Health View)
Dr Benny Zee, Founder and CEO of Health View is clear about the importance of TSSSU, saying: "Without TSSSU, there would be no Health View. Under the TSSSU scheme, professors and students in universities are encouraged to commercialise their R&D results. In response to the government thrust, we have seen new waves of start-ups in the universities."
With years of overseas working experience in the field of biostatistics, Zee has developed a strong interest in biostatistics methodology for certain kinds of degenerative diseases, such as cancer and cardiovascular disease. In 2008, his PhD student carried out a study to investigate if there is an association between stroke and the characteristics obtained from pictures of the retina. He realised that the research using information in the retina may have a major contribution to the world of medicine and public health.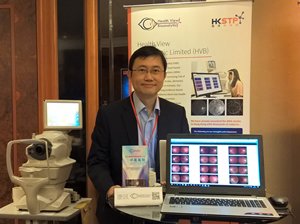 Through collaborative efforts with his co-workers, Zee has developed computer programmes that can automatically and accurately determine a person's propensity to suffering a stroke. Currently, there is no effective way to have early warning of a stroke attack, even though high blood pressure, diabetes, high cholesterol, tobacco use, and obesity have long been known to be risk factors. While MRI (Magnetic Resonance Imaging) and CT (computed tomography) scans are able to identify stroke when it occurred, they are too expensive and inconvenient that ordinary people will not voluntarily undergo unless absolutely necessary.
Zee said: "Our solution is simple: just take a picture of the back of the eyes using a fundus camera and load it on our cloud server and within a minute you will get a score which tells whether you have high or low probability of suffering a stroke. The principle is easy to understand as the blood vessels of our eyes are closely connected to the brain, so by analysing data of the blood vessels of our eyes, we can assess the condition of the blood vessels in your brain.
"We are delighted to be able to offer such a simple solution to a challenging problem. We wish that this inexpensive early detection measure can be popularised so even the grass roots can afford to get a stroke risk assessment before it is too late. Nothing can be comparable to the satisfaction of being able to offer help to a lot of people."
Health View's first milestone was partnering with NGOs, for example, Lutheran Social Services and St. James' Settlement, to provide such service to the working class and poor people. Zee said: "The NGOs take a picture of the individual's retina and obtain an analysis from our platform in a matter of minutes. This is much more convenient and affordable than other tests at the initial screening stage."
The start-up is also currently working with various optical shops in Hong Kong. Zee plans to offer this service to health check units in Hong Kong in order to serve a wider consumer base.
Zee said: "Private hospitals and insurance companies are our next targets. They can help us penetrate into the higher-end market. We also recruit consultants from the fields of neurology and ophthalmology as these medical professionals understand our technology and people solicit and value their opinions."
According to Zee, quite a number of investors have shown interest in the project. He said: "We are still learning how to evaluate and negotiate with potential investors. We only want to work with people who share common values with us and are not just concerned about making fast profit."
Predicting stroke is just the first solution developed by Health View. Zee anticipates that the data obtained by pictures of the retina can also be analysed to assess risk of diabetes, chronic kidney disease, coronary heart disease and dementia.
Zee is of the view that Hong Kong people are in general willing to try new technology especially in the area of health promotion and disease prevention. He urges the government to promote health education and raise the awareness of diseases prevention in Hong Kong.
Detecting Diabetic Eye Disease with a Simple Test (Interview with Visiona MedTech)
Diabetic retinopathy (DR) is the most common cause of vision impairment and blindness among people with diabetes, a rapidly growing population of 415 million adults globally, according to IDF - International Diabetes Federation. High blood sugar can lead to a group of eye conditions that affect people with diabetes. These conditions include diabetic retinopathy, diabetic macular edema (DME), cataracts, and glaucoma.
Studies show that early detection and treatment can, however, substantially reduce the risk of blindness caused by diabetic eye diseases. As such, regular eye screening is crucial for early detection. However, getting DR screening once a year, as advised by World Health Organization (WHO), can prove to be difficult in most countries due to strained specialist medical resources. In Hong Kong, for example, many diabetes patients who rely on public medical services have to queue for a year or so to receive consultation by a specialist eye doctor.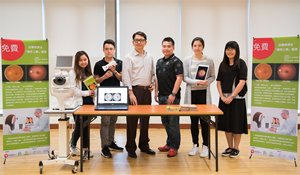 Visiona MedTech, a Hong Kong start-up recently graduated from Hong Kong Science Park's Incubation Program, has developed a software with artificial intelligence to address such huge unmet demand. The software, code named "VisionaDR", can detect whether a person has diabetic eye disease by analysing his/her retinal images taken with a regular fundus camera. VisionaDR takes as little as 10 seconds to generate analytic results of a retinal image.
Reny Ng, CEO of Visiona MedTech said: "We have developed VisionaDR with a vision to enable scalable DR screening services to serve a huge and rapidly growing population of diabetes patients. Take Hong Kong as an example, there are over 700,000 diabetes patients. Can you imagine how many doctor hours, and thus cost, it takes to provide DR screening for all of them on a once-a-year basis? With VisionaDR, this can be implemented with little difficulty and upfront investment."
Ng said that his company has spent the past few years on R&D and is now confident that the programme is not just highly accurate in detecting diabetic retinopathy, but it can also tell the patient how serious the disease is. After the test, the patient will get a score from one to four, which is based on the DR grading guidelines published by International Council of Ophthalmology (ICO), with higher scores indicating a worse problem.
Because the start-up is offering image analysis services, delivered via the internet, users with a regular fundus camera and internet can start using its services immediately. The business model is very scalable. Ng said the cost of such automatic screening is affordable by most as it does not require an eye doctor or an optometrist to operate. Ordinary people can be trained to conduct the test, so in principle the test can be popularised very fast once people are aware of its benefits.
The start-up is in talks with various prospective business users, such as health check-up chains, in the city and has received positive responses. Ng said: "Due to slowdown in inbound tourism, the retail business has been sluggish in recent years. Optical shops are now more receptive to new ideas and value-added services because they see new technology such as VisionaDR could be an excellent marketing tool to attract traffic into their retail shops."
This simple test can improve lives in many ways – eye doctors can spend more time focusing on patients who are really in need. Because getting a test is convenient, fast and inexpensive, diabetes patients will be more willing to take the test more frequently. Blindness caused by diabetes can be significantly reduced.
Initially, Ng intends to price his services to populate in their target markets. Flexible schemes are being offered to his prospective customers while per image charge tend to prevail. He also has plans to find distributors, both locally and internationally. Medical devices makers and distributors are the target customers or partners. Ng is recruiting key opinion leaders to be the start-up's advocates as he thinks quality assurance is the key to get people try new things.
---
[1] Technology Start-up Support Scheme for Universities (TSSSU) is a funding scheme under the Innovation and Technology Fund (ITF) of The Innovation and Technology Commission (ITC), which provides annual funding of HK$24m (US$3.1m) to six local universities, initially for three years, to encourage their students and professors to start technology businesses and commercialise their R&D results.
Information Technology
Medical & Healthcare Services