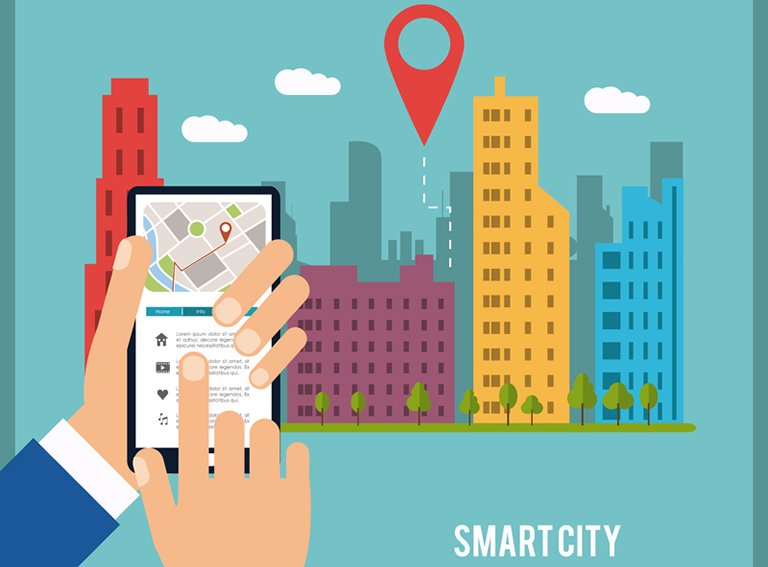 https://hkmb.hktdc.com/en/1X0AAL63
Hong Kong Start-up Trends: The Smart City and Smart Home Sectors
Smart cities are a growing trend around the world. The smart city concept, though, is about more than just creating a connected and efficient urban environment. It is also about providing ready access to the services that people need, while, at the same time, minimising the impact on the environment. In tandem with the latest developments in the smart city sector, smart homes are also offering intriguing possibilities as to how we will live in the future.
Over the past few years, several innovative Hong Kong-based start-ups have emerged with a focus on smart city and smart home solutions. Principally, these start-ups have focussed on improving resource management, transportation and traffic efficiency and on delivering a high quality of life. The rapid development of people-centric information and communications technologies (ICT), artificial intelligence (AI), the Internet of things (IoT) and big data analytics have all facilitated the deployment of these smart solutions.
It will take more than sophisticated enabling technologies, however, to transform Hong Kong into a smart city. At the very least, it will require public and private stakeholders to adopt common goals, while intelligent, integrated city planning is also a prerequisite.
Artificial Intelligence Concierge (Interview with Accosys)
In 2015, Miles Wen, now an Honorary Assistant Professor at the University of Hong Kong, launched Accosys, an AI start-up. He was joined in this venture by Professor Victor On-kwok Li, Chair Professor and Head of the University of Hong Kong's Department of Electrical and Electronic Engineering.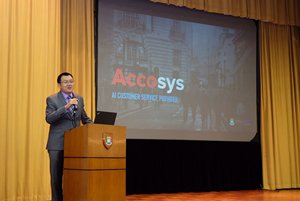 In line with Wen's computer science and electronic engineering background, the company first developed an indoor GPS service. Similar to the way that Google Maps helps navigate around cities and towns, this indoor GPS service was intended to assist people in finding their way around indoor complexes and other large facilities. Disappointingly, Wen soon came to realise there was little commercial scope for such a service.
After trialling a number of alternative concepts during the company's first year of operation, Wen and his colleagues finally settled on one they saw as a winner – an electronic concierge, which took AI technology to the frontline of brand communications, allowing it to directly interact with consumers rather than being relegated to some subsidiary back-office role.
Explaining the thinking behind the product, Wen said: "AI is basically about handling normal, everyday human tasks but in a super-human fashion. AI can process billions of pieces of data in a second, all with complete recall. Our goal is not to replace human concierges with AI concierges, but rather to empower customer service. In principle, we are targeting any company or brand that values customer relationships, including real estate companies, hotel chains, banks, airports, transportation and public utilities. At present, we are in talks with several leading real estate companies, banks and theme parks, with the response, to date, having been hugely positive.
"Hong Kong is the perfect place to test such a concept. Many of the city's businesses are global leaders in their particular markets and, should they endorse our product, it will open up doors for us on a truly international basis."
Believing that smart applications represent the obvious next evolutionary step for AIs, Wen said: "In essence, what is a smart city? Ultimately, it's city that you can communicate with at all times and which can then meet any of your requirements. The whole point of building a smart city is to improve the quality of life for residents, while utilising urban informatics and technology to improve service efficiency – all areas where AI can play a massive role. It can process huge amounts of data and then act upon it with all the required accuracy and speed. It can also co-ordinate networks of people and facilities in order to help people make more informed choices, not just for themselves, but for the collective needs of many.
Wen believes that, at present, Hong Kong lags behind a number of its rivals elsewhere in Asia when it comes to achieving true smart city status. He does see it as possible, however, to close the gap, but only if the Government, the industrial sector, academia and the various research and development bodies work more closely together to deliver AI solutions in the required areas. Only then, he maintains, can Hong Kong truly become an efficient, innovative high-quality smart city.
In terms of his own company's future, Wen believes a lot of challenges remain to be overcome. To date, it has raised US$600,000 from angel investors and venture capital funding. It is now seeking a second round of investments prior to a major market launch.
Smart Homes: The Vision (Interview with GL Technologies)
GL Technologies was launched in Hong Kong in 2014 by a group of technology enthusiasts. Their aim was to develop wireless technology-enabled smart devices that would deliver real improvements to people's lives.
With a specific focus on Wi-Fi technologies, the start-up specialised in smart routers and gateways, all of which were highly-customisable for specific applications. Essentially, smart routing is a means of determining the best path to send traffic based on real-world performance or optimised cost requirements. This is quite distinct to traditional routing methods, where paths are solely selected on the basis of existing network configurations.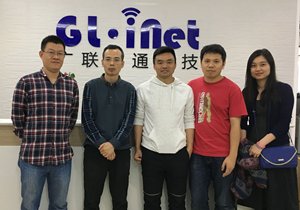 With his background in electrical engineering, Alfie Zhao, the company's Chief Executive, had long been convinced that a huge market exists for smart routers. Given the ubiquity of smartphone ownership and growing internet penetration, he believes demand for such routers will inevitably rise over the coming years.
The company's Wi-Fi routers are designed to have comprehensive functionality and feature full internet connectivity. All such systems are also linked via a cloud-based platform, providing instant machine-to-machine messaging capabilities, while allowing for big data analysis on user behaviour, as well as video processing and summarisation capabilities for smart cameras.
Explaining the need for flexibility, Zhao said: "As people have more and more connected devices at any one site, whether at home or in an office or hotel, they require smart routers offering device management features and high-end security. These are not just for tablets and smartphones, but also for connected appliances. Our Wi-Fi smart routers are designed to facilitate home/office automation, while also enhancing energy and cost saving, making them the logical choice as hubs for smart homes and offices.
In total, it took us about two years to commercialise our technology based on user feedback and our own usability analysis. In order to customise our technology, enabling us to design a user experience that best satisfies business and user requirements, we have to listen carefully to our customers."
The company's core team comprises engineers and Wi-Fi experts from Hong Kong and the Chinese mainland, as well as a small team of product design and sales/marketing people based in GL Technologies' offices within the Hong Kong Science and Technology Park. Through a combination of Hong Kong design, western marketing and Chinese manufacturing, the company now aims to become a truly global business.
The company has adopted separate marketing approaches for its business-to-business (B2B) and business-to-consumer (B2C) markets. In its B2B marketing, it is leveraging on its existing collaborations with western hardware manufacturers, while for B2C purposes, it is focusing on building a strong brand, one which is instantly recognisable by its target customers.
Zhao said: "With the rapid increase in the availability of Wi-Fi across North America, Europe, Australia and China, we can now target a pretty balanced mix of mainland and overseas markets."
"Anticipating rapid growth, we now plan to hire more staff. We are looking for people with a truly global outlook who are enthusiastic about the way technology can help improve lives."
Information Technology
Technology