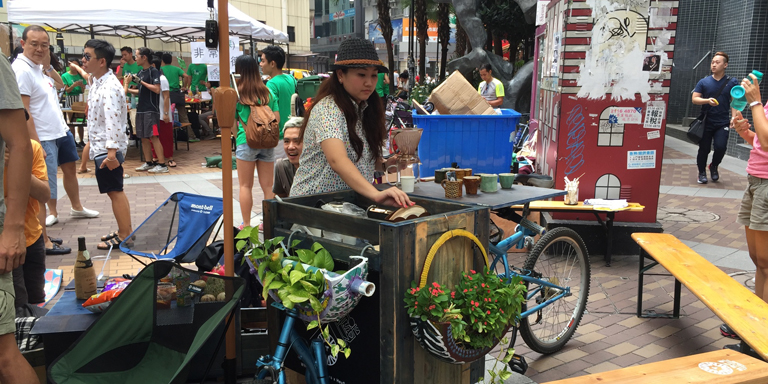 Sustainable Hong Kong
Companies and non-profits alike are embracing planet-friendly initiatives in the city.
Hong Kong's second "Zero Waste Week" held last November – when people were challenged to send nothing to the landfill for seven days and a growing awareness around sustainability – show organisations are taking steps to become more planet-conscious.

The city is also gearing up to build eco-friendly skyscrapers, after the government granted extra buildable floor area on new projects that set out to achieve a green building certification.
Zero Food Waste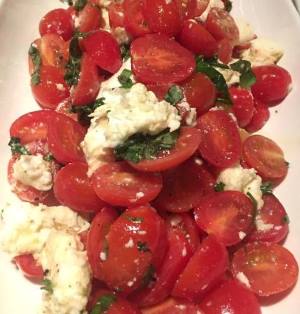 Roughly one-third of food produced in the world for human consumption annually – approximately 1.3 billion tonnes – is lost or wasted, according to the United Nations. Food Savior aims to reclaim some of Hong Kong's share of that food waste (an estimated 3,600 tonnes each day) by collaborating with local eateries to offer cut-price food after their breakfast, lunch and dinner services have ended.

Set up by journalist Liz Thomas along with financiers Florent Sollier and Adrien Hay, the food-ordering platform currently works with about 30 local cafes and restaurants to establish what they describe as "a digital version of the discount corner" – connecting customers with restaurants that have surplus food at the end of service times, and are happy to sell it at bargain prices.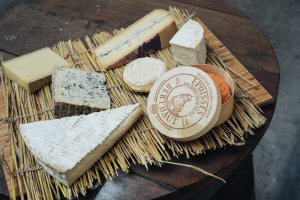 "Restaurants can also list last-minute deals or special offers for their quiet periods to help ensure nothing is thrown away. You can just input your location and see what's available near you," says Mr Hay, who adds that they plan to eventually target supermarkets and caterers as well. They are also looking at ways to work with food-redistribution charities for people to donate food they buy.

Mr Hay says some of the F&B outlets it collaborates with immediately understood the value of the system. "They were frustrated with the idea of wasting perfectly good dishes. It's not just the food itself that goes to waste, it's the money that's gone into the raw materials, the energy that's gone into preparing it, and the time that's lost by doing all that." Mr Hay adds they have been impressed by how creative people have been with the concept. "Monsieur Chatte offer last-minute deals on their sandwiches, Cabane a Vin puts up all the extra cheese they have at more than 50 per cent off, while 208 Duocento Otto do a special HK$25 box on their surplus salads."

The trio sees expansion as its biggest challenge "We'd love to work with the government to do more to spread the word, and run campaigns and special events to really drive this message home," says Ms Thomas.

Mr Sollier says investment would also enable them to speed up app development, reach out to more local restaurants, and target the Cantonese-speaking market. "We'd really like to see more organisations tackle issues of waste, recycling and re-purposing across the board – not just food but packaging materials and clothing, and especially those that are coming up with sustainable alternatives for consumers to use," he adds.
No to Plastic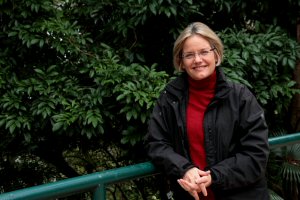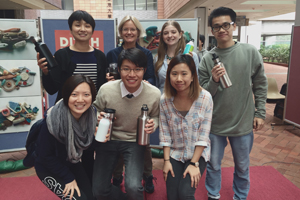 Composed of toxic pollutants and built for durability rather than biodegradability, plastic bottles negatively impact the environment by polluting air, water and land pollution. Recognising this, the University of Hong Kong (HKU) has banned the sale of bottled water with its "Ditch Disposable" campaign. Soft-launched in March, the new policy takes effect in July.

"Our students have grown up with a lot of disposable goods, and we want encourage them to learn to live without such items," says Sustainability Manager Anne Kildahl.

With about 70 filtered water dispensers across campus, HKU will gradually install 20 more to ensure staff and students can easily fill up their recyclable cups. Ms Kildahl notes that many staff and students had been using recyclable cups prior to the ban. Now they are also encouraging caterers and retailers to make reusable containers readily available. One of its vending companies will also sell reusable bottles to support the ban.

The university also organised a beach cleanup to highlight the seriousness of the plastic waste problem at Cape D'Aguilar and Hong Kong's scenic Shek O beach. "In one hour, volunteers had collected more than 3,500 bottles. One was from 1997 in perfect condition, which really shocked some of the students," says Ms Kildahl.

The university is also working to further cut down on waste, with plastic bags and takeaway boxes possibly next to be banned on campus.
Community Upcycling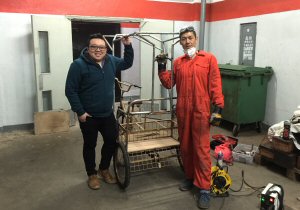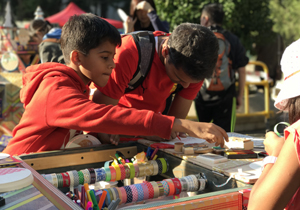 Established in 2015 in Kowloon's To Kwa Wan neighbourhood, a community project called Wheel Thing Makers "upcycles" waste from local businesses, including used tyres and furniture – turning them into useful items. "We've conducted many workshops using waste materials, to create items including rubber tyre planters and waste-wood street furniture for locals, students and NGO volunteers," says co-founder Paddy Ng. "The feedback has been very positive as attendees enjoy learning practical skills and get to understand upcycling principles."

Some of the workshop creations, including wooden horses on wheels painted by children, have been displayed at exhibitions at the nearby Cattle Depot Village to highlight that beautiful things can be fashioned from waste.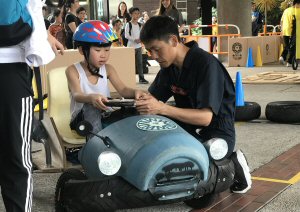 The group recently moved to a larger 3,500 square foot space to better actualise its creations, says Mr Ng. Half of the space is a workshop while the remainder is a co-working space for artists, craftsmen and filmmakers. There are plans to further diversify their work by linking up with wood and metal workers to realise their vision of "community production" – using local resources and skills from To Kwa Wan.

"We are demonstrating that we can realise something for the social good by making useful things," says Mr Ng. "But we would urge people to not just experience us as a one-off workshop, but sign up as a member. We are good at prototyping, so bring along your crazy ideas and we can explore them together."
Related Links
Food Saviour
University of Hong Kong
Wheel Thing Makers