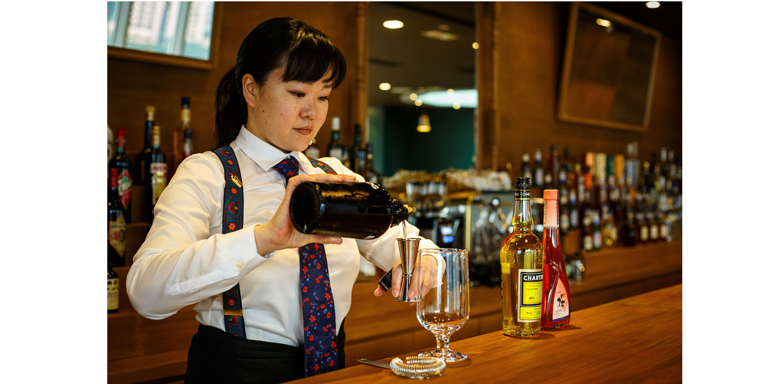 https://hkmb.hktdc.com/en/1X0A9KPN
Taste of Tokyo
Legendary Tokyo cocktail joint Bar High Five has chosen Hong Kong as its first and only international outpost.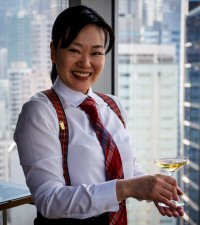 Among the many cocktail bars in the Japanese capital, one that is held in high regard is Ginza's Bar High Five, where bartender Hidetsugu Ueno uses Japanese flavours such as matcha green tea bitters and grape liqueur to create distinct mixes. His cocktails are now available in Hong Kong, at Bar De Luxe.

The Japanese establishment's only overseas outpost is helmed by Mr Ueno's protégé and Head Bartender Yuriko Naganuma. Bar De Luxe is located inside Attire House in Central, a building which is also home to a gentleman's outfitters and a barber. Ms Naganuma moved from Tokyo to oversee cocktails at the bar, which opened last December.

Why did Bar High Five decide to collaborate with Attire House and open its first overseas outpost in Hong Kong?
Roger Chan, the owner of Attire House, and Ueno-san have been good friends for a long time. Roger asked Ueno-san to set up a bar with him. Roger met Ueno-san five times to persuade him to go into partnership and because Ueno-san trusts Roger, he agreed. This will be Bar High Five's only overseas collaboration.

How is the bar similar in terms of design and cocktails offered to Bar High Five?
We follow High Five's style, and we have High Five house specials such as Ceremony and Full Bloom on the menu. Ueno-san will also come to the bar four times a year to do a bartender spot and staff training. But we can't do exactly the same as in Tokyo, as we can't always get the same ingredients.

In terms of the look, it's similar – Ueno designed the bar. It is a bit different in that there's a coffee machine on the middle of the bar because we serve coffee and pastries in the daytime. Bar High Five is only open in the evenings.

Which cocktails have been most popular with Hong Kong customers at Bar De Luxe?
I can't say all Hong Kong customers have a preference for the same cocktails, but I have crafted some exclusively for Bar De Luxe, such as the Hidden Gem (Nikka from the Barrel Whisky, Japanese Yomogi Herb Liqueur, Averna Amaro and sugar syrup). Customers who like strong cocktails tend to opt for Japanese whisky and green tea liqueur cocktails like our Ceremony mix. While those who prefer something lighter may go for the seasonal fresh-fruit cocktail made with Japanese strawberry, mango and pineapple, or the Full Bloom (Kirin Fuji Sanroku Whisky or Bulldog gin, cherry blossom liqueur, Luxardo Maraschino and lemon juice or roasted tea bitters). If they're looking for something special, they'll go with the Bartender's Choice.

I thought it would be mostly men who would come to the bar, but actually it's about a 50/50 split so far. Many ladies also enjoy cocktails these days.

How does the Hong Kong market for cocktails differ from the Japanese market in terms of preferred flavours, spirits?
We feel the cocktail culture in Hong Kong is quite different from Japan. In Hong Kong, it's more about new cocktails but in Japan we concentrate on the tradition and technical skill of cocktail-making, so we are happy to bring something different to the table.

Hong Kong customers want something special and new, and the house specials are proving popular. I think Japanese customers know many classic cocktails and enjoy comparing the same drink made by different bartenders. As I want to understand the Hong Kong palate, my Bar De Luxe co-workers often teach me what they do and don't like: bitter flavours, for example, don't always work as it can remind them of cough medicine.

What do you have planned over the coming months?
As Ueno-san comes to Hong Kong four times a year, we will be pushing his classic cocktails, like Ceremony, during this time. We're also planning a whisky-tasting event with one of our suppliers and will start serving lunch at Bar De Luxe soon.
Related Link
Attire House