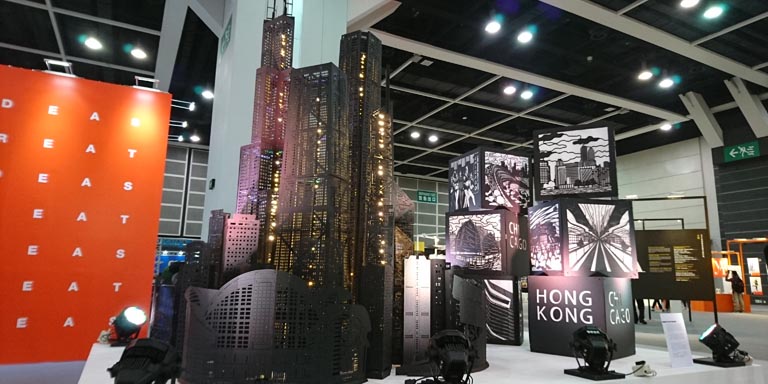 https://hkmb.hktdc.com/en/1X0A9DR6
Cutting-edge Art
POSTalk captures Hong Kong culture on paper through its imaginative designs.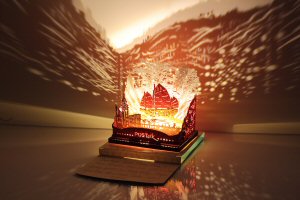 From pop-up greeting cards of lion dances and sampans, to light models of junks and Hong Kong landmarks, paper-art design firm POSTalk is reviving traditional Chinese paper-art with its creative, intricate designs. The name conveys the brand's aim for users to share personal stories with friends and family via the pop-up cards.

With local clients such as PCCW, the Hong Kong Trade Development Council (HKTDC) and the Hong Kong Jockey Club, the brand's paper-art designs have also attracted the attention of overseas clients at last December's HKTDC InnoDesign Tech Expo (IDTE), where it was commissioned to create a piece highlighting Chicago as the 2016 event's Partner City.

The piece "From Hong Kong to Chicago," which combines landmark buildings and culture from both cities in one image, was purchased by co-working space 1871 Chicago, where it is now on display.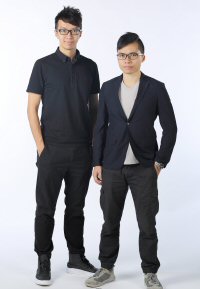 "There were a lot of people from Chicago at the show, and 1871 thought our work was amazing and got in touch via the HKTDC to find out if they could buy it," says designer Joe Wong. While the logistics were challenging – they had to work out how to best disassemble, ship, then re-assemble the work – Mr Wong says they were happy with the final result. "It's the first time any of our works have been displayed overseas, and we'd like to work more with international clients in the future," he says.

POSTalk also exhibited at Mission Hills Shenzhen, with lanterns capturing traditional Chinese culture such as dragon dances, while mirrors on the floor reflected the names and descriptions on the lamps. "These pieces were too large to produce on a commercial level, but acted as a showcase of what can be achieved with modern paper-art and helped promote Joe's abilities as a paper artist," says Jerry Lee, Director of Sales and Marketing.
Made in Hong Kong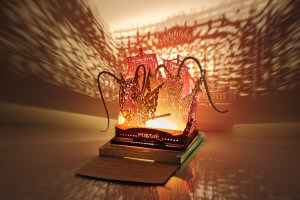 POSTalk products are manufactured in Hong Kong in cooperation with a Sham Shui Po sheltered workshop, which employs people with learning disabilities. "We provide job opportunities and training to them, and all of our products are made there. It's quite near our studio in Kwai Chung, so we can easily go over and help them with any difficulties. If they encounter problems [with manufacturing the items], Joe may tweak the design," says Mr Lee.

Retailers, including the HKTDC Hong Kong Design Gallery (DG) and the Shangri-La Hotel, stock POSTalk's pop-up cards, which Mr Lee says are targeted at the local and international market. "The cards act as a platform to showcase Hong Kong culture and feature useful information such as how to pronounce certain words in Cantonese. Locals and foreigners can send cards to their friends overseas and show them what makes Hong Kong special," he says.
Expanding the Network
While most of its clients are from Hong Kong, POSTalk recently acquired distributors in the Philippines and Spain, which Mr Lee describes as an important milestone. "We want our products to sell globally and to try and export more, but we're doing it step by step," he says, adding that it also opened an online store earlier this year.

Among its latest clients is the Butterfly Hotel, which commissioned for its new flagship property in Kowloon, a lobby feature wall and signage for the room door numbers. POSTalk was also asked by luxury fashion brand Gucci to create one-of-a-kind Lunar New Year cards for its VIPs.

POSTalk has also collaborated with local watch brand Eoniq to produce timepieces featuring paper art on the watch dial, including a blue and white porcelain skeleton watch and a chrysanthemum design. Launched last year in time for Christmas, the watches are available at DG. "We want to crossover with different brands – it could be a watch, or any product where we can incorporate paper art [into the design]," says Mr Wong, who adds that it may expand its repertoire with a range of 3D puzzles.
Cracking the Japanese Market
Last year, POSTalk exhibited for the first time in Japan, and will do so again this year at Design Tokyo. "There's a big market for paper-art products in Japan, but it's very competitive as the standard of design from the Japanese paper-art companies is so good," says Mr Lee, who adds that Japanese design elements will be incorporated to attract local clients.

The company hopes to raise its Hong Kong profile further with exhibitions in shopping malls later in the year, and at next month's HKTDC Hong Kong Gifts & Premium Fair.