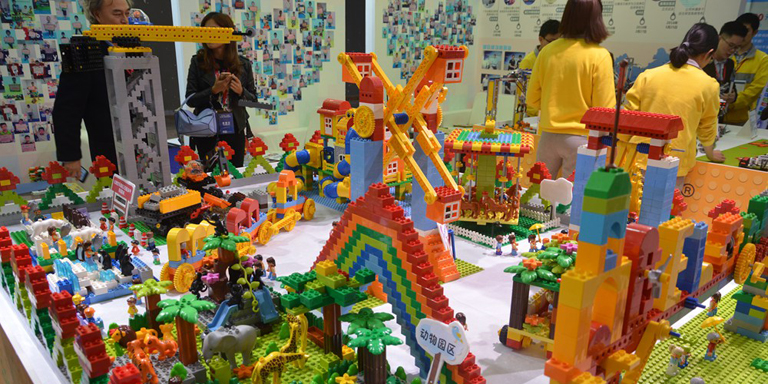 https://hkmb.hktdc.com/en/1X0A8U2G
Kindling Innovation
Maker education is the rage in many Chinese mainland schools to nurture budding innovators.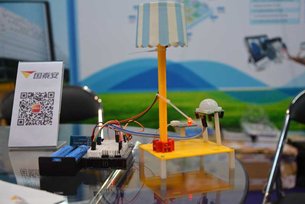 The continued growth of the third China (Guangzhou) International Education Expo, held last December, is in line with growing demand for educational and training services across the Chinese mainland. According to latest government statistics, more than 50 per cent of mainland households spent at least Rmb6,000 on education in 2015, with about 30 per cent of them spending more than Rmb10,000. By 2020, the mainland educational market is expected to be worth Rmb2.9 trillion.

One of the clear trends in 2016 has been the growing emphasis on nurturing students' maker skills. Defined as anyone with the facility to devise something new and turning that concept into a genuine product, "makers" are expected to have a major role in moving the mainland from a mostly manufacturing-based economy into one that adds value through creativity and innovation.

The industry has high hopes for maker education, seeing it as one area where demand will continue to grow in the long-term. In line with this, several local education enterprises are keen to instill maker sensibilities into students from a very young age. Among them was Shenzhen GTA Education Tech. Founded in 2000, it now has a 4,000-strong R&D department and a well-staffed support base. From its Shenzhen headquarters, it operates 60 regional offices across the mainland.

GTA focuses on helping schools establish an integrated learning environment tailored to the hardware and software needs of students. The company helps develop dedicated on-site maker classrooms, and provides teaching resources designed to stimulate student creativity.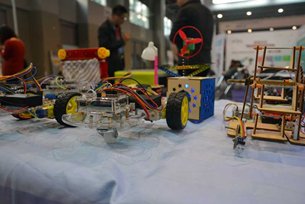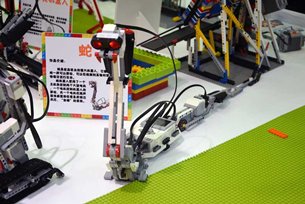 GTA showcased its smart observatory system, a unit designed for use in maker education classes. Featuring a display panel, several circuit boards and a wiring section, the unit can be used to monitor room temperature and humidity via a smartphone app. According to GTA, while its maker products are intended for use by both primary and secondary students, its first priority is to teach students how to design the required systems and create the components needed.

Compared with the spoon-fed approach adopted by many schools, maker education encourages students to take an interdisciplinary approach to tackling practical problems encountered in everyday life. To successfully complete many of GTA's maker educational projects, students require a basic mastery of biology, electrical circuitry and programming, as well as an understanding of several other disciplines.

Apart from helping schools develop maker-oriented curricula, and providing the required software and hardware, GTA also trains teachers new to this approach. As many traditional educators focus on book learning and examinations, some teachers face initial difficulties when instilling the maker doctrine. The big shift requires them to help students apply the knowledge they have learned from books in a new and innovative fashion. To foster this, GTA has developed six maker educational teaching modules, each taking less than two months to complete.

Apart from enhancing in-school educational courses, GTA also invests heavily in the development of its extracurricular programmes. Typically, these focus on subjects that are not normally taught in schools, such as woodwork or photography. In order to deliver this, GTA has established a network of well-resourced sites – often in cooperation with local schools – where students can pursue such creatively-geared subjects.
Another company keen to foster the growth of maker education was Nanyang Little Magic Dr Education Technology. The Henan-based company provides a range of maker-friendly courses and resources for children in the three-to-six age group. Among its more recent offerings are Little Makerspace, Smart Home, Technology City and Smart Car. The Smart Car series, one of the company's most popular ranges, includes supersonic wave obstacle avoidance cars, smart tracking cars, voice-controlled cars and infrared remote-controlled cars.
Virtual and Augmented Reality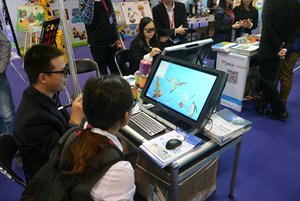 Another key trend at this year's event was the greater willingness to experiment with virtual reality (VR) and augmented reality as smart educational tools. Again, this was another area where GTA was well-represented.

This year, the company showcased a wide range of smart educational VR products, with modules dedicated to science, medicine, public health, economic management, agriculture, forestry, fishery, animal husbandry, communications and transportation. It also offered a number of VR-based vocational training programmes, including car maintenance, human resource management, secretarial skills, hotel management, tourism management and an introduction to animal anatomy.

Many of GTA's VR products are designed to allow students to conduct virtual experiments, particularly valuable in such fields as chemistry and electrical engineering where such experiments can be hazardous. Through the use of VR, students can repeat and observe every step of any given experiment without being exposed to danger.

As well as offering increased safety, VR products can also greatly reduce costs. For many schools, for instance, cost considerations would bar students from repeated practical work on car maintenance or from the study of a wide range of animal anatomies. VR systems, however, allow students to freely repeat any practical assignments, while also providing the facility to re-run experiments, pausing at any points they find unclear or unusually significant.

For 2017, GTA has high hopes for its automotive assembly VR training programme. Aimed at introducing the principles that govern contemporary car construction, the programme allows the user to examine all the constituent parts of an automobile. A laser pointer allows each part to be identified, while also triggering an explanation on its exact function and use.
Online Courses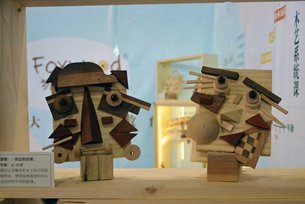 According to sources within the education sector, some 72.27 million mainland students registered for online courses in 2015. This represents a 20.5 per cent year-on-year rise and values the market at Rmb119.2 billion, a 19.4 per cent increase on the 2014 figure. Its success has been attributed to the ability for online learning subscribers to study anytime and anywhere.

One company that has been quick to capitalise on this demand is Talk915.com, the English learning platform launched by mainland telecoms giant ZTE. The company offers a wide range of English courses, with the options available said to meet the study and work needs of any user. Highly customisable, students can choose their teacher, specify lesson times and define course content.

In the case of GTA, its proprietary education platform is designed for use by both students and teachers. Students can manage their pre-class preparation, class work and revision via the platform, while teachers prepare classes, teach, share resources, select teaching plans and share their teaching experience via the same system.

For more China market opportunities, please visit: http://research.hktdc.com.
Education & Training
Technology
Hong Kong
Mainland China