https://hkmb.hktdc.com/en/1X0A8MTD
Russian Roulade
China has become the top importer of Russian food exports, which is set to grow even further.
China has overtaken Turkey to become the largest importer of Russian food and beverages, with plans to build on this further in 2017. In the first six months of 2016, Russia shipped some US$1.13 billion worth of food and drinks products to the Chinese mainland, representing some 10 per cent of the country's total exports in the sector.

Growth in exports to the mainland is likely to continue, with a number of Russia's leading food and drink producers – including Mikoyan Meat, the Stoilenskaya Niva Bakery and Aqua Life – signing export deals totaling more than US$100 million. Many of these agreements have been brokered by the Russian Export Centre (REC), a subsidiary of the VEB National Development Bank. The REC has also played a key role in establishing distribution hubs around the world, most recently opening a new depot in Dongguan in Guangdong Province.
Major Export Categories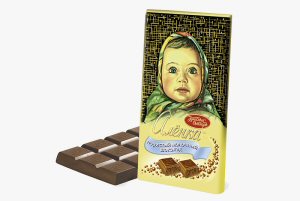 According to REC statistics, frozen fish represents the largest single category of Russia's exports to the mainland. Once imported, they are then processed into fish sticks and similar products. In total, China bought US$710 million worth of frozen fish from Russia in 2016.

Soya is the next largest import, followed by sunflower oil and soya oil, all of which are widely used in the mainland's food-processing industries. In the case of sunflower oil, this represents a more recent development, with no trade in the product existing between Russia and China prior to 2015.

As well as these relatively common items, food and drink exports to the mainland also include a number of products that are not traditionally associated with Russia. This year, for instance, China bought 12 tonnes of Russian chocolate (valued at about US$40 million), making the mainland the second-largest export destination for the product, after Kazakhstan. Overall, the most popular Russian chocolate brands among mainland consumers appear to be Aleyonka and Russian Ballet Chocolate.

Wine is another export sector that is developing rapidly, with the Crimea-based Massandra winery sending its first consignment of 17,600 bottles to China in the summer of 2015. This followed the lead of Abrau Durso, another of Russia's most renowned wineries, which has been exporting its sparkling wines to China for some time.

Another big hit with mainland consumers seems to be Russian ice cream. Until recently, the product was only available in Jilin and Heilongjiang provinces, but deliveries are now also made to Beijing and Shanghai. Given the popularity of this particular export, plans are in place to begin widespread distribution of a number of Russia's traditional dairy desserts.
Trade to Expand
For 2017, trade in foodstuffs between the two countries is set to expand further. This follows approval for meat originating in Russia to be distributed across China. A similar agreement has been reached with Russian poultry imports.

The burgeoning trade represents strong opportunities for Hong Kong companies to act as sales agents and distributors for a wide range of Russian food and drink products. In particular, there are thought to be excellent prospects with regard to both bottled mineral water and a number of premium brands.

For more China market opportunities, please visit: http://research.hktdc.com.
Russia
Hong Kong
Mainland China
Eastern Europe