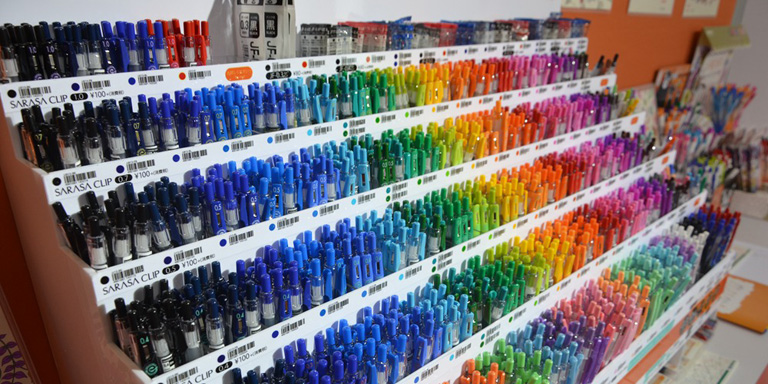 https://hkmb.hktdc.com/en/1X0A74ZP
Premium Products Prized at Paper Show
Upmarket traditional paper-based items stole the show at this year's Guangzhou Stationery Fair.
Premium products are popular among Chinese mainland consumers, a trend reflected at last July's Guangzhou Stationery Fair, where visitors were also drawn to multi-functional products. This year, the show expanded its remit to include sporting goods and creative craft products. Stationery products featuring cultural and creative characters also struck a chord with consumers and trade buyers.
Strong Demand for Stationery
According to figures from the National Bureau of Statistics, sales in the cultural, educational and office supplies sector totaled Rmb97.08 billion in 2015, a year-on-year growth of some 9.3 per cent. With 300 million mainland consumers aged 20 or below, their collective annual spend on stationery products is more than Rmb100 billion, equivalent to 40 per cent of the total global spend on stationery. Sales in this sector are also growing by a healthy 10 per cent a year.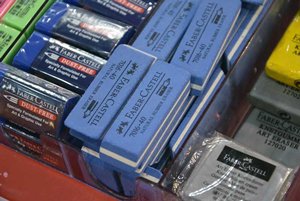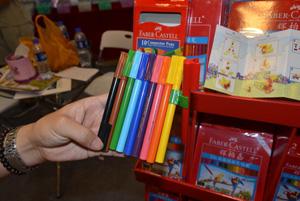 Both domestic and overseas exhibitors seemed largely positive about prospects for stationery goods on the mainland, where consumers are reportedly showing strong interest in upscale stationery items. Among them was AW Faber-Castell (Guangzhou) Stationery, a subsidiary of Germany's Faber-Castell Group. The company produces quality erasers, oil pastels, wax crayons, plastic crayons, pencil sharpeners, ballpoint pens, mechanical pencils and leads. According to Huang Jianming, company Sales Executive, its products target the higher end of the market, with its coloured pencils, in particular, well-regarded by mainland consumers. In 2015, according to the company's figures, its annual turnover grew by 30 per cent.
Japanese premium products were also in demand. "We expect that a number of the upmarket Japanese stationery brands we distribute will do great business across the mainland this year," said Ye Guanqiang, President of a Guangdong-based office supplies company.

"Today, students still have considerable demand for stationery, while their interest in premium products has also increased notably over the years. In view of the sheer size of the China market and the rapid increase in demand for high-end stationery, some of our Japanese stationery brands have increased their investment in R&D to ensure their products meet the needs of mainlanders."

In line with the move upmarket by imported brands, domestic brands have begun targeting the premium sector. Li Ping, a sales representative for Guangdong Genvana Stationery, said his company's products extend from low-mid range to high-end items. His company is also raising its R&D spend to compete with imported brands.
High Quality and Multi-function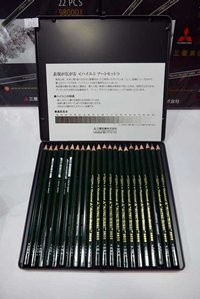 This year's fair featured some of the latest innovative stationery products on the market, including those offering multi functions. Faber-Castell's best-selling water-soluble colour pencil range offers a two-in-one product. A drawing created using its coloured pencils can be transformed into a watercolour painting just by dabbing the original pencil marks with water. The colour pencils come in various sizes and are available in packs of 12, 24, 36 or 48 colours.

The company also displayed its range of Connector Pens. The specially designed caps allow these watercolour pens to be linked together, creating endless variations, while still easy to clean. Using these pens, children can not only draw, but also assemble various models in the style of building-block toys, an innovation that helps to develop their motor skills and creativity. The Connector Pens also use non-toxic ink that can be washed off most fabrics.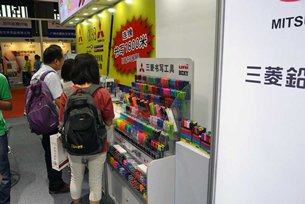 Dongguan-based trading company Hongye featured its range of pens from Japan's Uni Mitsubishi Group. According to company representative Huang Chongxi, its best-selling item is the Uni Mitsubishi UB150 ballpoint pen. The pen's key selling point is its waterproof design. The pen also writes for more than 1,000 metres before drying up. Its clog-free ink is derived from paint, rather than dye.

Hongye also featured Uni Mitsubishi multifunctional pens. The product accommodates five varieties of core at the same time, including pencil leads, medium oil-based cores and gel cores, which come in 14 colours and a range of writing point sizes.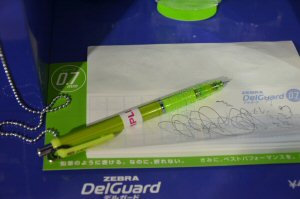 A new anti-break lead mechanical pencil, the DelGuard, was launched by Zebra Pen (Shenzhen) Co. According to Xia Enjuan, the company's sales representative, this range has two springs installed in the upper and lower parts of the pencil tip. If excessive force is exerted during writing, the upper spring will absorb the pressure at the tip, drawing the lead back and preventing breakage. The lower spring also has a similar anti-break function.
Wide Ranging, Attractive Designs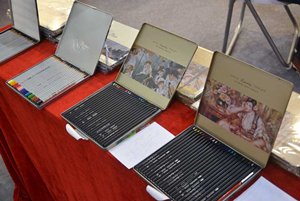 A variety of colours and core sizes was again on offer, thanks to the JJ150 series of gel pens, the centrepiece of the Zebra Pen stand. The range's nibs come in a wide choice of sizes and colours, including nine metallic options and eight pastels. The pens are also environmentally-friendly, with their cores guaranteed to not contaminate the environment on disposal.

According to Mr Xia, the company has also launched a range of products featuring anime and other animation characters, including the popular Japanese bear, Kumamon. Pens featuring the character were well-received across the mainland, with the company's stock quickly running out.

The Uni Mitsubishi brand offers more than 1,000 varieties, ensuring there is something to match every customer's preference. The brand each year launches new products made of new materials and using the latest technology.

Among other highlights at this year's show was the Jinzhicheng's Marco brand of colour pencils, which are packaged in attractive metal boxes, that are decorated with artistic prints. Guangzhou-based Magi-Wap Culture Articles featured fast-drying oil paints, classic oil paints and artist-grade pigments, while the intelligent binding machine on offer from Guangzhou's Gimad impressed visitors with its laser-guided precision.

For more China market opportunities, please visit: http://research.hktdc.com.
Stationery & Office Equipment
Hong Kong
Mainland China