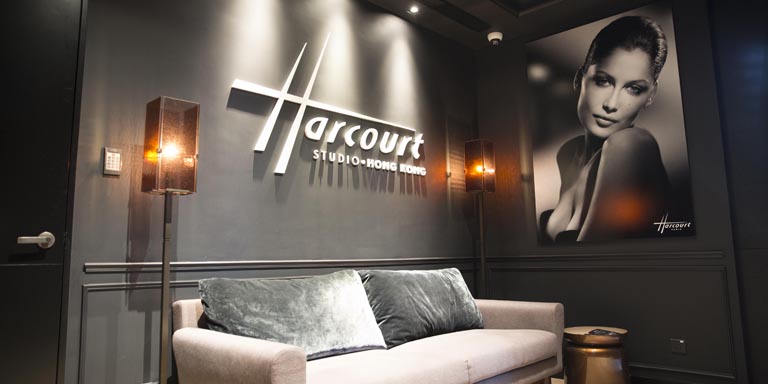 https://hkmb.hktdc.com/en/1X0A6V1E
Timeless Portraits
Legendary photography studio Harcourt is bringing its own French brand of glamour with its first overseas venture in Hong Kong.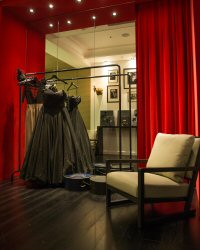 As the Golden Age of Hollywood dawned in the 1930s, America's rising movie stars and aspiring celebrities wishing to promote their image would fly to Paris to have their portrait immortalised in the exquisite black-and-white photography of Harcourt Studio. More than 80 years later, the studio's famous technique hasn't changed. However, those wishing to capture special moments in time can now also do so in Hong Kong, where the first-ever Harcourt Studio outside of France opened last June.

The launch followed a successful pop-up in ifc mall in Central in 2012, and an exhibition of its works the following year. The response convinced Harcourt Studio's operators to establish a permanent operation in Hong Kong. To set it up, it enlisted Elisa Ghigo Barthelemy, who had arrived from Paris in 2011 with her husband, Arnaud Barthelemy, the former French Consul-General to Hong Kong and Macau, whose posting concluded in late 2015. "We love Hong Kong and decided to stay here," said Mrs Barthelemy.

"In Paris, everyone knows Studio Harcourt – we grew up with it, and it is still a reference," she explained. "Working with Harcourt makes sense for me: it's a traditional French luxury brand; I have the passion to represent a part of my country in Hong Kong; and I love art – and because of our 'savoir faire,' the techniques used and quality of our print, our portraits are art."
Halo Effect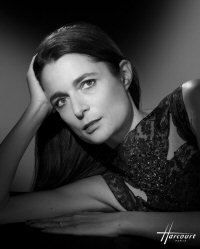 Founded in 1934, Harcourt Studio employs a specialised technique, using traditional cinema lighting to reveal the natural beauty and character of the subject, while lending an element of mystery and timelessness in a classic portrait.

As movie stars, celebrities, and politicians flocked to Harcourt's doors, the French government bought some of the studio's negatives between 1934 and 1986, considering them a national heritage.

That special lighting technique is still used today. "It's our signature," Mrs Barthelemy explained. Photographers do not use flash: the subject is shot in a darkened room, surrounded by eight lights that create a "halo" effect – a glamorous atmosphere inspired by the golden age of black-and-white cinema. The only differences now are that company's logo has changed slightly since 1934, and 10 years ago, it switched to digital cameras for better print quality, especially for large prints. "We don't retouch the photo to transform or change it, only to perfect the moment," Mrs Barthelemy said.

The one to two-hour shoot includes a make-up session to apply the cinema-style cosmetics the lighting requires. Photographers and make-up artists from the Paris studio were sent to train the Hong Kong team to maintain the brand's famous technique. To design the studio, it commissioned Bruno Moinard of 4BY & Associates, a French architect who has done many high-profile projects globally, including Chateaux Latour, Cartier and the Hermes headquarters.
Quality Check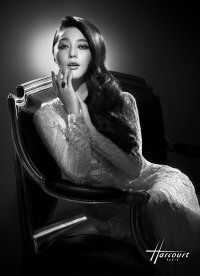 After customers choose their favourite photos, the files are sent to Paris, to be cleaned and checked for quality. Once approved and the Harcourt logo applied, they are returned to Hong Kong for printing and the final presentation. Each print is a numbered limited edition.

Today, Studio Harcourt is still the benchmark, with icons such as Karl Lagerfeld, Jean Dujardin and John Galliano; Hollywood stars Cate Blanchett, Sophie Marceau, Marion Cotillard and Kevin Spacey; noted Asian celebrities Fan Bing Bing, Michelle Yeoh, Ge You and Lee Byung-hun; photographer Chen Man; prominent movie director Jia Zhangke; artist Yue Minjun, among the many who have posed for the studio's expert lens.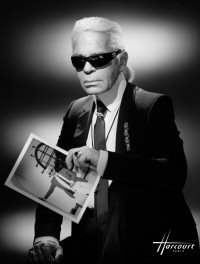 Mrs Barthelemy is confident Hong Kong people will also embrace the concept, trusting Harcourt Studio to record in photographic portraiture the special times of their lives.

"In France, you come to the studio to commemorate important milestones: when you turn 18, when you are pregnant, with your family, and when a woman turns 40 – these portraits are timeless," she said. "When we did the pop-up studio at ifc mall, it was really a success and people asked us, 'why don't you come to Hong Kong?'"
Premium Positioning
Hong Kong "is the best place," for the company's first overseas step out, said Mrs Barthelemy. "All of the luxury brands are here; you have more and more galleries opening; and an appreciation of art and French culture. Hong Kong people are very sophisticated. They understand what is behind Harcourt: the technique, the quality of the print, [that] this kind of portrait is quite unique."
Related Link
Harcourt Studio
France
Hong Kong
Western Europe