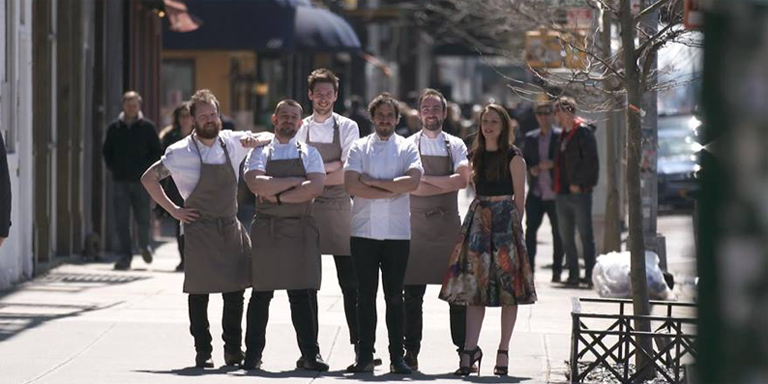 https://hkmb.hktdc.com/en/1X0A6KKS
Food on the Road
Using Hong Kong as its base, F&B collective One Star House Party creates innovative recipes to feature at pop-up restaurants on the road.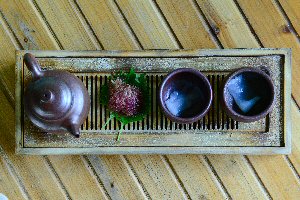 Most chefs dream of opening their own restaurant, but food and beverage collective One Star House Party is turning that idea on its head by travelling the globe for culinary inspiration and hosting pop-up events in cities such as New York, Seoul, San Francisco and Taipei. The core team of four restaurant professionals also returns to Hong Kong once a month to cook tasting menus inspired by their overseas adventures.

The events at their base on Hong Kong Island are meant to create an informal dinner party feel, with chefs serving diners themselves so they can explain menus in detail and tell tales from their life on the road. "The food needs to tell a story and encapsulate the journey we've been on," says James Sharman, a former protégé of Michelin-starred Brit chef Tom Aikens.

The venture got off the ground when the chefs hosted a pop-up last January at their establishment in Hong Kong's Sheung Wan area, where diners recently sampled sell-out tasting menus from San Francisco in May and Taipei last month, with menus inspired by trips to Buenos Aires and Tokyo to follow later this year.
Hong Kong Inspiration
Mr Sharman was chef de partie at the legendary Copenhagen restaurant Noma and trained under Tom Aikens in London before cooking at his Hong Kong restaurant The Pawn. "We all agreed to take some time off from our jobs and came out to Hong Kong for a couple of weeks to do a pop-up restaurant. We didn't know what it was we wanted to do, or what it could be, just that we wanted to do something different and break the rules of our everyday lives. We dropped everything and decided to go for it," he says.

One Star House Party hosted its first pop-up event in New York at an Air BnB loft in April. "We rented this amazing apartment by putting all the money we had together, and cooked for about 40 people a night for a week. Then we packed up all the furniture we'd made and drove in an RV to San Francisco to build a menu based on food from that area, like we'd done in New York."
Writing Dishes on the Road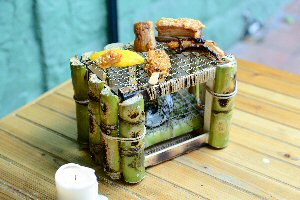 With a background in landscape gardening, Kevin McCrae trained alongside Mr Sharman at Tom Aikens London and is responsible for delivering the stylish backdrops to their pop-up and permanent venues, where an open kitchen dominates a space best described as industrial chic. "We wanted to keep it quite raw so you can see the fixtures and fittings as well as the kitchen. It's a reflection of who we are," says Mr McCrae, who creates quirky design details, such as mini barbecues constructed from sugar cane.

As a designer, Mr McCrae has been impressed with Hong Kong's extensive collection of independent homeware shops. "Back in the UK you go to [homeware chain stores] like B&Q or Homebase when you want to build or make something, but here they don't have those big shops, so it's a more creative approach."
"We're all doing it to break even and fund a lifestyle. We're like a rock group, but instead of writing songs, we're writing dishes."
The pair initially planned to host a three-day pop up in Hong Kong but saw the benefit of using the city as a base after receiving more interest in their event than they'd anticipated. "The food scene here is evolving massively, so for us it's definitely been a case of being in the right place at the right time," says Mr McCrae.
One advantage of hosting one-off events is that they receive much more publicity than standard restaurants, says Mr McCrae. "We go to new countries and become the most talked-about thing at that time. Tickets for the Taipei pop-up sold out in 20 minutes even though we'd never done anything there before."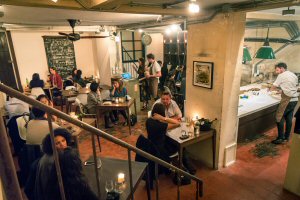 But while they've been enjoying an unanticipated level of success, the group is not currently turning a profit. "We're all doing it to break even and fund a lifestyle. We're like a rock group, but instead of writing songs, we're writing dishes," he says.

The outfit is in the process of recruiting more chefs to join them on the road. "We're a bit dead on our feet as there's a monumental amount of things to do. A lot of our friends are in the same situation as us and can't afford to set up their own restaurant. We're offering them a creative outlet and the chance to travel the world. It's a pretty good job.
Leap of Faith
Having run private-member club Soho House and a branch of Argentinian restaurant Gaucho in London, Trisha McCrae is responsible for front-of-house and organising the day-to-day running of One Star House Party. The former restaurant manager says choosing Hong Kong as a base was a decision led by both head and heart. "James and another of our chefs, Joe, both used to live here and constantly talked about people's relationship with food, how clued up the diners are and that they would understand the playful takes on so many different cultures within our food that we are seeking to represent," she says.


A Creative Approach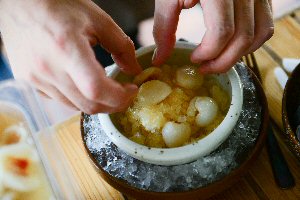 Chef Joe Lidgerwood, the fourth core member of the collective, is another Tom Aikens protégé with experience in London restaurants Kitchen W8 and the Ledbury, as well as The Pawn in Hong Kong. "Hong Kong has a real liveliness to it, and the people here are friendlier than in London. I love Hong Kong and see myself living here for quite some time," he says.

Mr Lidgerwood has been impressed by Hong Kong diners' sense of adventure and describes their clientele as a good mix of local and international customers. "Even though I'm taking a menu from a different country every month, people have been very responsive to it. They are really open to whatever we put in front of them."

Shopping for fresh ingredients at local wet markets, Mr Lidgerwood says he appreciates the freshness of produce, especially the fish, and enjoys making his own cheese, miso and experimenting with fermenting produce.

Being in Hong Kong has given the chefs confidence to establish a new culinary concept, says Mr Lidgerwood. "If you'd have asked us two years ago what we wanted, we'd have all said we wanted to own our own restaurant as that's all you can hope for, but now I can't imagine grinding out the same dishes every day. We've created something else."
Related Link
One Star House Party