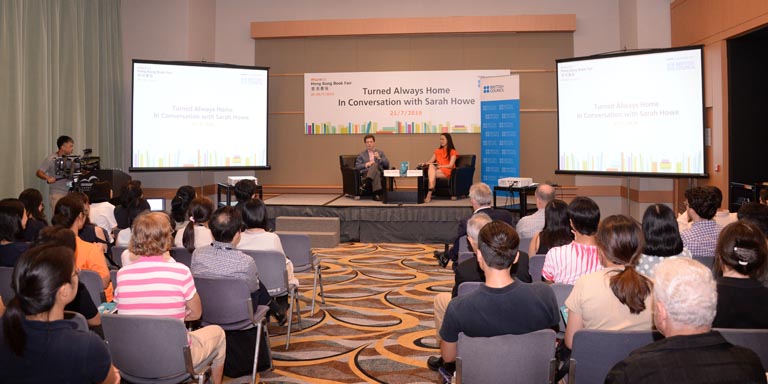 https://hkmb.hktdc.com/en/1X0A6KC0
Returning Home
Winner of the TS Eliot Prize for Poetry for her debut Loop of Jade, Sarah Howe returns to the city of her birth for the 2016 Hong Kong Book Fair.
Born to a British father and Chinese mother in Hong Kong, Sarah Howe lived in the city until she moved to the United Kingdom at age seven. The poet, editor and academic's 2015 debut collection, Loop of Jade, which explores her dual Anglo-Chinese heritage and her journey back to Hong Kong, won both the TS Eliot Prize for Poetry and The Sunday Times / PFD Young Writer of the Year Award. Ms Howe recently completed a fellowship at Harvard University's Radcliffe Institute and is currently a Leverhulme Fellow in English at the University College London. Ms Howe will be among the featured speakers at this year's HKTDC Hong Kong Book Fair, 20-26 July, at the Hong Kong Convention and Exhibition Centre, where she will discuss the theme of "home" in her poetry.

Has Hong Kong always been a part of your writing?
I felt like I wanted to explore certain passages of my early childhood, so that's how Hong Kong first came into my writing. It then stayed in my writing partly because, in my life, I felt this overwhelming need to travel back to Hong Kong and China as an adult. Those journeys reverberated in a lot of the poems. In my late teens, I came back to Hong Kong for the first time after about a decade away. On that trip and subsequent ones, I was trying to make sense of this place, which is – at least in the most literal sense of the word – my "native" land, even if I haven't lived here for most of my life. And I asked myself, what does it mean to me now and what can I mean to it?

Do you consider yourself a Hong Kong poet?
I feel like that title is a privilege and one I never thought to claim for myself. I was so moved when I was asked to be part of the anthology Eight Hong Kong Poets, because being a "Hong Kong poet," a literary representative in that sense, was an identity I would have never sought to assert about myself. To me, that anthology says something about the encompassing nature of Hong Kong identity; that Hong Kong is changed and enriched by the people who move through it, whatever their backgrounds and ancestral connections. I guess my initial hesitancy comes down to the fact that I wasn't sure if Hong Kong people would be interested in someone like me, who has spent the majority of their life away, writing about Hong Kong.

Since winning the T. S. Eliot Prize for Poetry and The Sunday Times / PFD Young Writer of the Year Award for Loop of Jade, how has your life changed?
One of the great pleasures is that I now have the opportunity to talk to, and read in front of, a lot more people than I ever would have done before. What the prizes have brought is a level of attention to my work I didn't anticipate: that is a responsibility and an honour I've been trying to live up to. I do also feel like I've been asked to stick my head above the parapet as a part-Asian female poet. Sadly, there aren't many people who look like me and whose writing is being published or recognised in the UK.

There was some pushback after you won the TS Eliot Prize, which seems to have been related to you being a young female, part-Asian poet. What do you make of that?
I think some of the pushback in the British press that came in the immediate wake of the announcement was due to a sense that something had shifted in the publishing landscape, which made a few people uncomfortable. Maybe my responsibility as a writer is to keep making those people feel uncomfortable simply by existing; by refusing to capitulate to the sort of ingrained assumptions that dictate someone like me can never be more than a "token."

Over the last few years, I've done a lot of readings in pubs and noisy London basements and I started to notice Asian and Chinese faces showing up in the crowd. Often they were women who would come up to me at the end and say they were heartened that someone was writing about experiences familiar to them and articulating their complexity. I found that simultaneously the most gratifying notion and sort of a scary one, because it made me aware of our sheer scarcity in the British cultural and media landscape.

When did you first start writing poetry? Has Hong Kong always featured in it?
From the moment when I could begin to articulate in poems the things that were important to me, Hong Kong was always there. When I was 20 or 21, I took a poetry workshop while I was a visiting graduate student at Harvard. For 10 or 12 weeks, I was sitting in this class with a bunch of fellow student poets, reading their work, commenting on their poems, and learning from their comments in turn. It was revelatory experience. The teacher opened my eyes to poetry from the perspective of a writer, rather than the reader I had been to that point. I dabbled with poetry in my teens and managed to win the Foyle Young Poets award for 11-17 year olds, but that was a bit of a fluke because I had only written a handful of poems at that stage. Those weeks in America were the first time I had read any contemporary American poetry, or indeed, any Chinese poetry in translation. The combination of those two things was really important to me as a poet starting out.

What will be the focus of your talk at the Book Fair?
I will be talking at an event called, "Turned Always Home," which is a line from one of my poems, "Crossing from Guangdong." I want to talk about that notion of home as something you might turn towards, like a ferry endlessly crossing between two shores, as a theme in my writing. My hope is to also connect with the community of Hong Kong poets and writers, many of whom I'm aware of because I've read their books but have never met. It would be lovely to get a better sense of the Hong Kong literary scene by visiting it in person, because everything I've managed to get hold of so far is, I think, just the tip of the iceberg.

What are your current projects?
I've been at Harvard for a year and have just returned home to the UK, where I have a new job at the University College London as a Leverhulme fellow. At Harvard, I worked on a new project called "Two Systems." It began before the umbrella movement took off as an attempt to process what the future of Hong Kong might look like up to and after 2047. I'm interested in how poetry might serve as a space to consider and negotiate that imaginatively. In the wake of the protests, the poem took on all kinds of different colourings I hadn't initially envisaged. Being an "erasure poem," it's quite experimental in nature. All the words are taken from a single document, the Basic Law, and then the poem is whatever remains once you've erased most of the words on each page. In some ways, a constraint like that makes it hard to say anything at all, so you end up following winding routes to destinations unforeseen.
Related Links
HKTDC Hong Kong Book Fair
Sarah Howe
Books & Printed Items
Printing & Publishing
United Kingdom
Hong Kong
Western Europe