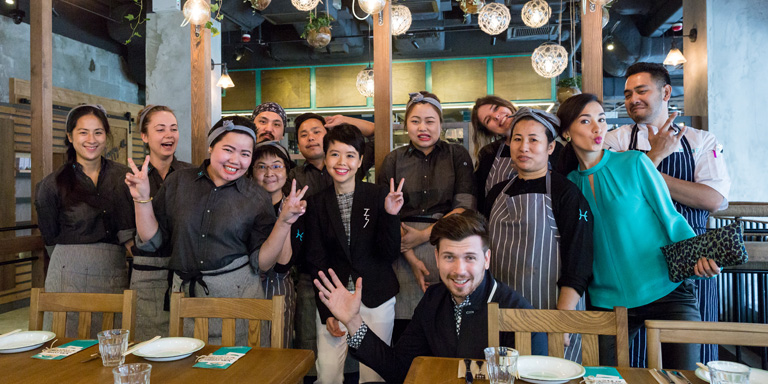 https://hkmb.hktdc.com/en/1X0A68OO
Healthy Food, Fast
A new vegetarian restaurant is fueling the healthy fast-food movement in Hong Kong.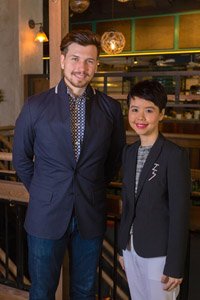 Housed in the former site of a Burger King in the city's Central district, Home: Eat to Live serves up a similarly fast-food concept, but with the focus resting firmly on healthy plant-based meals, such as the Polar Bear burger, a beetroot, mushroom and oat patty; and the Silky Sifaka earth bowl, a vegetarian take on Vietnamese pho. All items on the menu are free of meat and fish, preservatives and other processed ingredients.

Vegan desserts such as hazelnut chocolate cake can be paired with fair-trade coffee, while its bar in the evening serves cocktails mixed with organic spirits, such as the popular Jade Supercharged; consisting of tequila, kale, spinach, green pepper, green apple and parsley. To reduce its carbon footprint, ingredients are sourced locally from a network of farms across Hong Kong, including from its partner farm Kau Kee in the New Territories. Products that cannot be sourced from Hong Kong are imported regionally, including from Taiwan, Malaysia and Thailand.

"We've designed a menu that we feel caters to everyone, whether they're craving a bowl of noodles or some Middle-Eastern flat breads," says founder and CEO Christian Gerard Mongendre, who graduated from the Institut Paul Bocuse and worked for Michelin three-star chef Alain Ducasse. The Hong Kong-born chef has become something of a poster boy for plant-based dining, having co-founded popular vegetarian restaurant MANA!. A dedicated vegetarian himself, Mr Mongendre wants to educate people that meat-free cuisine doesn't have to be boring. "We want to appeal to the lawyers and bankers and the hippies and yogis. And with a name like Home, we feel that we have to appeal to everyone."
Prime Location
With his first restaurant launched in May, the ambitious CEO is keen to create an innovative fast-food brand by teaming up with local partner, ZS Hospitality Group. "When I first met with ZS, it seemed too good to be true at the time, as they were willing to offer me complete autonomy."

The Group's 22-year-old Chairperson, Elizabeth Chu, adopts a healthy, gluten-free diet, and Mr Mongendre felt she was the kind of person he wanted as an investor. "There's a real trust already established and I think we'll be able to roll out this concept quite easily – it's the ideal scenario as she is fully aligned with it. We have the full support of ZS Hospitality as we are not just rolling out another new concept in Hong Kong, but focused on creating a sustainable restaurant model. Hopefully, we'll be an inspiration to other restaurants."

Creating a sustainable restaurant model means it will take longer than normal to turn a profit, as the quality of ingredients is integral to its success. "All our packaging is more expensive as well because we only use biodegradable corn plastic and Forest Stewardship Council-certified paper. We even pay a driver to take our compost daily back to the farm to make fertiliser," says Mr Mongendre.
Gap in the Market
Making dishes taste good without using processed sugars or dairy can be challenging, but he believes Hong Kong palates are more receptive to healthy, clean eating than perhaps ever before. "I got to experience the audience for this food with MANA!, and saw that there was a real need for this. We want to generate more demand for our food at Home so we can create economies of scale."


Vegetarianism and healthy eating is usually aligned more closely with the slow food movement, but Mr Mongendre felt this wasn't the right concept for time-pressed Hong Kongers looking for fast lunches and quick dinner options. "If you look at the restaurant market, about 70 to 80 per cent of brands are fast food. My goal was always to feed every type of person in a fast manner. Just because it's fast doesn't mean it can't be elegant and nice and tasty, and fast food is the best way to reach a big market," he says.
Raising Awareness
The restaurant is now focused on sourcing more local organic produce. "We've just put some planters on the rooftop farm and want to build other facilities so we can have more local organically grown food and rely less on imported ingredients. Right now, it's all about building networks so we're doing things like organising farmer's dinners so they can taste our food and understand our concept," he says.

With more locally sourced organic produce at its disposal, Mr Mongendre hopes to expand around Central district and perhaps open a restaurant in Kowloon, with a second outlet possibly opening by the end of the year.

"Being in Hong Kong has been amazing. I came here and didn't even ask for a job, but was offered one. Then six months later, I got the chance to create my own restaurant. It took me one week to find a business partner and secure a location for my first restaurant, MANA!; it's incredible. There's such a high energy in Hong Kong, it's almost overwhelming, but there are lots of good opportunities here."

Mr Mongendre eventually wants to take his healthy fast-food idea across Asia. "The timing is right to expand this concept, and I think we can become a reliable brand for people who want more out of fast food. At the moment, we're considering Vietnam and China, which will be the biggest market for health food globally by 2020," he says. "After so many food scares, China is definitely waking up to healthy food."
Related link
Home: Eat to Live