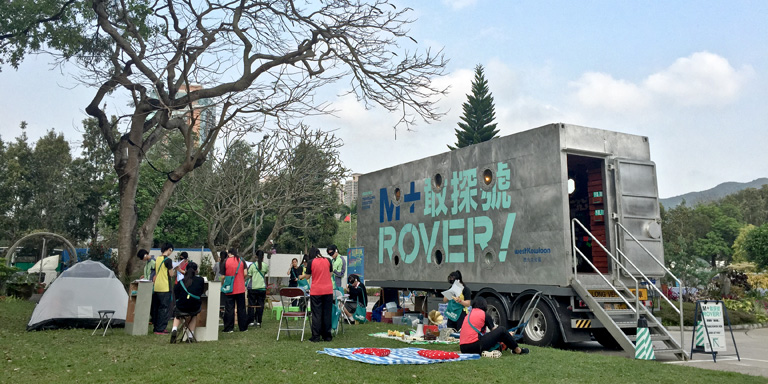 Prelude to an Arts Hub
From a traveling art trailer to the world's largest Chinese contemporary art exhibition, Hong Kong's West Kowloon Cultural District is bringing art and culture to the masses even before it opens.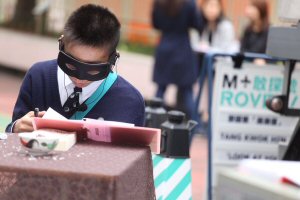 A spaceship has landed in the playground at a school in Hong Kong. Or, what looks like a spaceship, but is actually a large metallic trailer. Inside, a cosy interior is fashioned from recycled wood and built to appear like the inside of a whale's mouth. The local artist behind the creation will also lead secondary students through an arts workshop to which they will contribute.

The trailer project is part of efforts to drum up public enthusiasm for art. Called M+ Rover, workshops will turn the trailer into an evolving exhibition. The sleek silver truck began touring in March this year and more than 40 workshops at schools, shopping malls and community spaces are planned during its run until June. M+ Rover offers a rare chance to bring the wider community in contact with living artists, says Stella Fong, a lead curator with M+, the organisation overseeing the exhibition.

On a large area of reclaimed land along the harbourfront, the 40-hectare West Kowloon Cultural District is envisioned to be a major arts and culture hub, which will eventually house 17 art spaces. A few facilities are already up and running, but the main M+, a visual culture museum, is scheduled to open in 2019.
A Place for Everyone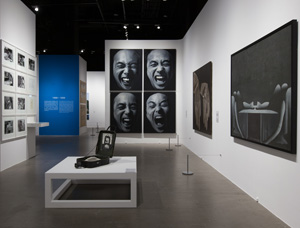 Apart from being a prime tourist destination, the West Kowloon Cultural District also aims to attract local participation. With the slogan "A Place for Everyone," the project seeks to stimulate local interest in the arts, grooming a future audience for the hub and its ambitious programme of events. M+ Rover is part of that mission. "We realised that instead of asking people to join arts events, it was a good to just go to them – to create an 'art delivery'," says Ms Fong, about the mobile exhibition.

Rover is a first major outreach initiative for M+. Students contribute self-created content during workshops that become part of the exhibition, growing the collection as it travels. Part of the programme's mission is to bring artists in direct contact with members of the public, as well as to turn them into artists themselves. "To the general population, artists are very mysterious figures," says Ms Fong.

It's hoped that demystifying art's creative process will encourage more students to participate, whether by creating art or appreciating art.

Hong Kong's art scene has rapidly changed in recent years as auction houses brought hammers down on high-priced pieces for high-level art collectors, and international fairs, such as Art Basel and the Affordable Art Fair, arrived in town.

"The whole atmosphere has really changed since 2012, the first year Art Basel launched," says Pi Li, Senior Curator with M+. That same year, in June, M+ acquired a collection of 1,510 Chinese contemporary works of art owned by Swiss collector Uli Sigg. Public demand to exhibit the collection, estimated to be worth HK$1.3 billion, was immediate, says Mr Pi.

A curated highlight of the collection, with 80 pieces from 50 artists, was shown in Hong Kong earlier this year. More than 41,000 visitors, including 130 tour groups visited the M+ Sigg Collection exhibition between February and April. Those figures indicate a very solid local audience, says Mr Pi.
Freespace Festival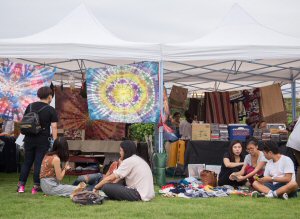 Interest in performance arts is also growing. When West Kowloon presented its first Freespace Festival, an annual outdoor event promoting local bands, artists and crafters, public reaction was swift.

"Hong Kong is so dense, and having a big open space is quite rare," says Low Kee Hong, Head of Artistic Development for the West Kowloon Cultural District's Performing Arts committee, who oversaw the festival's evolution into a regular event called Freespace Happenings, which runs twice monthly between September and March. Held on the site of the future Arts and Culture complex in the district, the event draws a mix of local musicians and bands, as well as buskers, hawkers and performers who show up ad hoc.

Activities such as biking, scooters and ballgames, and allowing dog's access – which are usually off-limits in Hong Kong's public spaces – are allowed at Freespace Happenings. Crowds this year braved increasingly erratic weather, turning up on some of the hottest and coldest days on record in the city. Mr Low says, "From the get-go, we underestimated the kind of hunger around for this kind of thing."

The event has also functioned as a test ground for future arts events planning, as well as attracting artists who may have been off the organiser's radar, says Mr Low. He hopes that some of the activities will continue once the West Kowloon Cultural District formally launches, to spark opportunities for local artists and musicians.

And with at least five theatrical spaces planned for the hub, an outdoor stage and art pavilion, as well as the art offerings, building an audience remains high priority. As Pi Li at M+ notes, however glittering the development, the new space cannot properly shine without people.
Related Link
West Kowloon Cultural District