https://hkmb.hktdc.com/en/1X0A61GH
Belt and Road: Trade and Border Cooperation between Yunnan and Myanmar
In advancing its Belt and Road Initiative, China is giving full play to the comparative advantages of various regions in the country, with Yunnan province positioned as "a major hub reaching out to South Asia and Southeast Asia". Yunnan will take full advantage of its geographic position to build an international passage from China to the Indian Ocean and South Pacific Ocean by land. Efforts will also be made to build an export-oriented industrial base and to develop the province into a regional-level international economic and trade centre for China, reaching out to South Asia and Southeast Asia.
In recent years, a number of export-oriented processing industries, including BAIC Yunnan Ruili Automotive and Chongqing Yinxiang Motorcycle, have set up in the border regions. As well as Kunming's Dianzhong New Area, which is the focus of regional development, Yunnan will develop border economic cooperation zones with Myanmar and Vietnam - notably the China-Myanmar Ruili-Muse Cross-border Economic Cooperation Zone at the Myanmar border - in order to promote economic and cross-border cooperation in the border regions.
Myanmar: Yunnan's Major Trading Partner
Yunnan's trade with ASEAN jumped to US$14.3 billion in 2014 from US$6 billion in 2011, with exports making up about two-thirds of the value. ASEAN accounted for 48% of Yunnan's external trade in 2014, up from 37% in 2011. Trade between Yunnan and Myanmar in 2014 accounted for 49% of the province's trade with ASEAN, and almost 30% of the trade between China and Myanmar.
According to the Yunnan Department of Commerce, finished products such as the garments and household appliances exported by the province, mostly come from the coastal regions and account for about half of Yunnan's exports to ASEAN. Traders carrying out business via Yunnan mainly conduct general trade, with border trade accounting for only about 12% of the total. In the past, border trade benefited from preferential policies on tariffs and VAT, but these concessions have gradually been removed in recent years. According to the Yunnan Department of Commerce, a number of manufacturers from the coastal regions have set up in Yunnan and the border cooperation zones in order to conduct export trade with Southeast Asia. However, since these export orders tend to involve small volumes and a large variety of product types, it is more convenient to conduct business through traders.
Yunnan's Ruili port, bordering Myanmar's Muse port, is China's largest land port in terms of trade with Myanmar. For many years, the total value of import-export trade handled via Ruili port accounted for about 60% of Yunnan's trade with Myanmar.
The Luoshiwan International Trade City in Kunming is the largest wholesale facility in the city. Housing 25,000 business operators engaged in wholesale and retail, Luoshiwan boasts a daily visitor flow of 250,000. Visitors include local people from Kunming, residents in neighbouring prefectures and cities, as well as traders with truckloads of goods from places such as Guangdong, Zhejiang, Fujian and Guizhou. Located next to Luoshiwan is an integrated logistics facility where goods from outside the province can be stored and then delivered door-to-door to buyers.
Luoshiwan's business model is similar to that of Yiwu in Zhejiang. According to a Luoshiwan representative, 70-80% of business operators in the trade city come from outside Yunnan, mainly from Zhejiang, Guangdong and Fujian. The majority are traders, although some are manufacturers. While wholesale mainly targets Yunnan and the southwestern region, it is estimated that about 20% of the business involves foreign markets, such as Laos and Myanmar. This business is conducted primarily in the form of border trade. Some ethnic products are also sold to India and Pakistan.
According to the Luoshiwan representative, its growth is a result of the rising consumption levels in Yunnan in recent years. For instance, the trade city's latest phase (Phase II) generally sells garments via brand-name stores, with the products on offer there of a considerably higher grade than those being sold in Phase I.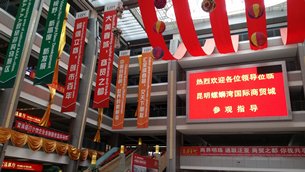 Development and Opening-up Experimental Zones Propels Growth of Border Areas
The State Council issued the Opinions on Several Policies and Measures Supporting the Development and Opening-up of Key Border Areas in January this year. It was advocated that steps will be taken to promote the development of priority industries in the border areas; support and prioritise projects to process, transform and utilise imported energy resources as well as projects to process imported resources in key border areas; develop export-oriented industry clusters; and look into the possibility of establishing a key border area industrial development fund. These policies indicate that the central and local governments are positively advancing industrial development in the border areas. In fact, before the above opinions were issued, Yunnan had already devoted considerable effort in recent years to implementing policies encouraging the development of the border areas.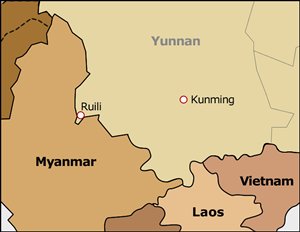 Following approval by the State Council, two key development and opening-up experimental zones have been built in Yunnan's border areas. The Ruili Key Development and Opening-up Experimental Zone was established in 2012, and the Mengla (Mohan) Key Development and Opening-up Experimental Zone was approved in July of last year. Meanwhile, efforts are continuing to promote cross-border economic cooperation zones in the hope of strengthening joint development with those Southeast Asian countries sharing the same border. Currently, there are four national-level border cooperation zones in Yunnan – in Ruili and Wanding (serving Myanmar), Hekou (serving Vietnam) and Lincang (approved in 2013 and also serving Myanmar).
The Ruili Key Development and Opening-up Experimental Zone is located in the Dehong Dai and Jingpo Autonomous Prefecture in the western part of Yunnan province bordering Myanmar. With Ruili city as its core, the experimental zone houses two category-one national ports, Ruili and Wanding, as well as the Ruili and Wanding national-level border economic cooperation zones. It is hoped that the Ruili experimental zone will become a China-Myanmar border economic and trade centre, as well as an important international land port for China's southwestern region. Its primary role includes promoting opening up to the outside world; expediting the development of priority industries; accelerating the development of import-export processing zones, and international logistics and warehousing zones; strengthening and enhancing deep-processing industries involving such resources as jewellery and jade, quality timber, and natural rubber; and placing an increased emphasis on developing export processing industries reaching out to the South Asia and Southeast Asia markets.
A number of preferential tax policies are offered in the Ruili experimental zone. Newly established enterprises entering the zone, with the exception of those engaging in industries prohibited or restricted by the state, are entitled to a "five-year exemption and five-year reduction by half" of the local portion of their payable enterprise income tax. Under this concession, counting from their first year of generating income from production or operation, new enterprises will have the local portion of their enterprise income tax exempted for five years and reduced by half in the five years that follow. Where the labour market is concerned, it is estimated that about 60,000 to 70,000 Burmese workers are employed in Ruili, each earning a monthly wage of about RMB1,000. However, labour turnover is quite high. The Ruili experimental zone has also made some progress in attracting the entry of large enterprises, such as Chongqing Yinxiang Motorcycle and the BAIC (Beijing Automotive Industry Corporation).
BAIC began negotiations with a local private enterprise in Ruili in 2013 with regard to the setting up of a joint-venture project. With a total investment of RMB3.6 billion, the project has a planned production capacity of 150,000 vehicles upon completion in 2018. Phase I assembly line construction, with a planned capacity of 50,000 vehicles, began in July 2015 and is scheduled for completion by the end of this year.
According to a representative of BAIC's Ruili plant, negotiations on the project were successful thanks to the Belt and Road strategy, which allows the plant to target the Southeast Asia market. The plant can also benefit from the tax concessions offered by the Ruili Key Development and Opening-up Experimental Zone. BAIC started its export business a few years ago and today its products are sold to a number of countries, including Iran, Egypt, Russia and Ukraine. When prioritising export markets in Southeast Asia, BAIC's first port of call is Myanmar, where the demand for automobiles is huge and second-hand Japanese cars are popular. BAIC plans to produce such auto models as pickup trucks designed specifically to cater to the Myanmar market, with a price point set at about RMB40,000, including provision for a good after-sale service. BAIC has now started to set up sales networks in Myanmar and, through the networks of its joint-venture partner in Yunnan, plans to open shops in Myanmar to sell vehicles and provide a maintenance service.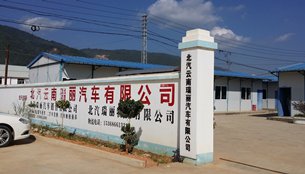 The parts and components required by BAIC's Ruili production line are mainly delivered by road from Chongqing, a journey of about two to three days, as rail transport is not yet available. As a result, the transportation costs are rather high. However, many parts and components suppliers have shown interest in coming to Ruili to set up plants to supply the production line. Even when output reaches 100,000 automobiles, it is expected that only about 3,000 workers will be required, with BAIC currently cooperating with local technical schools to train the necessary staff.
Promoting the China-Myanmar Cross-Border Economic Cooperation Zones
The Ruili Border Economic Cooperation Zone, situated in the Ruili Key Development and Opening-up Experimental Zone, covers an area of about six square kilometres. Located in the Ruili Border Economic Cooperation Zone, the Jiegao Border Trade Zone, covering an area of about 1.92 square kilometers, operates under a special customs supervision mode, whereby vehicles, goods and articles entering and leaving Jiegao from and to Myanmar are not required to make customs declaration to the Chinese authorities and are exempted from customs tariffs and import-related taxes. Goods and articles entering Jiegao from other parts of China are treated as exports once they cross the customs territory boundary. Jiegao is the logistics centre for border trade between China and Myanmar. It is also a gateway to Southeast Asia encompassing trade, processing, warehousing and tourism. To date, it has considerably bolstered production and trading in the jade and redwood furniture industries. Since the special customs supervision policy was implemented, Jiegao has made good progress in trade, warehousing and tourism and has become an important channel for goods and the flow of people between China and Myanmar.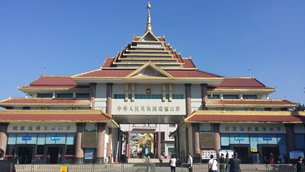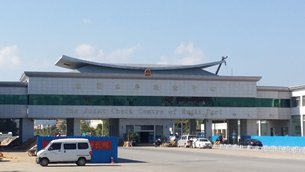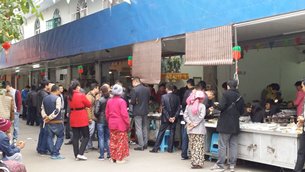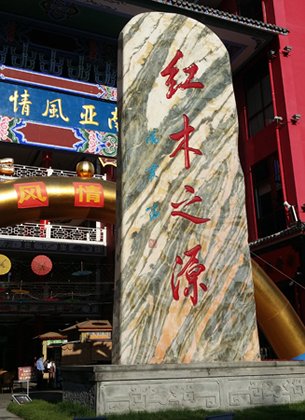 The Jiegao Border Trade Zone has also boosted the development of Myanmar's Muse region, which borders Yunnan. As a counterpart, Myanmar has set up the Muse Special Economic and Trade Zone, where a special customs supervision model, similar to that implemented in China, has been adopted. Drawing on the experience of establishing Jiegao, Yunnan is now looking into the feasibility of setting up the China-Myanmar Ruili-Muse Cross-border Economic Cooperation Zone. The Yunnan authorities are negotiating with Myanmar with regard to a proposition that each side allocates 100 square kilometres in order to establish a comprehensive cross-border economic cooperation zone, embracing export processing and assembly, imported resources processing, warehousing, logistics, finance and tourism.
Mainland China
Myanmar
Mainland China
Southeast Asia