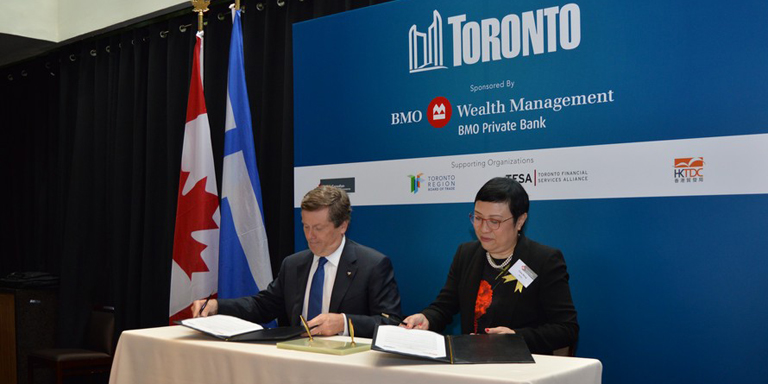 https://hkmb.hktdc.com/en/1X0A5ZMH
Natural Partnership
Toronto's mayor says a shared history and business interests make Hong Kong and Toronto natural partners.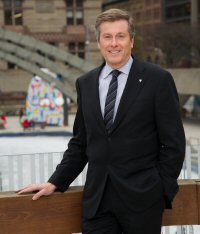 Toronto Mayor John Tory led a 34-member delegation to China in April, his first major overseas foreign trade mission since assuming the post in 2014. The business mission focused on promoting the Canadian city's key sectors: financial services, urban infrastructure, clean technology and education.

The group wrapped up its China visit with a stop-off in Hong Kong, where the city signed an agreement with the Hong Kong Trade Development Council (HKTDC) on expanding trade and investment promotions between the two cities.

As the gateway to North America and Canada's commercial capital, Mr Tory says Toronto is open for business.
What were some of your impressions from your latest trip to China?
I was last in mainland China in 1984, when I travelled to Shanghai, Wuxi, Beijing and Nanjing. For someone like me coming back to those cities again, particularly Shanghai and Chongqing, it was extraordinary.

If you look at what's going on in those cities today, you can see a profound transformation taking place, both in their economies and in their city infrastructure. They're having to cope with huge migrations of people. It has its good sides, in terms of contributing to economic growth. But at the same time, it's leading to a gigantic infrastructure problem, which in some respects, they are managing better by resolving to get them done in a reasonably short period of time.

We have to go back and tell the story of what China's modern cities look like because many people have the impression still of a country that is not very advanced . And when you go to Chongqing, Beijing and Shanghai, you come away with an overwhelming impression that these are modern dynamic cities.
At the same time, you want to change people's perception of what Toronto and Canada has to offer.
Just as I was suggesting there may be an impression of China's that's out of date, there's an impression of both Canada and Toronto that is a bit out of date. In the case of Canada, we're seen as this beautiful land of mountains, of lakes and fish, which is true. But we also have a modern economy and big cities that are every bit as dynamic and exciting as anywhere else in the world.

People will see there's plenty of opportunity to partner with Toronto firms in every area: life sciences, tech, food processing, banking, healthcare. It's a hugely diversified economy, full of smart people and we want to partner with smart people in places like Hong Kong.
You say that this outdated impression is partly because Canada has not been very good at selling itself.
Canadians are very modest people by nature. That's a good quality in many respects, but it does make us less outgoing when it comes to selling, say, compared to our American friends.

We have also had the advantage of living next door to the United States where there was this huge growing market that is still great for our prosperity. But it's best not to just hitch yourself to one wagon.

We recently had a Toronto food business that has gained access to the Chinese market to supply Canadian food products. We only have 35 million people in our country and the notion of having access to say 300 million of China's middle class that will buy these goods; think of what it could do to those companies in terms of expanding their horizons, employment and profitability. So everyone has to take a look at other economies and consider their potential.

What types of investment would your city welcome?
We're an open economy. In the old days, people would have confined themselves largely to natural resources, investment and land development. But now we need capital from Hong Kong and Asia to fuel our start-ups in tech and life sciences. We have promising companies that get scaled up to a certain extent. But when they need to go to the next level so they can compete in the Asian or American market, there isn't the financing available.

There's also room for Asian investment in infrastructure, public infrastructure and other kinds of projects. I would say the door is open because we have a rapidly growing economy and we're a smaller economy in terms of the availability of domestic capital. But it's a very rich country, therefore it can sustain these kinds of investments and produce a good return.
"If Hong Kong is a super-connector in Asia, then the HKTDC is a super-connector for us and our business community to Hong Kong and through to Asia and vice versa."
With this Memorandum of Understanding you signed with the HKTDC, how can it help strengthen trade ties with Hong Kong?
The single best organisation that can tie us into the commercial sector and to trade development between Hong Kong and Toronto is the HKTDC because they represent those who are most likely to be doing business with us.

If you look at the turnout that came to the "Think Asia, Think Hong Kong" seminar in Toronto last year, it was stupendous. You had every major company that was in just about any field, show up to be part of that because they wanted to learn more. If Hong Kong is a super-connector in Asia, then the HKTDC is a super-connector for us and our business community to Hong Kong and through to Asia and vice versa.

There are probably many places in the world that do more business on a dollar volume basis than Toronto with Hong Kong. But not many have the historic business connection and common population moving back and forth between these two cities, and that's a huge advantage for us to forge a special partnership going forward.

How can Canada tap into China's Belt and Road Initiative?
I would hope that there could be some sort of an air link to include Canada, as we wouldn't come as readily to mind because of the geography of where we are. But technology means there is no distance and barrier in getting things done. I hope the Initiative can be broadened beyond the borders of the geographic Asia and Europe, to North America where there sits a city ready to do business on a number of these fronts and become a part of that. But the key is that China is looking outward both in terms of places to sell things, to invest, so the exciting part is the country is looking outward.
Related Link
City of Toronto
Canada
Hong Kong
North America