https://hkmb.hktdc.com/en/1X0A5DV2
2016 Chinese New Year Sales: Nanjing
In Nanjing, retail sales of consumer goods during the 2016 Spring Festival were worth a total of Rmb2.38 billion, an increase of 9.6% year-on-year, according to the city's Bureau of Commerce. Its findings were based on statistics from 120 of the city's key retailers across eight categories, including supermarkets, department stores, home appliance retailers, and catering outlets.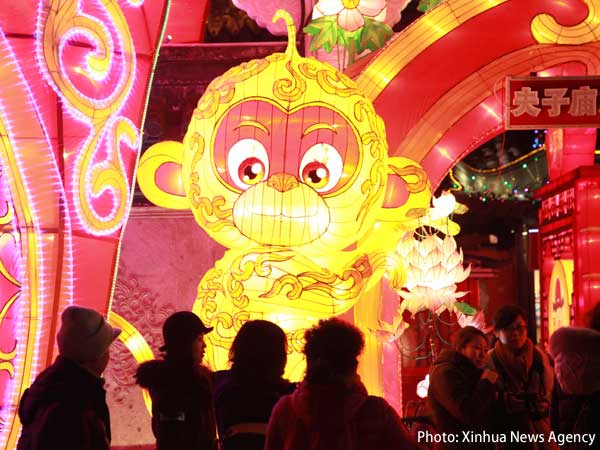 Figures from the Ministry of Commerce show that, from New Year's Eve to the sixth day of the Chinese New Year (7-13 February 2016), the total takings of retail and catering enterprises nationwide was more than Rmb754 billion, up 11.2% over the Spring Festival golden week last year. While a number of new sectors achieved impressive results, traditional New Year's goods; mass market dining; cultural, sporting and entertainment activities; tourism and leisure activities also fared well throughout the festive spending period.
Staff at the HKTDC's mainland offices (Beijing, Dalian, Qingdao, Xi'an, Shanghai, Hangzhou, Nanjing, Wuhan, Chongqing, Chengdu, Guangzhou, Fuzhou and Shenzhen) made visits to a number of high-end, mid-high end and mid-range shopping centres in their respective cities before, during and after the Chinese New Year in order to ascertain just how the consumer market performed this year.
In Nanjing, the crossover between online and offline marketing has become an ever more significant form of interaction between businesses and consumers. This is reflected in the level and nature of overall Spring Festival consumption in Nanjing this year.
In the shopping malls, a number of traditional top-selling items - food, clothing, local specialties, jewellery and electronic products - dominated sales. Energy-efficient refrigerators, air conditioners and big screen TVs also sold particularly well. The 3C products - computers, consumer electronics and communications products - again proved popular back-to-school gifts.
In terms of food and catering, the focus has shifted from business banquets to private feasts, wedding banquets, annual banquets and family parties. Many of the large restaurants offered family reunion dinner and specialty menus, while a number of small restaurants simply closed throughout the holiday period. Overall, the pricing of family reunion dinners was steady at about Rmb150-200 per person, with festive cuisine set menus proving to be the clear favourites.
On the entertainment front, the attendance rate was more than 90% up for film screenings during the Spring Festival period. Similarly, the number of visitors to the hot-springs in nearby Pukou and Tangshan nearly doubled in comparison to off-peak periods.
On and Off-line Promotions
During this year's Spring Festival, many Nanjing retailers sought to engage customers through a range of new mobile tools, including WeChat red packets, WeChat Pebble and crossover sales strategies. Such promotions were ubiquitous across Nanjing, with "scan and get a gift" incentives proving commonplace in many of the major shopping malls.
Other promotional activities included notification pushes on WeChat official account platforms, red envelope offerings by a number of brands, an Rmb100 million giveaway of Suning supermarket vouchers (sponsored by Suning Appliances) and Five Star Appliance's Monkey King Gives You a Red Packet initiative.
The following is summary of the sales situation in three leading Nanjing stores:
Shopping Mall
Deji Plaza
Golden Eagle Shopping Center
Suning Plaza
Grade

High-end

Mid- to high-range
Mid- to low-range
Top-selling items
Electronic products, jewellery
Clothing, jewellery, digital home appliances
Mobile phones, small appliances, baby products
Sales growth
9.3%
11%
-10%
Average spend per customer (Rmb)
3,150
2,500
600
Promotional tactics

(1) More promotional activities organised in the shopping mall during the Spring Festival period

(2) Increasing number of people bought jewellery and luxury goods as gifts

(3) Rapid expansion of catering area attracting more customers

(4) Tickets for New Year blockbusters sold out; complimentary tickets offered to shoppers; group purchase promotions

(1) Discount upon specified purchase amount; direct discounts

(2) Gifts redeemed with membership bonus points; expanding coverage of VIP cards

(3) The use of new mobile payment tools, including Alipay, WeChat, "snatch a red packet" to stimulate consumer spending

(4) Stepped-up efforts to increase sales of imported food in supermarket; New Year gift sets and lucky bag promotions organised to facilitate friends and relatives visits during Chinese New Year

(1) Penetration of Suning's service, both online and offline, into people's lives; Community services such as free express mail on campus and free parcel mailing for migrant workers returning home for the holiday, with more than 10,000 free parcels sent; Scan to shop online-to-offline business giving shoppers greater convenience; Household appliance cleaning programme launched during the pre-Spring Festival period

(2) Enhancing the home life experience hall which opened for business as usual during the Spring Festival holiday; while offering open shop, special services, such as visiting the shop to see CCTV's New Year's Gala, free webcam chat with family and mobile phone charging also launched, turning into a service centre with sentimental overtones.

(3) Vigorously promoted Suning wayward pay (or Renxingfu) financial services, offering zero down payment, 30 days interest-free and pay in installments. Customers can shop worry-free.

Sales highlights

The New Year's Eve dinners offered across the two dining floors of the Deji Plaza were all fully booked in advance of the festival. Some newly-launched jewellery brands proved much sought after. Shopping mall's Spring Festival activities were intensified. The proportion of clothing, jewellery and luxuries sales increased compared with same period last year, as did sales in the children's area on the sixth floor.

Golden Eagle Shopping Center launched its e-commerce platform - Jinqiaogou - at the end of 2015 and the online "Golden Week Budayang" (meaning "always open"). In addition, stylish clothing and food brands were introduced through a joint venture for the first time in Nanjing, bringing a welcome change to the previous uniformity of categories and brands in traditional department stores. New product categories were proactively launched to attract more consumers.

Logistics service always available; "Watch CCTV's New Year's Gala In-store" was launched to give customers a new experience, greatly enhancing customers' loyalty and experience.
Charlotte Zhang, Hanna Shi and Constance Wu, Nanjing Office
Source: Nanjing Department of Commerce's official website
Mainland China
Mainland China