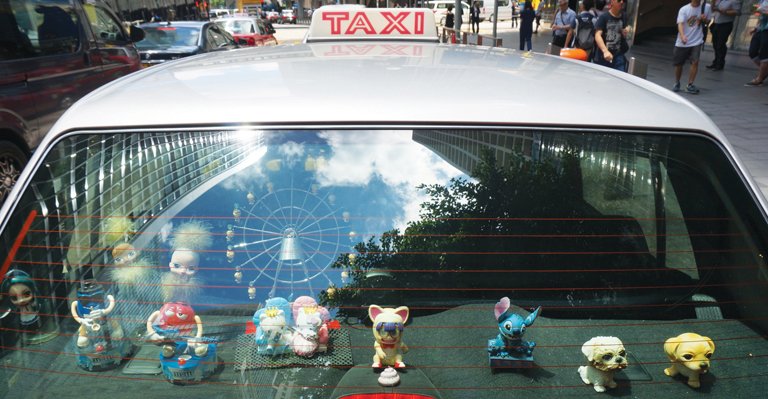 https://hkmb.hktdc.com/en/1X0A4O5V
Taxi Treasures
A new book celebrates the quirky curios found on Hong Kong taxi dashboards and rearview mirrors.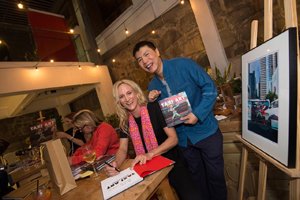 Thousands of hours in the back of Hong Kong cabs inspired longtime Hong Kong resident Allison Haworth West to create Taxi Art, a book dedicated to the figurines and various ephemera on show in the city's cabs.

"I've always admired the creativity of Hong Kong taxi displays," says the first-time author. "And since I came up with the idea for a book [on this subject] around five years ago, I began to notice there were less and less taxi drivers displaying art in their taxis, which spurred me on to publish the book."

Armed with Australian charm and some limited Cantonese, Ms Haworth West photographed everything from fat Buddhas and "lucky cats" to a miniature fleet of Hong Kong taxis and a festive rearview display featuring a ferris wheel.

Many of the pieces reflect the importance Hong Kong people place on wealth, and the influence of Japanese culture on the city. Buddha figurines are thought to bring good luck, while fat Buddha statues symbolise blessings for a prosperous and wealthy future. Ms Haworth West also encountered Chinese gold ingots, called sycees, another symbol of prosperity, during her shoots.

Another prominent piece of memorabilia on Hong Kong taxi dashboards is the maneki-neko or "beckoning cat," a lucky charm with an upright paw that is a good-luck keepsake from Japan. Sometimes referred to as the Chinese lucky cat, thanks to its popularity in the Chinese community, it is often found at shop and restaurant entrances, as well as on taxi dashboards.
Hello Kitty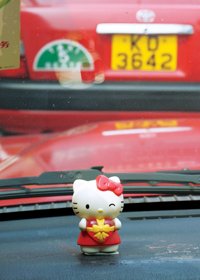 A perhaps equally famous Japanese import, Hello Kitty, also features prominently in Hong Kong taxi art displays. The cat is a mainstay of Hong Kong culture, with frequent promotional giveaways of miniature Hello Kitty figures at convenience stores such as 7Eleven and by fast-food chains like McDonald's.

Other cartoon character giveaways captured in the book are also nods to Japan, such as Doraemon and Ultraman, as well as Western cartoon figures like Snoopy or Disney's Lilo & Stitch and Mickey Mouse.

Confucius figures are also displayed on dashboards, highlighting the importance many Chinese people place on finding inner moral harmony.
Authentic Shots
Published by Asia One, the book features a foreword written by Douglas Young, founder and CEO of Hong Kong lifestyle store G.O.D. "Hong Kong taxi art is infused with local culture – the mix of references are unique," says Mr Young. "I like its sense of humour and the fact that it's about Hong Kong. Similar to a lot of G.O.D. designs, it's a new twist on something very commonplace."

For the author, the project was about the journey of putting the book together. "Some of them were taken on my phone – the project began on a BlackBerry." As some of her initial images were blurry or pixellated, she invested in a camera that could be easily carried around in her handbag to capture better quality, high-resolution images.

While the calibre of images improved, there was the odd concession: Ms Haworth West initially felt taking photos through the windscreen would compromise the quality, but later felt them more interesting and authentic.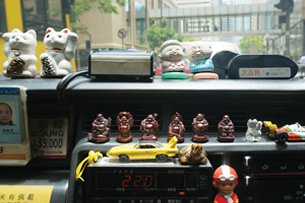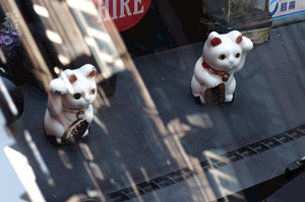 Describing the shoots as sporadic at times, but frequently "hilarious," the author recalls lunging forward with her camera to get shots, only to be told "no, no, no!" But other drivers would be keen to show off their collection. "One even got out of his cab at a red light to get something from the boot [to add to the display]." Drivers with good English would also reveal the stories behind their collections.

For those who didn't speak English, she would flatter them with phrases like "ho leng" (very beautiful) or ask them to slow down so she could take better photos. "I even started getting out of the back seat at a red light and getting in the front passenger seat so I could shoot."
Dying Art?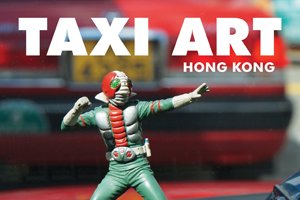 In the book introduction, Ms Haworth West expresses concern that taxi art may be dying out. "In all the years I've been shooting, I've noticed there's been less and less [creative displays]. As more and more taxi licenses get bought up by consolidators, there are less owner-drivers, so it means they tend to decorate their taxis less."

Alternative methods of transport such as Uber – whose service includes private car hire and ride shares – plus local van hire services such as GoGoVan and EasyVan, are also undermining Hong Kong taxis, she adds.

The author says it is fortuitous that she began shooting the book when she did. "I don't think taxi art will disappear, but it's not as prolific as it was," she says. "There are still the diehards, those frenzied dashboards – but you have to look a bit harder to find them than before."
Related Link
Taxi Art