https://hkmb.hktdc.com/en/1X0A4LAZ
Fujian: New Cross-border E-commerce Opportunities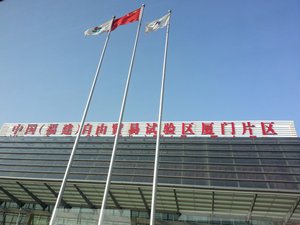 China has established seven cross-border e-commerce import pilot cities [1]. According to information from the Fujian Provincial People's Government, Fuzhou and Pingtan will soon become new pilot cities [2]. Amid increasing consumer demands in Fujian and other mainland cities for high quality imported products, many enterprises are accelerating cross-border e-commerce import business development. They are also pitching in the direction of the Fujian Free Trade Zone (FJFTZ) by actively developing cross-border e-commerce business.
Enterprises are able to draw on the customs supervision, inspection, quarantine, as well as cross-border payment advantages in starting their e-commerce import businesses in the FJFTZ. Import goods are also entitled to personal postal articles tax treatment and the respective incentives. All these advantages offer additional business opportunities to Hong Kong companies that wish to capitalise on the cross-border e-commerce platform to enter the mainland market.
Cross-border E-commerce: Flourishing Business
The FJFTZ has implemented a series of open policies, which include allowing customs-registered enterprises within the special customs supervision areas to conduct bonded exhibitions and business transaction activities inside the areas. At present, goods imported into China under "general trade" are subject to import tariffs and 17% VAT. But cross-border e-commerce operators in pilot bonded areas may adopt the "bonded reserve goods mode", whereby merchandise sourced from foreign countries in bulk can be delivered to designated cross-border warehouses in the bonded area first. After the consumer has placed an order online, the e-commerce operator will then complete customs clearance procedures and make a customs declaration for the goods concerned to be imported as "personal articles" and pay personal postal articles tax (without further tariffs and VAT). After verification by Customs, the merchandise is delivered to the consumer by courier companies.
Currently, four tax rates apply to personal postal articles. The actual tax value varies depending on the type of imported goods and the respective import procedures [3].
10%: e.g. books and newspapers; publications; original audio tapes, video tapes; gold, silver and articles thereof; food and beverages;

20%: e.g. textiles; audio-visual equipment and other electrical appliances; bicycles; general watches and clocks;

30%: e.g. golf equipment; high-end watches (priced over Rmb10,000);

50%: e.g. cigarettes, liquor, cosmetics.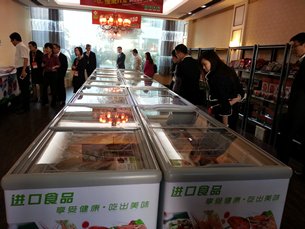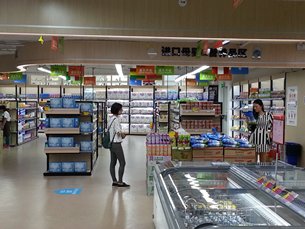 Against this backdrop, some enterprises have already set up cross-border e-commerce service platforms and direct purchase experience stores at the FJFTZ's Fuzhou and Pingtan Areas. These facilities help the enterprises display their imported goods, while also promoting their e-commerce services to consumers.
For instance, many cross-border e-commerce operators have started business in the import food section, located at the Fuzhou Area of FJFTZ, as well as the Fuzhou Bonded Port Area. These include the Kaisa cross-border goods experience store (凱撒跨境商品體驗店) and R&J Free Trade Mall,, which have already set up their warehousing, product display, order taking, trading and logistics platforms for import goods in the region. The enterprises are also showcasing their imported products from the US, UK, Japan and Korea to consumers. These products range from wines, edible oils, leisure food, frozen beef/lamb/seafood and other fresh foods, to mother-child products, cosmetics, health supplements and small electrical appliances. The e-commerce operators' business model focuses mainly on product display, customer experiences as well as business negotiation, supplemented by the retail of duty-paid goods. They also ride on the future cross-border e-commerce pilot policies in realising their O2O cross-border e-commerce operation model, as characterised by "experience offline, order online".
On the other hand, even though Xiamen is currently not on the list of pilot cities, some cross-border e-commerce operators have already started business in the Xiamen Area of FJFTZ. Such moves are aimed at capitalising on the FJFTZ's expedited import goods clearance, inspection and quarantine, as well as cost saving on bonded imports and warehousing services. The operators are also set to leverage other pilot cities' policies in order to offer local consumers cross-border e-commerce services.
For instance, e-commerce operator, Woyang (沃洋優品), has set up a cross-border direct purchase experience store in the FJFTZ's Xiamen Area. Woyang's representative, in receiving a Hong Kong business delegation to Fujian, said the company has also opened a similar experience store in the Guangdong Free Trade Zone's Nansha Area. The company's Xiamen experience store is aimed at further covering the markets in Xiamen's surrounding areas, as well as those within and outside Fujian province. Moreover, to enhance its overall efficiency in international procurement and import logistics, Woyang is utilising Hong Kong's international entrepot and logistics warehouse service. Benefitting from the FJFTZ's customs clearance advantage, Woyang has been providing customers with quality and competitive cross-border e-commerce import services. It also welcomes business cooperation opportunities with the respective logistic service providers, including those from Hong Kong, together with other import merchandise providers.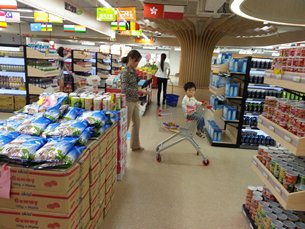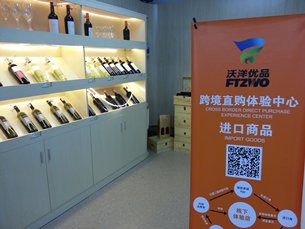 ---
[1] The seven mainland cross-border e-commerce import business pilot cities are: Shanghai, Chongqing, Hangzhou, Ningbo, Zhengzhou, Guangzhou and Shenzhen.
[2] Source: Fuzhou Bureau of Commerce
[3] Cross-border e-commerce imports that go through customs clearance according to personal articles tax regulations must comply with the online order and courier service requirements, as well as the "reasonable quantity for personal use" principle. For each internationally delivered personal postal article, the value limit is set at Rmb1,000. For deliveries to and from Hong Kong, Macau and Taiwan, the value limit is Rmb800. Where the value of a single integral item exceeds the specified limit, if Customs determines that it is for personal use, the product can go through customs clearance procedures in accordance with personal postal articles tax regulations. In addition, the personal postal articles tax must be calculated according to the relevant commodity tariff codes/categories and the set out dutiable values. Import "personal articles" with tax values below Rmb50 are entitled to tax exemption.
[4] Organised by the HKTDC, the Hong Kong business delegation visited the Fujian Free Trade Zone on 13-16 October 2015.
Logistics & Supply Chain
Information Technology
Mainland China
Hong Kong
Mainland China
Hong Kong