https://hkmb.hktdc.com/en/1X0A46A8
Marketing Services Demand in China (1): Upgrading Design and Branding
Introduction
As the "world's factory", China takes the lead when it comes to both consumer products and industrial production. The garments, toys, household appliances and consumer electronics produced in China make up a significant share of the global market. However, in recent years, with the slackening of the global economy, China has settled into a "new normal" of slower economic growth – shifting from the rapid growth of past years to a relatively steady pace of development. Meanwhile, enterprises on the mainland are facing rising prices in terms of land, labour and operating costs. This, coupled with fluctuations in the exchange rate for the RMB, is bringing pressure to bear on the exports and domestic sales of enterprises.
Mainland enterprises first began adopting different strategies several years ago. This was to offset the pressures brought about by changes in the external investment and business environments, while taking steps to enhance competitiveness. Some manufacturers, for instance, have relocated elements of their production lines to lower-cost regions. An even greater number are looking to transform and upgrade, diversifying from production to retail and branding, while improving their product design and R&D capabilities in order to deepen their penetration in both the mainland and overseas markets.
It is worth noting that mainland enterprises rely on outside support from Hong Kong or foreign suppliers for services in a number of different areas, in particular (i) product development and design; (ii) brand design and promotional strategy; and (iii) marketing strategy for developing new business and new markets. As Hong Kong is the preferred service platform of mainland enterprises seeking to "go out", this is bound to generate more opportunities for Hong Kong services suppliers.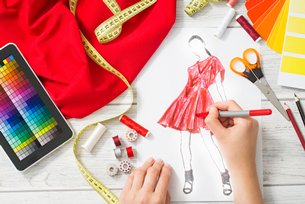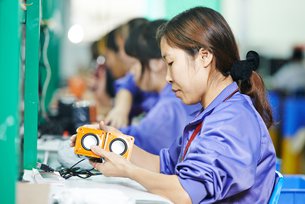 "Created in China": Focussing on Branding and Marketing Strategies
Over recent years, China's socio-economic development plans have strongly encouraged enterprises to undergo transformation and upgrade by raising the core competitiveness of the manufacturing sector, as well as by propelling the robust growth of the services industry. One of the key development strategies has been to encourage enterprises to promote brand building and to enhance their brand value. Other initiatives have looked to advance product development by prompting industrial design to adopt high-end integrated design services, encouraging enterprises to "go out" and invest offshore, as well as to look to the establishment of international marketing networks and well-known brands[1]. The Ministry of Commerce (MOFCOM) has also issued a set of guiding opinions on promoting brand awareness in hopes of expanding the scale of consumption of branded products in China, as well as promoting the rapid development of branding in the country[2].
The State Council recently issued a policy paper, Made in China 2025[3]. This outlines China's objective of getting on an equal footing with the world's most industrially developed countries, as well as its determination to become a modern industrialised giant. Among the nine strategic tasks and key points set out in the paper, one key goal is to strengthen quality and brand building in order to elevate the grade of products made in China. Enterprises are to be encouraged to make more use of branding in order to propel the shift from "made in China" to "created in China", in line with the "from big to strong" development model.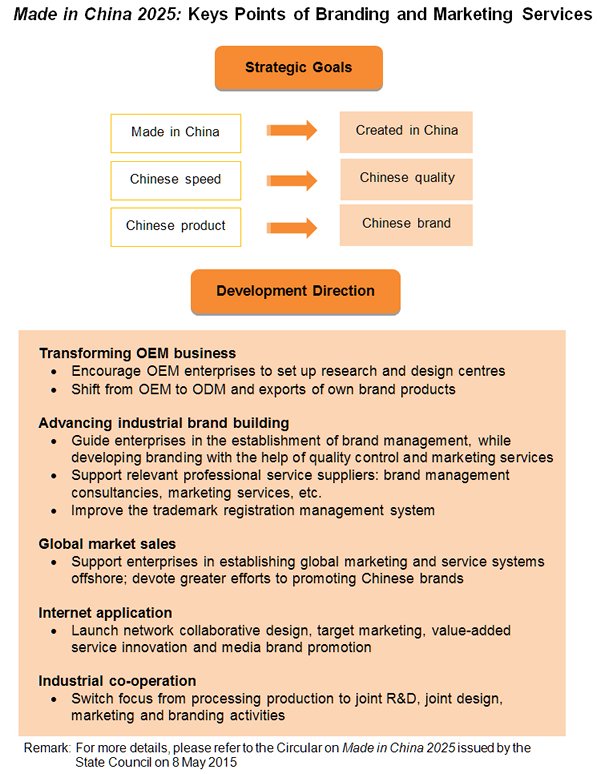 Transformation and upgrade
As the labour and land advantages of the mainland gradually weaken, Chinese enterprises are facing increasing pressure on their operations. Some have been forced to close down. But in recent times a greater number of enterprises have begun to develop higher value-added business and optimise their operations. As a result, the industrial sector on the whole has managed to maintain impressive growth. In 2014, despite the global economic downturn, the income from the core business of Chinese industrial enterprises rose 5%, albeit at a pace slower than the double-digit growth of preceding years. Underpinning this continuing growth is an ongoing transformation and upgrade by the majority of mainland manufacturers, many of which are proactively pursuing high value-added business and raising competitiveness. Some years ago, many of them started to devote a higher level of resources to higher value-added activities, such as high-tech R&D, product design and brand building.
On the foreign trade front, the share of low-profit processing trade among China's total exports dropped from 55% in 2005 to 38% in 2014. This partly reflects the fact that mainland enterprises have begun to gradually switch from processing trade activities, such as OEM, to exporting more original design, and even original brand, products. Although the export delivery value of industrial enterprises continues to increase, its share in terms of core business income has been declining gradually over the past 10 years. This shows that many mainland enterprises, apart from continuing to explore foreign markets, are also developing the domestic market, which is becoming increasingly vibrant and more demanding in terms of quality and services.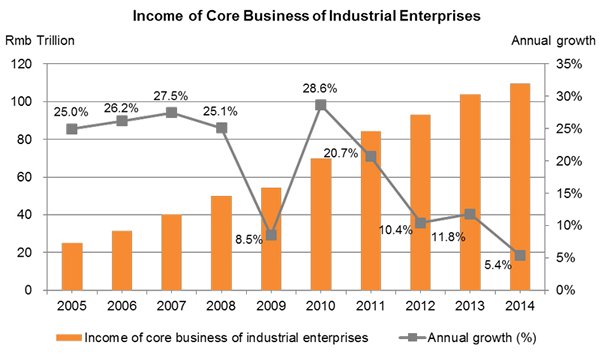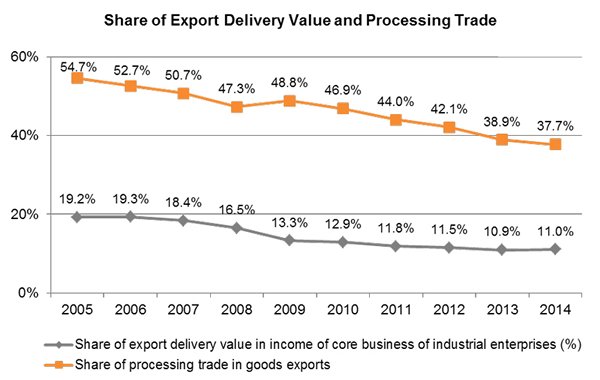 Source: National Bureau of Statistics
The Research Department of the Hong Kong Trade Development Council conducted three questionnaire surveys in the Pearl River Delta (PRD), Yangtze River Delta (YRD) and Bohai Rim between 2013 and 2015. The aim was to identify the intentions of those mainland enterprises seeking transformation and upgrade, as well as their needs with regard to any related professional services. The findings show that, regardless of whether it was the PRD, YRD or Bohai Rim, more than 90% of respondents would either consider increasing or had already increased investment in order to raise their competitiveness. These enterprises had also adjusted their business and operating strategies in order to achieve transformation and upgrade. The top two areas prioritised for investment were: (i) enhancing product design and high-tech R&D capability; (ii) developing and promoting own brands. Secondary investment options included raising the technological level of production and strengthening product quality control.[4]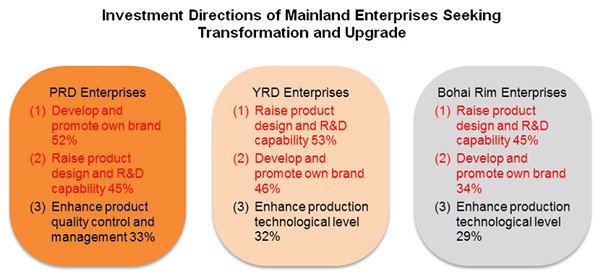 Remarks: (1) Figures in brackets refer to the ranking of investment directions chosen by most surveyed enterprises
(2) For details, please see Outbound Investment of Chinese Enterprises: Hong Kong the First Port of Call for Professional Services
Source: HKTDC surveys
Developing branding
It is evident that apart from hoping to enhance high-tech R&D capabilities, mainland enterprises want to strengthen their marketing efforts and to develop original design and original brand business. In particular, mainland enterprises are highly motivated when it comes to brand building. Many enterprises and individuals have submitted applications in recent years for trademark registration in order to protect their intellectual property (IP) as they develop their brands and conduct publicity and promotions activities – in that doing so can prevent counterfeits and IP infringements.
Against this backdrop, the number of trademark registration applications in China has rocketed in recent years. According to figures compiled by the State Administration for Industry and Commerce (SAIC), in 2014 more than two million (2,285,400) applications for trademark registration were accepted. This was a 21% increase over the previous year, ranking the country first in the world for 13 years consecutively, and jumping almost 250% over the number accepted in 2005. At the same time, the number of trademark in force reached 8.39 million, maintaining the country's record of ranking first globally.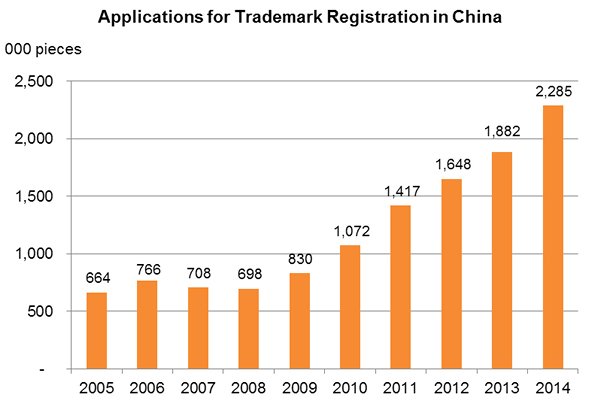 Source: Trademark Office of the State Administration for Industry and Commerce
In 2014, the number of domestic trademark registration applications accounted for 94% of all applications in China, with most of them being submitted within the country by mainland enterprises. Submitting an application does not necessarily mean that the enterprise in question will succeed in having its trademark registered and establish it as a commercial brand with market value. Trademark rights protection, however, is important when it comes to developing brand business and in achieving success in the market. Hence, under the premise of developing brand business and pursuing transformation and upgrade, mainland enterprises place great emphasis on protecting trademarks and preventing infringements in order that they can build their brand smoothly. The sharp rise in trademark registration applications in China in recent years reflects the development strategy of mainland enterprises and intent on developing a brand business.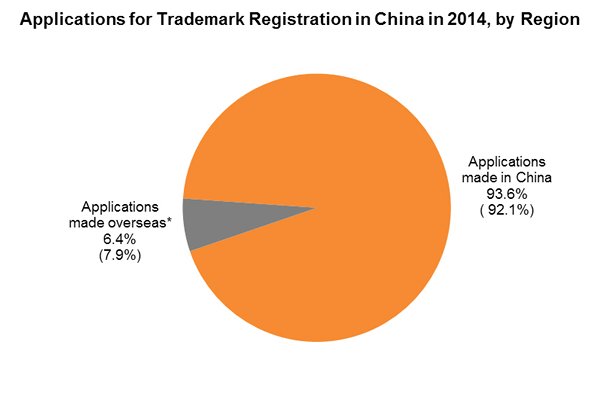 * Including registration applications made overseas and through the Madrid System
Remarks: Figures in brackets are 2013 figures
Source: Trademark Office of the State Administration for Industry and Commerce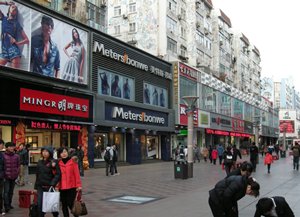 With regard to the class of application (goods and services) for trademark registration, over the past few years these have mainly related to garments, footwear and headgear, which together accounted for 9.6% of the total number of applications in 2014. This can be attributed to the fact that many clothing and footwear manufacturers and designers on the mainland are developing their brands and expanding their chain-operated retail business, as well as proactively protecting their trademarks. Other major types of applications include commercial services, including advertising and management (8.4%), instruments and equipment (6.2%), various kinds of food (5.4%), and catering and accommodation (4.0%).
Statistics also show that, among all the mainland provinces, Guangdong has the largest number of trademark registration applications, accounting for 18% of the country's total number in 2014. This is mainly because the PRD, as one of the traditional light industrial production and export bases in China, has a high concentration of manufacturing and sales activities. As such, there are a greater number of manufacturers and distributors in the region looking to apply for trademark registration in the course of seeking transformation, upgrade and brand development. However, if Zhejiang, Jiangsu and Shanghai are counted as one unit, then the number of applications in the YRD is comparable to that of the PRD. The Bohai Rim, which includes Beijing, Tianjin and Shandong, trails closely behind. In sum, the economically more advanced coastal regions are the leaders in the development of trademark and brand business in China, and it can be expected that this is where demand is strongest for services related to brand development.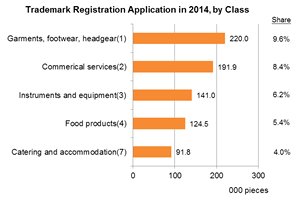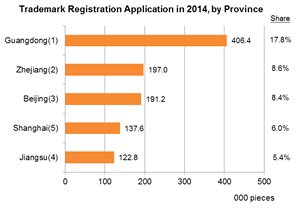 Remarks: Figures in brackets are rankings in 2013
Source: Trademark Office of the State Administration for Industry and Commerce
Where demand lies in the consumer goods and industrial markets
Chinese enterprises are placing increasing emphasis on product design and brand development, and have adopted different means to identify market demand. This is not just the case with small- and medium-sized enterprises, but has become the long-term strategy for many larger and more mature businesses. Their demand for design and brand services provides ample opportunities for any related service providers. Such service providers, however, should take note that mainland enterprises are seeking much more diversified services as they look to penetrate different market segments. Service providers must understand the development strategies of different consumer brands and industrial firms in order to tailor their services to fit the needs of their clients. [More]
Enhancing product design capability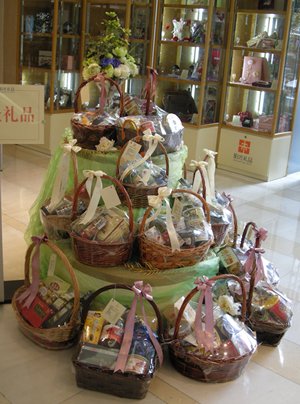 On the other hand, Chinese enterprises have been devoting resources to improve their product design capabilities. This is particularly true of industrial enterprises, with many of them hoping to design their own products in a bid to strengthen their original design business, reduce reliance on OEM production, increase competitiveness, and raise profit margins. Moreover, some enterprises also make use of own design products to complement the development of their own brand business. In this context these enterprises are increasingly seeking product designers and related services.
China has been making great efforts to train professional design talent to meet the increasing demand. According to figures compiled by the China Industrial Design Association, the number of design institutes on the mainland has jumped from 1,247 in 2007 to about 2,000 today. During this period, the number of recruits also rose from 225,000 in 2007 to around 600,000 at present. Among all the mainland provinces, the number of recruits is highest in Henan, Guangdong, Jiangsu, Shandong and Sichuan[5].
As the China market gradually matures, mainland consumers are no longer paying attention solely to the colours and designs of products. Increasingly influenced by global product development trends, Chinese consumers are becoming more demanding with regard to product design, functions and features. It has, for instance, become important as to whether or not a product possesses the following attributes: innovative design, simple and user friendly functions, minimalistic design, and energy-saving and eco-friendly features. As for original design products for export, the item also has to meet the requirements of foreign buyers and the product specifications of any importing country.
Against this background, the requirements of mainland enterprises for product design services are becoming more stringent. Apart from forming an own design team, some enterprises also look to outside support for professional services, including product function, style, design, colour and packaging to serial items, as a way to strengthen their overall product design capability.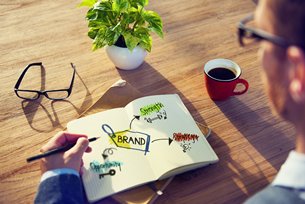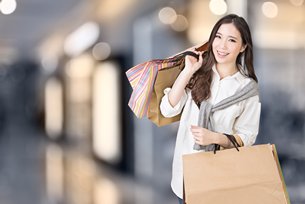 Furthermore, mainland enterprises also proactively seek outside support from other design partners, something that has stimulated the growth of enterprises engaging in industrial design. According to figures released by the China Industrial Design Association, there are currently more than 6,000 industrial design companies in the country. There are also more than 1,000 creative design parks across China, with leaders like Beijing DRC Industrial Design Creative Industry Base, Shanghai International Design Centre, Ningbo Hefeng Creative Square, Dongfang No.1 Creative Industry Park in Dafeng, Jiangsu, and Shenzhen City of Garden Creative Industry Park.
In addition, mainland enterprises are attaching increasing importance to product design, a development trend which can be observed via the number of applications for design patents submitted in China. Many companies developing original design or original brand products have realised the importance of patent protection to business development, as it protects the IP rights of a product design and prevents copycats from turning around and accusing them of infringement. This development is most evident in the fast-moving consumer goods, garments, telecommunications and consumer electronics sectors.
Between 2005 and 2013, the number of design patent applications accepted in China jumped by 304%. These included applications submitted by universities and tertiary institutes, government bodies and organisations. The number of applications submitted by enterprises only accounted for 29.1% of all applications in 2005. But this share rose to 50.4% in 2013, representing a growth of 599% in the period. This shows that mainland enterprises are placing ever greater emphasis on protecting the IP of their designs.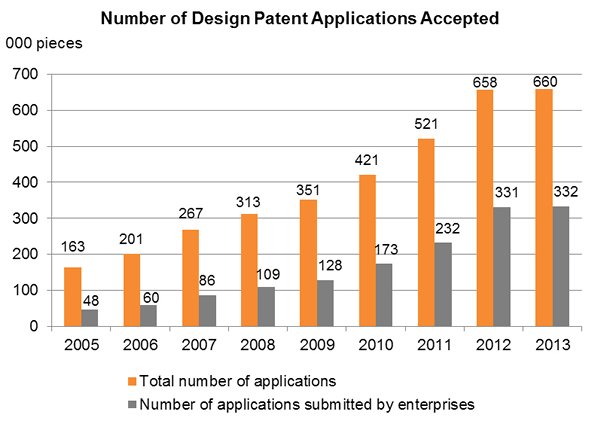 Source: National Bureau of Statistics
The number of design patent applications from Jiangsu and Zhejiang in the YRD is the highest among all of the provinces. In 2013, the total number of applications from the two YRD provinces accounted for 55% of the total number of applications, while Guangdong ranked third (16%). All three provinces are important production bases in China for various kinds of light industrial, electronic and electrical products. The figures above also show that enterprises in these provinces are attaching greater importance to obtaining patents to protect their IP rights. This can help them effectively develop their original design product business and implement the strategy of using their own design products to grow their brand business.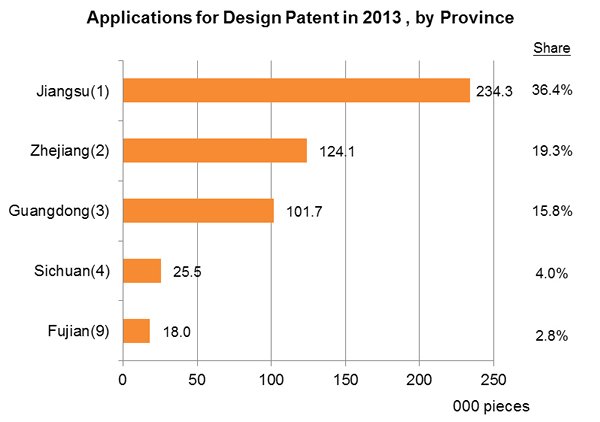 Remarks: Figures in brackets refer to the ranking in 2012
Source: National Bureau of Statistics
Seeking a Full-range of Services
Many mainland enterprises with a history of business development spanning tens of years, or even longer, possess a great number of developed products and different product technologies and they command a certain position in the market. Under the premise of maintaining their existing brand culture, most of these enterprises actively seek to enhance their product quality and brand value, with many of them seeking outside services for branding and marketing as well as launching innovative promotion activities and customer service in order to further raise their brand and overall competitiveness. These enterprises are potential clients of the relevant service suppliers. [More]
Strong Demand for Design and Brand services
In order to implement transformation and upgrade as well as to further develop business, many mainland enterprises have to seek services support from outside suppliers. The HKTDC surveys found that the outside services most sought after by enterprises in coastal regions, including the PRD, YRD and Bohai, are: (i) product development and design services; (ii) brand design and promotional strategy services; and (iii) marketing strategy services for exploring new business and new markets. The enterprises surveyed indicated that their demand for these services is stronger than for other professional services, such as financial, commercial consultancy, legal and accounting services.
Mainland Enterprises May Consider Using or Have Used Outsiders' Services for Transformation and Upgrade

Remarks: (1) Figures in brackets refer to the ranking of the service most sought after by surveyed enterprises
(2) * indicates the percentage of enterprises considering using Hong Kong or overseas services
(3) For details, please see Outbound Investment of Chinese Enterprises: Hong Kong the First Port of Call for Professional Services
Source: HKTDC surveys
Green Food Market Stalwart Sets Sights on Wider Asia Market
While many mainland enterprises have high quality products, the key to their further development is the establishment of an outstanding brand and the adoption of the right marketing strategy. Hong Kong's professional branding and marketing services providers have extensive international exposure, and also excel in providing a full range of strategic services for clients. They can help mainland enterprises specialising in processing production to improve their brand business and to access domestic and foreign markets more effectively. [More]
Mainland enterprises are most eager to obtain the relevant professional services support in order to implement their strategy of pursuing transformation and upgrade. They are using product design and brand strategy to further develop their business, while expanding their domestic and foreign markets. Among the surveyed companies that opted for these services, more than 55% indicated their willingness to "go out" and use Hong Kong or foreign services suppliers to enhance their product design and brand development capabilities.
More than half of the surveyed companies indicated that they were most interested in obtaining the professional services they need in Hong Kong. For instance, 65% of the surveyed enterprises in the PRD, 56% in the YRD and 60% in the Bohai Rim indicated that Hong Kong was the first port of call in their attempts to "go out". Hong Kong's product and brand designers have a good understanding of Eastern and Western sensibilities as well as extensive international exposure, and excel in providing a full range of strategic product designs and branding plans for clients. They can supply cross-sectoral, all-round design services, ranging from graphic, product, and store design through to multimedia design, assisting mainland enterprises in undergoing transformation and upgrade, as well as helping to expand their business on the mainland and abroad.
Remark: For more details, please see:
Hong Kong Services for Mainland's Outbound Investment (2): Hong Kong Designers Boost Chinese Mainland Brand Building
Hong Kong Services for Mainland's Outbound Investment (3): Value-added Services Beyond Brand Management
Hong Kong and the Mainland "Going Out" Together (2): Hong Kong Designers to Offer Total Solution on Branding Strategy
In conclusion, in the face of a weak world market and a changing external environment, many mainland enterprises hope to upgrade their product design and build well-known brands that stand out in the intensely competitive market, brands that will have sustainable growth in the long term. This development is bound to further stimulate demand from mainland enterprises for the above-mentioned professional services and generate more opportunities for Hong Kong services suppliers.
---
[1] For details, please see the 12th Five-Year Plan for the National Economic and Social Development of the People's Republic of China
[2] Guiding Opinions of the Ministry of Commerce on Promoting the Consumption of Chinese Brands (17 December 2012)
[3] Circular on Made in China 2025 issued by the State Council on 8 May 2015
[4] For details, please see Outbound Investment of Chinese Enterprises: Hong Kong the First Port of Call for Professional Services
[5] Source: China Industrial Design Yearbooks 2006-2013
Design Services
Advertising Services
Mainland China
Hong Kong
Mainland China
Hong Kong