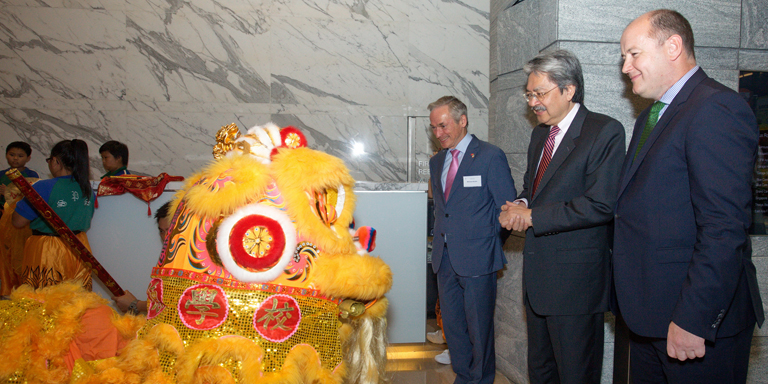 Boots on the Ground
Ireland has stepped up its Asia presence by opening several diplomatic missions, including in Hong Kong.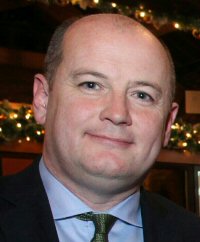 Ireland has officially opened its first consulate in Hong Kong, headed by Peter Ryan. Calling his job "a labour of love," the new Consul General for Hong Kong and Macau took time from his busy schedule to discuss why he moved from New York to set up in Hong Kong, where he says "the world comes to do business."

Why open the consulate at this time?
There was a recognition that Hong Kong was an important place for us for a number of reasons. I categorise it under the three C's: first, because of our community here. We have about 3,000 Irish passport holders who have Hong Kong ID cards, and many more of Irish heritage. Secondly, as part of our overall outreach to China, Ireland has ramped up its connections with China, so that "c" would be commercial. The third is very important – to raise awareness of Ireland's culture. We believe that in Asia, Irish culture is very well known, and we thought it would be good to further raise its profile in a dramatic way. But to do this, we needed boots on the ground.

The reason we came at this time was that we had opened a number of offices around the world, including our first-ever embassy in Thailand, our first embassy in Indonesia, and we opened here as part of that process.

What are your objectives and priorities?
My priority here is to deliver a world-class service to our community. Taking advantage of Hong Kong's role as a super connector; this is where the world comes to do business and we're here to leverage that. A major priority is to establish direct flights to Ireland. We are working to inform the powers that be about the attractions of a direct flight there. We [in Ireland] have very good access, but it's not the same as direct access. So if we are going to grow our fresh-food business to Hong Kong, our education business, our tourism business, if we are going to support the vibrant financial services business in Ireland, we believe there is fantastic scope here for direct flights.
"The opportunities are here, and this is an entrepreneur's paradise. This place is built on business."
What does Ireland offer Hong Kong?
We have a young population – 40 per cent of Ireland is under 40. Young people travel and we want to encourage them to look at Hong Kong as their regional landing point, where they can reach Asia through Hong Kong. And we want Hong Kong to think of Ireland as a natural partner in Europe. Ireland has so many US, European and Middle East headquarters there. For example, in a small part of Dublin, we have the European headquarters for Microsoft, Google, Twitter, LinkedIn, Amazon, Air BnB, the list goes on. We would love young people from Hong Kong to come and work in Ireland, as we have skills shortages across many sectors. The US has tremendous investment in Ireland, and one of the reasons for this is that investors can get to the right people very quickly. We have an extraordinary start-up environment, and through this, a lot to offer Hong Kong.

What do you consider to be Hong Kong's business advantages?
Rule of law is top of the list. I think the fact that we could come and almost "plug and play" here is important. We could get more done here in a week than we might do in other locations. We found setting up so seamless here, there was no single issue standing in our way during our arrival. Invest Hong Kong reached out to me when I was in New York, and said that they heard I was coming and could they help. I didn't need them. I met every member of the Hong Kong Government, all of them asked me, ''How can we help you?' This is the message we give back to the Irish business sector. The opportunities are here, and this is an entrepreneur's paradise. This place is built on business.

What is biggest challenge to enhancing the Hong Kong-Ireland business relationship?
We've been fortunate with the success of our St Patrick's Day parade, our education outreach, our food and beverage promotions. Sustaining the level of activity for us will be the biggest challenge. We've put in place a number of partnerships with the Irish Chamber of Commerce in Hong Kong, the St Patrick's Society of Hong Kong, and the Ireland Fund of China, which is also based here. Our biggest challenge will be to build [on the momentum we have created] because Hong Kong is competitive, crowded, noisy and people are busy. They won't come back and ask you three or four times to do something. So when they ask us, we will deliver the first time.

What are your impressions so far about living in Hong Kong?
It moves even faster than I expected. People work harder than anywhere else I have seen. The accessibility is the difference between here and other places I have lived in Asia, and the prevalence of the English language. I've lived in Korea, Japan, all over Asia. The ability to converse in the English language, and the fact that foreigners are not unusual, make it special.

I had my family out on a junk last weekend, and we watched fishermen in their little boats. I explained to my daughter that this was the same way they did it probably 100 years ago. So here we are watching this, yet we are minutes away from a global centre of business, culinary skills and arts. It's just really amazing.
Related Link
Consulate General of Ireland, Hong Kong