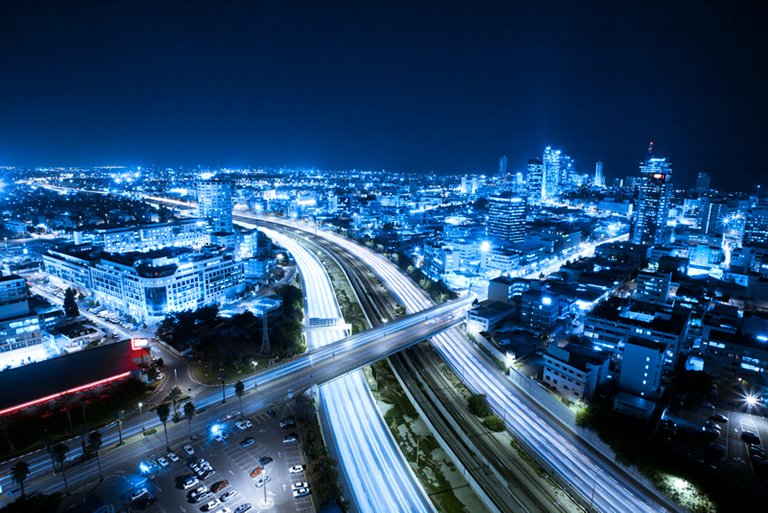 https://hkmb.hktdc.com/en/1X0A308S
Israel: Technology and R&D Collaboration Opportunities
Hong Kong is an ideal partner for Israeli companies looking to develop their Asian market presence.
Israel: A Recognised Global Innovation Hub
Many users of modern day electronic and telecommunication devices, including USB flash drives, firewalls and cell phones, have little idea that a significant number of these devices utilise technology invented or developed in Israel. Its successes here have seen the country come to be widely regarded as the 'start-up nation'. Tellingly, it is also home to one of the world's highest concentrations of high-tech companies, second only to the US' Silicon Valley. Israel has emerged as a global innovation hub and was ranked as having the world's greatest innovative capacity and entrepreneurship by the 2014 IMD Global Competitiveness Yearbook.
As one of the most technologically advanced countries in the world, Israel has the second highest R&D expenditure to GDP ratio (3.9%). This has nurtured a favourable scientific research environment for the growth of high-tech industries. The Israeli government has devoted significant resources to the development of its high-tech industries, with the aim of making this export-oriented sector globally competitive and capable of supporting sustained economic growth.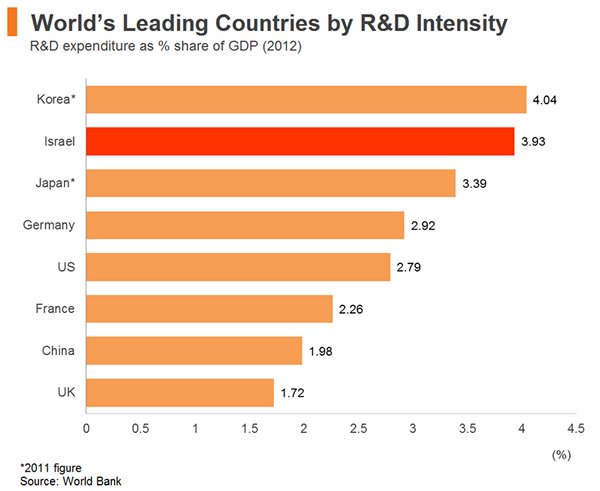 Israel is a small, narrow and semi-arid country in the Middle East, lying at the junction of Europe, Asia and Africa. Its total area is roughly two-thirds that of Hainan Island, China's smallest province and, roughly, twenty times the size of Hong Kong. Israel's population of about eight million is about the same as that of Hong Kong. This Jewish state, which has a small workforce and a limited local market, with few natural or commodity resources, has fought several wars with neighbouring Arab countries over the past few decades. Against this background, Israel has been focusing on innovation and technology, while establishing economic relationships with countries further afield, with the US and Europe being its primary export destinations.
Israeli Technology Sector Looks East For Growth
Given the weak performance of the mature economies of the West in the wake of the international financial crisis, Israeli exporters have started to focus more on exploring new markets in the East. At present, high-tech products account for more than 40% of Israel's total exports, with these mostly consisting of electronics, computing equipment and components. With its similar export product mix to Israel, Hong Kong's role as a major exporter of electronic products, along with its status as Asia's technology marketplace and professional services platform, makes the city the ideal partner for Israel's Asian ambitions.
Hong Kong has long been the region's premier trading hub for high-tech products. In 2014, Hong Kong's exports of high-tech products amounted to US$243 billion, accounting for 52% of its total merchandise exports. The major high-tech products exported from Hong Kong include telecom equipment, semiconductors and computer items. As the world's factory and Hong Kong's manufacturing hinterland, the Chinese mainland is the primary destination of Hong Kong's exports of electronics and related products, accounting for a share of more than 60% of such exports. Evidently, Hong Kong is deeply involved in the region's telecom and technology product supply chains, largely due to the vast amount of parts and products of various origins being re-exported through the city.
As the premier trading platform for electronics parts and components, Hong Kong is the management hub for the sourcing, sales and distribution of electronics in Asia. A considerable number of electronics products from the Chinese mainland, Taiwan, Korea, Japan, Malaysia and Thailand are all re-exported via Hong Kong to the rest of the world and vice versa. All of this has helped establish Hong Kong as the world's largest exporter of telephones and mobile phones, and the second largest exporter of computer parts and accessories (according to 2013 data, the latest available). With its strong capability in handling electronics trade across the region, Hong Kong is well positioned to be the springboard for Israel's high-tech exports into the Asian markets.
Aside from products trade, Hong Kong is also the ideal partner for Israel in terms of technology trade, as it is well positioned as a platform for Israel's technology sector to market its technologies to the Chinese mainland. Hong Kong was the sixth largest source of technology imports for the Chinese mainland in 2013 by contract value. In addition, Hong Kong plays a key role in facilitating tech-related IP trading across the region. Hong Kong is renowned for its rigorous protection of intellectual property (IP) rights, as well as its availability of a wide range of IP intermediary services. In particular, there is a strong interest in overseas patents being filed in the city. Almost all of the patent applications in Hong Kong are of overseas origin, with non-resident patent applications accounting for 98% of the total in 2013. Significantly, the global average is only 33%.
Apart from having established an enviable R&D infrastructure, the Israeli government also offers a variety of grants and tax incentives designed to encourage R&D activities in the private sector, along with providing assistance for technology transfer and commercialisation. The country also promotes inward foreign investment in a number of related areas, including R&D centres, incubators and high-tech production facilities. The share of Israel's private business expenditure on R&D is the world's highest, with about half of the R&D in Israel conducted by foreign multinational companies (MNCs). Many high-tech MNCs, such as Intel, Microsoft, IBM, Apple and Google, have set up R&D centres in the country.
Incubators in Israel also play an important role in nurturing start-ups and facilitating technology transfer and commercialisation. There are about 20 incubators in Israel with many specialising in different fields of technology, such as life sciences, information and communication technology (ICT), environmental technology and cyber security. Many of them are operated and/or funded by multinationals. In 2013, the market research firm Nielsen, for example, established its incubator - Nielsen Innovate – in Israel. This operates as an investment fund that focuses on nurturing marketing solutions, data analytics, big data and social media start-ups. Nielsen Innovate provides its start-ups with funding and support services, including office space, marketing and bookkeeping.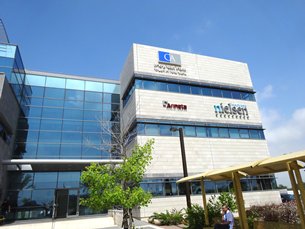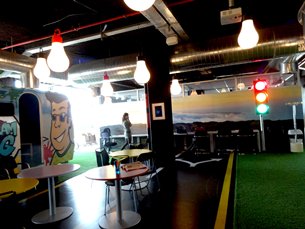 Fostering Collaboration with the Israeli Technology Industry
To expand its global network of R&D and innovation collaboration, Israel has entered into more than 40 bilateral industrial R&D agreements with other countries, including many emerging market heavyweights, such as China, India and Brazil. These agreements provide the frameworks for the various bilateral collaboration programmes implemented by the Israel Industry Centre for R&D (MATIMOP), which facilitates foreign access to Israeli technology. In February 2014, Hong Kong and Israel signed a Memorandum of Understanding (MoU) with regard to technology and industrial R&D co-operation, which is aimed at promoting joint R&D and innovation between the two. This MoU is expected to enhance Hong Kong's role as a springboard for those Israeli companies looking to expand in Asia.
China-Israel Industrial R&D Cooperation
The governments of Israel and China signed a bilateral agreement in 2010 to form the China-Israel Industrial R&D Cooperation Program. This is intended to support joint industrial R&D projects for the development of products or processes that could be commercialised in the global market. The bilateral framework was jointly implemented by MATIMOP and the Chinese Ministry of Science and Technology. Apart from the MoU with Hong Kong, Israel has signed industrial R&D cooperation agreements with six Chinese provinces/cities including Shanghai, Jiangsu, Shandong, Shenzhen, Guangdong and Zhejiang. Under the terms of these agreements, joint R&D projects between Israeli companies and Chinese companies will be supported by funding from MATIMOP and the respective Chinese provincial/city governments.
Source: MATIMOP
Israel's burgeoning start-ups are attracting foreign venture capital inflows into the country. In 2014, more than 680 Israeli companies in the high-tech sector raised US$3.4 billion from venture capitalists, corporate and angel investors, an increase of 46% over the 2013 figure. Major sources of capital inflows are traditional US and European investors and, increasingly, Asian investors. In particular, there are increasing numbers of venture capitalists investing in Israeli high-tech start-ups (More details will be assessed in an upcoming article: "Technology Financing in Israel: The Hong Kong Partnership"). Hong Kong-based Horizons Ventures, for instance, has invested in more than 20 Israeli companies across various sectors, including software, mobile applications and healthcare. Apart from financing, Hong Kong companies can also act as intermediaries between Israeli start-ups and foreign investors with regard to partnerships in R&D, product development and market expansion.
Hong Kong: Israel's Ideal Partner for Opening Up the China Market
Through the provision of high-tech capital goods and technology transfer, Israel's R&D and innovative strengths could play a useful role in China's industrial upgrade of its manufacturing sector, as well as the modernisation of its services sectors (More details can be found in an upcoming article: "Israeli Technology: Targetting the Emerging Markets"). China has been defined by the Israeli government as an "Israeli Export Target Country", with the aim of encouraging Israeli exports to the Chinese market. With its extensive network on the Chinese mainland, Hong Kong is in a good position to act as Israel's partner in capitalising on the opportunities in the Chinese market.
Israeli Exports to China: Electronics-led
In 2014, China was Israel's largest export market in Asia, with Israeli exports to China totalling US$2.6 billion, having more than doubled from US$1.0 billion in 2009. Major exports to China include electronic components (41% share), minerals and chemicals (22% share). Exports of electronic components to China are dominated by the chips from Intel's manufacturing plants in Israel, which are shipped to the assembly and testing facilities in China. Other exports include medical equipment, machinery and equipment, which collectively registered double-digit growth in 2014.
When doing business with China, one of the major concerns among Israeli companies is the relatively weak IP awareness among the Chinese business community. Globally well regarded for its sound legal system and strong IP protection, Hong Kong is perceived by Israelis as a trustworthy partner when it comes to developing the Chinese mainland market. Israeli companies are also often unfamiliar with many of the regulations in China, including product safety standards and labelling requirements, which could be time consuming and costly for Israeli SMEs to handle by themselves. In this regard, Hong Kong companies could serve as agents, distributors or business representative for Israeli companies, handling processes such as product certification and license applications in China. Overall, Hong Kong services providers could also find plenty of opportunities in facilitating exports of Israeli technologies to the Chinese mainland through providing professional services, such as due diligence, tax planning, accounting and legal advice.
Useful contacts
Israel
Hong Kong
Middle East
Hong Kong