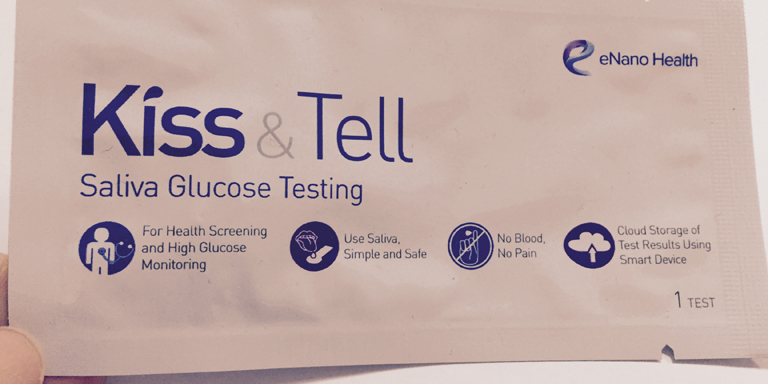 https://hkmb.hktdc.com/en/1X0A2ZMH
Kiss and Tell
An award-winning innovation from Hong Kong is simplifying the way diabetics monitor their condition.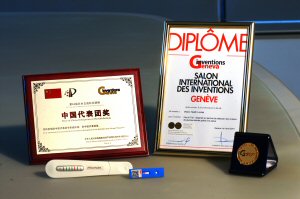 Testing glucose levels for diabetes has become a whole lot easier with the Kiss & Tell glucose meter from Hong Kong-based eNano Health. The test, using saliva sample on a paper test strip, indicates whether glucose levels are very high, high or normal in five minutes. Users can also take a photo of the result on a smart phone to share test results with healthcare providers and family members. Chief Scientist Patrick Leung, who set up the company with his wife, Winnie Lun, who handles the business operations, says the product is ideal for Type II diabetic patients looking to monitor glucose levels. But it's also a useful tool for those at risk of developing diabetes.

The company has won a gold medal at the International Exhibition of Inventions of Geneva for its innovation, and recently graduated from the Incu-Bio Science Park Incubation Programme at the Hong Kong Science and Technology Park, a four-year programme that provides participants with subsidised office space, business support and financial aid.
"In a field like nanotechnology, getting access to the right equipment is crucial, and we were able to request this machine [we needed] and get the results within the day."
Incubation Programme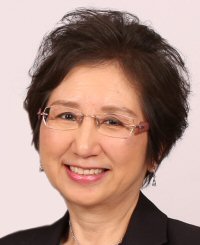 The founders returned to Hong Kong in 2011 after more than 30 years in the United States, where they founded two separate scientific research companies, Pacific Medical Communications, Inc and Pacific Image Communications Ltd, the former having developed SuperEMR, a software system for hospital record-keeping.

"We came to Hong Kong on a trip and found out Science Park had a very good incubation programme supportive of biotech," Ms Lun says. "As we were just returning from the US, we knew nobody, and the grant enabled us to get started. We had free rent for the first year, then 50 per cent off for the next three years. They gave us a wet laboratory with a sink and gas pipe for bio tech. It's not something you can rent anywhere. Even in the US, we looked for facilities like that, and they're just not that widely available."

The company remains based at the Hong Kong Science Park and Ms Lun says it will be there for a while. "We are creating a lot of synergies with other companies," she adds.

As part of the incubation programme, the company was entitled to a HK$4 million grant that could be requested for specific equipment. "In a field like nanotechnology, getting access to the right equipment is crucial, and we were able to request this machine [we needed] and get the results within the day."

But Ms Lun says what's really important is the people they have met at Science Park. "We've been introduced to people in marketing, PR, business development; a lot of people who have helped us to open a lot of doors. For instance, they encouraged us to go to Geneva to compete. Without them, we never would have put ourselves forward."
Saliva Test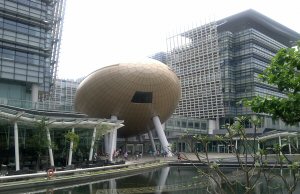 While the company's chief area of research is nanotechnology, the Kiss & Tell glucose meter is atypically low-tech, a simple cassette with space for a test strip, with users providing saliva sample rather than blood to check their glucose levels. It could have used sweat, tears or urine with the meter but eNano chose saliva as it's more readily available. "Discovering we could use saliva [to test glucose] was a happy accident that we came across in the lab," says Ms Lun.

The affordable glucose meter helps save costs for users who have to test frequently. "[The test] helps them understand how their lifestyle is affecting their glucose levels, and encourage them to regulate what they eat," says Ms Lun.

The product is currently available from fellow Science Park tenant Happy Retired, a social enterprise website and app that provides work, activity and health information to retirees or soon-to-be-retirees. The biotech firm is also in discussions with pharmacy chains in the United Kingdom and the US, including one of the largest pharmacy chains in the US. Getting its product on the shelves of a pharmacy chain would be a game-changer for a company that currently has five employees. "It's not just about selling the product but [developing] a whole support infrastructure – but those are good problems to have," she says.
Made in Hong Kong
The Kiss & Tell glucose meter is produced in Hong Kong apart from the packaging, which is made on the Chinese mainland. "We're in the process of bringing that back to Hong Kong so we can better manage the quality. Our target is to have this product completely manufactured in Hong Kong. It was born here and will continue to evolve here."

Ms Lun says that among the biggest challenges in bringing the product to market was convincing people that a simple saliva sample can accurately capture a patient's glucose levels. While the amount of glucose is smaller in saliva than in blood, saliva glucose concentration is highly correlated with blood, especially when the glucose level is above normal.
Testing Revolution
Ms Lun believes the product, which is simple and non-invasive, will eventually eradicate the need to draw blood for many testers, unless they have Type I diabetes or are using insulin.

"Diabetes is a chronic disease and it's very expensive, but at the early stage it's very curable. Exercise and a healthy diet, that's what we want to promote."

eNano is already working to improve the product. "We're also thinking of creating another version of the test that's totally electronic-based, where you would only need a lick to get the information, not a lot of saliva like you do now because [the test] is paper-based."

As the company prepares to take the product to market, it is looking for investors to fund future research. "We're developing nano-based sensors that can identify if – say you have cold symptoms – whether it's serious or just a common virus." Detected via a tiny drop of blood or saliva sample, these sensors can be used as a diagnostic tool for a wide range of diseases, including diabetes, cardiovascular disease, cancer, HIV, tuberculosis and H1N1. "Like Kiss & Tell, it's all about enabling patients to monitor their health at home."
Related Links
eNano Health
Happy Retired

Follow HKTDC on Facebook, Google+, LinkedIn, Twitter @hktdc
Health & Beauty
Technology