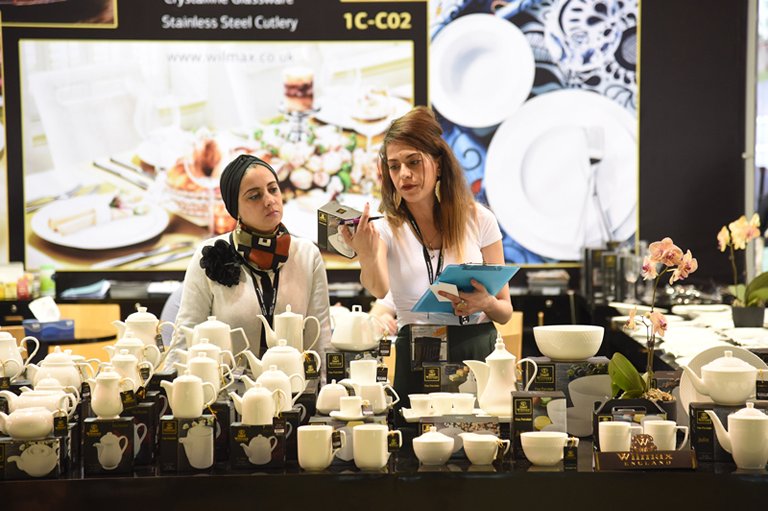 https://hkmb.hktdc.com/en/1X0A2O2Y
HKTDC Hong Kong Houseware Fair 2015: Buyers' and Exhibitors' Survey
Kitchenware and gadgets have the greatest potential for growth, according to a survey of 566 of the exhibitors and buyers attending the HKTDC Hong Kong Houseware Fair (20-23 April 2015). In light of the perceived economic turnaround in the developed markets, respondents were optimistic about the overall sales prospects for houseware in 2015.

The majority of respondents cited home decorations and general houseware items as the next most viable sectors after kitchenware and gadgets. With consumers increasingly concerned about product quality, practicability and cosmetic design, buyers at the exhibition were also on the lookout for quality products with innovative features. In another development, buying custom-made furniture online was also seen increasingly popular, thanks to an increasing preference for consumers to express their own individual creativity.

According to many of the buyers, Hong Kong's houseware suppliers particularly excel when it comes to product quality, compliance with safety and environmental regulations/standards, and product functionality. On the downside, it was thought that greater effort could be put into pricing, brands, product durability, services and innovation.

2015: Overall Optimism and Improvement in the Developed Markets

Respondents were largely positive about their sales for 2015, with buyers being more optimistic than exhibitors. In total, 86% of buyers, compared to 72% of exhibitors, expect their overall sales will increase or be maintained at the same level as last year. The median rates of this expected increase were10% for both groups.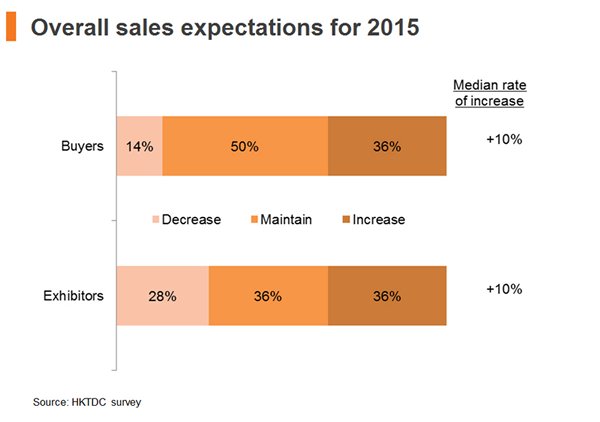 Just over half of the exhibitors (51%) expect their 2015 production or sourcing costs to increase, with a median rate of 10%. Only 23% of exhibitors, however, believe that their FOB prices will increase, with a lower median rate of 5%. This suggests that 28% of the surveyed exhibitors may not pass on increased costs to t buyers this year. By contrast, 50% of buyers expect their sourcing costs will increase, while only 35% of the buyers surveyed expect higher prices at the retail level. The median rates of increase are 5% for buyers' sourcing costs and 10% for retail prices.
In terms of market prospects, buyers were asked to rate their sentiments on a scale of 1 to 5, with '1' indicating the market was "very unpromising" over the next two years and '5' indicating "very promising". With a rating of 3.61, the Chinese mainland stood out as the most promising houseware market for the next two years. This was followed by North America (3.55) and South Korea (3.43). Compared with last year, buyers were more optimistic with regard to North America, Western Europe and Japan, while less optimistic about most of the emerging markets.
 
Most Sought-after: Kitchenware and Gadgets

When asked for category-specific predictions, 18% of all respondents saw kitchenware and gadgets as offering the greatest potential for growth in 2015, followed by home decorations (15%) and general houseware items (9%). In particular, the share of respondents who opted for home decorations here increased significantly from last year, indicating a defined trend.

Among the most frequently mentioned sourcing items were kitchen tools and gadgets, porcelain tableware, glassware, pepper mills, barware, coffee and tea accessories, fondues, party grills, thermal products, children's tableware, artificial flowers, laundry baskets, bread baskets, place mats, floral curtains, doormats, tea trays and magazine racks.

A number of buyers from the ASEAN bloc cited the increasing importance of fitness and health issues in their countries – hence there has been increased demand for home-use sports and fitness equipment. The expansion of the middle class in the region was also said to have boosted demand for lifestyle products.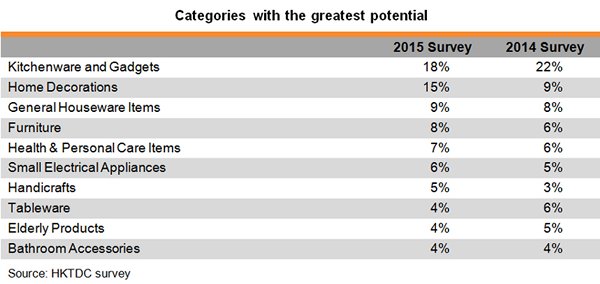 Most Wanted: High Quality, Innovative Products

On a scale of 1 to 5, buyers were asked to rate to what extent they agreed or disagreed as to the major concerns of houseware consumers in their markets, with '1' denoting "completely disagree" and '5' denoting "completely agree". Overall, buyers strongly agreed that houseware consumers were increasingly concerned about quality (4.02), practicability (3.96) and aesthetic design (3.96) of the products, with branding of the products (3.75), packaging (3.6) and origin (3.58) ranking lower.

Accordingly, buyers look for quality products with innovative features. Buyers, for instance, strongly appreciated the design of a particular shopping trolley that came with multiple features, including double swivelling wheels, an adjustable handlebar, safety reflectors, thermal bags, removable and washable interior bags, and which could be folded neatly away. Other well-designed products to attract comment included bath rugs with super absorbent and quick drying features, as well as kitchen products incorporating heat sensing technologies.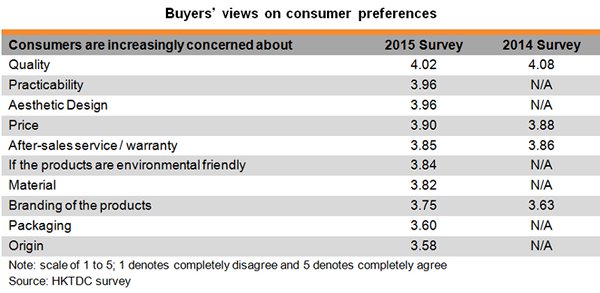 With regard to consumer behaviour, buyers largely agreed that consumers continue to opt for more price comparisons (3.95), increasingly rely on online reviews or social media as a source of product information (3.87) and make more online purchases (3.83).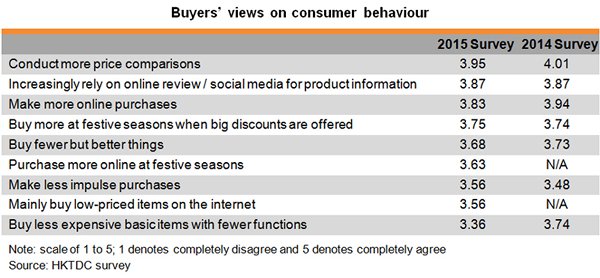 E-tailing: Facilitating Customisation

Currently, 24% of respondents are engaged in e-tailing activities. Among those not currently offering such a service, 10% said they planned to offer e-tailing within the next two years.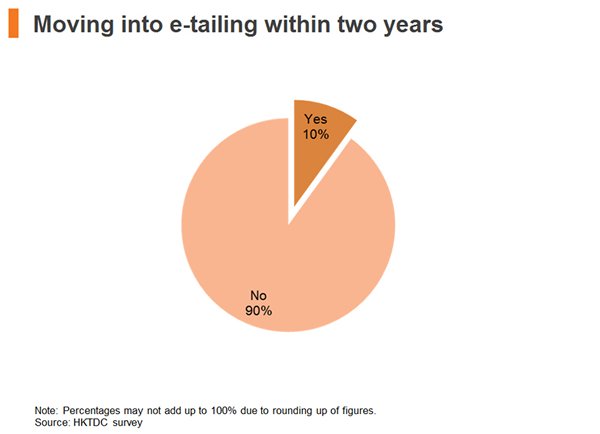 Among those who either engage in or are going to engage in e-tailing, the majority said they sell/will sell kitchenware and gadgets (23%) through this platform, followed by home decorations (20%), furniture (14%) and general houseware items (14%).

Buyers further commented that selling custom-made furniture online has become increasingly popular due to the rise of a greater level of individual preferences. Many customers now look to express their own personality and taste by ordering customised furniture, home decorations and other houseware items. Customisation, however, does not necessarily equate to high cost, although it does offer a greater choices of colours and styles for consumers to mix and match.

Hong Kong Suppliers: Excelling in Product Quality

Buyers were asked to indicate their overall level of satisfaction with Hong Kong's houseware suppliers on a scale ranging from "very unsatisfied" ('1') to "very satisfied" ('5'). Overall, with values above the midpoint of the scale, respondents were largely satisfied in all aspects of the Hong Kong offer. The best performing areas were product quality (3.9), compliance with safety regulations/standards (3.88), compliance with environmental regulations/standards (3.88) and product function (3.84). These are also areas that showed improvement over last year. Hong Kong suppliers, however, were given lower ratings in the following areas when compared to last year: price (3.48), brand (3.66), product durability (3.72), services (3.77) and innovation (3.78).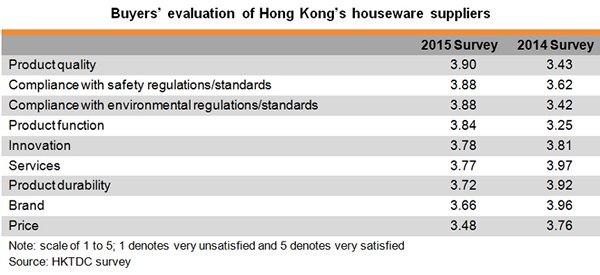 Profile of respondents
244 exhibitors – 34% from Hong Kong, 61% based elsewhere in Asia (excluding Hong Kong) and 5% from the rest of the world
322 buyers – major markets in Asia (50%), Europe (23%) and North America (20%)

The HKTDC Hong Kong Houseware Fair took place from 20-23 April 2015 at the Hong Kong Convention and Exhibition Centre.
Gifts & Premiums
Household Products