https://hkmb.hktdc.com/en/1X0A2INV
Turkey Introduces New Labelling and Marking Requirements Concerning the Fibre Composition of Textile Products
Hong Kong traders exporting textile items to Turkey may like to know that new labelling and marking requirements concerning the composition of textile products have been adopted. The rules are laid down in the Regulation on Textile Fibre Names and Labelling and Marking of the Fibre Composition of Textile Products, published in the Turkish Official Journal, No. 29337, dated 25 April 2015. This Regulation was adopted in accordance with Regulation 1007/2011 of the European Parliament and of the Council within the framework of harmonisation with EU legislation.

The new requirements entered into force on 25 April 2015 except for one provision concerning textile products containing non-textile parts of animal origin, which will enter into force on 1 January 2016.

Pursuant to the Regulation, the following products fall within the scope of the new requirements:
textile products made available on the market;
products containing at least 80% by weight of textile fibres;
furniture, umbrellas and sunshade coverings containing at least 80% by weight of textile components;
the textile components of the upper layer of multi-layer floor coverings, mattress coverings and coverings of camping goods, provided such textile components constitute at least 80% by weight of such upper layers or coverings; and
textiles incorporated in other products and forming an integral part thereof, where their composition is specified.
The Turkish Regulation stipulates that the abovementioned products, when they are made available on the market, shall be labelled or marked in order to indicate their fibre composition. For the description of fibre compositions on labels and markings of textile products, only fibre names listed in Annex 1 of the Regulation shall be used. Use of the names is reserved for textile fibres which correspond to the description set out in Annex 1, and not for other fibres.

Hong Kong's exporters of textile products may like to know that the Turkish Regulation sets down specific labelling and marking standards concerning certain types of textile products, details of which may be examined by Hong Kong traders in the table below. Some exceptions to these requirements are also laid down in the Regulation.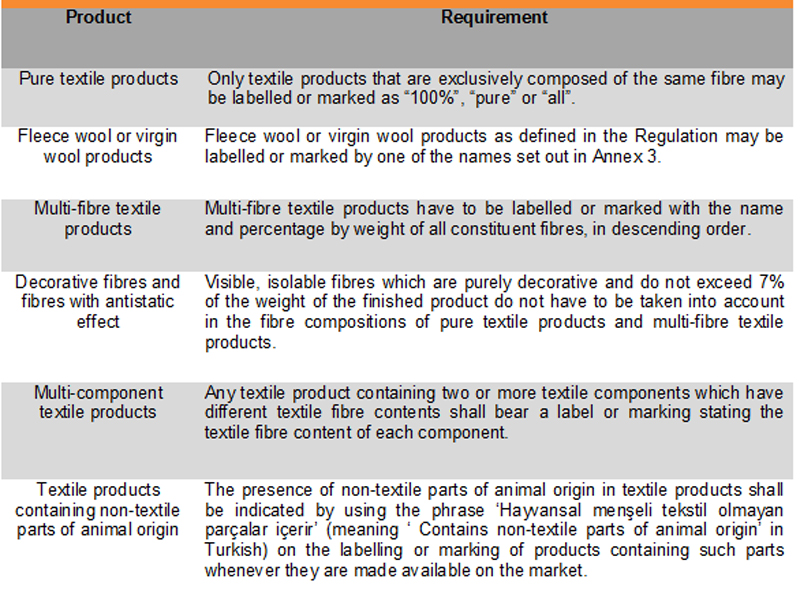 Both the manufacturers and distributors of textile products are under certain labelling and marking obligations. The manufacturer of the textile product, when the product is made available on the market, shall ensure the supply of the label or marking and the accuracy of the information contained therein.

If the manufacturer is not established in Turkey, the importer and/or the agent authorised by the manufacturer shall be considered as the manufacturer within the meaning of the Regulation. The distributor shall ensure that textile products made available on the market bear the appropriate labelling or marking. The manufacturer and distributor shall ensure that any information supplied when textile products are made available on the market cannot be confused with the textile fibre names and the descriptions of fibre compositions, as laid down by the Turkish Regulation.

The labelling and marking of textile products have to be durable, easily legible, visible and accessible. The labels must also be firmly attached. Nevertheless, Hong Kong manufacturers should note that labels or markings may be replaced or supplemented by accompanying commercial documents when the products are being supplied to economic operators within the supply chain, or when they are delivered in performance of an order placed by a competent authority as required by public contracts.

The Regulation also requires that when making a textile product available on the market, the textile fibre composition descriptions have to be indicated in catalogues and trade literature; on packaging, labels and markings in a manner that is easily legible, visible and clear; and in print which is uniform as regards its size, style and font. Moreover, this information must be clearly visible to the consumer before the purchase, including in cases where the purchase is made by electronic means, e.g., over the internet.

Derogations to some of the above-mentioned obligations are laid down in Article 18 of the Turkish Regulation, and sellers may wish to carefully examine that provision to check how they might benefit from the derogations.

The Turkish Ministry of Customs and Trade will carry out the inspection and supervision of the textile products in accordance with the Market Surveillance and Inspection Regulation published in the Turkish Official Journal, No. 29028, dated 12 June 2014.

Non-compliance with the Regulation may result in an administrative fine in the range of 2,000 to 5,000 Turkish Liras.

Please click the following for the full text (available only in Turkish) of:
Garments, Textiles & Accessories