https://hkmb.hktdc.com/en/1X0A2GI6
China's Great Outdoor Market
The popularity of family-friendly recreational activities on the Chinese mainland is opening new opportunities for the sporting goods sector.
The changing lifestyle of many affluent families on the Chinese mainland has led to an increased interest in outdoor sports. Outdoor recreational activities are generally seen as an antidote to cramped living conditions and stressful careers.

At present, exploration trips and hiking expeditions are mainstays of the mainland's adult-focused outdoor sports scene. This has increased demand for wind- and cold-resistant clothing items that are durable and versatile, particularly when it comes to footwear and windbreakers. In turn, the country has seen the emergence of several market-leading outdoor sports equipment brands, most notably Toread Outdoor Sports and Columbia Sportswear.
Niche Sector
Spending on outdoor sports products across the mainland totaled Rmb18.05 billion in 2013, according to official figures, with some 891 brands jostling for consumer attention. Overall, the quality and design of domestically produced equipment in the sector is seen as having gradually matured.

At the same time, the increasing cost and risk involved in many of the more extreme outdoor sports has given rise to a niche sector. Mountaineering and mountain biking, in particular, are activities that require high-end equipment, which is frequently cost-prohibitive for less affluent consumers. Such limits have, however, dampened optimism of some manufacturers considering the long-term prospects of this niche sector.
Creative Outdoor Gear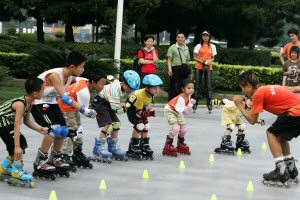 At the other end of the spectrum, there continues to be growth in more moderate outdoor pursuits. Typically, such activities see families driving out to the countryside on a weekend, enjoying picnics and even camping out. Such activities require no professional coaching and only entail a moderate outlay. The child-friendly and healthy nature of these activities has also ensured their enduring popularity.

Outdoor recreational equipment suitable for these typical family activities is usually restricted to tents, barbecue sets, entertainment and photography equipment. As such, reasonably priced, creatively designed outdoor equipment of reliable quality is now in high demand. Colourful, child-friendly items, often emblazoned with cartoon imagery, are also at a premium here.

At present, comparatively few outdoor recreational equipment brands have incorporated all of these elements into their ranges, with many brands still overly focused on adult outdoor equipment. Manufacturers that are able to quickly take advantage of this clear gap in the market are bound to do well in the coming years.

For more China market opportunities, please visit: http://research.hktdc.com.
Hong Kong
Mainland China