https://hkmb.hktdc.com/en/1X0A2D1W
Electronics Market Spurred by Technology and Wearable Items: the Spring 2015 Hong Kong Electronics Fair Survey
The global electronics market is expected to remain steady throughout 2015, with attendees at the Hong Kong Electronics Fair 2015 (Spring Edition) generally considering China and North America to be the markets with the most promising prospects. Meanwhile, those technological advancements that have turned conceptual products into reality will create a huge market for industry players. Wearable electronics is also widely regarded as a star product, particularly in the wake of the launch of the Apple Watch, as well as other smart items by a variety of technology companies.
During the April Hong Kong Electronics Fair 2015, one of the world's largest gatherings of professionals in the electronics field, HKTDC Research polled 564 buyers and 278 exhibitors as to the prospects for the electronics market and the industry trends likely to emerge over the next few years.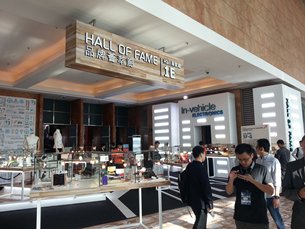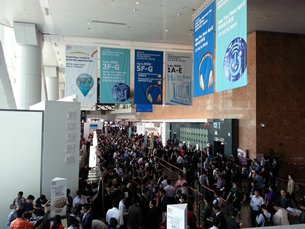 Market Steady Throughout 2015
With regard to market prospects, about half of the respondents polled, including 50% of buyers and 53% of exhibitors, expected that their sales would increase in 2015. By comparison, in terms of the October 2014 Fair survey results, only 45% of exhibitors indicated the same optimism, indicating that a higher number of respondents now hold a positive market view. It is also worth noting that the number of those with a pessimistic outlook also increased. Overall, though, the electronics market is generally expected to remain steady this year.
Indeed, there was a generally positive sentiment across the board, with no individual markets overseas being rated by the respondents as having prospects below the neutral level (a score of three on a scale of five). Despite this, though, none of the markets scored four or above, as some buyers and exhibitors remain cautious as to the market outlook. In line with the surveys conducted last year, China continued to be rated as the market with the highest potential. The traditional markets, including North America, Western Europe and Australia/the Pacific, were also described as being "promising" or "very promising" for the next two years. Asian economies, such as ASEAN, Taiwan and South Korea, were also top of the list of promising markets.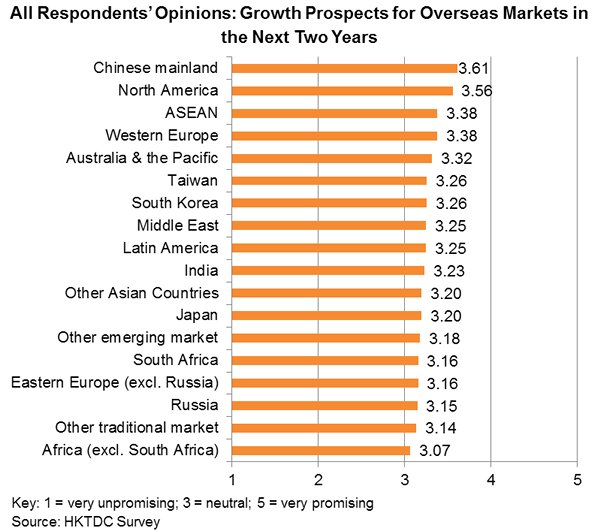 Technology Products Spur Market Demand
Amid the flood of new smartphones and tablets in the global market, mobile devices and accessories continued to be considered (by 17% of all respondents) as the category likely to experience the greatest growth in 2015. A number of respondents indicated that the products with the highest sales growth potential included electronic/electrical accessories (15%), audio-visual products (11%), home appliances (11%) and wearable electronics (10%).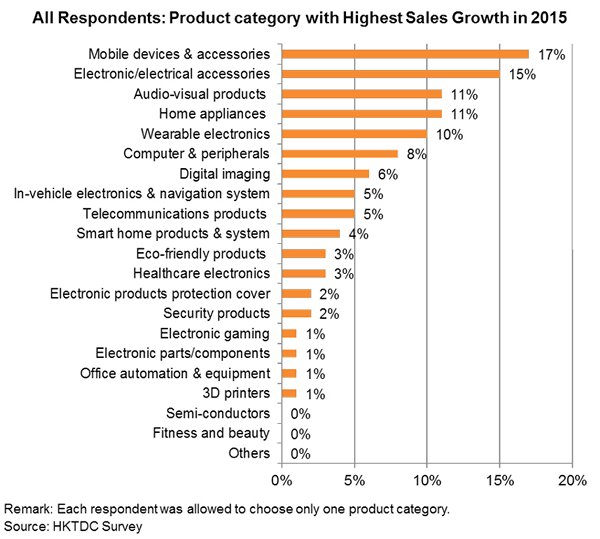 In the longer-term, some industry leaders at the Fair pinpointed technological advancements that are turning conceptual products into reality as an area that will result in a huge market for electronics and technology players, including a considerable range of business opportunities for components suppliers, device manufacturers and system integrators. A case in point is the future home, something which will be far smarter thanks to a wider uptake of Internet-of-Things (IoT) applications. Also, amid the increases in the application of wireless and connected items by consumers, homes of the future are likely to feature wireless charging solutions. As regards regions likely to have the highest demand, China is generally perceived as one of the major focal markets, with huge potential for such next-generation products and applications. (For more details, please see "Smart Home Becomes the Reality")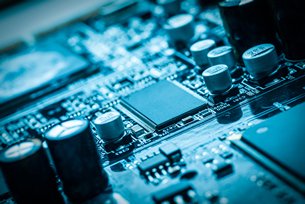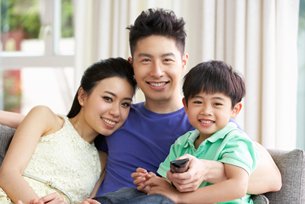 In Vogue: Wearable Electronics
In the meantime, the prevalence of smart devices should continue to benefit the sales of a number of related products. These include mobile battery chargers/power banks for mobile devices and mobile accessories (such as Bluetooth speakers), as indicated by 39% and 29% of all respondents, respectively. On the other hand, this development would also facilitate the sales of a range of wearable or related items, including Wi-Fi-enabled cameras/action cameras (20%), smartwatches (19%) and high-priced/high-quality headphones (both wired and wireless models, 17%).
In particular, about two-thirds (66%) of respondents expected that there would be "promising" or even "very promising" market potential for wearable electronics in the next couple of years. The category of wearables with highest market potential included smartwatches (55% of all respondents), smart wristbands (38%), wireless earphones/headphones (29%) and wired earphones/headphones (11%).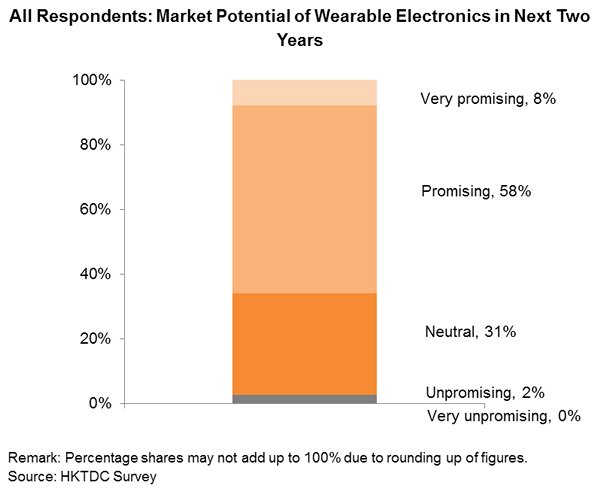 Undoubtedly, wearables have emerged as stylish and desirable items all around the world, particularly in the wake of the launch of the Apple Watch, as well as other similar smart products by a variety of leading technology companies. According to some industry experts, there are, however, a variety of other potential business opportunities that Hong Kong companies would be wise not to miss out on. Another recent HKTDC survey also indicated that Chinese mainland buyers, who constitute one of the key markets for consumer electronics, are increasingly attracted by green features and the connectivity of wearable and related items. (For more details, please see "Consumer Market Embraces Wearable Electronics")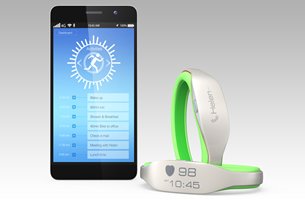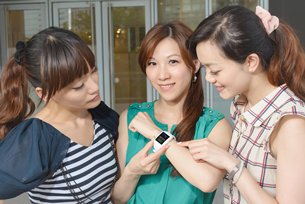 Profile of Respondents
Of the 564 buyers canvassed, 34% were based in Hong Kong, with the remainder from overseas countries/other regions. Their major selling/export markets were the Chinese mainland (19%) and the US (17%).
Of the 278 exhibitors polled, 40% were based in Hong Kong, with the remainder from overseas countries/other regions. Their major selling/export markets were the US (30%) and Germany (15%).
Electronics & Electrical Appliances