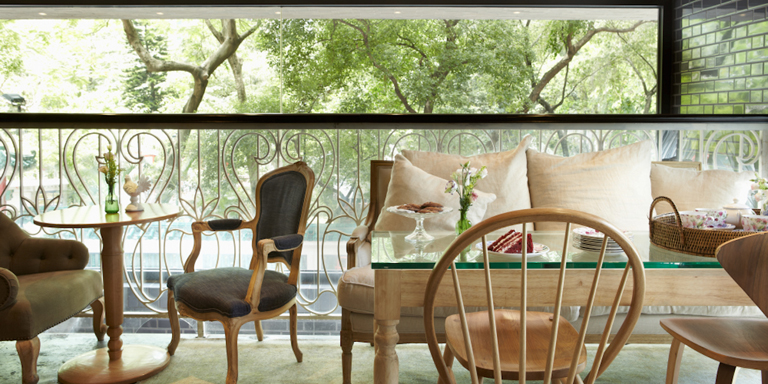 Styling Hong Kong
New York designer Candace Campos is changing the face of Hong Kong's food and beverage outlets with stylish edge.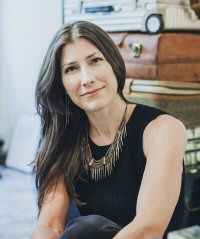 Multi-disciplinary design practice ID Hong Kong has been injecting a dash of chic to the interiors of Hong Kong's restaurants and bars. Founded by California native Candace Campos, the company also designs retail and residential projects, building an impressive client roster in a short period of time.

"It's been surprisingly easy," said Ms Campos, who launched her design firm 18 months ago. "Setting up the business and getting my visa were also very straightforward. I haven't done any pitching for new business or marketing of the company – it's all word of mouth."

Hollywood Road restaurant Heirloom was Ms Campos' first commercial client. Prior to that her, business was all residential – and now it's roughly a 50/50 split. After overseeing the chic two-storey space, which has open seating and a vertical garden, she designed the first Fatty Crab restaurant in Asia. The interiors of this New York export features distressed walls retained from the building's original structure and 1960s newsprint wallpaper.
"I haven't done any pitching for new business or marketing of the company – it's all word of mouth. It's been surprisingly easy."
From Fashion to Interiors
Ms Campos decided to relocate to Hong Kong six years ago and set up her own business. "I was working as a creative director for French clothing company Cache Cache in California and they sent me to China via Hong Kong three or four times a year. I fell in love with Hong Kong, and decided to move here. The skills that I use now for interior design are partially taken from what I did before, like building trade show booths."
In setting up what was essentially a one-person business, Ms Campos said start-up costs were "minimal."

"My business is service-based and could be run by only me at the beginning," she said, adding that the business, not surprisingly, has already been profitable from the first job.

Among the biggest adjustments transitioning from fashion to interior design was the speed in which projects come to fruition. "I prefer commercial work to residential, because I now prefer the faster pace. The contractors are typically better equipped and have big teams that can come in. The client is less emotionally attached, too, which is more my mentality."
Design Trends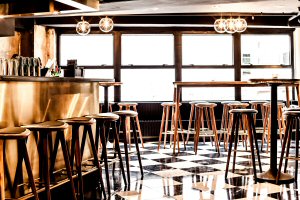 Ms Campos says the New York industrial look – black ironwork, exposed pipes – continues to be popular with commercial and residential clients. "When I did Fatty Crab, that was quite industrial. That was two and a half years ago, so now I need to find new takes on the industrial look."

Traditionally, operators haven't wanted to invest much money in restaurant design, as many are on a short lease, but that is changing. "The mid-range restaurant has become more popular in Hong Kong in the last five years, and people are starting to want to spend more because customers appreciate [the design]."
New Projects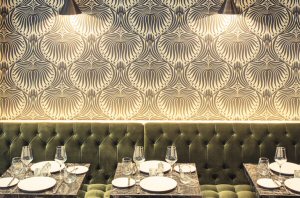 Among ID Hong Kong's most recent projects is Cocotte, a Parisian-style brasserie located in the lively district of NoHo (North of Hollywood Road), which features retro wallpaper and banquet seating. Ms Campos is now designing the interiors for Cocotte's second project, a cocktail bar. "We just started building, so it should be ready in about six to eight weeks. The bar will look completely different to Cocotte – it's going to be retro futuristic and loungy, with low ceilings," she said.

Ms Campos is also working on a large four-storey home in Tai Tam and, two commercial renovations in Chai Wan. In addition to these projects on Hong Kong Island, she has also been involved in the design of a new hotel in Kowloon, Tribute, which opens next month. "I usually run about four projects at a time. My team is all freelance, so I just take on more staff when I get busier. It's good, as I have no overheads." With a loft as her office and all meetings occurring on site, Ms Campos added that she has no need to invest in office space.

Relying only on freelance designers means Ms Campos has to pick her projects carefully, and she only takes on briefs that inspire her. The entrepreneur finds interior design more fulfilling than being part of the fashion industry. "I love that my work is in three dimensions. I'm still in awe that the spaces I design can become places people love. And I like the longevity of it."
Related Link
ID Hong Kong
Food & Beverages
Interior Design
USA
Hong Kong
North America