https://hkmb.hktdc.com/en/1X0A1WUI
Child's Play
China's toy market is flourishing, with certain sectors showing strong potential.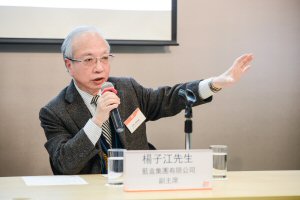 Buoyed by China's one-child policy and growing middle-class, the scale of the Chinese mainland toy market is tipped to overtake the markets of the United States and Europe combined. Figures from Euromonitor show retail toy sales soared to Rmb$68.9 billion in 2013, registering an average annual growth rate of 14.2 per cent. Euromonitor also predicts 57 per cent growth in the China toy market by 2018.

Industry representatives offered their insights on the booming trade at a recent Hong Kong Trade Development Council seminar on Chinese shoppers' purchasing behavior. Yeung Chi-kong, Vice Chairman of Hong Kong-based Blue Box International Ltd, said that localising a brand is key to capitalising on this burgeoning market.

"To maximise the strength of a toy brand, you need to take into account what the local customer needs and want," Mr Yeung said. "Look at the difference between Barbie and a Japanese doll. Sesame Street characters may not be as appealing as Xi Yangyang from Pleasant Goat and Grey Wolf, which is a popular animated television series in China."

Everything, from design to packaging, has to be in line with customers' taste, he noted. "It only takes two to three seconds to draw shoppers' attention when they are busy trolling though the aisles, so such strategies as placing Chinese descriptions will catch their eyes," said Mr Yeung, who added that regional retailers now seek different distributors for each province.

"The Chinese market is more segmented compared to the US, where a sole distributor is responsible for the whole country. Aside from wholesaling hubs such as Guangzhou and WuYi, companies could also approach Walmart's retail outlets for collaboration," he said.

Blue Box International's Yeung Chi-kong's tips for
breaking into the Chinese mainland toy market:


How do I find distributors in China?
You can identify potential partners through regional bodies such as the Guangdong Toy Association and Shenzhen Toy Association. Alternatively, you can approach national bodies such as the China Toy & Juvenile Products Association.

How should I allocate manpower when setting up an online shop?
We first commissioned an agent in China but it didn't turn out well. We later set up a branch in Shanghai and built a team of 30 to specialise in marketing, logistics and sales. We then placed our products on Tmall and the transaction rate was high.

What is your advice for entrepreneurs looking to break into the Chinese market?
Take it slowly. Try aiming for smaller markets in eastern China, where demand is high for quality goods. The region offers better opportunities for SMEs compared to first-tier cities in the southern region, which is dominated by domestic chain stores.

How can you set yourself apart from competitors?
You have to come up with an innovative concept. You can also collaborate with local brands through licensing before developing your own brand.

What is the CCC Mark?
The China Compulsory Certification Mark is also applied to imported merchandise. Apart from being a quality assurance certification, the CCC mark also makes it easier for your business on taxation issues.

Online Marketplace
Branding strategies highlighting safety and quality will help win the hearts of upper middle-class shoppers, Mr Yeung added. "From what I've observed in the toy fairs I've attended in China, exhibitors selling infant and baby products often take up the largest amount of space.

"It shows that Chinese parents are very concerned about their children's growth and education, making it really important for SMEs to establish a good reputation in major cities through marketing campaigns."

Tech-savvy consumers are going online, spawning a new industry sector. "There are many e-commerce retailers in China, with some selling their goods at prices lower than cost. So if you're looking to set up an online shop, choose your platform carefully. In our case, we picked Tmall. They have strict quality-control measures, and this helps protect our intellectual property."
Sales a Click away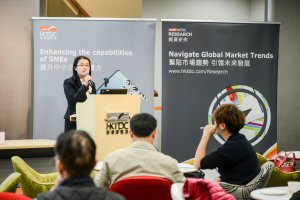 HKTDC Economist Alice Tsang said online shopping is now the third most popular way to buy toys on the mainland. "Only 14 per cent of parents made online purchases in 2010. The figure rose to 46 per cent in 2014, with Nanjing, Chengdu, Shenyang and Guangzhou recording significant increases." Block-building games and remote-control cars are the most-searched keywords.

Setting up an e-commerce website can take up to Rmb$1 million and a team of 30 people to maintain, offering logistics and after-sale services, according to Ms Tsang. For search engine optimisation, she said that companies have to be specific when formulating search keywords for their products.
Tech-savvy
Ms Tsang noted the varying preferences among young consumers. "For children aged zero to three, they tend to favour plush toys; From the age of six, they start to pick up digital gaming applications." She said that while 84 per cent of parents surveyed agreed that children should be deterred from such technological devices at an early age, they often make exceptions outside the home.
From Conventional Toys to High-tech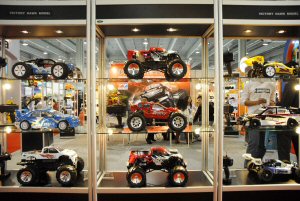 The shift from traditional toys to high-tech items is becoming more apparent, according to an HKTDC report drawn from the January Hong Kong Toys & Games Fair. Overall, a significant number of mainland-made tech toys were on display, ranging from remote control model oil tankers to stunt bikes and quadcopters. Many of these toys operate via a smartphone interface.

Traditional recreational items such as plush toys and block-building games still account for a large proportion of sales, but digital technology now poses a serious challenge to conventional toys, forcing Chinese toy manufacturers to re-evaluate their approach.

This includes enhancing traditional toys by adding interactive elements such as storytelling. This move was partly inspired by the success of the 2014 Disney movie Frozen, which reaped US$1 billion in sales from spin-off merchandise in the US alone. The appeal of such items is in their ability to extend the movie's storyline, which highlights the value of friendship and loyalty.

This trend has fueled growth in the industry. In 2013, China's toy exports were worth some US$24.7 billion, taking up 70 per cent of the global market. These exports, however, largely focus on processing supplied materials and samples, which is considered the lowest level of the global toy supply chain. But through product enhancement, manufacturers are able to move up the value chain.
Hong Kong
Mainland China