https://hkmb.hktdc.com/en/1X0A1RTY
2015 Chinese New Year Sales: Wuhan
According to information provided by Hubei's Department of Commerce, over this year's Spring Festival period (18 to 24 February), the province's retail and catering businesses recorded 12.9% year-on-year growth, reaching an overall turnover of Rmb14.5 billion.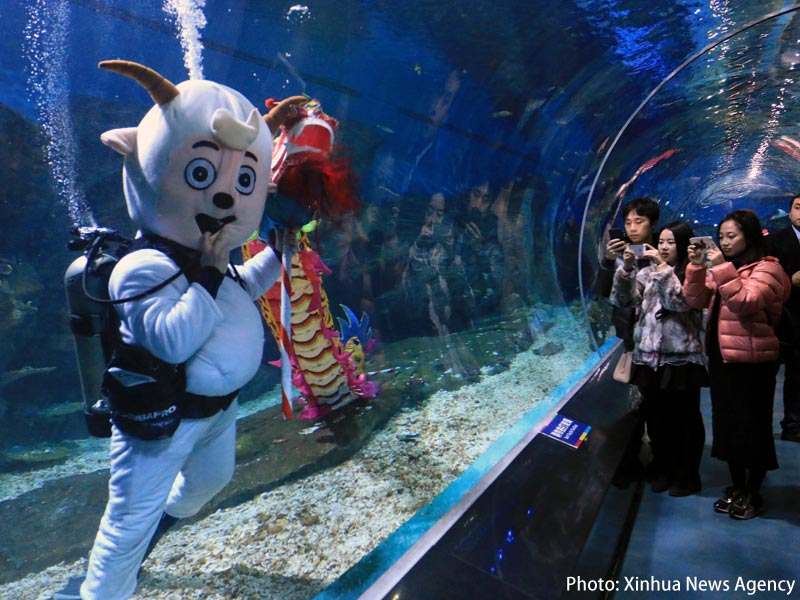 Figures from the Ministry of Commerce show that, from New Year's Eve to the sixth day of the Chinese New Year, the total sales of retail and catering enterprises nationwide amounted to Rmb678 billion, up 11% over the Spring Festival golden week last year. At the same time, year-on-year growth dropped 2.3 percentage points. HKTDC's mainland offices in Beijing, Dalian, Qingdao, Xi'an, Shanghai, Hangzhou, Nanjing, Wuhan, Chongqing, Chengdu, Guangzhou, Fuzhou and Shenzhen, made market visits to a number of high-end, mid-high end and mid-range shopping centres in their respective cities a week after the Chinese New Year (19-25 February 2015) in order to establish just how holiday sales fared this year.
During the Spring Festival golden week, Hubei's consumer market was generally seen as stable with steady growth in terms of product sales. The daily necessities market was healthy, with substantial demand for mass-oriented food and beverages. Spending on cultural and leisure activities also proved remarkably robust during the festive period.
It is understood that a combination of special offers from retailers and concentrated seasonal spending by consumers acted to boost the sales of a variety of products during the Spring Festival Golden Week. The most in-demand items over the period included clothing, shoes, gold and jewellery, electronic and digital products, as well as home appliances, demonstrating a clear upward trend in spending. Driven by wedding spending and the downward adjustment of gold prices, jewellery counters in various shopping centres were extremely busy and, consequently, enjoyed a significant sales increase. New product launches as well as intensive promotions also benefited the sales of digital products, notably high-end smartphones and tablets. High quality, eco-friendly and energy-saving home appliances, such as big-screen HD TVs and side-by-side combination refrigerators, as well as stylish living appliances, such as water and air purifiers, were also in demand during the period. At the same time, the surveyed food, beverages, cigarettes and liquors, clothing and shoes businesses also registered sales growths of, respectively, 6.1%, 7.6%, 3.3%, 4.0% and 9.1%.
As a result of the central government's regulatory measures and educational campaign, Wuhan citizens spent more rationally on dining during this year's Spring Festival, with reunion dining and mass-market catering performing relatively well. Revenue from food and beverage consumption in the city reached Rmb254 million, representing a 5% year-on-year growth for the period. In total, the city's top ten hotels served nearly 53,000 tables at reunion diners throughout the period, again recording moderate year-on-year growth. The four key catering enterprises surveyed - Yum! Brands, Inc., Sunny Sky, Little Blue Whale and Xinhaijing Hotel - recorded a collective turnover of Rmb39.58 million, a slight year-on-year drop of 2.2% (Xinhaijing Hotel was counted in as the Taizi Hotel and Hubei Sanwu Hotel were closed during the Spring Festival this year). A number of the catering groups, notably Little Blue Whale and Xinhaijing, which have been particularly eager to innovate and transform, introduced more economically-priced dishes and set menus tailored more to the general public's tastes. As a result, the two groups saw their year-on-year turnover increase by 2.9% and 10% respectively.
The turnover of Wuhan's top five commercial groups in the period from 18 to 24 February (actual receipt for 18-23 February and forecast figure for 24 Feb) were as follows: Wushang Group - Rmb1,209.34 million (up 6.2% year-on-year); Zhongbai Group - Rmb 589.03 million (up 0.1% year-on-year); Wuhan Zhongnan Commercial Group - Rmb 222 million (up 3.9% year-on-year); Gong Mao Home Appliances - Rmb24 million (down 10% year-on-year); and Hanshang Group - Rmb 20.37 million (up 8.1% year-on-year). The total sales of these top five groups during the Spring Festival period amounted to Rmb2,064.74 million, year-on-year growth of some 3.9%.
The following is summary of the sales situation of three of the leading stores in Wuhan during the Spring Festival Golden Week (18-24 February):
| | | | |
| --- | --- | --- | --- |
| Store | Wuhan International Plaza | Zhongxin Department Store | Xudong Street Shopping Mall |
| Grade | High-end | Mid-range | Low-end |
| Top-selling Items | International renowned brands, ladies' wear | 1. Gold and jewellery 2. International fast moving items 3. Ladies' fashion 4. Men's fashion 5. Stylish brands 6. Cosmetics 7. Ladies' shoes | Clothing, food and beverages, accessories |
| Price Range (Rmb) | Around 3,000 | 1. Gold and jewellery: 2,500-3,000 2. International fast moving items: 800-1,000 3. Men's and ladies' fashion: 800-1,000 4. Stylish brands: around 500 5. Cosmetics: around 500 6. Ladies' shoes: around 800 | Single item at around 300-500 |
| Average Spend per Customer (Rmb) | 3,000-5,000 | Around 850 | 500-1,000 |
| Year-on-year Sales Change | - International brands on 1st floor grew 17.3% - International brands on 2nd floor dropped 9.4% - Jewellery dropped 19% - Ladies' wear on 3rd floor grew 33% | Down 2% year-on-year with total turnover of Rmb4.68 million within these 7 days 1. Gold and jewellery:Rmb1.52 million 2. International fast moving items: Rmb820,000 3. Stylish brands: Rmb500,000 4. Ladies' fashion: Rmb750,000 5. Cosmetics: Rmb140,000 | Some growth |
| Promotional Tactics | Promotional activities: Free gift of cooking pot upon purchases of Rmb10,000, free iPad upon purchases of Rmb20,000; additional discounts offered at individual stores | 1. Red packet gift on purchase of specified amount 2. Free red packets 3. Display of God of Fortune outside the centre | No discount promotions offered by this mall. Discounts were offered by individual stores. |
| Effective Sales Outcome | Ladies' wear ZUCZUG on the 3rd floor achieved top sales turnover with discount promotions. | Stylish men's and ladies' wears recorded the highest sales growth at 27.8%, followed by men's wear (up 13%) and international brands (up 6%). Wuhan's young people are increasingly interested in stylish brands with celebrity endorsement, such as New Balance, Leww, Chinamrbear and SMG - Chow Tai Fook: total turnover at Rmb530,000 (full waiver of workmanship charge) - Luk Fook: turnover at Rmb320,000 (Rmb30 discount per gram) - Muji: turnover at Rmb250,000 (winter clearance at 50% discount) - I.T: turnover at Rmb220,000 (winter clearance with 50% discount for every purchase of 2 items, and 60% discount for every purchase of 3 items) - :Chocoolate: turnover at Rmb220,000 - Laofengxiang: turnover at Rmb180,000 (Rmb30 discount per gram of gold, and Rmb50 per gram of platinum) | Restaurant Shi Wei Guan on the 2nd floor of the mall operated as usual during the Spring Festival. It participated in group purchases and saw clear sales growth. |
| E-commerce Strategy | Wuhan International Plaza has its own e-commerce platform, which, however, has a low click rate and is non-contributive to sales. The platform is mostly used for publicity and promotions. | WeChat platform, mostly used for publicity and promotions. | O2O model for cinemas and catering outlets. Online shopping was less common among other brands. |
Christie Wu, Wuhan Office
Mainland China
Mainland China