https://hkmb.hktdc.com/en/1X0A1LOL
2015 Chinese New Year Sales: Qingdao
Overall, sales in Qingdao got off to an impressive start during the Chinese New Year period. There was a change to the top-selling products, however, with the sales of home appliances and communications products on the up, while there was distinct decline in the sales of gold and silver jewellery.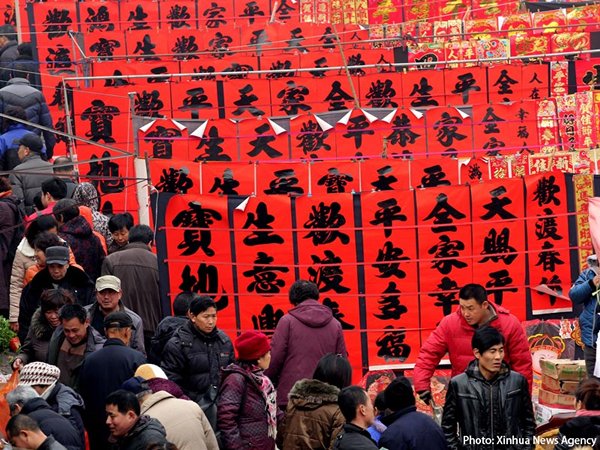 Figures from the Ministry of Commerce show that, from New Year's Eve to the sixth day of the Chinese New Year, the total sales of retail and catering enterprises nationwide amounted to Rmb678 billion, up 11% over the Spring Festival golden week last year. At the same time, year-on-year growth dropped 2.3 percentage points. HKTDC's mainland offices in Beijing, Dalian, Qingdao, Xi'an, Shanghai, Hangzhou, Nanjing, Wuhan, Chongqing, Chengdu, Guangzhou, Fuzhou and Shenzhen, made market visits to a number of high-end, mid-high end and mid-range shopping centres in their respective cities a week after the Chinese New Year (19-25 February 2015) in order to establish just how holiday sales fared this year.
Chinese New Year sales in Qingdao city were characterised by the following trends:
1. The sales growth of physical stores slowed down. During the festive season, shopping malls and supermarkets were packed with customers, driving sales up with a stable growth in a flourishing market. The city's 40 leading retail enterprises posted combined sales of Rmb570 million, representing a year-on-year growth of 8.9%. The turnover of 10 leading catering enterprises also rose 10.6% year-on-year. Yet, when compared to the robust growth of online sales, physical stores experienced a drop of more than 6% in their sales growth for the year.
2. In terms of sales promotion, Qingdao's Bureau of Commerce organised a number of such activities during the holiday period, including the Qingdao Spring Festival shopping fair 2015 and the New Year goods bazaar. These featured a range of motivational themes, including "Great shopping for quality of life" and "Promoting consumption while enhancing people's livelihood". A number of leading retailers in the city, such as the Liqun Group, the Likelai Group, Mykal and Hisense Plaza, also rolled out their own promotions.
3. The sales performance of the top-selling items varied. Most notably, home appliances and communications products recorded a robust growth in sales. The growing popularity of home appliances with smart and environmental features and the launch of the iPhone 6 and Samsung Note mobile phones proved a boon here. Coupled with the traditional notion of shopping for new items during New Year and the increasing intensity of the promotional initiatives undertaken by many retailers, the sales of home appliance specialty stores, such as Suning and Gome, reached Rmb24.71 million, an average growth of more than 50%. Communications products also posted a sales record - Rmb18.8 million – representing a growth of 21.8%. Among the best-selling items were mobile phones, computers, TVs and refrigerators.
Secondly, food and clothing enjoyed rapid growth. The sales of food and drinks rose by 9.1% and 13.9% respectively. In terms of clothing and footwear/headwear, these two sectors increased by 23.2% and 36.2% respectively.
In a third development, children's toys sustained a stable sales growth. As parents typically bring their children along for the New Year celebrations and like to give them gifts during the Chinese New Year period, toys recorded a sales volume of Rmb4.48 million, a year-on-year growth of 20.7%.
Finally, gold and silver jewellery saw a drop off in sales. In view of the fall in gold price, consumers tended to take a prudent approach, adopting a wait-and-see attitude, demonstrating a lukewarm appetite for investment. In total, jewellery sales grew by just 2.1% year-on-year.
4. Overall, e-commerce only made a minimal impact on the overall sales of physical stores during the Chinese New Year period. This may be because express delivery and logistics services were partially suspended in the city during the holidays, obliging consumers to return to physical stores for their shopping needs. As an additional factor, many of the mid- to high-end shopping malls in Qingdao have been transformed into urban complexes, incorporating catering, entertainment and shopping facilities under one roof. This is a development that clearly helped boost sales during the Chinese New Year.
The following is summary of the sales situation of three leading Qingdao stores:
| | | | |
| --- | --- | --- | --- |
| Store | Hisense Plaza | Liqun Shopping Center | Likelai |
| Grade | High-end | Mid-range | Mid- to low-end |
| Top-selling Items | Clothing and accessories, cosmetics and jewellery | Clothing and accessories, food, gifts and mobile phones | Food (nuts, fruits, etc), household products and clothing |
| Price Range | Supermarket: Rmb5 - 20,000 Shopping mall: Rmb500 - 500,000 | Supermarket: Rmb1 - 5000 Shopping mall: Rmb100 - 10,000 | Supermarket: Rmb1 - 3,000 Shopping mall: Rmb50 - 10,000 |
| Average Spending per Customer | Rmb2,500 | Rmb580 | Rmb200 |
| Year-on-year Sales Growth | 8% | 12% | 9% |
| Promotional Tactics | (1) A "Hot Sale of Spring Festival Lucky Bags" was launched together with exclusive membership offers. Customers producing membership cards could redeem three coupons for Lucky Bags. The promotion is said to have offered discounts of up to 80% on more than 10,000 items in nearly 100 combinations. (2) The store introduced a mascot named "Xiao C Ou" (Dolly C) at the end of January 2015 and a massive-size dolly figure was put up to attract customers. | (1) Liqun Group introduced a series of inspirational Chinese New Year promotions. (2) A number of traditional promotional tactics including discount coupons for next purchase and defined amount discounts were employed, plus out-of-season discounts for different brands and a "new clothing for New Year sale fantasia" that offered special clothing discounts of 50-87%. | A Happy New Year greetings promotion was launched. The shopping mall hosted a clothing and footwear sale with huge discounts, while the supermarket offered special prices for food items and daily necessities, and also hosted a New Year goods bazaar. |
| Sales Highlights | Cosmetics, clothing (including children's wear) and accessories. | (1)Top-selling items of Liqun Shopping Center: clothing (including fashion and children's wear), footwear, beddings and mobile phones. (2)Top-selling items of Liqun Supermarket: New Year goods, alcoholic and non-alcoholic beverages, and Chinese New Year home visit gifts. | (1) Supermarket sales went up during the Chinese New Year period due to the change of shopping habits in the local community where people no longer hoarded goods before the Chinese New Year, but bought food for immediate consumption from supermarkets that operated as usual during the festive holidays. (2) Online mall (shoplikelai.com) was set up mainly for the sale of food, rice, cereals, noodles and oil, daily necessities, beauty and skin care products as well as digital home appliances. The online mall offers all the basic product categories found in major supermarkets. It mainly serves the urban areas of Qingdao and covers other parts of the city as well. |
Effective Sales Outcomes
1. Hisense Plaza
7senses restaurant
Opened just before the Chinese New Year, the 7senses restaurant occupies a prime location beside the elevator at basement level one of the Hisense Plaza. Its unique black colour scheme makes the restaurant look more upscale, while the dim lighting creates a romantic mood. The restaurant features simple and comfortable wooden furniture, embellished by small chandeliers in a simple European style. The most special setting is in its bar area, which provides a relaxing pub-style atmosphere for customers. Deep inside the restaurant is a private room for 10 people, ideal for small gatherings of friends and families. The uniforms of its attendants also come in special designs, making them resemble magicians - cool and stylish with a white shirt and gray vest, topped off by a mini-bowler hat.
Offering a more romantic atmosphere, the 7senses Hisense store is an upgraded version of its predecessor, but offers similarly delicious food. While the pricing of the new restaurant is slightly higher, requiring an average spend of Rmb120-150 per person, it offers good value for money as it is more refined in every way and only uses fresh and top quality ingredients. As an opening offer during the Chinese New Year, a bonus of Rmb200 was added for every cash card top-up of Rmb1,000. During this festive season, members got an extra gift of a 7sense New Year red packet that came in limited quantity - a big red packet for a top-up of Rmb2,000 and a smaller one for a top-up of Rmb1,000.
2. Liqun Shopping Center
Liqun Group's community charity drive
Two mackerels, a chicken, a sack of rice, a bag of flour and several other items made up Liqun's New Year 2015 charity pack for needy families. Since 2000, the Liqun Group has been sending New Year charity packs to needy families in Shandong, making this the 16th year the Group has organised its "Caring for Thousands with Warmth and Love" event. Over that 16-year period, the retail group is said to have spent Rmb10 million funding this initiative. Liqun Group hosted the event simultaneously at its outlets in more than 40 locations across the province, distributing New Year gift packs to over 10,000 needy families at a total value of close to Rmb800,000. According to staff at Liqun, local needy families were given a New Year goods coupon for redemption of the New Year charity goods at the shopping centre. This required them complete the redemption forms and produce their minimum subsistence security cards or needy family cards, together with their related household registration documents.
While the organisation of this community charity drive has boosted the brand image of the Liqun Group, the gathering of large crowds to collect the charity goods also demonstrated the popularity of its shopping centres.
3. Likelai
Online mall shoplikelai.com
Something of a way of life in the internet age, online shopping offers a fashionable, convenient and efficient service. Thanks to rapid developments in the market, more and more traditional shopping malls have transformed their operations in light of the online opportunities. Likelai, a leading local retail group, launched its online mall, shoplikelai.com, on 1 February 2013, following a long period of research and development. After more than a year of further development, its newly-upgraded shoplikelai.com website and the shoplikelai smartphone app were launched on 10 October 2014. A New Year section was also rolled out during Chinese New Year 2015 as a complementary promotional drive in association with the company's conventional supermarkets.
In essence, shoplikelai.com is the e-retailing website of the Qingdao Likelai Group and offers a full array of its products. The website has been designed to optimise the group's product mix and service modes by offering the online sale of food, rice, cereals, noodles and oil, daily necessities, beauty and skin care products, as well as digital home appliances. In terms of logistics, Shoplikelai also takes an innovative approach. Backed by the Likelai brand and supported by its purchasing, distribution and logistics centre, as well as its chain of local physical stores, it has formed an online and offline integrated shopping platform through a network of distribution points. Its logistics service offered business as usual during the Chinese New Year period and saw the introduction of a pick-up system, whereby fixed points were set up for customers to collect their goods. When placing orders, customers had the option to "pick up" their purchases at the nearest collection point free of shipping charge. A text message was sent to alert customers as to the arrival of their purchases at the specified collection point. The self-pick-up system was said to have provided maximum convenience to customers during the Chinese New Year period.
Jackson Mu, Qingdao Office
Mainland China
Mainland China