https://hkmb.hktdc.com/en/1X0A1L09
Yangtze River Delta Urbanisation: Opportunities in E-commerce Logistics
In response to increased urbanisation and new infrastructure investment, the transportation and logistics networks in the Yangtze River Delta (YRD) region are becoming more advanced. This is boosting the uptake of online shopping by consumers in Jiangsu and Zhejiang, as well as fostering the adoption of e-commerce by local small commodity manufacturers. Although the YRD has become one of the mainland's major e-commerce hubs, its online retailing activities are primarily confined to China's domestic markets.
Among the cross-border online shopping destinations, Hong Kong is one of the most popular. The city offers excellent e-commerce platforms, trustworthy cyber-security, secure protection of personal data, and access to convenient cross-border online payment systems comprising international payment tools and third-party payment platforms. It also has an efficient international logistics network, while offering effective services for consolidated shipping, shopping agencies, international transit and customs clearance. These factors have combined to make Hong Kong an ideal platform for overseas consumers looking to shop online for YRD and other mainland products, as well as for mainland internet users in search of the latest overseas items. As the YRD logistics services upgrade and its e-commerce development accelerates, Hong Kong logistics and e-commerce providers should be on the lookout for a number of emerging market opportunities, particularly with regard to global e-commerce.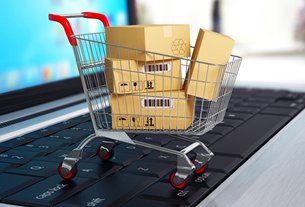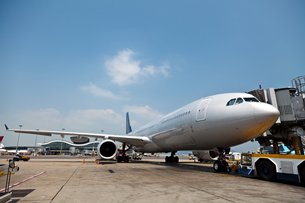 Logistics Sector Develops Rapidly in YRD
The "new-style" urbanisation process in the YRD region has focussed both on urban development projects and on building up inter-city infrastructure. Inter-city and regional transportation networks, in particular, have been optimised to facilitate the formation of efficient, seamless logistics systems, while promoting the co-ordinated development of cities and towns of varying sizes. The continuous expansion of railway, highway and waterway infrastructure has effectively linked the transportation and logistics networks of new development zones and new towns with those of the major cities in the YRD. This has helped these new areas to integrate with the local city clusters, as well as the whole YRD economy.
Against this background - and coupled with the continuous growth of industrial and commercial activities in the region - the demand for logistics services has inevitably increased. The logistics and transportation activities of Jiangsu and Zhejiang provinces have been growing steadily in recent years. Since 2005, the freight volume of the two provinces has nearly doubled, with immense growth in highway freight, which accounted for some 57% of the total freight volume of the two provinces in 2013.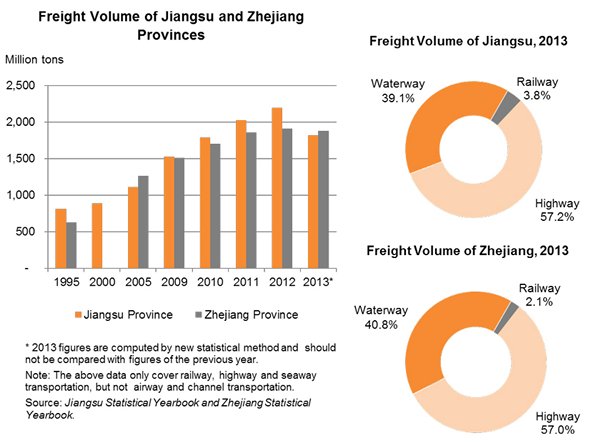 E-commerce a Bright Spot
It should be noted that the logistics activities arising from e-commerce are one of the major driving forces for the growth in highway freight and overall freight volume of the two provinces, particularly with regard to courier services. The volume of courier trade in Jiangsu and Zhejiang increased from 17.19 million pieces and 58.35 million pieces, respectively, in 2005, to 980 million pieces and 1,420 million pieces, respectively, in 2013.This represents an exponential growth over a period of eight years. In 2013, Jiangsu's courier business generated income of Rmb14.3 billion, while its Zhejiang counterpart was worth Rmb18 billion.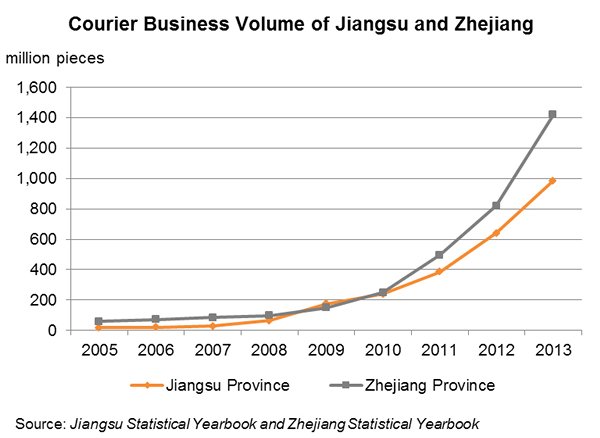 For many local consumers, online shopping has become more convenient, largely thanks to improving transportation and logistics networks, particularly in the case of highway transport. Benefiting from the expansion of wired and mobile communications networks and the growing popularity of online shopping, recent years have seen consumers from both large cities and rural areas able to utilise courier services to deliver various types of online purchases. As a result, the local courier industry is expanding at a tremendous pace, presenting a perfect opportunity for related service providers.
According to a 10-year bill statement released by AliPay, the mainland mobile payment giant, in December 2014, Zhejiang and Jiangsu rank second and fifth respectively among mainland areas for the highest mobile payments via the service. Zhejiang comprised 12.5% and Jiangsu 8.8%[1] of the 10-year aggregate mobile payment via AliPay in China. In particular, the online spending of the cities of Hangzhou, Wenzhou, Ningbo, Jinhua and Jiaxing constituted some 80% of the provincial total of Zhejiang. In Jiangsu, the cities of Suzhou, Nanjing, Wuxi, Changzhou and Nantong recorded the highest mobile spending. Apart from the large cities, smaller county-level cities are also very active when it comes to online shopping. In 2014, the 100 counties with the highest mobile spending via AliPay were mainly concentrated in Jiangsu and Zhejiang. Zhejiang had the highest number (35) among the top 100 counties, which include Cixi, Yutao, Ninghai and Xiangshan. Jiangsu province followed with 26 counties in the list, including Kunshan, Changshou and Jiangyin.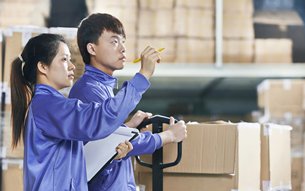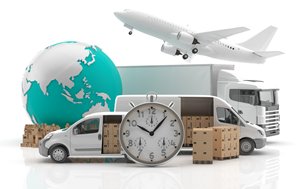 Urbanisation Boosts E-commerce Development in Jiangsu and Zhejiang
Apart from heavy industry, the YRD is also well-known for its well-established light industry bases. Its cities, towns and rural areas are all home to a large number of manufacturers and distributors engaged in the production and trading of various kinds of small commodities. The prefecture-level city of Yiwu, under the Jinhua city of Zhejiang province, for example, is the production base for a considerable range of small commodities, including garments, textile products and accessories, gifts and crafts. The improving logistics network and courier services resulting from the urbanisation programme has enabled local manufacturers to sell their products both within the region and abroad via a variety of e-commerce channels.
According to China's Taobao Village Research Report (published by the Ali Research Institute), the first tranche of "Taobao Villages" - areas that operate e-commerce businesses in rural locations, with a total transaction volume of more than Rmb10 million, and more than 100 online stores - emerged in 2009. These now include Qingyanliu Village in Yiwu City in Zhejiang (known as the "No. 1 Taobao Village"), and Dongfeng Village in Shaji Town in Suining County in Jiangsu. Since that time, several small markets, featuring pools of e-commerce companies and individual operators, have emerged in a number of different areas. As of December 2014, there were a total of 211 "Taobao Villages" in China, with Zhejiang having the largest number, followed by Guangdong, Fujian, Hebei and Jiangsu.

The YRD region is actively enhancing its logistics facilities infrastructure in order to support this growth in e-commerce. Logistics service providers engaged in related businesses are also stepping up their efforts to establish transportation and distribution networks in the YRD region, allowing them to cater for the surging logistics demand. The maturing transportation and logistics networks have enabled small commodity manufacturers and traders in cities and rural towns in Jiangsu and Zhejiang to expand their sales through e-commerce channels. The increase in online shopping among local consumers has further stimulated demand for local logistics services, particularly the domestic logistics and distribution services within China. For example, in 2013, more than 90% of the courier packages for the two provinces were delivered either to the same city, or to another area, within the Chinese mainland. Courier services to other countries, or Hong Kong, Macau and Taiwan only constituted 2% of overall demand. This demonstrates that the e-commerce business of the two provinces and the whole YRD region is still focussed on the mainland market, while its global e-commerce reach has yet to be developed.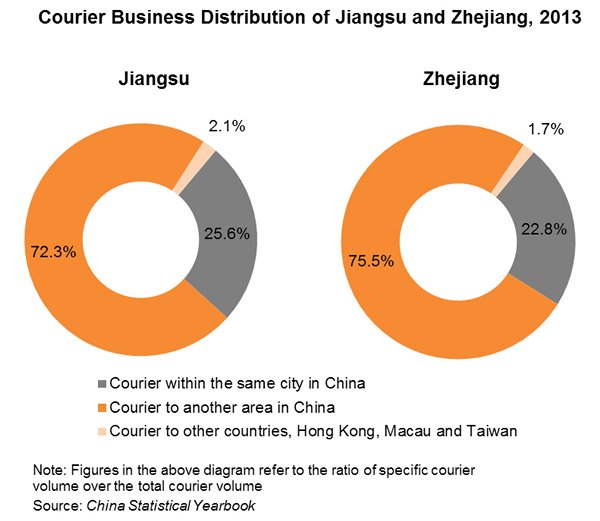 Jiaxing Cashes in on Logistics Opportunities
To capitalise on the rapid growth of e-commerce in Zhejiang, the city of Jiaxing is upgrading its logistics facilities. One example of this is the Jiaxing Modern Logistics Park, in the city's southwest, which has now been positioned as a modern logistics zone, focussing on land transportation, in order to function as a regional distribution service for the YRD.
One goal of the Park is to develop a courier industry cluster offering high-end distribution functions. At present, it has attracted more than 100 logistics companies, including several well-known courier service providers - SF Express, STO Express and YTO Express – as well as a number of third-party logistics providers, including DHL and Yushi International Logistics.
Speaking to HKTDC Research, a Park representative said that the facility is finally taking shape. In light of the strong demand for logistics services in the YRD, and with the increasing number of companies operating in the Park, future development will focus on higher added-value courier services and third-party logistics services related to e-commerce. It is hoped that, over the next five years, the Park will attract more than 50 e-commerce firms.
E-commerce Popularity Presents Market Opportunity for Hong Kong Companies
With the rise of online shopping globally, the light industry products and small commodities produced in the YRD have great potential for overseas sales via online platforms. According to PayPal's survey of cross-border online shoppers across six key markets[2], its consumers shop at both local and overseas websites. It is estimated that, in 2013, these six online markets boasted a total of 94 million cross-border online consumers, who together made purchases worth US$105 billion from overseas websites. By 2018, the sales are expected to nearly double, with 130 million consumers making cross-border online purchases worth US$307 billion. The most favoured overseas shopping websites are those based in the US and UK, with Chinese mainland and Hong Kong websites in third and fourth place.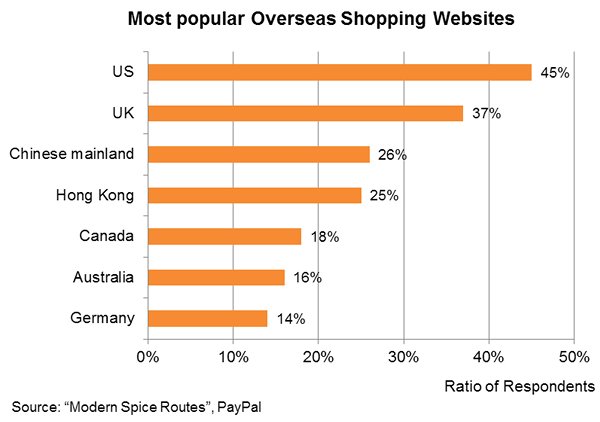 As Wally Wong, Head of Merchant Acquisition for PayPal Hong Kong, pointed out in an interview with HKTDC Research, overseas consumers have a considerable interest in consumer goods made in China, including garments and accessories, personal electronic and computer products, jewellery, and various small commodities. As manufacturers are upgrading their product quality, products made in China – especially those offering exceptional value for money - are very popular in the overseas markets. Consumers not only browse the websites of the Chinese mainland, but also visit Hong Kong websites in order to shop for various kinds of products, including those made in China.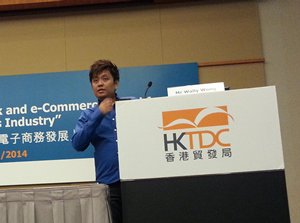 Wong said: "In contrast to those on the mainland, Hong Kong websites not only provide an English version and versions in other languages, their interface designs are also user-friendly and in step with foreign cultures and tastes, catering to the browsing habits of overseas internet users. More importantly, Hong Kong adopts a liberal policy as regards international payment, and the local e-commerce operators accept a wide variety of international credit cards/payment tools and third-party payment platforms for payment, thus providing efficient and convenient online shopping services to overseas consumers.
"Moreover, overseas consumers generally attach great importance to cyber-security and the protection of personal data. In this regard, they have more confidence in the e-commerce operators of Hong Kong. Besides, Hong Kong has set up efficient international logistics networks that allow consumers to courier their cross-border online purchases. Despite the dearth of local production activities, Hong Kong is still regarded as one of the most popular overseas online shopping destinations when it comes to serving as the online shopping platform for products made in China and elsewhere."
Hong Kong logistics services providers currently engaged in e-commerce-related business not only offer courier services, but also provide effective consolidated shipping, shopping agency, international transit and customs clearance services for consumers through their operation bases in Asia, the Chinese mainland, the US and other overseas markets.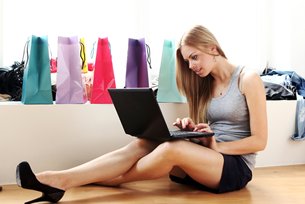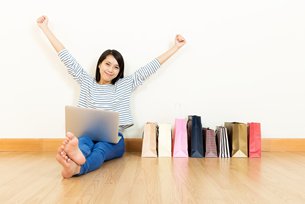 According to data compiled by PayPal, in 2013 about 18 million internet users on the Chinese mainland made cross-border online purchases, together worth about Rmb216 billion. These items included garment, footwear, accessories, health care, beauty and electronic products. About 84% of these purchases were made at websites in the US, followed by Hong Kong (58%) and Japan (52%). It is expected that, by 2018, about 35.9 million internet users on the Chinese mainland will make cross-border online purchases, representing a spend of some Rmb1,000 billion.
In Wong's opinion, internet users on the Chinese mainland, particularly consumers in the more affluent regions, such as the YRD, have a growing interest in shopping online for overseas products of better quality and unique design that are less common on the mainland. Hong Kong websites not only offer products from the Chinese mainland, but also a good mix of those from Japan, Korea, Europe and the US. As a hub for internationally stylish and desirable products and one offering efficient international logistics and distribution networks, Hong Kong can provide ideal online shopping channels for those mainland consumers wishing to "venture out" and buy their favourite overseas products.
With online shopping trending around the world, the development of a modern logistics service sector in an urbanising YRD region is spurring the local e-commerce sector. It is stimulating cross-border online shopping activities among YRD consumers, as well as increasing demand for further expansion of international online markets among local industries. As Hong Kong has excellent e-commerce platforms and efficient international logistics and distribution networks, these related YRD developments will definitely open up more opportunities for Hong Kong e-commerce operators and the related logistics services providers.
(Note: For more information about YRD urbanisation and opportunities in logistics services, please see "New-Style Urbanisation in Yangtze River Delta Boosts Service Sector Demand" and "Yangtze River Delta Urbanisation: Cold Chain Logistics Opportunities
---
[1] The five locations with the highest mobile spending via AliPay in China are Guangdong, Zhejiang, Shanghai, Beijing and Jiangsu, and their shares in AliPay's 10-year bill statement are 15.5%, 12.5%, 9.3%, 9% and 8.8% respectively.
[2] The six key online markets are the US, UK, Germany, Australia, China and Brazil
Finance & Investment
Logistics & Supply Chain
Information Technology
Mainland China
Mainland China