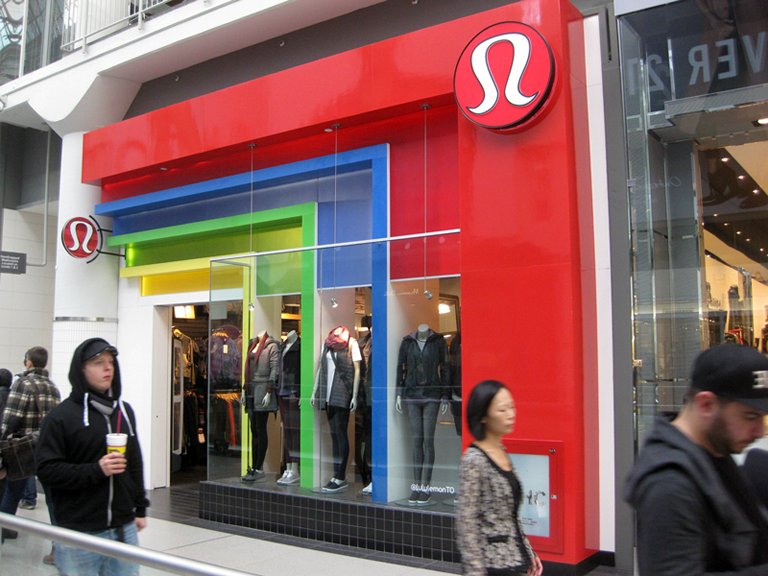 https://hkmb.hktdc.com/en/1X0A1000
Canadian Products: The Hong Kong Launch Pad
Many Hong Kong traders view Canadian companies primarily as OEM clients, with few looking to explore the possibility of a more expansive collaboration. This is despite the fact that Hong Kong has the largest Canadian expat community outside of the US, as well as being home to a diverse and vibrant group of leading Canadian companies and brands. In light of several high-profile examples of successful Hong Kong-Canada business arrangements – including partnerships with Lululemon Athletica, Cold-FX, Wing Wing, and Cuvees, among other well-known Canadian names, the Hong Kong business community would do well to consider the potential for regional distribution, brand promotions and other joint ventures.

Hong Kong-Canadian Partnerships: A Winning Formula

With a trade flow of US$4.7 billion in 2013 and US$3.8 billion in the first 10 months of 2014, and with its population of 35 million, Canada is Hong Kong's third largest trading partner in the Americas. It is behind only the much more populous US (320 million) and Brazil (200 million). Despite this high level of trade and a solid commercial relationship dating back to 1927, few Hong Kong businesses have looked beyond their traditional OEM arrangements with their Canadian counterparts.

Given the growing importance of the Asian market for future economic growth, many Canadian businesses (including small- and medium-sized companies, as well as internationally recognised brands) are now looking for reliable Asian partners. The Canadian government has identified nine Asia-Pacific markets, including Hong Kong and the Chinese mainland, as emerging markets with broad commercial interest for Canadian enterprises.

With Asia becoming an ever more popular, sales-generating destination for a range of Canadian lifestyle products – notably athletic wear, health supplements, gourmet food, wine and jewellery – Canadian companies' exploration of emerging opportunities in the region will inevitably continue, even as the demand in the mature markets, such as the US, starts to show gradual signs of forward momentum. Many Canadian retailers, designers and brand owners have been quick to factor in Asian elements and requirements into their new collections in order to woo those Asian consumers looking for new, healthy and novel ways of enjoying their growing incomes.

While a number of Canadian companies, such as Air Canada, Bombardier Transportation, as well as several of the country's financial giants, notably Manulife, Royal Bank of Canada, Scotiabank and Sun Life Financial, are clearly big enough to tackle the Asian markets in their own right, many firms need reliable local partners, distribution agents, brand managers or licensees to smooth their entry into Asia. It is here that Hong Kong, Asia's regional business centre and distribution hub, comes very much into its own.

The city has already been involved in many high-profile Asian-Canadian partnerships. From spearheading Lululemon's – Canada's most valuable retail brand – Asian expansion push, to introducing the nation's best-selling cold and flu remedy, COLD-FX, to Hong Kong and Macau, to tucking into a wide variety of Canadian gourmet foods and wines, Hong Kong has been a test bed and the key means of securing entry into Asia, a fact that has further proven the potency of the Hong Kong-Canadian business partnership.

In light of Canada's new trade plan, which calls for greater synergies between Hong Kong and Canadian SMEs, Hong Kong's strong yet flexible SME community is clearly ready to act as potential business partners for its Canadian counterparts. Many such companies are not only familiar with business practices in Canada, but have extensive trading experience and business knowledge of the Chinese mainland, as well as other Asian markets. This sees them ideally-positioned to become facilitators between Canadian, Chinese and other Asian companies.

Lululemon Athletica: A Canadian Retail Brand Making its Asian Debut in Hong Kong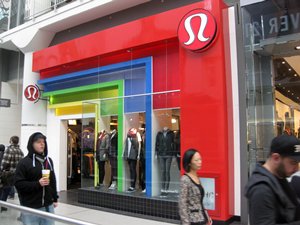 On the back of a growing global profile, stemming from its involvement with the London 2012 Olympic Games, Lululemon Athletica has continued to reinvent itself as a global, high-quality yoga and athletic wear brand. As part of its latest international strategy, Lululemon Athletica is not only diversifying into broader product categories, but also into markets outside of Canada, the US, Australia and New Zealand. This is in order to meet demand from consumers in other parts of the world, notably Europe and Asia.

In response to the huge market potential generated by the local and regional LOHAS (lifestyles of health and sustainability) community, Lululemon opened its first Asia-Pacific region retail showroom in Hong Kong in October 2008, serving Japan as well as the Chinese mainland market. Since then, it has opened seven more showrooms, including new outlets in Hong Kong, Shanghai and Singapore.
In order to steer its Asian expansion, the brand hired Ken Lee, a new, Hong Kong-based General Manager for the region, in February 2014. His brief is to spearhead the company's Asian penetration, with a view to achieving sales figures in China that are double those it delivers in North America. As one of its most important moves, the brand plans to open its first retail store in Hong Kong in 2015, augmenting its four showrooms in the city.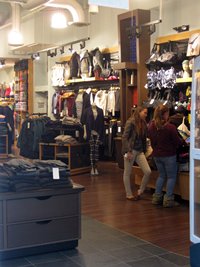 Prior to establishing the Hong Kong store, Lululemon now carries only a limited range of merchandise in its showrooms. While the showrooms have been successful in promoting brand awareness in the region, a fully-fledged physical store will provide customers with a better and more comprehensive shopping experience than browsing and ordering the brand's full collection online from its Hong Kong or US-hosted websites.

Apart from gathering consumer feedback and information on Asian preferences, the products showcased in the Hong Kong store act as a crucial marketing facility for distinguishing the brand's collections – combining premium fabrics, fashion-forward designs and practical functions – from its global competitors, particularly Adidas, Nike and Reebok, as well as from Asia-based yoga or athletic wear brands, such as Hosa and Li Ning from the Chinese mainland, Pure from Hong Kong, and Easyoga from Taiwan.

With its highly-competitive consumer and retail market, the Hong Kong store also serves as testing ground to see if the fully-fledged store business model can be sustained in the greater Chinese mainland market, where the yoga industry, supported by an estimated 10 million yoga practitioners, is growing three times faster than in the US. In addition to its two showrooms in Shanghai, Lululemon has been expanding on the Chinese mainland, with a new showroom opening in Beijing and a Chinese-language website being planned for 2015.

Given the already strong and successful relationship with Hong Kong-based apparel and accessories manufacturers, Hong Kong's sourcing and marketing role in Lululemon's Asia push is poised to grow still further. To streamline its penetration into the mainland market, Lululemon is considering tailoring products to Asian tastes in terms of colours, fabrics, fit and function. This, in turn, gives Hong Kong textiles and apparel traders new opportunities to offer their extensive trading experience in Asia, as well as market intelligence on the athletic wear market on the Chinese mainland.
COLD-FX: A Canadian Cold and Flu Remedy Launching into Asia via Hong Kong

Advocating the use of Chinese medicine to "treat before disease happens", 3 Kings Holding Limited has been trading in Chinese medicine healthcare products since May 2007. In 2009, the company was named the sole agent of COLD-FX, Canada's best-selling cold and flu remedy, for the Hong Kong market. The introduction of the remedy has somehow transformed the practice of taking Chinese medicine. Due to their bitter taste, traditional remedies used to be taken only as medicinal treatments, but more and more Hong Kong consumers, especially affluent young professionals, are now taking COLD-FX capsules as a preventative measure.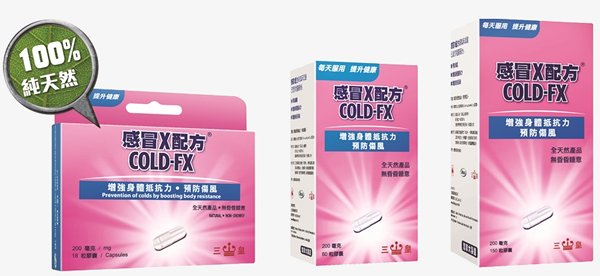 Manufactured using a purified extract derived from North American ginseng root, COLD-FX is considered effective in reducing cold and flu symptoms, with its natural ingredients said to cause no side effects. Following substantial clinical trials, the product, formulated and manufactured in Canada, has not only met many international safety, quality and efficacy requirements, but also complies with the proprietary Chinese medicine (pCm) registration (HKC-16420) in Hong Kong.

Debby Chiu, who is responsible for the sales and marketing of COLD-FX in Hong Kong, believes the product is a good illustration of how overseas companies can collaborate with a Hong Kong agent to promote their concepts of applying traditional Chinese products in innovative ways. Aside from handling the local distribution, 3 Kings helps extensively in the marketing of COLD-FX's preventative features.

In particular, Chiu said it is a challenge to change the preconceptions of people in Hong Kong and on the mainland with regard to North American ginseng. Many consumers have doubts about the efficacy of using just the derivatives from the root of the North America ginseng and are resistant to taking pills, instead of the ginseng itself, as a holistic treatment to prevent flu.

With growing consumer interest in incorporating the "nourishing life" idea into their daily lives through the use of natural ingredients, Chiu believes that Canada's natural healthcare products and supplements, such as COLD-FX, have a real sales potential in Asia. This is especially the case on the Chinese mainland, where people generally have a better knowledge of – and higher confidence in – Chinese medicines.

Against this backdrop, it is believed that (apart from generic items, such as calcium pills, fish oil, shark liver oil and glucosamine) more Canadian health supplement brands and traders will be interested in opening up the market in Asia. Given the city's test bed role and conducive business environment, Hong Kong can ride on its reputation for operating world-class healthcare system and become the ideal partner for Canadian businesses on their journey to the East.

Wing Wing: A Traditional Chinese-Sausage maker Marketing Made-in-Canada "Lap Cheung" in Hong Kong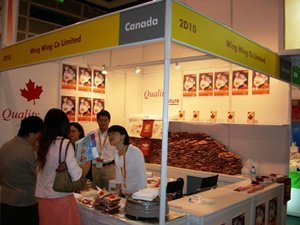 Chinese-style pork sausages, lap cheung, are a popular traditional delicacy from southern China. While many different sausage makers have their own recipes, the success of the sausage lies mainly in an ingenious combination of premium ingredients, typically pork meat, cooking wine, soy sauce, sugar and salt, all prepared with reliable, hygienic drying and packaging processes. To this end, a "Made in Canada" label, given the country's enviable reputation for reliability and quality, means a lot to consumers and can therefore offer a real competitive edge.

Growing from being a simple Vancouver butcher's shop in the early 1900s to becoming one of the most popular Chinese preserved sausage brands among the Chinese community in Canada, Wing Wing Co Ltd is now taking on Hong Kong and Chinese mainland lap cheung makers with its premium Canadian ingredients and a family recipe brought over from Guangzhou more than a century ago. Instead of opening its own shop or selling only online, Wing Wing, however, chose to extend its sales to Hong Kong through a Hong Kong-based branded specialty retail chain, Max Choice, in 2006.
According to Rod Fong, General Manager and the grandson of the founder of Wing Wing, the company has no intention of changing its small-production model to a mass production one, despite its market expansion plans. Instead, he is targetting the niche market segment, where consumers are looking for premium products made from high-quality ingredients that meet the highest possible level of food safety requirements.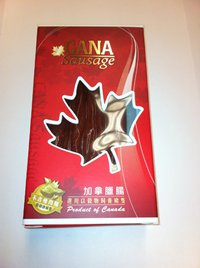 As an approved Canadian Food Inspected Agency facility, which is authorised to send its products across Canada, the US, the Caribbean, the European Union (EU), Africa, Asia and New Zealand, Wing Wing is not only expanding geographically, but also developing new, lower-fat, lower-sodium versions of lap cheung to appeal to new consumer markets, including the more health-conscious and picky Asians.

As part of this process, Fong is more than happy with Wing Wing's partnership with Max Choice. He is a believer in long-term business relationships and personal friendships with business partners. This also explains why Fong decided, from the very beginning, not to move into mass production and to simply grow the business via mass retailers, such as supermarket chains in Hong Kong and the Chinese mainland. Instead, he opted to work with SMEs who are highly committed to promoting the development of Wing Wing's products.

In this regard, Fong puts considerable value on business and personal relationships with Max Choice, and is ready to expand - with his Hong Kong partner - into the Chinese mainland and into other parts of Asia. He confesses himself very satisfied with the business conduct, product knowledge and efficiency of Hong Kong SMEs, notably Max Choice, when it comes to introducing its Canadian-made, traditional Chinese delicacies into the fiercely competitive Chinese mainland market.
Cuvees.com: A Hong Kong-based Wine Company Providing an Eclectic Range of Canadian Wines

While Canada is not a major wine producer by global standards, the country's wine industry is far from homogeneous. Despite its cool-climate influences, the Canadian wine industry offers a broad spectrum of products, spanning from world-respected, Vintners Quality Alliance (VQA) designated wines, such as ice wines and late harvest wines, including various Vitis vinifera grape varieties, notably Riesling, Chardonnay, Pinot Noir, Merlot, Cabernet Sauvignon and Cabernet Franc, to low-to-medium-priced table wines, typically blended from Canadian and imported sources.

For many years, Canadian wineries have been heavily skewed towards the domestic and US markets, which are substantial enough to usually consume most of the Canadian wine produced. As a result, they have paid little attention to developing their export production capability. Amid the growing demand for wine in Asia and the deregulation of wine imports, international wine companies, specialists and new entries including Canadian wineries, however, have made inroads into Hong Kong. As the only place in the world to have signed an agreement with the mainland government to allow wine imports to enter China, Hong Kong's enhanced customs facilitation measures, and the removal of all duty-related customs and administrative controls on wine (as of June 2008) has given Hong Kong a unique role in Asia's wine business.

Intending to offer Hong Kong's biggest online selection of wines, Joseph Luk, Managing Director of the 12 Bottles Company Limited, started his wine business in Hong Kong in 2011, offering exclusive labels selected and procured from small-production wineries or brewers in Italy. Located in a 30,000 square foot premises in Aberdeen, the company has 60 private cellars (rooms) and storage facilities (three warehouses) and capable of hosting various wine-tasting and trade events, as well as cellaring about one million bottles.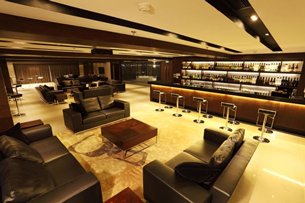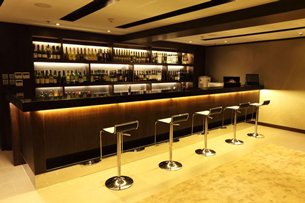 Having lived and studied in Canada, Luk has included several interesting Canadian vintages in his collection of more than 6,000 exclusive and eclectic wines. However, he admits that, since there are only a few well-known Canadian labels, such as Inniskillin and the Jackson-Triggs winery, many general consumers, particularly those in Asia, may not be well versed in the merits of the country's wines. To increase visibility and accessibility, therefore, Joseph has developed a website - Cuvees.com – that offers his individual and corporate customers a 24/7 service at their fingertips.

As Asia's culinary centre, Luk sees Hong Kong's significant pool of experienced fine wine merchants and sommeliers as the perfect ground for his wine business. Selling 80% to trade, the company is content with the growing trend of food and wine pairing among Asian drinkers. Boasting more than 11,000 restaurants, Hong Kong is the ideal showroom for demonstrating to Asian consumers just how Canadian wines can be enjoyed with the complementary flavours found in Asian cuisines.
Canada
North America
Hong Kong