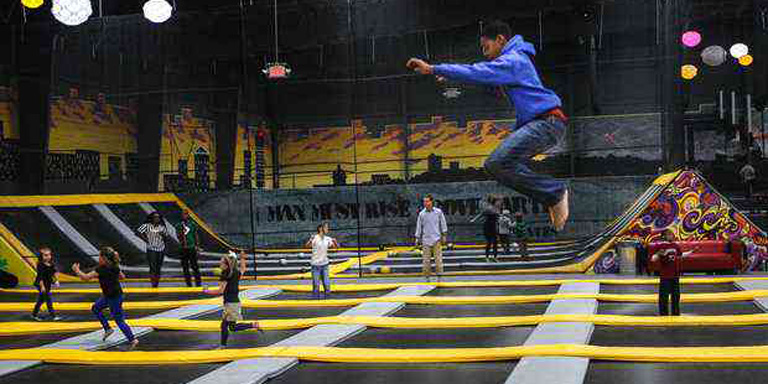 Bound for Success
Hong Kong is the springboard to Asia for a US trampoline parks operator.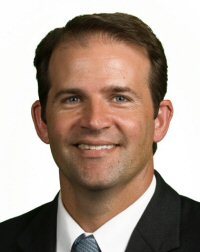 Trampolining, says Case Lawrence, the American businessman who brought Asia's first indoor trampoline park to Hong Kong, is "this generation's physical recreation of choice."

Participants will surely work up a sweat at his venues, now being rolled out across the world, but it's an all gain, no pain workout, which puts the fun into fitness.

The largest trampoline parks operator in the United States – and the world – Ryze Trampoline Park launched in Hong Kong in July 2014. The former attorney-turned-entrepreneur founded the business in California in 2011, and now has 23 parks in cities across the US. Given the current pace of rollout, this figure will grow to 30 parks worldwide by the end of 2015.

Within the US, all of the parks have a different name and brand, except for the original park, Ryze. The company's international parks all go by the name of Ryze.
Exercise for All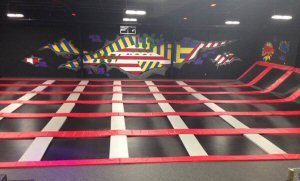 "Trampolining is an incredible source of both fun recreation and exercise," Mr Lawrence said. "In fact, you burn more calories jumping on trampolines than any other exercise activity (1,000 calories per hour). It is especially useful as an exercise for young children because it builds motor skills and coordination, but is equally fun for adults as well."

Indoor trampoline parks are the fastest-growing recreation and exercise segment in the United States, said Mr Lawrence, who believes that this industry will be even more of a hit in Asia.
"Judging by the reception of Ryze in Hong Kong, I am even more convinced that this will be true. In the United States, trampoline parks are replacing bowling, miniature golf, laser tag and indoor arcades as the recreation of choice for young people. I expect that trend to happen in Asia also once people are acquainted with the concept." The challenge in Asia, he said, is finding buildings with the necessary size and ceiling heights.
Entrepreneur-Friendly
Mr Lawrence chose Hong Kong as his springboard to Asia for its ease of market entry.

"Hong Kong is a far less intimidating business environment for an entrepreneur to navigate," he said. "Culturally, we knew we could roll out Ryze in Hong Kong with minimal localisation from English to Chinese. For example, other than our website, most of our marketing material is in English. We also believe that Hong Kong is a showcase city to show off Ryze to other cities and countries in Asia."

This year, the company will open new Ryze parks in Seoul, Taipei, Edinburgh, Glasgow, Manchester, London, Amsterdam and Dusseldorf, and plans a second Hong Kong venue, in Kowloon.

"We are currently interviewing potential partners to take the expansion rights for Ryze into the Chinese mainland," Mr Lawrence said. "I think China has the potential to be especially successfully with the Ryze concept."

Eventually, he would like to see more than 100 Ryze parks throughout the world.
Jump in Profits
Currently, a typical investment for the creation of a new park is about US$2 million. "This has grown as the size of parks has increased over the last few years from when the trampoline park industry began several years ago," he said.
"I get e-mails every day from people all over the world who have been to Ryze, because it is in Hong Kong. Mission accomplished. We knew Hong Kong would be the perfect market to introduce the world to indoor trampoline parks."

The Hong Kong park, located in Quarry Bay, has more than 40 world-class trampolines connected within a 7,000 square feet air-conditioned space, including the famous angled wall trampolines, launching decks, "and a few surprises up in the ceiling to test your vertical [jumping ability]."

Ryze Hong Kong was profitable in its first month of operation, "and continues to be highly profitable," Mr Lawrence said.

Hong Kong, he added, has already proven to be serving his expansion plans well.

"I get emails every day from people all over the world who have been to Ryze, because it is in Hong Kong. Mission accomplished. We knew Hong Kong would be the perfect market to introduce the world to indoor trampoline parks."
The Future is Here
Even though he is a significant player in the industry, Mr Lawrence says it has been "humbling and fascinating" to watch and observe how fast a new industry will fill a vacuum in the world. "When an idea is good and people like it, humankind finds a way to give it oxygen and let it grow."

He is convinced that the future of public recreation is active, adrenaline-inducing activities that people can participate in with friends and family. "People can watch movies and play video games at home. To justify the effort and expense of a social outing, recreation will have to be active, highly visual [by producing good selfies and pictures for social media], and be very participative with friends and family. Trampoline parks fill all of these requirements."
Related Link
Ryze Trampoline Parks
USA
Hong Kong
North America