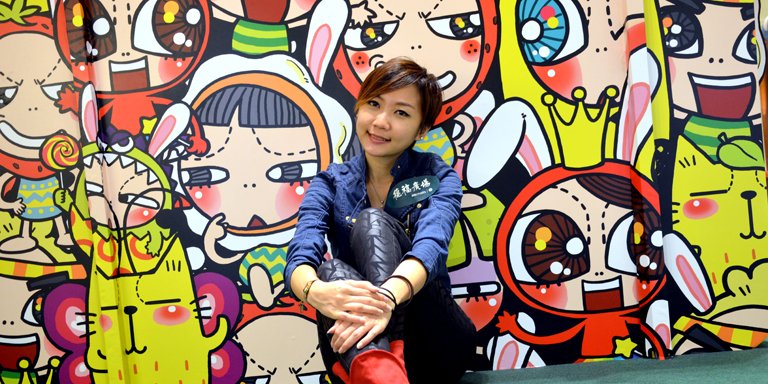 https://hkmb.hktdc.com/en/1X0A0QM8
Licensing Cute
Malaysian-based licensor Safe Tree, which manages cartoon creation Pocotee & Friends, is enjoying great success in Hong Kong.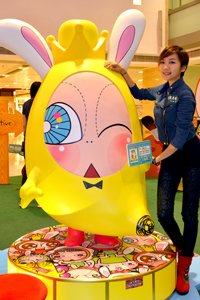 Capitalising on Hong Kong's love for all things cute, Malaysian comic artist management company Safe Tree Sdn Bhd teamed up with MTR Malls to feature Pocotee Loh's animation, Pocotee & Friends, at Telford Plaza last April, with more possible collaborations with Hong Kong companies to follow.

Pocotee Loh was also invited to decorate an elephant statue for the recent Elephant Parade, a travelling Hong Kong exhibition to promote elephant conservation, which showed at Pacific Place, Cityplaza and Citygate Outlets. The cute cartoon strip additionally scored a deal with a Hong Kong movie to be released in February, the details of which are yet to be announced. Pocotee teamed up with Cityplaza again to make fan art for the movie Boxtrolls, with art works also displayed at PALACE apm, The Grand, UA iSquare and MCL Telford Cinema.
Hong Kong Licensing Show Helps
Safe Tree Director Dylan Ang Beng Leong says attending the Hong Kong International Licensing Show, which drew more than 18,000 visitors last year, was instrumental in securing campaigns with Hong Kong companies. Safe Tree also met with other local businesses to discuss possible collaborations featuring the comic strip, which is helmed by Pocotee, a character modelled after Loh, and features other characters including Dino Dino, Banana and Mr Toumatou.
Easter Illustrations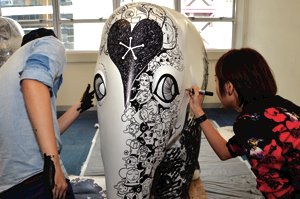 Pocotee & Friends received a significant branding boost in Hong Kong with their first major campaign last Easter in the city, entitled "I am Beautiful."

"We were so glad to have our first collaboration with MTR malls last year, where we gave the Pocotee & Friends character series an Easter theme. We designed Easter-themed gifts and figurines and held a workshop where customers learned how to draw our characters on T-shirts and tote bags," says Mr Ang.
The workshop encouraged interaction with fans and raised awareness of the comic strip characters among prospective Hong Kong fans, notes Mr Ang. "For the Easter collaboration, we also gave away passport holders, tote bags, luggage belts and stickers. It was a fun event and we would definitely love to work with MTR Malls again."
"The Hong Kong market is a hub for Asian countries. If we managed to market our business in Hong Kong, I think that our product can find success everywhere else in Asia"
At the licensing show, Safe Tree met with other local malls for possible collaboration and giveaways for the upcoming year, with discussions still in progress. "One of the more interesting meetings I had was with my Hong Kong business partner I-Con Stage, which helped me set up multiple business opportunities. I also talked to various messaging application companies to enquire about content production," adds Mr Ang.

Safe Tree will exhibit again at the Hong Kong Licensing Show, to be held 12-14 January. "The Hong Kong market is a hub for Asian countries. If we managed to market our business in Hong Kong, I think that our product can find success everywhere else in Asia," he says.
Red Carpet Moment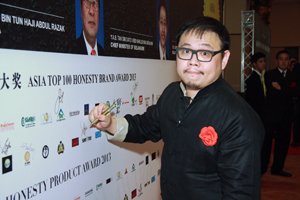 While in Hong Kong for the licensing show, Mr Ang was also invited to attend the Transformers movie gala last June, which presented more useful networking opportunities. "It was an amazing night, as I got the chance to meet many people from different fields; not just businessmen, but artists, media groups and VIP guests. It is always easier to network if you know the right person to talk to, which the Licensing Show provided."

While Mr Ang says he welcomes the chance to work with any company interested in Pocotee & Friends characters, ideally, he would like to secure campaigns with multinational brands, such as McDonalds and 7-11, which would enable the comic strip to reach a wider audience.

For 2015, Mr Ang has a firm goal in place for Pocotee & Friends in place. "My plan is to collaborate with more shopping malls, apparel brands and secure some charity and movie campaigns." Pocotee & Friends will also add new items to its existing product range, which includes hand-painted T-shirts, notebooks and soap, and release the first Pocotee & Friends comic book.
Related Links
Facebook.com/pocotee
I-Con Creative House
Pocotee & Friends

Malaysia
Hong Kong
Southeast Asia