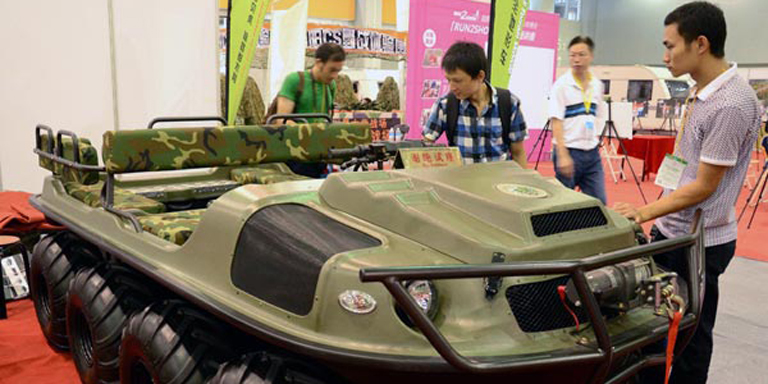 https://hkmb.hktdc.com/en/1X0A03HA
Competitive Market
The outdoor sports market has seen massive growth on the Chinese mainland.
The 15th Guangdong International Sporting Goods Fair and 11th Guangdong/Hong Kong/Macau International Sporting Goods Fair, in August, saw a vast array of leisure products on display, including amphibious all-terrain vehicles, wearable sports video cameras and cooling sports towels.

Said to be the largest sports goods expo in southern China, the Guangdong fair featured 30,000 square metres of exhibition space, attracting buyers and exhibitors from around the world.

The increased size of the expo reflects the sector's strong growth. In 2013, the Chinese mainland outdoor products market recorded sales worth Rmb9.68 billion, up 30.99 per cent on the previous year, according to a Central Government report last year on the mainland's sports industry.

Excess production capacity in the mainland's traditional sports goods sector led to manufacturers shifting their focus to the outdoor market. The result is increasing segmentation, with individual manufacturers specialising in such sectors as mountaineering, hiking, camping, rock climbing, cycling, cross-country running, skiing, fishing or driving. Manufacturers are also increasing investment on product innovation and added services to expand their brand footprint.
Lifestyle Changes
The continuing rise in mainland living standards has had a direct knock-on effect on lifestyle choices. More people are participating in outdoor recreational activities, boosting spending on outdoor product sales.
One beneficiary of this trend has been Dongguan's Tiwata Electronics Co Ltd, a manufacturer of outdoor lighting equipment, including multi-functional LED camping lights. Its camping and emergency light product series has obtained various patents and incorporates several innovative features, including strong and weak light settings, a strobe mode, SOS signalling and a charging port. Its attractive design helped it gain considerable traction in the market, with its products now sold throughout Southeast Asia, the Americas and Europe.
Tiwata has also achieved positive sales on the mainland, with Deng Jinabo, the company's General Manager, expecting further gains. According to Mr Deng, the number of mainland middle-income earners was about 230 million in 2009, accounting for approximately 37 per cent of the urban population.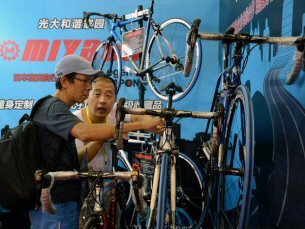 Bike buying: boom sector
Pedalling bikes at the Guangdong Expo
This demographic, he said, was likely to spend much of its leisure time engaged in outdoor activities and travel, resulting in a surge in demand for outdoor equipment, including for his company's products. "Lights are a must for outdoor activities," said Mr Deng.

"As living standards rise, people like to get back to nature," said Zeng Xiangyun, Business Manager at Shenzhen Meihang Magnesium Alloy Technology Co Ltd. Foreseeing the trend, the company, in 2011, switched from making wheel hubs for electric vehicles to producing bicycle wheel sets.

"We did a lot of research before making the change," said Mr Zeng. "We realised that, at the time, the outdoor wheel set market was growing at a rate of 20 per cent per annum." He said sales of the company's own titanium-magnesium alloy cycle wheel sets have since enjoyed a similar growth rate.

It is the sheer scope of the sector that has attracted other players. "The 'outdoors' concept is a broad one, covering a wide range of products and presenting boundless business opportunities," said Zhang Jiahua, President of Shenzhen's Good Family Enterprise Co Ltd.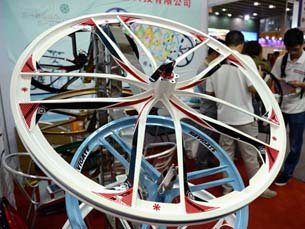 On trend: titanium-magnesium wheels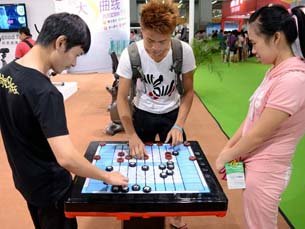 Checking out outdoor chess
In recent years, the company has had considerable success with its outdoor chessboard. Made of reinforced glass, it retains its form and colour despite adverse weather conditions. The chess pieces are attached to the board by steel wires, with rain allowed to drain away through tracks on the board.

The product has been installed in parks and fitness trails in many mainland cities and provinces. According to Mr Zhang, the board has also been purchased for use in schools, public squares and residential communities. "Beijing's Haidian district, for instance, has purchased more than 1,000 sets," he said. "Currently, the sales of our outdoor products are maintaining double-digit growth every year."

Another company quick to adapt to changing market demand was Shenzhen U2 Communication Equipment Co Ltd. The company has been in the walkie-talkie business for more than 10 years, but only launched its first outdoor bicycle helmet walkie-talkie set, in April. Yang Shanxiang, the company's General Manager, said there has been a cultural shift, with cycling now widely embraced as a social and leisure activity. The company's new walkie-talkies attach to bike helmets and are controlled via a touchpad. The product comes with ear buds and is said to be just one-third of the weight of a traditional walkie-talkie. According to Mr Yang, while the product has a distinct competitive edge, he still needs to attend exhibitions and fairs to maintain its prominence in the outdoor market.
Quality and Novelty
Tee time at the fair
Head for safer cycling
According to both exhibitors and buyers at the fair, the quality of outdoor equipment has noticeably risen in line with growing safety awareness

One company that has taken this on board is Shenzhen Xinyouda Plastic Electronics Co Ltd, a specialist in outdoor audio-visual equipment. Its colourful water bottle/MP3 player has a bright light that serves as a safety alarm for nighttime outdoor activities. Luo Tao, the company's Operations Director, said continuing market segmentation has forced his company to focus on developing innovative products.
The Shunde Moon Helmet Co Ltd has adopted a similar approach. The official helmet supplier for the 2013 Tour of Qinghai Lake International Road Cycling Race, Moon Helmet started as an OEM manufacturer until it recently launched its own range of helmets. It now produces a series of original designs, including celadon green China, volcanic lava, Iron Man and Transformers products.

Zhu Zongming, Moon Helmet's Sales Manager, believes that increasing market segmentation is a sign that the industry is maturing, forcing the company to properly define its market positioning. As a result, over the past two years, its sales have grown more than 200 per cent per annum.

According to Mr Zhu, however, there is still no unified standard in the mainland for outdoor products. As such, the company adopts standards from other industries as reference points. He believes that any future industry standards should be segmented in line with various product classifications and grades, ensuring consumers have adequate reference points when they buy outdoor products.
Functional and Fashionable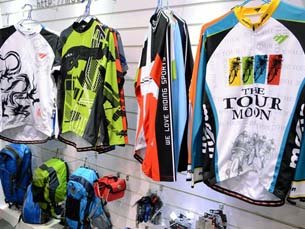 High-visibility cycling gear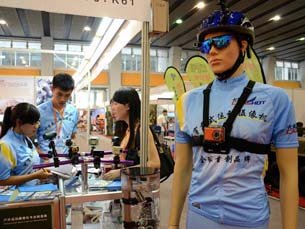 Wearable Wi-Fi cameras
High-end outdoor equipment appeals not only to professionals. Several exhibitors highlighted their products' personalised and fashionable concepts, innovations designed to widen their consumer appeal.

One such exhibitor was Zhongshan-based sports goods firm Qil, specialising in custom-made outdoor clothing for cycling, rollerblading, ball games and beach activities.

Cai Xiaolin, the company's Business Manager, said it signed significant orders from the Middle East, the United Kingdom, France and South Africa. At present, it lists sports clubs, manufacturers and distributors among its customers. Despite the diversity of its customer base, Mr Cai believes they all have one thing in common: "Everyone wants to stand out from the crowd and have something unique."
Echoing those sentiments, Mr Zeng pointed out that consumption patterns have changed. "In the past, when someone bought a bicycle, he looked for sturdiness and durability. Now they go for something fashionable, high performance and compact."

According to Mr Zeng, the price of titanium-magnesium alloy wheel sets is 50 per cent higher than those composed of aluminium alloy, but the weight is one-third less. For customers who assemble their own bikes, one or two grammes can make a big difference. For this reason, titanium-magnesium alloy is now widely used to make pedals, wheel sets, fork structures and bicycle frames.
Showcasing its latest range of Wi-Fi products, Guangzhou China-Shine Electronic S&T Co Ltd, featured its wearable sports video cameras. Resembling stylish sunglasses, the cameras come with replaceable colour lenses. On the upper right corner of the spectacle frame is a 1080P high-definition camera, capable of capturing still images and video. The camera connects to the user's mobile phone via Wi-Fi. Its 140 degree wide-angle lens is said to have the same visual field as the human eye.

Zheng Mo, the company's Development Department Assistant Manager, said many overseas outdoor sports fans like to record images while they are skiing, rock climbing or biking, a trend gaining popularity on the mainland.

For more market opportunities, please visit: http://research.hktdc.com/
Hong Kong
Mainland China