https://hkmb.hktdc.com/en/1X09ZULX
Fujian: A Fast-growing Urban Logistics Market
As population in cities of Fujian grows and consumers' buying habits evolve, sales channels such as large shopping malls, hypermarkets, convenience stores and online shops are becoming increasingly popular. As a result, the demand for urban logistics involving goods of small order size, frequent orders, and door-to-door delivery continues to escalate. In view of this, the Fujian High Speed Logistics Park has built an electronic information exchange platform to help solve the problem of freight matching, propelling the development of third-party logistics (3PL) service.
Development of retail and urban logistics in Fujian
The rising income of urban residents has bolstered people's demand for the quantity and styles of daily consumer goods and other products. This, coupled with the increasing demand for courier service due to the rapid expansion of the online shopping market, has boosted the development of urban logistics in the retail sector. In Fujian, the per capita disposable income of urban residents rose from Rmb19,577 in 2009 to Rmb30,816 in 2013, at an average annual growth rate of 12%. Meanwhile, total retail sales of consumer goods in the province climbed from Rmb448.1 billion in 2009 to Rmb827.5 billion in 2013, at an average annual growth rate of 16.6%.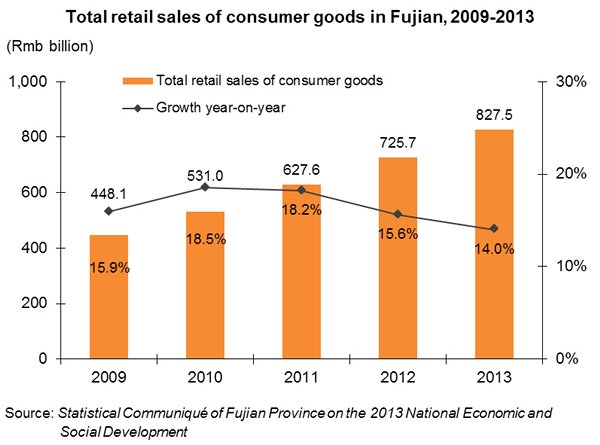 Fujian High Speed Logistics Park
Urban logistics refers to the delivery of goods within urban and suburban areas, with value-added services such as dismantling, processing, sorting, packaging and assembly of goods carried out in accordance with the requirements of clients. Due to the high land cost in urban areas, some logistics centres specialised in urban delivery have started to relocate to city outskirts so that they can handle goods delivered to the urban areas more efficiently, reduce traffic flow in urban areas, and raise distribution efficiency. The Fujian High Speed Logistics Park, established against this backdrop, not only possesses basic functions such as goods warehousing, consolidation, distribution and delivery, but also more sophisticated functions including information exchange and e-commerce.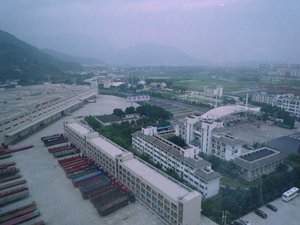 Fujian High Speed Logistics Park, which commenced operation in October 2013, was earmarked as one of the highway depot hubs in the 12th Five-Year Plan for Modern Logistics Development Projects of Fujian Province, the 12th Five-Year Plan for Modern Logistics Development Projects of Fuzhou City, and China's 12th Five-Year Plan. This high speed logistics park is located near the Fuzhou-Yinchuan Expressway, only 10 km from the city centre of Fuzhou. Lying within 20 km from Fuzhou south and north railway stations, and less than 55 km from Fuzhou's Changle International Airport, the park is linked to transportation hubs all over the country. Leveraging on the Fuzhou-Yinchuan Expressway and Fuzhou-Yongtai Expressway, the park covers Nanping, Sanming, Putian and Longyan in Fujian province and radiates to inland provinces including Jiangxi, Anhui, Hubei, Hunan and Shaanxi. This high speed logistics park helps to drive the development of Fujian into an important node and distribution centre of southeastern China's coastal logistics region.
According to reports, some manufacturers and goods distribution enterprises in China build and operate their own logistics systems. This phenomenon contributes to the fact that the share of 3PL in the logistics market as a whole is less than 25%. By comparison, the market share of 3PL in Europe, North America and Japan exceeds 70%. Wu Shihui, president of Fujian High Speed Logistics Co Ltd, said, "Development of third-party logistics in the Chinese mainland is rather slow, one of the reasons being the gap between supply and demand, making it difficult to match available trucks with available loads, and often resulting in 'available loads but no trucks, and available trucks but no loads'." In view of this, the high speed logistics park seeks to resolve the problem of matching trucks with loads by building its electronic information exchange platform.
Logistics information exchange platform
To raise the efficiency of freight matching, the high speed logistics park's logistics exchange platform is moving towards informatisation. Through building a provincial-level freight forwarding hub information platform jointly with the Fujian provincial communications department, the park offers a public information platform matching transportation with goods flow across the country, creating a conduit for the exchange of information on trucks and goods, effectively facilitating the seamless match between trucks and loads. By eliminating the chance of unloaded trucks running on the road, traffic burden on urban roads and transportation cost can be reduced. At the same time, the logistics information exchange platform can provide drivers with real-time information on road conditions so that they can avoid traffic jams, thereby raising transport efficiency while reducing traffic congestion in the city.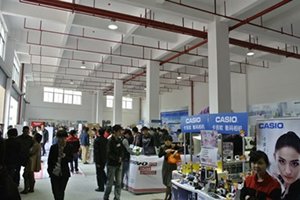 Currently, the high speed logistics park has attracted over 130 logistics information companies to move in. Cargo source agents in the park can find available trucks within a short time. On the other hand, truck drivers entering the park, by checking out information on the screen at the information exchange centre hall, can swiftly obtain information on companies and logistics firms requiring cargo freight in the park and can directly deal with them. The high speed logistics park will conduct credit check and service assessment of the businesses entering the park, inspect the relevant documentation of the drivers and vehicles, and set up a positioning and tracking system to ensure the safety of the goods in the course of transportation. At present, Gome Electrical Appliances, China Mobile, COSCO, and China Postal Express & Logistics have established warehousing and distribution centres in the park in order to meet the increasing demand for urban logistics.
Warehousing and distribution centres
Warehouses in the high speed logistics park, apart from delivering the goods to cities in Fujian province, would also offer their clients value-added services such as dismantling, processing and packaging, so that the goods can be directly delivered from warehouse to shop and put up for sale. Unlike traditional logistics warehouses, warehouses in the logistics park not only offer storage function, but also allow their tenants to display their products in the warehouse and sell directly to consumers. For instance, Gome Electrical Appliances offers regular stock clearance sales at the high speed logistics park whereby logistics, rental, decoration and management fees are reduced, and product sale prices are lowered. And by so doing, the company has created a new sales channel. Since the high speed logistics park is located along the Fuzhou-Yinchuan Expressway, it is very convenient for people to drive to the park. Besides, courier companies in the park can provide delivery service for consumers, offering people the convenience of one-stop shopping. In view of people's growing demand for daily consumer goods, the high speed logistics park is building a warehousing and distribution centre as well as a consolidation and distribution centre for products in connection with people's livelihood in order to meet the needs of future development.
Online sales push up demand for courier service
According to China's Express Sector Development Report 2014[1], courier service companies above a designated scale in the country handled a total of 9.2 billion items in 2013, an increase of 61.6% over the previous year, and the size of the China market climbed to second on the global league. With a population of 1.35 billion, it can be calculated that each person in China receives 6.8 express items on average a year. Online retail sale is the major factor driving the growth of courier service. Statistics show that in over 70% of all online sales, the products sold are delivered to the consumer by courier service. Online retail sales contribute to over half of the total business volume of the courier service sector.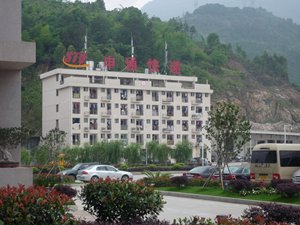 As of June 2014, the number of online shoppers in China reached 332 million, accounting for 52.5% of all netizens[2]. Meanwhile, the Ministry of Commerce (MOFCOM) projects that "the transaction volume of online retail sales will exceed Rmb3 trillion in 2015, accounting for over 10% of total retail sales of consumer goods." Following the rapid growth of the online shopping market in the mainland, the demand for courier service is escalating. In view of this, the Fujian High Speed Logistics Park has set up a consolidation and distribution centre, which serves as a hub for the clustering of trucks. Up to now, more than 10 well-known logistics enterprises, including Deppon Logistics, Shentong Express (STO) and Airfex International Express have established a presence in the park. The throughput of the distribution centre reaches over 10 million items a year. The centre also helps coordinate the business development of the companies in the logistics park, lowering the cost of logistics as much as possible by business matching and resources integration. This has attracted many online sales companies to enter the park. One example is www.buy51.com which mainly sells domestic and foreign branded sporting goods and apparel. This company, which has its warehouse in the logistics park, can directly deliver products to online shoppers within the shortest time.
O2O e-commerce platform
Riding on the popularity of online shopping, the high speed logistics park takes advantage of its geographic location and makes use of its urban logistics facilities to complement its development by building www.zhouzhoule.com[3], an online-to-offline (O2O) e-commerce platform, at its e-commerce centre. Through this platform, consumers not only can do offline shopping but can also enjoy the convenience of online shopping. O2O is a new direction in the development of online sales. Online shops offer discounts to attract buyers to their physical stores to shop while the shopping process involves making payment online, downloading discount e-coupons and e-tickets, as well as going to the physical store to collect the product.
Zhouzhoule mainly handles sports shoes and clothing, Taiwan products, as well as Fujian products with local flavour. Its main target customers are students at Fuzhou's university district[4] as well as neighbouring regions and even other regions across the country. Zhouzhoule promotes to student unions in the university district and showcase their products at the display area in the logistics park for buyers to view. As regards sales channels, apart from online shops, there are also WeChat Mall and dedicated apps, which are designed to meet shopping mode and habit of the new generation. Wu Shihui, president of Fujian High Speed Logistics Co Ltd, said, "As online shopping becomes increasingly popular, more e-commerce operators will enter the high speed logistics park, and their demand for courier service will continue to grow."
Opportunities for Hong Kong companies
Compared with large logistics enterprises with strong financial clout, Hong Kong's small and medium-sized logistics companies are smaller in scale with a less extensive network. As such, they are in a better position to develop urban logistics and delivery. As the exchange platform in the high speed logistics park reaches a higher level of informatisation, the available trucks of logistics companies and the available loads of suppliers can be matched within a short time and this makes it convenient for Hong Kong logistics companies to identify goods sources. Since urban logistics mainly takes the form of small order size, frequent orders, and door-to-door delivery, Hong Kong's small and medium-sized companies can capitalise on their flexibility and capture the opportunity for development in Fujian's urban logistics market.
Meanwhile, in urban logistics, the time span for goods storage is short and the form of consolidation and distribution is relatively simple. Thus, Hong Kong's logistics systems consulting firms and software companies can provide clients with different technology applications according to the needs of urban logistics. For instance, barcode and radio frequency identification (RFID) can both help manage warehousing, inventory and distribution, reduce the chance of making mistakes in the course of goods handling and delivery, and track the movement of goods. However, in terms of technological investment, installation and maintenance (hardware and software), the cost of RFID is higher than that of barcode technology. Since urban logistics mainly involves daily consumer goods of lower value, given that both RFID and barcode serve the same purpose, the economic benefit of using barcode is greater. Hong Kong's logistics systems consulting firms can provide professional advice to mainland logistics players and help them raise the efficiency and accuracy of logistics.
Following the popularisation of online shopping, the demand of suppliers and online shoppers for obtaining real-time and transparent information has risen. For instance, logistics companies offering delivery service must provide suppliers and online shoppers with goods tracking enquiry service using compatible communication systems. Since this involves the application of such devices as barcode and global positioning system (GPS), logistics systems consulting firms in Hong Kong can provide relevant technical support and application services to mainland enterprises. As such, Hong Kong's small and medium-sized logistics companies and their logistics information management technology have considerable development potential in China's urban logistics market.
---
[1] Development Research Center of the State Post Bureau/Deloitte
[2] Statistical Report on Internet Development in China
[3] www.zhouzhoule.com officially commenced operation in September 2014.
[4] Fuzhou's university district consists of 13 universities and middle schools, including Fuzhou University, Fujian Normal University, Minjiang University, Fujian University of Technology, Fujian Medical University, Fujian University of Traditional Chinese Medicine, and Fujian Jiangxia University, with a total of over 200,000 students.
Mainland China
Mainland China