EU Environmental Concerns: Developments and Implications
Hong Kong exporters need to be aware of cost/benefit ratios, a changing landscape of environmental regulations and widespread cynicism over manufacturer's claims about how green their products are – in what is an expanding and potentially profitable market.

Europeans now pay considerable attention to green issues despite their lingering economic hardships. Even so, they remain bargain hunters and are sceptical of manufacturers' claims about the performance of their products. Such factors suggest the cost/benefit ratio of sustainable products is an important factor when making a buying decision, along with placing a burden of proof on the seller in order to establish the value of their green offerings. In response, Hong Kong exporters should offer more than just pricey like-for-like alternatives of less eco-friendly items. They should also adopt the EU Ecolabel to hallmark their offerings.

It is expected that, along with the thriving compliance requirements of their business partners, Hong Kong exporters will face increasingly stringent regulatory requirements. These include provisions relating to waste and hazardous substances from electrical equipment and electronic devices, chemicals, energy efficient designs and standards. In order to stay competitive in the EU market, Hong Kong companies should be alert to both existing and prospective green product requirements, strive to think cradle-to-cradle design and develop sustainable supply chains.

A Greener EU

Consumer Behaviour

While WTO members have begun negotiations to liberalise the environmental goods trade, EU consumers have taken matters into their own hands and frequently think green when making a buying decision. Despite this, given the region's choppy economic recovery, European consumers remain bargain hunters. While they won't compromise their green principles or expectation of quality, they do require a good deal. In order to access such a market, Hong Kong exporters should be well acquainted with the EU's green consumerism movement.

The 2013 Survey on Attitudes of Europeans towards Building the Single Market for Green Products, commissioned by the European Commission, suggests about two-thirds of EU citizens are concerned about the environment. They are fully or fairly confident that environmentally friendly products will cause less damage to the environment compared with other products. A majority of those questioned believed buying environmentally-friendly products benefits the environment (89%). Meanwhile, 74% believed environmentally-friendly products are as effective as regular products. In addition, 84% said they are concerned about the environmental impact of products.

Even so, only 26% of the survey's respondents said they buy environmentally-friendly products on a regular basis. This compares with 54% who occasionally purchase green products. A relatively meagre 15% of EU citizens said they do not buy environmentally-friendly products.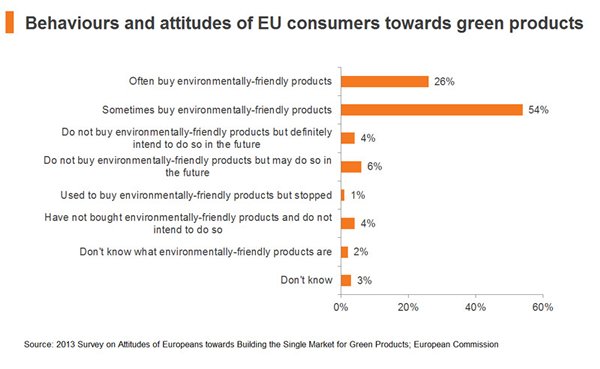 The survey determined that Austrians are the most environmentally-conscious consumers, with 93% buying green products, followed by Germans (90%) and Swedes (89%). Though Bulgarians (61%), Maltese (68%) and Lithuanians (70%) are relatively less environmentally-conscious, the majority would still buy green products.

The factors that influence EU consumers' purchasing behaviour when it comes to sustainable products are noteworthy. The cost/benefit ratio of sustainable products, for instance, is an important factor. Of the respondents who often buy environmentally-friendly products, 68% agreed they are good value for money. As for respondents who sometimes buy green products, 53% agreed they are good value for money. As cost is an important factor, the survey suggests that diminishing the price gap between green and non-green alternatives would likely increase the sales of green products.

Furthermore, 77% of respondents said they are willing to pay more for environmentally-friendly products if they are confident of their efficacy. This illustrates the fact that many Europeans distrust the green claims made by manufacturers for their products.

While two-thirds of respondents said they are confident of labels showing that green products are less damaging to the environment, they are less likely to believe manufacturers' self-made claims. While 52% of those questioned said they generally trust manufacturers' own claims about the environmental performance of their products, 54% said that they do not trust companies' reports on their own environmental performance.

In the meantime, 55% of respondents felt informed about the environmental impact of the products they bought. But 59% thought that current product labels do not provide enough information about the environmental impact of the product, and another 32% believed the information is not clear for some products. When asked where they would like to find environmental information about a product, 81% said this should be on the product label.

The survey demonstrates that EU consumers have a real need for independent and reliable information. This partly explains the success of the EU Ecolabel, a Europe-wide, voluntary scheme for textiles, footwear, electrical appliances, furniture, cosmetics and cleaning products. The label, launched since 1992, provides information on the product's environmental impact throughout its lifecycle, the raw materials that were extracted through to production, use and disposal. Customers have confidence in EU Ecolabel product as independent experts have tested it.

Corporate Concerns

In line with the rising environmental consciousness of consumers, many EU companies have adopted green practices to meet their concerns. These include reduced production costs, enhancing their competitive edge and – above all – becoming more socially responsible. While green practices are now commonplace among major EU businesses, smaller companies are also striving to become more environmentally-responsible, while increasing their visibility in the green products market.

According to the 2013 Survey on SMEs, Resource Efficiency and Green Markets, by the European Commission, nearly all the respondents said that they comply with environmental legislation. Additionally, more than half the SMEs active in green markets offer products and services with environmental features. As for those surveyed who offer products and services with environmental features, 26% are in construction; followed by food and beverages (24%); electronic and mechanical machinery and equipment (22%); furniture, wood and paper products (20%); and textiles, wearing apparel and leather products (9%).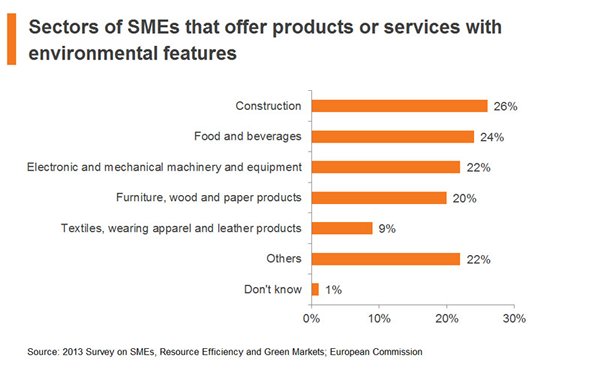 EU companies, particularly larger corporations, also require their partners to adopt business practices conforming to their own environmental policies. BASF, for example, stipulates its suppliers have to be evaluated and selected not only on the basis of economic criteria, but also on their environmental standards. To this end, BASF is part of the "Together for Sustainability" initiative adopted by leading chemical companies for the global standardisation of supplier evaluations and auditing. This aims to develop and implement a global programme for the responsible supply of goods and services, while improving suppliers' environmental standards.
Green Laws and Regulations

Environmental Protection Regime Changes

As a green pioneer, the EU continues to roll out laws and regulations aimed at providing a high level of protection to the environment and people's health. These laws and regulations inevitably have an impact on the merchandise that is sold in the region. These regulations are regularly reviewed and, when necessary, updated. It is therefore essential that Hong Kong exporters maintain an awareness of this changing legal environment.

Recent major developments encompass waste electrical and electronic equipment (WEEE); restriction of hazardous substances in EEE (RoHS); registration, evaluation, authorisation and restriction of chemicals (REACH); and laws relating to the ecodesign of energy-related products. EU interest in the nanomaterials sector is also growing.

WEEE

With regard to the framework of the EU's WEEE law, the former directive was upgraded by WEEE Directive 2012/19/EU. Member states were obliged to implement the new WEEE provisions by 14 February 2014. In April 2014, the European Commission published its long-awaited WEEE Frequently Asked Questions (FAQs), a document that provides clarification on certain "grey" areas and further guidance relating to the new directive.

These include determining when an authorised representative must be appointed by the EEE manufacturer; whether components, consumables and batteries fall within the WEEE Directive's scope; the interpretation given to terms such as `placing on the market;' issues related to the separate collection of WEEE by EEE manufacturers and importers; as well as the need to provide evidence when shipping used EEE out of a member state. This document is not intended to be legally binding, and the Commission intends for it to be amended when necessary.

RoHS

Still in the realm of electrical and electronic goods, eight new directives amending the RoHS Directive 2011/65/EU were published on 20 May 2014. Despite the restriction of six new hazardous substances, exemptions may be granted for certain applications. These exemptions are found in Annexes III and IV of the RoHS Directive 2011/65/EU.

Meanwhile, the Commission is in the midst of reviewing RoHS substance restrictions, with a view to adding to the current list of six. In this regard, a proposal for the restriction of four phthalates, namely DEHP, BBP, DBP and DIBP, is expected to be adopted shortly by the Commission, and will be made public later this year.

REACH

Another interesting development, in the context of REACH, saw the 25 June 2014 publication of the European Chemicals Agency (ECHA) guide as to "How to assess whether a substance is used as an intermediate under strictly controlled conditions and how to report the information for intermediate registration in IUCLID." IUCLID is an ECHA-related software application used to capture, store, maintain and exchange data on the intrinsic and hazardous properties of chemical substances.

The guide aims to support the registrants and downstream users of intermediate substances. It acts as a check to see if their use of the substance complies with the definition of "intermediate" under REACH, in order to benefit from derogations under the REACH Regulation. This could include reduced registration requirements and an exemption from authorisation requirements. The guide provides examples of intermediate use and of the strictly controlled conditions required for reduced registration.

Additionally, on 16 June 2014, ECHA announced it had added four new Substances of Very High Concern (SVHCs) to the REACH Candidate List. As from this date, these additions create new obligations for suppliers of substances or of mixtures and articles that contain them. The Candidate List now contains 155 SVHCs.

Ecodesign

According to the framework of the EU's Ecodesign Directive (2009/125/EC) for energy-related products, the European Commission is establishing the Ecodesign Working Plan 2015-2017. To support the Commission, a study is working on the classification of priority product groups for ecodesign and energy labelling legislation.

On the basis of two draft reports of the study, published in May and June this year, a list of 108 product groups has been presented, from which a set of priority product groups will be chosen. These product groups are divided into thematic fields of application, including: cleaning equipment, indoor climate equipment, ICT and telecom equipment, leisure equipment, as well as food and drink preparation equipment. In the next report, no more than 20 priority energy-related product groups will be chosen and ranked by their resource-improvement potential. Thereafter, this ranking will be complemented with quantitative and qualitative considerations. The final report is expected by January 2015.

Nanomaterials

Finally, the European Commission organised a stakeholder consultation, ending 5 August 2014, on the level of available information about nanomaterials on the market. This was felt to be necessary, as the Commission claims some nanomaterials and related uses may have health and environmental risks. The consultation set out various options for information gathering with regard to nanomaterials and their uses to improve responses to potential risks.

It was the first step in what is likely to result in a proposal for a Regulation on an EU Nano-Registry, which the Commission could present by spring 2015. The Registry would require the registration of nanomaterial-related information by manufacturers and importers. It is not yet clear whether the registrations will have to be carried out by suppliers of nanomaterials or by downstream users that manufacture products. This is one of the points that will be debated before an EU Regulation is eventually adopted.

Recommendations for Hong Kong Exporters

Keep Up to Date with EU Green Consumerism

The EU is among the most environmentally-conscious region of the world and a hotbed for green consumerism. While EU consumers attach great significance to the green features of products, there are also other factors that come into play when they make purchases. Price is of particular concern, as is the merit of the product's claims to environmental friendliness. Hong Kong exporters should therefore keep abreast of relevant developments and respond accordingly.

Cautious Customers

To meet the needs of vigilant EU consumers, Hong Kong exporters should take note of the cost/benefit ratio of sustainable products. They should offer more than just costly like-for-like alternatives of less eco-friendly items, thereby justifying the premium charged. For example, enhancing the money-saving appeal of their products – such as the power efficiency of energy-consuming goods – could be an effective strategy to boost sales. Meanwhile, Hong Kong exporters should also better utilise the EU Ecolabel to distinguish their offerings and counter scepticism among EU consumers over green product claims.

Keep Compliant

Along with proliferating compliance requirements due to the growth in green consumerism, Hong Kong exporters will likely face increasingly stringent regulatory requirements. These include electrical and electronic equipment waste, hazardous substances in electronic devices, chemicals, as well as energy efficiency designs and standards. EU regulators are constantly tightening existing laws and implementing new ones. This makes it essential for Hong Kong exporters to stay alert to existing and prospective green product requirements.

Cradle-to-cradle

Products are truly green only when they are designed, produced, packed and moved in an environmentally friendly manner. They should also be recycled after their end-of-life disposal. The EU's green laws and regulations encourage manufacturers to think cradle-to-cradle (C2C) and take green steps from the start of production, when materials are chosen and recycling capabilities are determined. Particularly noteworthy are the emerging trends of using materials that can re-enter the environment, such as biodegradable and organic materials, along with the inclusion of C2C assessment in the product design process.

Sustainable Supply Chains

Following the growth of C2C, Hong Kong exporters should develop and manage sustainable supply chains. This includes recognising the importance of using environmentally-friendly materials, as well as enhancing product and lifecycle designs by securing a reliable supply of sustainable raw materials. Such actions should be backed up by conforming to ISO 14001 environmental management standards. This will guarantee Hong Kong exporters unfettered access to the EU and negotiate the challenging regulatory requirements. It will also help them stay competitive amidst the rising wave of sustainable consumption in the EU.