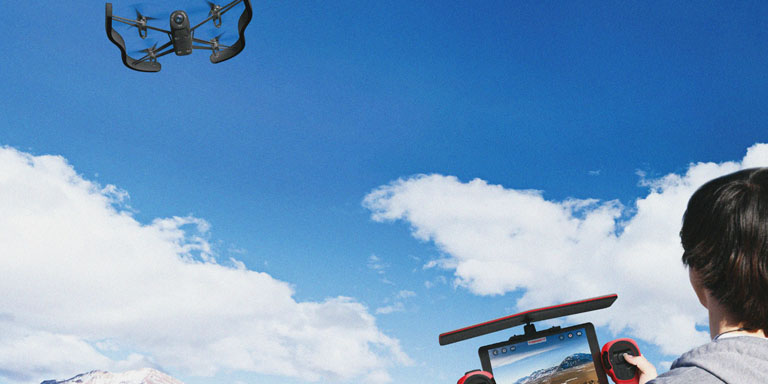 Taking Flight
Hong Kong is giving wings to French tech company Parrot, which has made the city its manufacturing and distribution hub.
Bebop, Sumo and Rolling Spider are drones that fly, roll or bounce at the command of pilots using smartphones, which display all the fun captured by high-definition video cameras on board.

The helicopter and MiniDrone, created by innovative French tech firm Parrot, are flying into the hands of consumers, thanks in no small part to the solid business advantages available in Asia's world city.

"Most of the products are designed in France, but all of them have been launched in Hong Kong," says Elise Tchen-Thebault, CEO of the company's regional headquarters, Parrot Asia Pacific.
Market for Innovation
A regular exhibitor at such events as the HKTDC Hong Kong Toys & Games Fair, the company debuts some of its products here because "we know that Hong Kong people are fond of innovative products."

Ms Tchen-Thebault says that Parrot is equally fond of Hong Kong's access to regional markets, as well as favourable tax rates and close proximity to manufacturing on the Chinese mainland. Rule of law and growing expertise with intellectual property (IP) also help Parrot's business take off.

"For Parrot, IP is really important," says Ms Tchen-Thebault, pointing to a product line ranging from car navigation systems and hands-free devices to audio gear; even an innovative device to monitor houseplants with smartphones. "Hong Kong is very easy: the legislation and legal things are quite clear and transparent, and the government helps companies to protect IP."
Powerful Products
The Paris-based company was created 20 years ago by several partners, including Managing Director Henri Seydoux, who now leads a global workforce of 850. At least half of the staff is involved in research and development of consumer products for smartphones and tablets, such as the MiniDrones. They have also pioneered high-tech automotive electronics, ranging from navigation systems to Bluetooth-enabled entertainment systems.

The wireless Bluetooth technology raises the appeal of Parrot's home and mobile audio equipment. Noise-cancelling headphones, called Zik, have impressed music lovers, including the late musician Lou Reed. The former Velvet Underground singer helped Mr Seydoux fine-tune the device for playing rock music when they met for a studio session in September 2013, one month before the artist passed away.
Parrot's high-tech solutions are finding their way into professional applications. The company makes unmanned aerial vehicles for use in forestry and disaster management, and another business unit pioneers ultra-fast "liquid lenses" for miniature electronics, used in medical and industrial equipment.

"We invest a lot in R&D – almost 12 to 15 per cent of our revenue," says Ms Tchen-Thebault, underscoring the need to fend off copyright infringers with IP protection in Hong Kong, where Parrot coordinates most of its manufacturing and distribution.

"Hong Kong is the gateway to China," she says. "We set up the company eight years ago, at a time when China was not so open. So for us, it's quite easy and automatic to come to Hong Kong first. I would say that Hong Kong is the first step to mainland China. Within five hours flight time, you can have access to three billion people."
Easy Business
Ms Tchen-Thebault says that compared to her native France, Hong Kong has proved to be a less complex place to do business. "It's a free port, so it's very easy to set up a company. There are no import taxes, no other indirect taxes – you can do business very easily."

The businesswoman says she is not surprised that French expatriates are finding their way to Hong Kong, where more than 600 French firms have set up operations.

"I would say that from a personal life perspective, Hong Kong is really a city that's worth investing in. Life is quite easy, everything is efficient, you can find shops open seven days, 24 hours, and you can adapt yourself very easily here."
Related Links
France
Hong Kong
Western Europe