https://hkmb.hktdc.com/en/1X09YVJW
Business Opportunities Abound in Post-Austerity Portugal
After three years (2011-2014) of painful budget cuts, tax hikes and the sale of state-owned assets, Portugal is emerging from a difficult period of austerity. It is now seeking to rejuvenate its export sector and its trade ties with markets outside Europe, while enhancing its investment environment in order to attract foreign capital.
In May 2014, it exited from the oversight regime imposed by the European Union, European Central Bank and International Monetary Fund as part of a €78 billion bailout. With its economy duly overhauled, this has opened the doors to those traders and investors looking to enter not just the EU market, but also seeking to access the Portuguese-speaking markets worldwide.
Its austerity measures and reforms have succeeded in halving the country's budget deficit from its 2010 level to just 4.9% in 2013. This, though, still falls short of the 4% and 2.5% targets agreed, respectively, for 2014 and 2015.
The country's employment situation is also causing some alarm, despite cuts to public sector salaries, sickness and unemployment benefit. While unemployment figures have improved (from a high of 17.5% in the first quarter of 2013), its year-end jobless rate of 16.5% made Portugal the fourth highest country for unemployment in the EU, behind only Greece, Spain and Croatia. Taken together with having the bloc's third highest ratio of government debt to GDP (129% in 2013, behind only Greece and Italy), it is clear the Portuguese economy still has a long way to go before celebrations are called for.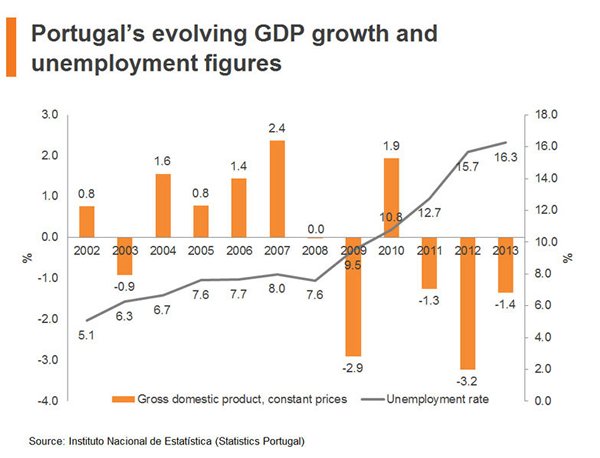 Looking beyond Portugal's domestic market
Portugal's population of just 10.5 million people and its below-EU-average income level (US$20,700 in 2013 compared to US$34,100) may not seem too promising at first glance. Despite this, though, the country is expected to resume positive economic growth this year.
Traders and investors should also be aware there are 500 million consumers in the EU, plus another 250 million people worldwide who speak Portuguese, due to their centuries-old links with the country. Hong Kong companies can readily find avenues to these European and Portuguese-speaking markets [1] by utilising Portugal as a gateway and an experienced facilitator.
As one of the key drivers of its recovery, Portugal has been striving to diversify and expand its trade, particularly to markets where it has long been able to achieve favourable outcomes. The country's goal is to improve its trade balance, becoming a net exporter rather than a net importer. As such, it managed to maintain a faster-than-imports growth in exports between 2009 and 2013. During the five years to 2013, Portugal's exports grew at a compound annual growth rate (CAGR) of 7%, while its imports increased only by a CAGR of 3%, resulting in narrowing trade deficits with the EU and the wider world.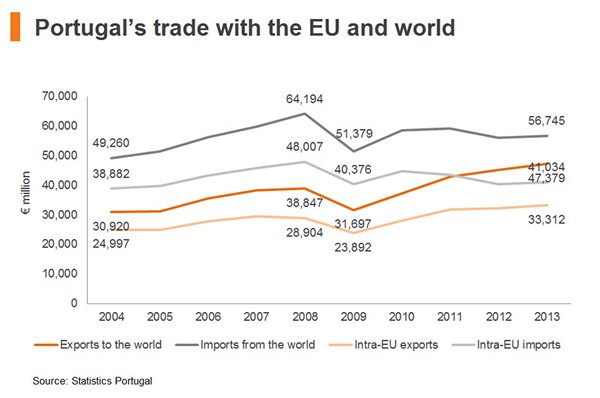 Meanwhile, Portugal enjoys a surplus in its trade with Portuguese-speaking markets. This highlights not only the popularity of Portuguese exports in its former colonies, but also the marketing capabilities and effective networks that Portuguese traders have established in these markets.
During the period 2009-2013, Portugal's exports to and imports from Portuguese-speaking markets advanced at a CAGR of, respectively, more than 11% and 31%, reaching record high levels. Portugal's expanding trade with the Portuguese-speaking markets and the stability demonstrated by these trade flows during the years of recession not only reinforce Portugal's potential in its former colonies, but also indicate a window of opportunity for both struggling Portuguese traders and those foreign investors wanting to tap into these markets with the assistance of a Portuguese partner.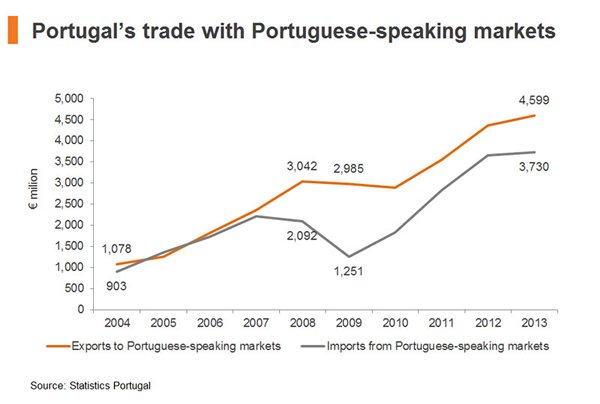 Tech Opportunities and cooperation
Taking a longer-term perspective, the Portuguese government is working to change the nation's economic development mode. It wants to move from one based on public consumption and investment to one focused on the development of its high-tech sector. If successful, this could help Portugal deepen its transformation into a diversified and service-based economy, a repositioning it has nurtured since joining the EU in 1986.
After witnessing a slide in exports of its high technology sector from 7.7% in 2004 to a decade-low of 3.1% in 2010, Portugal has recently been playing catch-up. In 2013, there was a slight rebound to 3.4%, as well as a proliferation of ICT (information and communications) start-ups. A number of these supply software to NASA and the United States Army, as well as biotech companies, such as CGC Genetics [2], a specialist in disease detection and medical test products servicing the world's leading research universities and hospitals.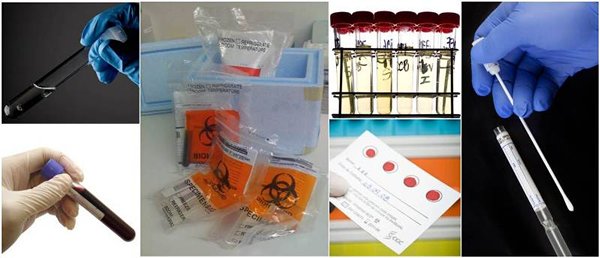 CGC Genetics aims to provide the medical community worldwide with the most advanced forms of diagnosis in the field of medical genetics.
Source: CGC Genetics
Hong Kong companies should consider how best to find a niche for themselves in Portugal's trading regime. As well as helping Portuguese companies tap into Asian markets, there are promising prospects for those Hong Kong enterprises that are involved in technology transfer and licensed high-tech equipment or machinery and who work with the country's outgoing traders.
Chinese investors cash in
Seeking out new export markets, many cash-rich investors from both Europe and elsewhere are eying Portugal's platform role and its enduring ties with its former colonies. By and large, such investors have been involved in buying the state-owned assets that the government was forced to sell off under the terms of its rescue package, while smaller investors have been forging links with the country's traders.
China has been a leading investor in Portugal. China Three Gorges, for instance, acquired a 21% stake in Energias de Portugal (EDP) – Portugal's largest electricity generator, distributor and supplier– in December 2011. Meanwhile, Fosun International, China's largest private conglomerate, acquired an 80% stake in Caixa Seguros, Portugal's largest insurance group, in May 2014, giving the company a 26% share of the Portuguese insurance market.
Mainland investors have also acquired or taken shares in several Portuguese enterprises that have extensive operations in other Portuguese-speaking markets. Sinopec, for example, has bought a 30% stake in Galp Energia's operations in Brazil. In other moves, the State Grid Corporation acquired 25% of Portugal's national power grid, Redes Energeticas Nacionais (REN), becoming a strategic service provider to the State Grid in Brazil and a joint venture partner in Angola and Mozambique.
"Golden Visa" opens doors
To further enhance its attractiveness to foreign investors, in October 2012 the Portuguese government launched the Golden Residence Permit Programme ("Golden Visa"), allowing non-EU investors to obtain a fast-track residency permit in Portugal. This also gives visa-free access to the Schengen Area [3]. The Golden Visa scheme is open to those foreign investors who transfer capital (€1 million or above), create jobs (at least 10 positions) or acquire real estate (€500,000 or above). Successful applicants receive a residency permit, the right to family relocation, as well as a permanent residence permit and Portuguese citizenship, in accordance with all other legal provisions.
As of 30 June 2014, 1,166 residence permits had been granted under the Golden Visa scheme following its October 2012 introduction. Of these, 80% (or 952 permits) were granted to Chinese nationals, followed by Brazilians (3%), Angolans (2%) and South Africans (2%). Joao Paes Cabral, director of International Relations for the Lisbon Chamber of Commerce, said most Chinese investors applied by acquiring residential real estate. An increasing number, however, are investing in Portuguese companies in order to carry out manufacturing or the assembly of their own products, as well as to provide near-shore outsourcing orders to Portugal-friendly markets.
Despite dissenting voices, many cash-strapped Portuguese manufacturers – especially in high-end fashion, footwear and leather products – have welcomed the Golden Visa scheme. They believe the foreign capital generated by the scheme is essential for the rejuvenation of the country's production facilities and infrastructure. The success of the scheme has ensured growth in near-shore production, sustaining the fast fashion, and the footwear and textile industry at a time when the overall Portuguese economy was in recession.
A perfect match
Many Portuguese manufacturers are now keen to access channels that will assist them in marketing their products and brands to the overseas markets, notably Asia. With this in mind, the Association of Portuguese Manufacturers of Footwear, Components, Leather Goods and Associated Articles (APICCAPS) and the Textile and Clothing Association of Portugal (ATP) have assisted their members by organising business-matching workshops and trade missions around the world. The aim of all of these initiatives is to build links with venture capitalists and distributors on a global basis.
Joao Maia, director of APICCAPS, said Portugal is highly competitive when it comes to high-end footwear manufacturing. He believes the country's shoe manufacturers are rightly popular with a number of international brands, such as Louis Vuitton and Chanel. This, he says, sees the "Made in Portugal" label come second only in status terms to "Made in Italy" with regard to image and factory prices. In line with this, several fashionable Portuguese footwear brands, notably Fly London and Lemon Jelly, are experiencing rapid expansion around the world, including finding success in a number of Asian markets.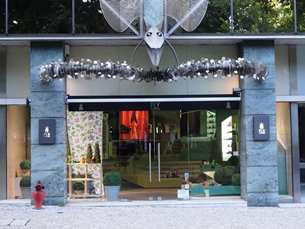 Portuguese footwear brands are expanding their footprint across the world.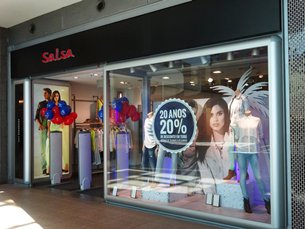 Portuguese fashion brands such as Salsa are increasingly popular not just in Portugal, but overseas markets like the Middle East.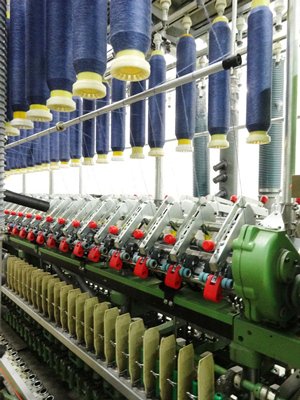 Somelos' weaving factory near Porto is one of the largest in Portugal. (1)
According to Paulo Vaz, director general of ATP, the garment and textile sector is also doing well. He said "Portuguese manufacturers are not competitive in the low-end segment, where consumers focus only on price, but rather in the high-end segment, where design, technology and branding matter." He believes Hong Kong enterprises have the opportunity to be both suppliers of raw materials (such as high quality textiles), as well as being a buyer and a platform for Portuguese garments and textiles in the Asian markets.
One illustration of this is Somelos, a major player in Portugal's textile manufacturing industry and a producer of top quality fabrics since 1958. Manufacturing nearly all of its products in Portugal, Somelos opened its Hong Kong office in 2009 in order to handle its Asian business, in conjunction with its agents in Japan, South Korea, Singapore and India. Its presence in Hong Kong puts the company in touch with an array of high-end textile buyers, especially those on the mainland who are looking for quality and design that are not locally available. Joana do Bem, Regional Director for Somelos International HK Limited, said Hong Kong companies are in an outstanding position to work with Portuguese fashion manufacturers or brand owners, with many of them lacking the financial resources to make their products or brands well-known in Asia.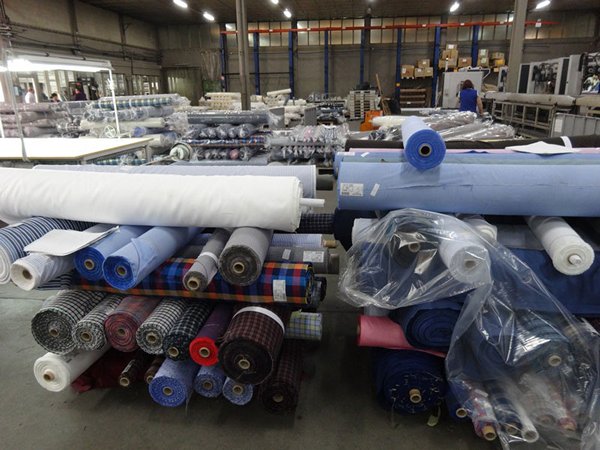 Somelos' weaving factory near Porto is one of the largest in Portugal. (2)
Hong Kong-Portugal business partnerships
Hong Kong companies may consider engaging reliable Portuguese distributors who have extensive networks in both the domestic market and abroad. Sonae, the largest retailer in Portugal, is seen as a good choice for new-to-the-market Hong Kong traders.
Sonae started out in wood products, but diversified into retail supermarkets in the 1980s. Its portfolio now includes telecommunications (Sonaecom, the second-largest telecom company in Portugal), software, information and systems integration, media and shopping centres (nearly 50 shopping centres in seven countries, including Portugal and Brazil). The company's wide range of business interests and its market coverage offer Hong Kong companies a variety of commercial options.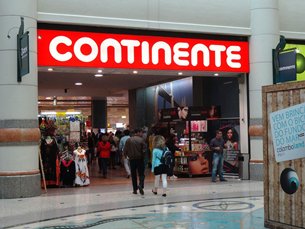 Continente (hypermarket) and Worten (consumer electronics and entertainment) are popular in Portugal. (1)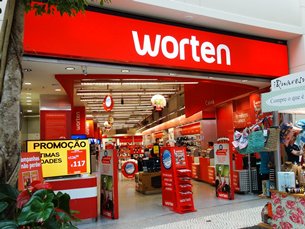 Continente (hypermarket) and Worten (consumer electronics and entertainment) are popular in Portugal. (2)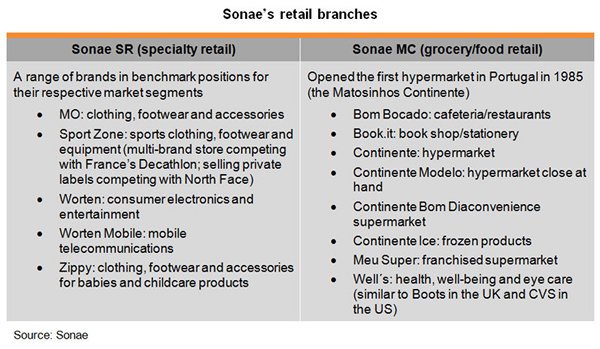 Joao Portela, Sonae's International Development Director, believes it is essential to maintain quality control over private-label products, such as consumer electronics and fashion, especially on the mainland. As a result, the company opened an office in Guangzhou to better serve its customers (3.2 million active loyalty cards). From here, it actively seeks out new suppliers and new products. As a leading sourcing hub in Asia, Joao said Hong Kong is perfectly placed to assist Sonae in finding reliable suppliers at good prices, as well as in helping to identify potential business partners.
Demonstrating a practical application of this, Soane is planning to develop a private-label collection for the mainland market. It is also studying the feasibility of supplying high-quality, private-label products (such as canned fish) under franchise to those Asian retailers looking to enrich their existing product mix and brand portfolio. Aside from buying and selling merchandise, Sonae is assessing the prospects of selling its retail expertise, such as category management, to retailers worldwide. Overall, Portela believes Hong Kong's high concentration of representative offices for mainland and international retailers will be vital to Sonae in the very near future when it make its Asian debut.
---
[1] Other than Portugal, Portuguese-speaking markets include Angola, Brazil, Cape Verde, Equatorial Guinea, Guinea-Bissau, Macau, Mozambique, Sao Tome & Principe and East Timor.
[2] CGC Genetics is the first private medical genetics laboratory in Portugal, having experience of testing samples for university hospitals in Hong Kong.
[3] Portugal joined the Schengen Area on 25 June 1991. Today, the Schengen Area encompasses most EU States, except for Bulgaria, Croatia, Cyprus, Ireland, Romania and the UK. Bulgaria and Romania are currently in the process of joining the Schengen Area. Of non-EU States, Iceland, Norway, Switzerland and Liechtenstein have joined the Schengen Area.
Portugal
Western Europe