https://hkmb.hktdc.com/en/1X09XKPN
Pet products market in China: rising demand for specialised products
Over 10 years ago, the pet products market in China was dominated by basic practical products such as pet food, water feeders and food bowls. But as the mainland economy grows in leaps and bounds, people's purchasing power increases, and pet owners are better informed about pet care through such channels as the internet and pet magazines, demand for specialised pet supplies, including cleaning products, deodorisers and outdoor supplies specially made for pets, has begun to expand.
According to Shirley Wu, deputy general manager of Shanghai Favour Business Co Ltd ("Favour"), the main players in China's pet products market in the past were small businesses with a relatively low level of specialisation. After years of development, coupled with the fact that the trade has started to move towards developing high-end pet products, she estimates that China's pet products market will grow at a rate of 30-40% in the years to come.
Going after high-end pet products
Founded in Shanghai in 2003, Favour is a distributor specialising in pet products and pet food. After years of growth, Favour's distribution business now covers the whole country. Apart from offices in Jiangsu and Zhejiang, the company has established a second-tier distribution system in Beijing, Guangzhou, Dalian, Shenyang, Nanjing, Chengdu and Urumqi, forming a nationwide distribution network with Jiangsu, Zhejiang and Shanghai as the core. Based on her knowledge gained from Favour's distribution network, Wu points out that different regions in the mainland have different demands for pet products. For instance, pet owners in Shanghai and Beijing, who have strong spending power and are less price-sensitive, attach more importance to brands and go after high quality products. As such, market potential is greater. By comparison, pet owners in Guangzhou and Jiangsu are more rational and practical in spending and hence the market has more room for medium-range products and brands.
| | |
| --- | --- |
| Pet toothbrushes | Shampoo for dogs of different colour hair |
Currently, the number of domestic and foreign pet product brands distributed by Favour exceeds 60. They include Joyce & Dolls, Soleil and Haipet of China; StarMark, Isle of Dogs and Drinkwell of the US; Sunrise and Richell of Japan; and flexi and Wahl of Germany. As the development of pet products in foreign countries is more mature and the range of products is more extensive, many high-end pet owners tend to go after foreign brands when they shop for pet supplies. In particular, young pet owners favour pet products that are novel, practical and unique in design because to them keeping pets is a trendy lifestyle. To keep abreast of changing lifestyles, today's pet owners treat pets as family members. As a result, pet products are becoming increasingly "human" and sophisticated. In recent years, the demand of the mainland market for specialised pet products has grown markedly.
Huge potential for pet health care products
Pet owners are paying more and more attention to the health of their pets. In addition to taking them to pet grooming centres regularly for professional care, great efforts are made where the daily cleaning and care of their pets is concerned. For instance, dogs with different colours of hair have different shampoos, detangling conditioners and wet wipes specially made for them. Meanwhile, domestic supplies for pets are increasingly "human", examples include cooling pads specially designed for cats, pet playpens, and deodorisers for the home. Apart from paying attention to the physical health of their pets, pet owners have also begun to take note of their pets' mental health. According to Wu, as many pets stay home alone after their owners have gone to work, some of them would feel emotionally distressed, which would cause them to bite sofas or even shed their hair. Hence, some toys specially designed for pets have come onto the market. One example is interactive laser pet toys. The flickering laser emitted from these toys would keep the pets on the move, thus keeping them active and healthy.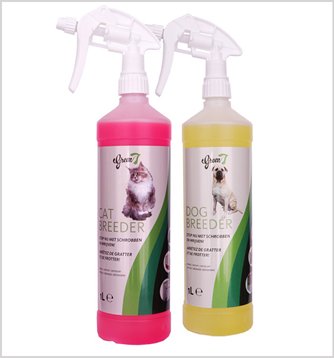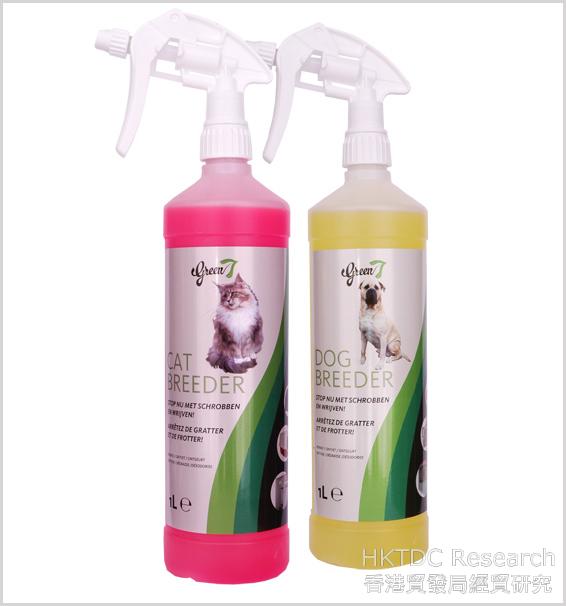 Stain remover for pets
Sales channels offering pet services
The target customers of Favour are medium- to high-end consumers, who often have high expectations of pet products' features and functions. In view of this, Favour provides training for dealers so that their sales staff can thoroughly explain the products and effectively recommend them to target customers. Favour's dealers are mainly pet grooming centres, veterinary hospitals, dogs and cats homes, supermarkets and hypermarkets. However, the rapid development of online shops in recent years has made an impact on the sales of these physical stores. Take pet food for example, Wu reckons that online sales now account for 70% of total market sales in China. Fortunately, online shops cannot replace physical stores totally, especially physical stores which offer pet services, such as pet grooming centres, pet hospitals and pet training schools. Hence, physical stores providing pet services will likely become the main sales channels of pet products in the years to come.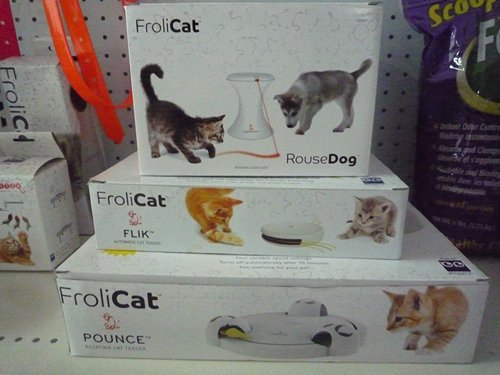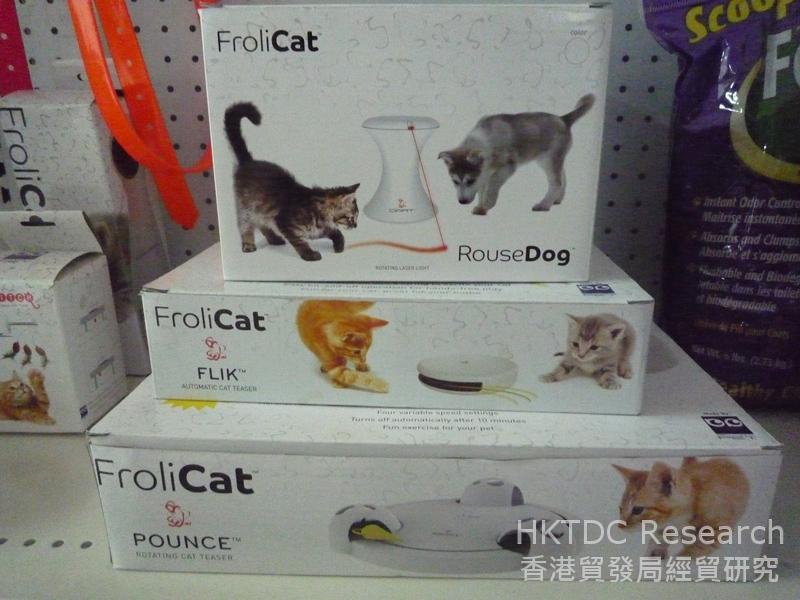 Interactive laser pet toys
Promotional channels of pet products
Since pet products have well-defined consumer groups, advertising must be targeted. At present, the majority of brands market their products in pet magazines and online pet shops. Wu points out that pet owners usually form their own circles. For instance, dog owners would regularly take their pets to the park to play with other dogs. In China today, as WeChat is the most popular messaging app, pet owners would often form chat groups to arrange the time and place for gatherings and to share their experiences in keeping pets. Some pet shops and pet product brands would also use social media for marketing and promotion, such as opening an account on WeChat and using this platform to provide information and practical tips on pet care, as well as promotional messages on products. The goal, of course, is to raise the brand profile of the pet shop or pet product, and to create word-of-mouth.
Compared with the pet food market, currently the demand for pet products mainly concentrates in Beijing and Shanghai. However, as the awareness of pet owners about pet care increases, it is believed that such demand would gradually spread to other cities. Hence, specialised pet products have vast room for development.
Mainland China
Mainland China