https://hkmb.hktdc.com/en/1X09XAAW
E-tailing in China: the role of social media in marketing
Ever-widening wireless network (Wi-Fi) coverage, coupled with increasing affordability of smartphones, has prompted more and more internet users to access the web via mobile phones in China. In 2013, 81% of China's netizens accessed the web via smartphones1. In recent years, with the rapid development of social media websites, internet users can connect with friends anytime anywhere through smartphone apps. Increasingly, people are interacting with others via social media, which are set to be an important channel for consumers to access everyday life information as well as promotional messages on products and services.
According to HKTDC's "Survey on China's middle-class consumers", social media is one of the channels through which the respondents share their consumption experience. Sixty-three percent of respondents agree that "I believe in products recommended by people I follow on Weibo and WeChat and am interested in giving them a try." China's consumers rely on word-of-mouth. How marketers generate positive word-of-mouth for their products and services through social media in the consumer's community of friends will be an important part for business promotion and marketing.
Usage of Weibo
More than 10 leading Chinese websites including Tencent, Sina, Sohu and Netease currently provide Weibo (or microblog) social media service. At the end of 2013, China had 280 million Weibo users, representing approximately 45.5%2 of total internet users. A Weibo is an information sharing, dissemination and acquisition platform3 that allows anyone or any user-selected group to read text messages of up to 140 characters, as well as access photos and videos etc. Key features of a Weibo include: share / forward posts (70.1%), search news / hot topics (69.5%) and post content (64.6%) etc.
Companies post interesting content on Weibo in the hope that users will actively tweet such posts to friends thereby raising brand profile and awareness among user communities. Of course, how to attract users to read and tweet such posts is the key.
Tips to get content shared among Weibo users
More and more companies have added "share" features in their websites, allowing users to click and share on their own Weibo page information about the company and its products. For example, when a user reckons his friends would be interested in a certain product or service, he can just tweet that piece of information along with pictures and text description, without the need to write new content.
According to a report on Weibo user behaviour in 2013 compiled by Sina Weibo Data Center, only 24% of Weibo users would share on their Weibo page information about the seller after making an online purchase. However, it is observed that by increasing incentives such as discounts and rebates, 75% of the users not originally consider sharing said they would share the information. This means that most users do not mind tweeting company information, and offering small gifts or benefits would "encourage" them to actually do so.
Businesses with physical stores can also bring offline customers online to become their Weibo fans. For example, Hong Kong brand Teelocker has run a campaign at its physical stores. After finishing shopping, a customer who tweeted Teelocker's post to five friends on Weibo was presented with a small gift. Such a campaign was quite effective because posts tweeted by friends often enjoy higher click-through rates than traditional promotional channels and word-of-mouth can also be established among the customer's friends.
Engaging the consumers
After attracting consumers to become their fans, companies must diligently update their Weibo content and reply to messages left by fans in order to keep them engaged. Meanwhile, companies need to set a timetable for promotional tie-ins for New Arrivals in order to effectively promote their products. For example, companies can organise campaigns to increase brand awareness among consumers and to keep them engaged.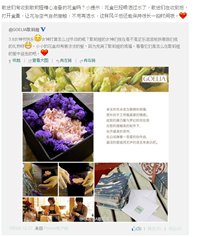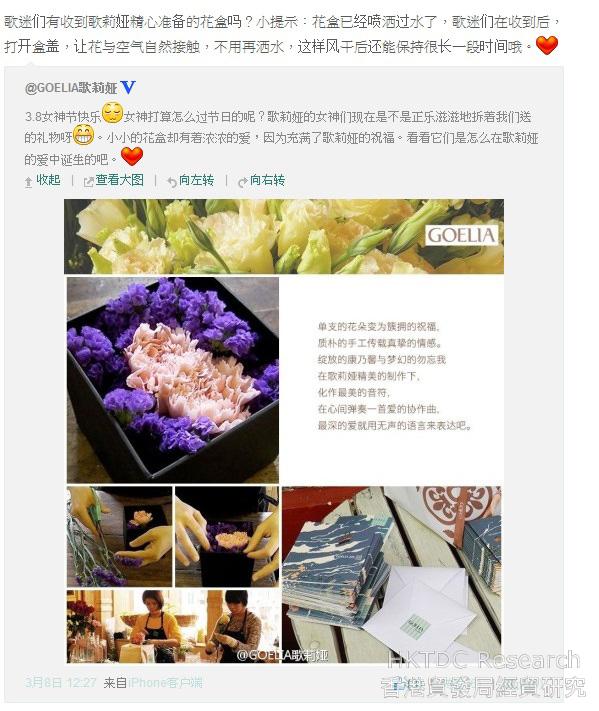 Goelia shares on its Weibo page backstage images of making flower gifts
Women's clothing brand Goelia of China has also made good use of Weibo as a marketing channel in recent years. For example, in the Quanmin Mingxing (meaning "everyone's a star") Show on Weibo earlier this year, participants were invited to post photos of themselves wearing Goelia brand clothing onto its Weibo account for public voting. This event helps attract Goelia's fans on Weibo to tweet the posts to their friends, thus increasing the exposure of the Goelia brand to other Weibo users. When consumers find that a product is good value for money or is better than other products, they will naturally spread the messages within their community of friends.

The promotion is, of course, not just "one-off ". After the six-day show was concluded on 5 March, Goelia sent flower gift boxes to its members on Women's Day on 8 March, followed by notes of thanks for members' participation on its Weibo page. A lot of fans tweeted back and thanked Goelia for the gift. In this way, the brand image of "sharing the good things in life" was further enhanced. Goelia as an exquisite and elegant brand is marketed surreptitiously on Weibo.
Points to note in sending tweets
As the tweets can be seen by anyone, so companies should consider the following three main factors. First, what is the most effective time of sending tweets? Generally, the largest numbers of Weibo users go online during the break after a meal (64.6%) and before going to sleep (61.8%). So companies should send new messages to keep customers updated of company activities during these timeslots.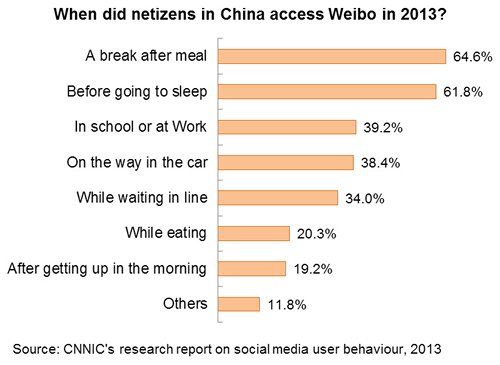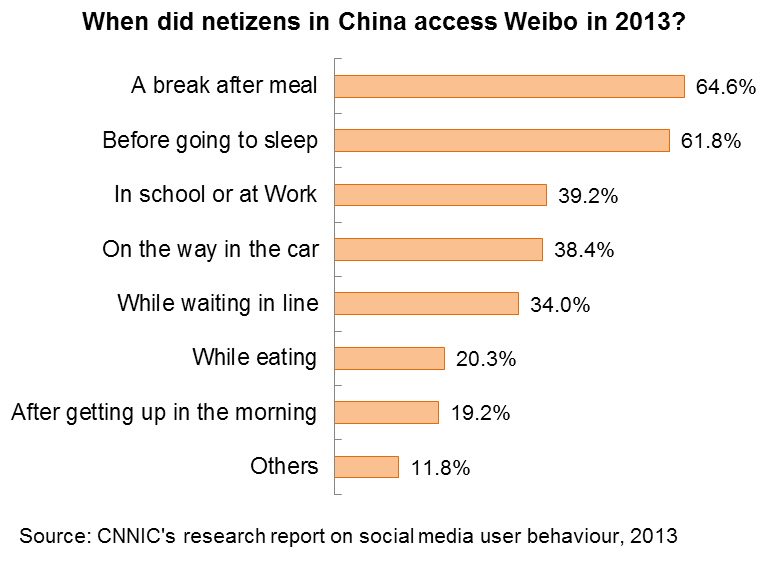 Second, beware of sending too many tweets to avoid causing resentment. Some companies have said that most "ideal" is to send a tweet daily. This, of course, depends on the actual situation. During promotion, for example, timely updates are needed to deliver new information. Also, when "fans" leave messages, companies need to reply promptly to build a good interactive experience. Conversely, if a company has not updated its Weibo content for a long time, its customers could easily forget about it. Notably, the customer service staff or team responsible for replying messages need to have a thorough knowledge of the company's system, brand positioning, and its products in order to speak with one voice to establish a clear image of the brand.
Third, companies need to keep abreast of issues and topics that are of most interest to consumers. Only pushing messages about the company's products and services may become counterproductive. Generally, consumers are interested in images of animals and festival-related topics. Currently, most companies make use of Weibo for brand promotion and not for direct product sales. But interested users may click the link provided on the company's Weibo page to enter the online shopping site.
Features of WeChat
WeChat is an instant messaging app4 launched by Tencent in 2011 to provide public platform, community of friends and push message functions. Users can add friends and follow public accounts they like by choosing "shake", "search by phone number", "look around" or "scan QR code". According to reports, the average monthly WeChat active users reached 360 million in 2013.
WeChat separates the public account into subscription account and service account. The purpose is to set new rules for group messaging5 to minimise disturbances to followers. Subscription account mainly provides news and information which suits the needs of general users. Subscription account may send out one message daily which appears in a separate folder, but users do not receive an instant alert. Service account is used to provide services and is more suitable for banking and corporate entities in general. Restrictions on group messaging by service account are tighter: only one message is allowed monthly but followers will receive an alert. The push message shows up in the chat list. Businesses can select one of these two types of accounts to interact with their customers, based on the nature of their products/services and their human resources.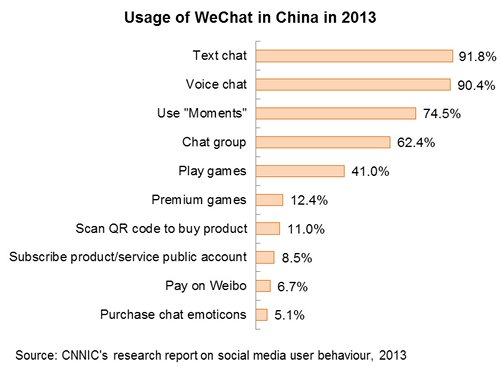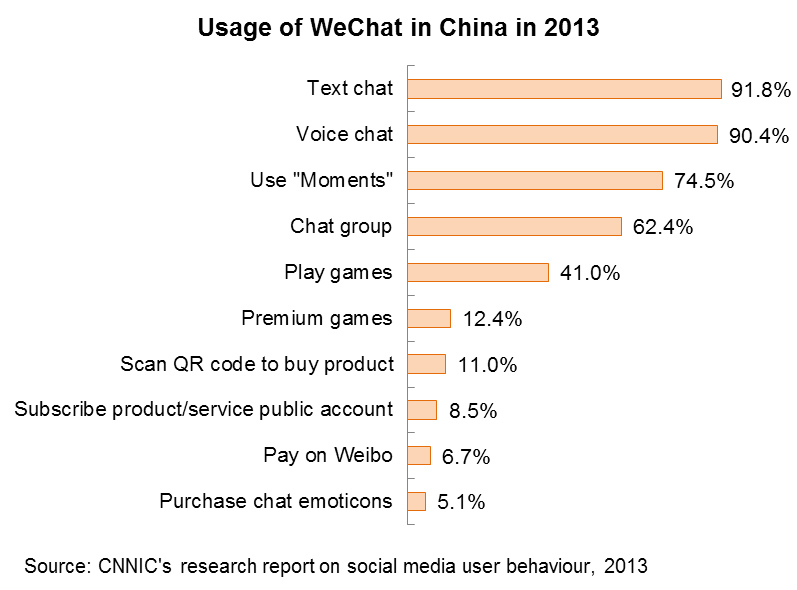 Currently, the main purpose for netizens to use WeChat is to connect and communicate with friends. Over 90 % of the messages are either text chat or voice chat.
WeChat marketing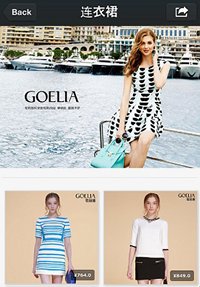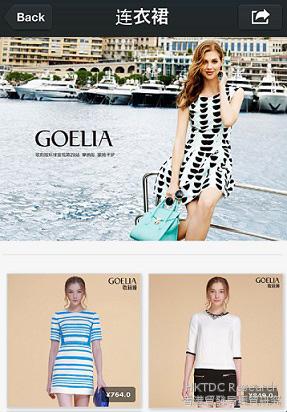 Goelia's shopping zone on WeChat
WeChat marketing is mainly carried out in the following four ways: (1) brand activities: push content by "drift bottle". The bottle content can be text or voice messages without geographical or target recipient limit; (2) the user clicks "look around" to see ads posted by nearby businesses; (3) discounts: consumers, after scanning QR codes in the mall or the shop, will receive an electronic membership card to enjoy instant discounts and perks offered by the company; (4) interactive marketing: companies through their WeChat public account push content to consumers. Among these, discount and interactive marketing appeal most to consumers.
In order to avoid resentment to excessive promotional messages, many companies take special care of the content. For example, businesses selling skin care products not only push through WeChat their activity information, but also useful information to users, such as weather information (reminding users to pay attention to sunscreen or apply moisturiser) and tips on daily whitening regimen.
In addition to providing promotional messages, WeChat has also launched a platform-independent "pay on WeChat" payment feature. Users can purchase on the WeChat public accounts and complete payment by using Tencent's TenPay, or direct debit bank card via the TenPay platform. The entire purchase and payment process is completed on WeChat. On the other hand, businesses with WeChat service account can build on their WeChat page a shopping zone for brand development and product/service sales.
Peak usage of WeChat
With the popularity of mobile phones and the improvement of wireless networks, people tend to use WeChat most during short time intervals (that is, the idle, fragmented time in between daily work or classes; generally not very long, where users cannot do things complex and in-depth). Similar to Weibo users, most WeChat users go online during the break after meal (73.7%) and before going to sleep (73.1%).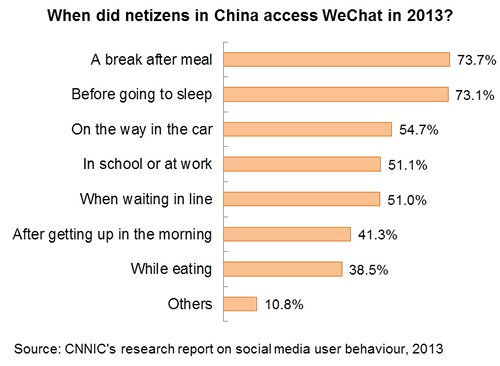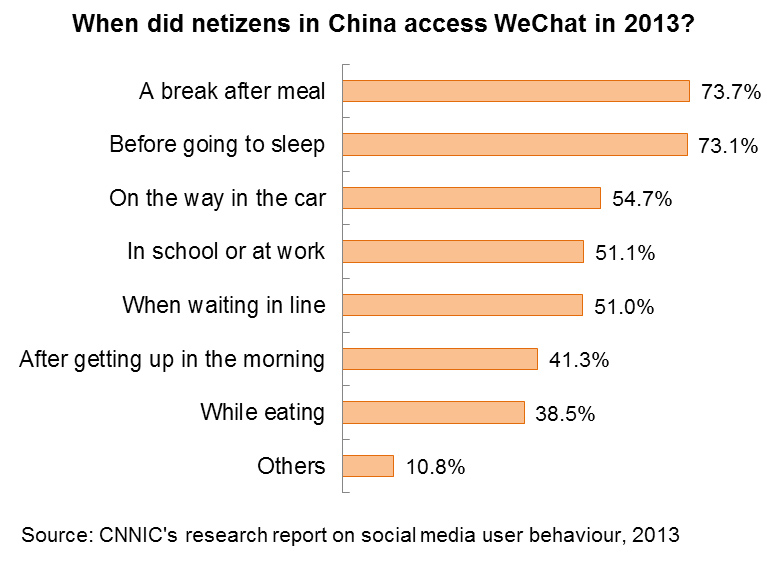 In general, a WeChat user's network is strong because the proportion of real friends and classmates in the contact list of the user is more than 90%, and the proportion of relatives and colleagues is more than 80%6. Personal relationships of WeChat communities are closer, with similar shopping habits, consumer preferences and modes of access to information. So they have a greater chance to resonate. The proportion of real friends, classmates, colleagues and relatives in a Weibo user's friends list is lower than that of WeChat, while the proportion of celebrities, net friends and strangers is higher than that of WeChat.
Since the content of Weibo is open, so some companies will promote and enhance brand awareness through Weibo. They then interact with customers or members on WeChat, building their loyalty to the brand. Compared with traditional advertising, companies through different types of social media and through human contacts, can more effectively enhance the brand profile and increase consumer confidence in the brand.
---
| | |
| --- | --- |
| 1 | The 33rd Statistical Report on Internet Development in China, China Internet Network Information Center (CNNIC) |
| 2 | The 33rd Statistical Report on Internet Development in China, CNNIC |
| 3 | Weibo is a Twitter-style social media service in China |
| 4 | WhatsApp-like application |
| 5 | Group messaging means users do not need to send a message to target recipients individually. The user may broadcast a message to a specified group and all members of the group will receive the information, thereby achieving the purpose of marketing. |
| 6 | CNNIC's research report on social media user behaviour, 2013 |
Mainland China
Mainland China