https://hkmb.hktdc.com/en/1X09X9DW
Indonesia's food and drink market: putting Hong Kong on the menu
More than half of Indonesia's 248 million people now live in cities. With rapid growth in both the numbers of urban households and the number of women in the workforce, Indonesia's food and beverage (F&B) sector has flourished, especially in the country's major cities, notably Jakarta and Surabaya. Given their hectic lifestyles, urban dwellers and working-parent families inevitably spend less time cooking, with dining out showing sustainable growth as result. Meanwhile, time-constrained – but increasingly health-conscious - working parents have fuelled the demand for quality packaged food, particularly imported items.
In 2013, Indonesia's imports of packaged F&B products rose to US$6.1 billion, more than doubling from US$2.9 billion in 2009. In addition, per capita consumer expenditure on food services (including restaurants and cafés) increased by 12% in 2013, considerably outstripping the compound annual growth rate (CAGR) of 8% during the period 2007 2013. Indonesians' increased spending on packaged food and growing preference for dining out at contemporary-styled outlets represents a real opportunity for foreign food exporters and the operators of cafés, restaurants and fast-food chains. Packaged food traders may also find considerable potential in selling to modern grocery retailers, including hypermarkets and convenience stores.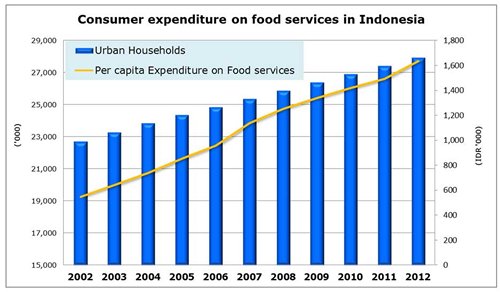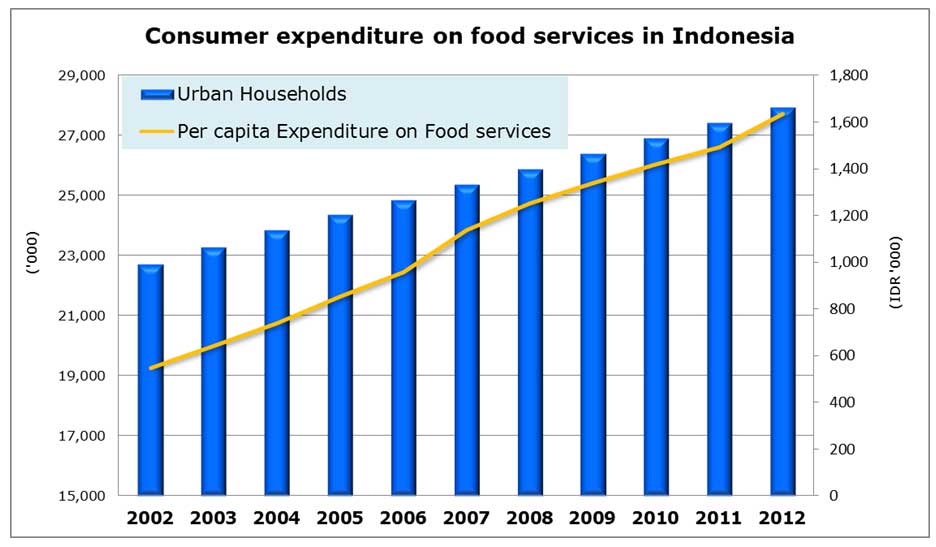 Expanding urban households drive spending on food services
Source: Euromonitor International
Dining out becomes a new lifestyle habit
While young consumers in Indonesia's larger cities frequently socialise in chain cafés and restaurants, adult consumers are increasingly dining out, both for business and for pleasure. Between 2007 and 2012, the number of chain cafés more than doubled to 680, with sales value growing by a CAGR of 15% during that period. With about a 30% market share of Indonesia's chain cafés, Starbucks has more than 140 stores across 12 cities and opened 20 new stores in 2012. As more women are employed and working mothers have less time to cook for their families, parents are eating out, together with their children, ever more frequently. In addition, family and festival gatherings now typically take place in restaurants. To boost sales per customer via increased dwell time, many restaurants and cafes are increasing their range of value-added services, notably the introduction of free Wi-Fi and dedicated children's corners. Many are also investing in stylish decor and ambient surroundings in order to create a more conducive environment.
| | |
| --- | --- |
| International cafe brands have a strong presence in shopping malls | Chain coffee shops are popular |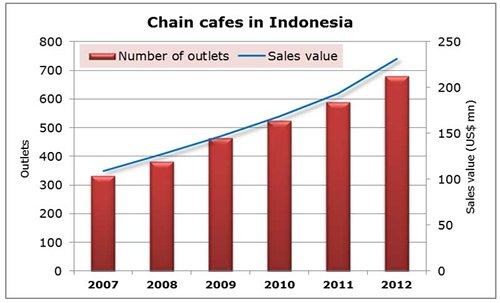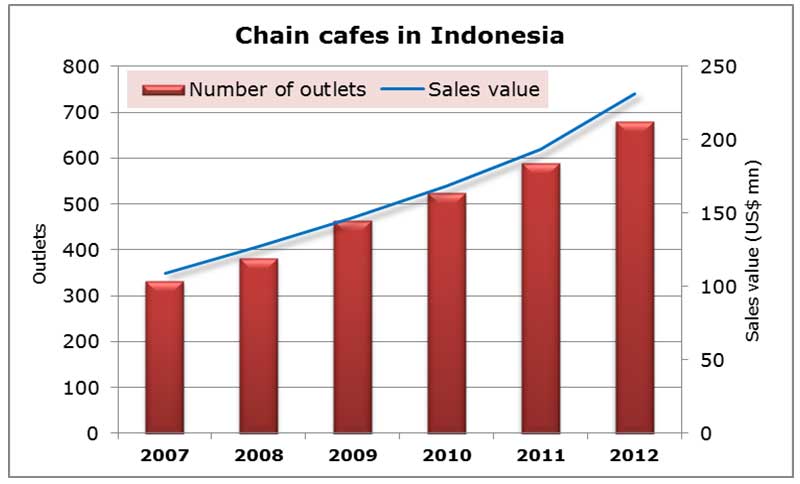 Chain cafés are strengthening their presence in Indonesia
Source: Euromonitor International
Shopping malls providing one-stop shopping and entertainment have become the dominant retail format in the major cities of Indonesia, a move that has, in turn, fuelled the expansion of F&B outlets. Between 2011 and 2013, 11 new shopping centres opening, increasing the total available retail space by more than 40% to 45.7 million square feet (32.3 million square feet in 2007). With restaurants and F&B outlets becoming an essential element in boosting customer traffic, enhancing lifestyle profiles and creating a fashionable feel, shopping malls are now actively seeking to introduce global F&B brands and add new restaurants. According to shopping mall operators in Jakarta, F&B outlets often occupy about 25-40% of any given mall's retail space.
| | |
| --- | --- |
| Restaurants offering Asian cuisine with modern interior design | A Japanese restaurant |
Lucrative potential for Hong Kong's F&B companies
With their growing affluence, Indonesian consumers are becoming increasingly open to international cuisines. Asian cuisines, including Chinese dim sum and a range of rice dishes, have become extremely popular among local consumers. In light of this, the potential of the Indonesian market should not be overlooked by Hong Kong F&B companies. Due to their geographical proximity, Singaporean F&B companies have long been proactive in penetrating the Indonesian market. Apart from the strong presence of Breadtalk (Singapore's best known bakery chain), Crystal Jade is another notable success for the country, with the restaurant chain now boasting 15 restaurants offering traditional Chinese and specialty cuisines at upmarket prices. It also operates the Crystal Jade My Bread outlets, all selling Hong Kong-style bakery items.
| | |
| --- | --- |
| Dim Sum is one of the favoured items of local Chinese cuisine | Crystal Jade's Jade Imperial Restaurant |
| Crystal Jade My Bread offers Hong Kong-style bakery | Hong Kong-style bakery items |
International drink and snack brands have gained popularity in Indonesia over the past decade, most notably the US chains Dunkin' Donuts, Baskin-Robbins and Cold Stone Creamery. Having entered Indonesia around 1990, Baskin-Robbins has, in association with a local partner, established more than 250 outlets across the country. Its sales growth has been phenomenal, with the company recording average annual increases of more than 50% over recent years.
| | |
| --- | --- |
| Foreign snack and drinks outlets are the favoured choice of Indonesian consumers | Baskin Robbins has strong presence in Indonesia |
| Hong Kong-style cuisines are a selling point in a restaurant | A restaurant targeting middle-class diners |
Identifying the right locations and local partners
Eyeing the mid-to-high income earners- the majority of whom live in the big cities - most foreign F&B operators would naturally target Jakarta, Surabaya, Bandung and Medan, now the common entry points for Hong Kong F&B companies. These days, however, central Jakarta is becoming somewhat overcrowded. Increasing competition and the stronger presence of foreign food operators have led a number of chain F&B companies to venture into other regions within Greater Jakarta (Bodetabek[1]). They have also begun targetting the second-tier cities, where upscale shopping malls are just starting to emerge along with increased purchasing power. Starbucks, for example, has expanded into 12 cities outside of Jakarta and now has more than 10 stores in Surabaya.
Franchising is a common entry mode for foreign companies looking to establish F&B outlets. Owing to the shareholding restrictions of Indonesia's Foreign Investment Law,[2] many foreign F&B retailers have opted to enter the market through local partnerships or through franchising arrangements. In doing so, they can benefit from the local partner's business networks and on-the-ground knowledge. A number of Indonesian companies, such as Mitra Adi Perkasa (MAP) and Trans Corp, are master franchisees of global brands. The Indonesian franchises of Starbucks, Pizza Express and Domino's Pizza, for instance, are all held by MAP.
Aside from direct investment, Hong Kong F&B companies can consider the franchising route, which is relatively less cumbersome and easier in terms of building brand recognition. As franchisors, Hong Kong F&B companies can also benefit from the comprehensive double taxation avoidance agreement (DTAA) between Hong Kong and Indonesia. Under the terms of the 2010 agreement, Hong Kong companies will be subject to a lower withholding tax on the royalty receipts of Indonesian franchisees.[3]
Similarly, in order to gain better penetration of Indonesia's packaged food market, appointing a local importer with a well-established network appears to be a valid strategy. By partnering with a strong local distributor, exporters can capitalise on that distributor's wider connections to local retailers. This can also act to enhance the support for in-store brand promotions. Upscale hypermarkets or supermarkets, such as the Ranch Market and The FoodHall, are the preferred distribution channels for those foreign brands looking to sell to health- and brand-conscious middle-class consumers.
Aside from items imported from other developed countries, competition in Indonesia's packaged food market also come from price-competitive products of other Asian countries, such as Thailand and Malaysia. Generally, mid-to-high income consumers are willing to pay a premium for imported products. Packaged foods from Australia, Japan and Korea are also popular for their upmarket positioning, with Indonesian consumers considering them to be of higher quality.
Multi-channel marketing: key to success in Indonesia's food services market
Proactive marketing is essential for those F&B retailers targeting Indonesia's burgeoning middle-class and youth segments. Successful marketing strategies have included innovative advertisements via mass media, as well as co-branding with retailers and mobile phone service operators to offer discounts to their customers and subscribers.
Social media is extremely popular in Indonesia, with the company having, respectively, the third and fourth largest user groups of Twitter and Facebook in the world. More than one-quarter of Indonesians use Facebook, of which more than 70% are aged under 25 and access the site via mobile devices. Social media is considered an inexpensive marketing tool in Indonesia, with Facebook and Twitter being among the most popular channels used by F&B operators to communicate with customers, providing detailed menus and highlighting new promotions. In view of the prevalence of social media use among Indonesians, several restaurants have begun inviting food bloggers to special events, most notably the launch of new menus.
In view of increasing credit card ownership, F&B companies are also co-operating with banks to offer discounts for cardholders, with discounts usually ranging from between 20% and 50%.
| | |
| --- | --- |
| Joint promotion with banks | Restaurants offer discounts to credit card holders |
Regulations on food imports into Indonesia
The licensing registration and labelling requirements on food imported into Indonesia are regulated by the National Agency of Drug and Food Control. In addition, all imported food and beverages must be labelled in Bahasa, the national language of Indonesia.
In Indonesia, Muslims account for more than 80% of the country's population, but there no compulsory Halal certification is required for food imports. To gain a wider consumer base, however, exporters are advised to comply with Halal requirements.
Useful contacts
Related information: Indonesia infographics
---
[1] Bodetabek comprises the municipalities surrounding Jakarta, including Bogor, Depok, Tangerang and Bekasi.
[2] Under the current Foreign Investment Law, the maximum share of foreign shareholding in the food service sector is 51%.
[3] Under the DTAA, the total withholding tax on royalties charged by both governments shall not exceed 5% of the gross amount of the royalties. Without the DTAA, overseas franchises are subject to a 20% withholding tax on royalties charged by the Indonesian government.
[4] For details, please refer to the National Agency of Drug and Food Control: www.pom.go.id
[5] In Indonesia, a Halal certificate is issued by the Indonesian Council of Ulama (MUI) based on assessments by the Assessment Institute for Foods, Drugs and Cosmetics (LPPOM). For details, please refer to LPPOM: http://e-lppommui.org/
Food & Beverages
Packaging
Licensing
Indonesia
Southeast Asia