https://hkmb.hktdc.com/en/1X09X1V2
Urbanisation and retail development in Henan (3): the emergence of new commercial districts
Following in the footsteps of coastal cities, cities of different tiers in Henan are advancing urbanisation by building new urban districts. As population grows in these new urban districts, so does the commercial sector. Moreover, as urban transit networks continue to improve, especially with the opening of the metro system, people flow is made much easier, benefiting commercial districts and shopping malls along the metro lines.
Henan cities on expansion spree
Due to limited space in city centre, many of China's coastal cities, such as the ones in Yangtze River Delta region, have been expanding by building new urban districts. The development pattern is so widespread that it is dubbed the "blossoming of new cities". In planning terms, these new urban districts are called sub-city, sub-centre or new district (or new area). Sub-city or sub-centre mainly refers to a new city built at a distance from the main urban districts, whereas new urban districts are built in the outskirts of city centre within the existing main urban districts. Cities of different tiers in Henan are currently at different stages of development amid the urbanisation trend.
| | |
| --- | --- |
| A residential project under construction and soon-to-open Quanshun shopping plaza in new urban district in southern Luoyang | A new residential project being built near Mianfang Road in Zhongyuan District in western Zhengzhou |
In the east of Zhengzhou, Zhengdong New District was established with the moving out of the old Zhengzhou Airport. According to planning, when fully developed in future, the total area of the new district, which currently has a population of about one million, will be comparable to that of the built-up areas in Zhengzhou. Since its establishment several years ago, Zhengdong New District has grown to a considerable scale. As pointed out by a source at a foreign-invested hypermarket in Zhengdong New District, they have witnessed the fast development of the new district since business started there in 2005. The previously undeveloped neighbourhood of the hypermarket is now surrounded by high-rise buildings.
Besides new districts, some cities are adopting the "transition of secondary sector to tertiary sector" strategy. The industrial establishments (secondary industries) originally located inside the city are to be relocated under new land use and urban renewal planning. The sites are then redeveloped into commercial (tertiary industries) or residential districts, creating a new clustering effect. In the development of Zhongyuan District in western Zhengzhou, the former site of a cotton mill was redeveloped into a commercial and residential project, resulting in the formation of a new commercial district in Zhongyuan Road and Tongbai Road. It is observed that there are still many residential buildings being constructed and not yet occupied in the vicinity of the area.
| | |
| --- | --- |
| The new eastern district of Xinxiang | CC Mall in Zhongyuan District in western Zhengzhou |
Luoyang is also developing new urban districts, with Luonan District in the south as the focus of its new urban development. Commercial activities in the district are gradually flourishing. Nanchang Road commercial district in Jianxi District, which straddles the new and old city areas, has taken shape. Besides Wanda Plaza and Dennis Department Store, Wangfujing Department Store is setting up a foothold in Nanchang Road. In addition, a new shopping mall named Changshen will soon open across the street from Wanda Plaza.
Meanwhile, under its plan of "expanding eastward and southward", Xinxiang is growing larger, with municipal government offices driving the eastward expansion, and residential projects filing up new urban districts to the south. Development of the eastern district is set to benefit from its proximity to high-speed rail and highways.
Urban transit boosts passenger traffic
The development of urban transit networks, especially the opening of the metro system, is having a favourable impact on shopper traffic in various commercial districts. Zhengzhou Metro Line 1 running from east to west of the city has just opened and more lines are in the pipeline. According to department stores in Zhengdong New District, metro linkage to the district facilitates people flow and it is expected to benefit the shopping centres in the area.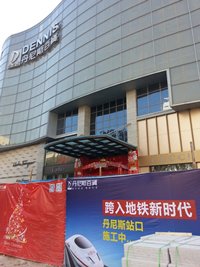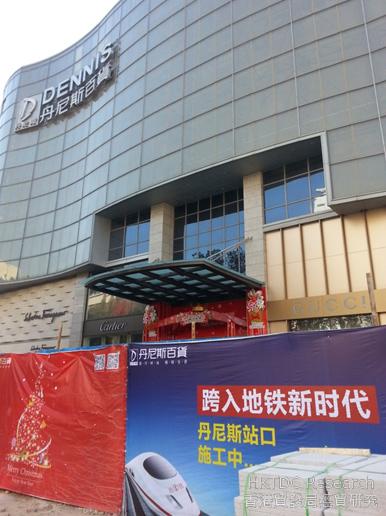 Metro station near Dennis Department Store in Renmin Road, Zhengzhou
Other commercial districts along metro lines may also benefit, particularly the traditional Erqi commercial district in the city. According to planning, there will be three metro lines running through Erqi. The crowd evacuation capacity of the traditional commercial districts will be enhanced, facilitating shopper traffic.
Different commercial districts have different positioning
Erqi is the major traditional commercial district in Zhengzhou. Industry analysts reckon the main client base of the district is 30 years or older, a group with relatively strong buying power, and the average single purchase is also higher. In the vicinity of ITC 360 in Huayuan Road, Zhengzhou, a cluster of fast fashion shops has taken shape in recent years, attracting more young customers. The leading customer group is aged 25-35 and their average single purchase is comparatively lower.
In new communities with predominantly residential buildings, the commercial facilities and services available mainly cater for the needs of local residents. For example, when Luoyang Wanda Plaza first opened, it primarily served the needs of local residents. Subsequently, it has extended its reach beyond the local community. There are also quite a variety of shops near Wanda Plaza, including eateries, supermarkets, beauty and hair salons, serving the neighbouring residential communities. In addition, music centres, English learning centres, specialty shops of home products and children's goods and others can be found in Jinyi City in western Zhengzhou.
Higher-end commercial facilities are also available in some of the new urban districts, catering for a wider range of consumers. Currently, large numbers of customers from the surrounding counties come to Luoyang Wanda Plaza for shopping during weekends. With the largest car park in the city, it is also convenient for customers from far away places to visit Wanda Plaza. The soon-to-open Changshen shopping mall opposite Wanda Plaza is expected to be positioned as more upmarket.
| | |
| --- | --- |
| Jinyi City in Zhongyuan District, western Zhengzhou | Service establishments serving neighbouring residential areas in Luoyang's Jianxi District |
The same retail group may have different positioning for different new districts. For example, Dashang Group focuses its business on hypermarket in residential districts. To meet the demand of daily necessities, the products are mainly low and medium-grade goods. Consumer groups with high spending power are far and few between in these new districts but they do exist. However, they usually go shopping in traditional commercial districts for higher-grade products. Nevertheless, Dashang plans to open a higher-end shopping centre in western Zhengzhou in 2014. Local residents are still the primary service targets of the shopping centre. Meanwhile, higher-end brands and a host of consumer services, such as entertainment and catering, will be introduced to broaden its reach.
Mainland China
Mainland China