https://hkmb.hktdc.com/en/1X09X0X3
Urbanisation and retail development in Henan (2): the rise of fast fashion brands
Fast fashion brands are highly popular with young consumers in China. ITC 360, a shopping mall in Zhengzhou that caters to the young set, has succeeded in drawing a lot of customers through the launch of fast fashion brands such as H&M, Uniqlo and Mango. Consumer traffic in the weekends now reaches 50,000 to 60,000. Currently about 20 shops of fast fashion brands have entered Zhengzhou and they are beginning to expand to second- and third-tier cities in Henan.
Fast fashion brands popular with young consumers
In the last two to three years, some well-known global fast fashion brands have gradually found their way into the Zhengzhou market. Thanks to the ubiquity of internet information, local consumers, particularly the younger set, have heard of these brands long before their arrival. For this reason, the nurturing period of newly introduced brands is very short, and, for some of the more famous ones, nurturing period is not even required. International Trade Centre 360 (ITC 360) Plaza on Huayuan Road of Zhengzhou, a shopping mall that caters to young consumers, is the first mall in Henan or even central China to introduce fast fashion brands such as H&M, Uniqlo and Mango.
| | |
| --- | --- |
| ITC 360 Plaza on Huayuan Road, Zhengzhou | Dairy Queen inside ITC 360 Plaza |
Currently, there are about 20 shops of fast fashion brands in Zhengzhou. A representative of ITC 360 Plaza points out that the reason they decided three years ago to bring in fast fashion brands was because such brands had zero presence in Zhengzhou or even the whole of Henan. Sales have proved that the trendy goods and business models of these brands are highly popular with local young consumers. It is estimated that consumer traffic in ITC 360 Plaza can reach 50,000 to 60,000 during weekends.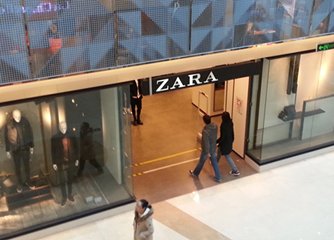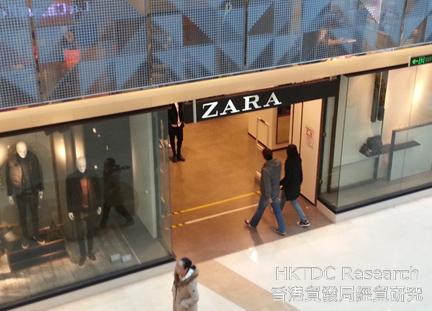 Wanda Plaza in the western district of Zhengzhou
The name "ITC 360" actually says that the aim of the shopping mall is to offer comprehensive shopping experience encompassing shopping, entertainment and dining. The mall complements itself with "no-flames" restaurants such as light-meal eateries and dessert joints. From observations, it is apparent that trendy eating places such as Dairy Queen are quite popular in shopping malls that appeal to young consumers. Though a scoop of ice-cream may cost more than Rmb30, it appeals to trend-conscious young consumers.
Fast fashion brands are also beginning to venture into second- and third-tier cities in Henan. For example, Mango has set up a presence in Wangfujing Department Store in Luoyang and is well-known to local consumers. H&M and Uniqlo have also made their entries into Luoyang recently. It has been learned that new shopping centres in the new urban district to the south of Luoyang will bring in more of these fast fashion brands. In fact, fast fashion brands generally require larger floor space, and very often suitable shop space can only be found in shopping malls of new urban districts.
In order to cater to the new generation of consumers, some shopping malls are also providing free internet access. Inside Wanda Plaza for example, free Wi-Fi access is available throughout the premises. One purpose is that, once customers access its Wi-Fi network, they can download the mall directory with a listing of individual store promotions.
Zhengzhou: a luxury goods hub with extensive reach
As the provincial seat of Henan, Zhengzhou is the first stop for various brands when they enter Henan. Because most fast fashion brands focus on mid-range products targeting young people, their target customer groups are quite extensive. So after entering Zhengzhou they will invariably expand to other second- and third-tier cities in the province.
As for top international brands, some have already entered the Zhengzhou market. Those with a sales outlet in Zhengzhou include Gucci, Cartier, Ferragamo, Chanel, Boss, Coach, LV and Zena; most of them have landed in Dennis Department Store on Renmin Road.
An industry analysis has found that currently some of the things local upper-market consumers want to buy are not available in Zhengzhou. In other words, there is still unmet demand. In terms of availability of high-end consumer products and trendsetting goods, Zhengzhou still lags behind the more developed coastal areas. And this is also the reason why local retailers want to bring in more high-quality branded products to minimise the loss of upper-market customers to the coastal regions or even overseas.
Because Zhengzhou has a relatively high concentration of high-end products, it commands an extensive reach. According to a furniture mall in Zhengdong New District in Zhengzhou, the furniture and decorative building materials market of Zhengzhou serves the whole province. Consumers in other cities in the province will certainly come to Zhengzhou if they want to look for better-quality furniture and building materials. This is so not only because more choices are available in Zhengzhou, but also because prices in Zhengzhou are lower for products of the same grade. For these reasons, the reach of Zhengzhou covers neighbouring regions and cities such as Luoyang, Xinxiang and Xuchang and even to Jincheng in Shanxi which adjoins Henan. The furniture mall estimates that approximately 40% of its customers come from outside of Zhengzhou, and most of them are upper-market consumers.
| | |
| --- | --- |
| Dennis Department Store on Renmin Road in Zhengzhou has brought in a host of top brands | Wangfujing Department Store in the western district of Zhengzhou |
Another department store in Zhengzhou has carried out an analysis of the members of its loyalty programme and found that the number of members is gradually growing, indicating that the spending power of the average local consumer is on the rise. Of all the members, 20% come from outside of Zhengzhou. Moreover, they come to Zhengzhou for the specific purpose of shopping; and they want to buy higher-end products too. That is why their average single purchase price is higher.
Kaifeng is another Henan city not far from Zhengzhou. According to a local market source, retailing in Kaifeng is mostly on the upper mid-range side, so for higher-end consumption, the majority of the consumers will still make a trip to Zhengzhou. With the Zhengzhou-Kaifeng mega city in the making, in time there will be a light rail connecting the two cities to provide more convenient transport links. This may in turn affect the development of different retail formats.
Cities of different tiers have different consumer profiles
Wangfujing Department Store, Luoyang
In line with the development trend of real estate projects, some nationwide or regional groups are bringing the retail model of large modern shopping centres into second- and third-tier cities in Henan. Wanda Plaza, for example, in addition to its activities in Zhengzhou, is making forays into such cities.
Luoyang is the second key consumer market in Henan and the environment and market positioning of its shopping malls are obviously on the rise. Top international brands and luxury labels, however, are still largely absent in the city. Rolex, which has an upper-market positioning, has recently opened a shop in Wangfujing Department Store in Luoyang. The accessories of some famous labels have also entered the market, but the entry of full ranges of products has yet to be seen. Currently, Tommy Hilfiger, Nautica and Timberland are among the better known international brands that have made their way into Luoyang.
In Jiaozuo, another Henan city, one department store source says that locally there are not so many products for the younger set and so they have not come to the point of setting the trend. As a result, customers are still outflowing to Zhengzhou to shop. Local retailers therefore also want to bring in more fashionable products to keep these customers and some may develop in the direction of boutique supermarkets.
| | |
| --- | --- |
| New Century Plaza, Kaifeng | New-Mart Shopping Mall, Xinxiang |
| Sunwin Commerce Plaza, Jiaozuo | Xinduhui Shopping Mall, Luoyang |
Mainland China
Mainland China