https://hkmb.hktdc.com/en/1X09WZ9U
Urbanisation and retail development in Henan (1): the growing demand for higher-quality products
Urbanisation has spurred the growth of economy, income and consumer demand in second- and third-tier Chinese cities. Domestic and foreign retail groups have ventured into these cities to tap the market opportunities. Recently, HKTDC researchers visited a number of cities in Henan province and found that in these cities, from provincial capital Zhengzhou to second- and third-liners like Luoyang, Xinxiang, Jiaozuo and Kaifeng, are all expanding their new city districts and new commercial districts are being developed. While Zhengzhou remains to be the most influential city in Henan, especially in regard to the concentration of high-end products, other cities are also upgrading their shopping malls and department stores to cater to the demand of the increasingly sophisticated consumers.
Central region: fast developing
The central government first put forward the strategy of speeding up the development of the central region in 2004. With the expansion of manufacturing activities from the coastal to the inner regions, the central provinces have seen rapid economic growth in recent years. From 2008 to 2012, China's GDP registered an average annual growth rate of 9.1%. During the same period, the six central provinces, namely Henan, Shanxi, Hubei, Anhui, Hunan and Jiangxi, all achieved an average growth rate of 10.2% at minimum, and some even exceeded 13%. From 2008 to 2012, foreign direct investments in China increased by an average of 4.9% per year. During the same period, the average growth rate of FDI in the six central provinces was at least 16%, and even as high as 32% in Henan.
In central China, Henan is the largest economy in terms of GDP, reaching Rmb2,960 billion in 2012, galloping at an annual average rate of 11.5% during 2008 to 2012. Henan also boasts the largest population and biggest total retail sales in central China, exceeding 100 million and Rmb1 trillion respectively in 2012. In terms of total and per capita retail sales, provincial capital Zhengzhou is the largest retail market with the most diverse consumer segments in Henan, offering consumer goods of different grades ranging from high to low. Being a first-tier city in Henan, Zhengzhou has a strong influence especially in the high-end segment.
Better-quality products in demand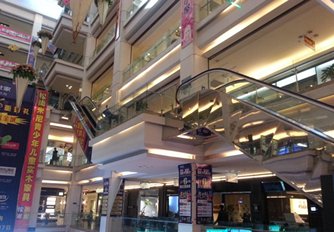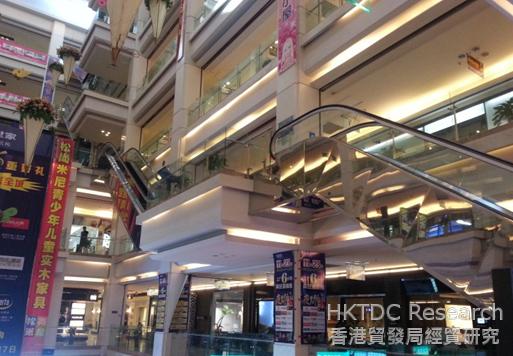 Red Star Macalline furniture mall in Zhengdong New District, Zhengzhou
Walking into different cities in Henan, no matter first-tier ones like Zhengzhou or other second- and third-liners, one will strongly feel that they are all developing the commercial sector to meet the needs of local consumers. These cities are not only constructing new department stores and shopping centres, but are also introducing more brands, gradually upgrading the profile of their retail markets. The department stores and shopping malls in these cities unanimously indicated that they are adjusting their brand portfolios in order to accommodate more upmarket and distinguished brands. Meanwhile, some older department stores or shopping arcades have drawn up renovation or improvement plans so as to create a better environment for shoppers.
According to a furniture mall located in Zhengdong New District, Zhengzhou, they are introducing a number of foreign brands to meet consumers' demand for higher-quality products, especially upholstered furniture. Local consumers are highly receptive to new ideas. For example, with enhanced knowledge of furniture design and interior decoration, and growing acceptance of such concepts as "integrated kitchen", "integrated wardrobe" and "integrated living room", consumer spending on home furniture has been rising as a whole over the past few years. Besides, consumers are now paying more attention to comfort and environmental factors.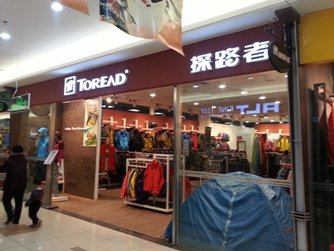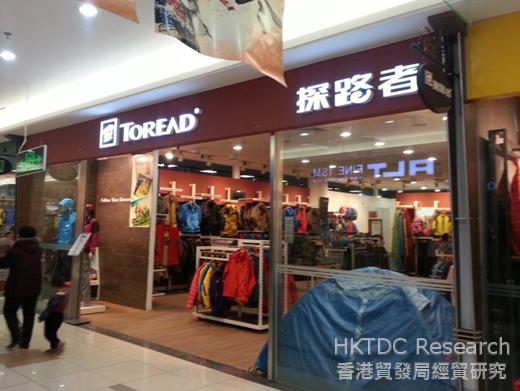 An outdoor products retailer at RT-Mart in Kaifeng
Hypermarket Metro in Zhengzhou also observed that consumers are more demanding nowadays, attaching greater importance to quality. Since Metro's suppliers of food products have all obtained safety certificates and the store's cold chain distribution is well-managed, many hotels and restaurants prefer to source from Metro. Some restaurants even display Metro's invoices at the entrance as a proof of safe food sources. Imported food products used to be regarded as novelties; now consumption of foreign food and wine is commonplace. The demand for organic products is trending upward as well. Affordability is less of a concern, particularly among younger customers.
Urban consumers of different tiers of cities are also more sophisticated today. In Xinxiang city, a mall manager said local consumers are paying greater attention to the professional features of outdoor leisure and sports goods. Meanwhile, they are increasingly receptive to higher prices. For example, some professional foreign brand bicycles priced at Rmb4,000-5,000 are selling well. Besides, household items with unique features are also gaining popularity among local people.
| | |
| --- | --- |
| Dennis Department Store at Huayuan Road, Zhengzhou | A Hong Kong clothing brand in Wanda Plaza, Luoyang |
| A household products store in Wanda Plaza, Luoyang | A household products store in Powerlong City Plaza, Xinxiang |
Imported food becomes popular
Henan's rising consumer profile is also reflected by the emergence of "boutique supermarkets" and foreign food in different cities in the province. In Zhengdong New District of Zhengzhou, various kinds of imported food like wine, beer and dairy products can be found in comprehensive supermarkets which target upper-market consumers.
Retail business is gathering steam as more people move into the Zhengdong New District. Targeting mid-to-high-end customers, these supermarkets have been designed to create a more comfortable shopping environment. In other second- and third-tier cities in Henan, while supermarkets specialising in imported products have not yet emerged, many have dedicated shelves for imported food products.
| | |
| --- | --- |
| Imported food products at RT-Mart, Kaifeng | A boutique supermarket in Dennis Department Store, Zhengdong New District, Zhengzhou |
As consumers are attaching greater importance to the special features of products, promotional efforts can no longer be confined to offering discounts. For example, in view of the rapid growth in the sales of outdoor leisure goods, a department store in Zhengzhou collaborated with professional outdoor gear brands to organise a self-drive tour last year. Store customers could participate by redeeming accumulated points. The activity was well-received. In addition, promotional activities to mark foreign festivals like Christmas and Thanksgiving are also debuting in Henan cities.
Carrefour in Luoyang

A boutique supermarket in Dennis Department Store, Zhengdong New District, Zhengzhou
Mainland China
Mainland China